Meeting productivity demands: new compaction equipment
Roadbuilding and compaction equipment suppliers are gathering speed in meeting productivity demands, while also keeping low emissions in sight, writes Belinda Smart .
Concerns about carbon emissions coupled with a perceived reduction in road travel in a post-pandemic world, mean roadbuilding budgets are contracting.
At the same time, the need to cut operation and maintenance, long a factor for rental companies and contractors alike, is more pressing than ever.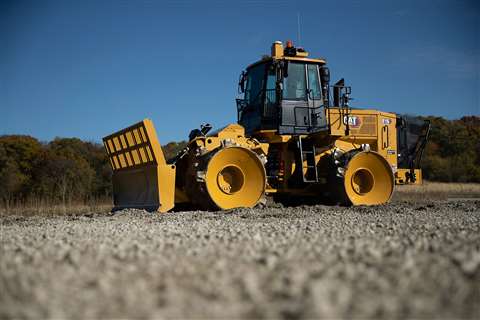 As a result, equipment that does the job faster, on less fuel and requiring less skilled labour is regarded as a boon, and manufacturers of roadbuilding and compaction machinery are delivering on this.   
Soil rollers
Caterpillar's recently released upgraded Cat 815 Soil Compactor is a case in point, featuring upgrades for greater productivity and efficiency that cut maintenance costs up to 9%.  
According to Caterpillar, the machine's transmission control delivers improved shifting performance, achieves greater momentum on grades and saves on fuel by carrying that momentum through shift points. 
It is powered by the Cat C7.1 engine for fuel economy, reliable performance and increased power density. Two engine package options are available – U.S. EPA Tier 4 Final/EU Stage V and Tier 3/Stage IIIA equivalent – meeting local market emission standard requirements.  
The Cat 815 has four 39-in (991-mm) wide steel drums with a chevron pattern on the tamping tips for better traction, while adjustable cleaner bars eliminate material carryover. 
Earlier this year Caterpillar also launched three new Cat utility compactor models in the 2- to 3-tonne class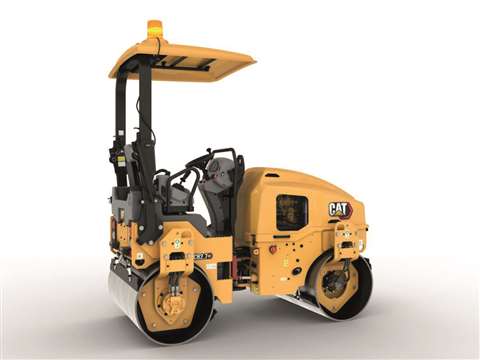 The line includes weight-based model nomenclature changes with the new Cat CB2.5 GC replacing the CB2.5, CB2.7 GC replacing the CB2.7, and new CC2.7 GC replacing the CC2.6.
The rollers are designed for soil and asphalt applications, including parking lots, driveways, urban streets, landscaping and small construction sites. 
"Designed for rental, the efficient Cat GC series compactors deliver low total cost of ownership, simplified maintenance and long-term durability.
"Powered by a turbocharged Cat C1.7T engine rated at 18.4-kW, the CB2.5 GC, CB2.7 GC and CC2.7 GC models meet EU Stage V emission standards without an aftertreatment system, simplifying maintenance and lowering service costs." 
Single drum soil compactors
For the North America, Europe, Japan, Korea markets Caterpillar has also added to its single drum vibratory soil compactor line with the 84-in (2134 mm) Cat GC Series, built for simple operation, high reliability and low cost-per-hour performance.  
Offering high static linear load and more weight at the drum for superior compaction, the line includes the 10-tonne-class CS10 GC, 11-tonne CS11 GC and CP11 GC, and 12-tonne CS12 GC and CP12 GC.  
The GC Series is powered by the 120.7 hp (90.0 kW) Cat C3.6 diesel engine that meets U.S. EPA Tier 4 Final / EU Stage V emission standards. Standard Eco-Mode operation reduces engine speed to 2,000 RPM to deliver up to 10% fuel savings over operation at high idle.
The engine's long oil and filter change interval helps to lower service time and costs.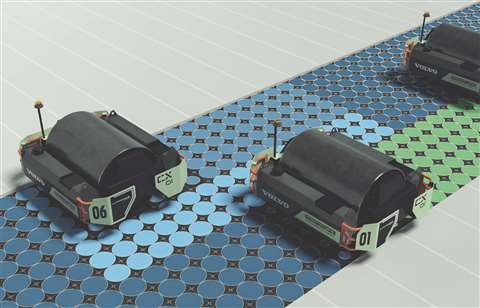 All compactors feature a low overall 9.8 ft (3 m) height plus improved tie-down locations for fast, low-cost transport that meets market regulations. 
Autonomous asphalt compactors
Volvo Construction Equipment (Volvo CE) has unveiled its CX01 single-drum asphalt compactor concept at The Utility Expo in Louisville, Kentucky, US, as reported by International Construction magazine's Andy Brown.
The CX01 concept utilises one vibratory asphalt compactor drum that's actually two independent halves (called a split-drum) kept upright by a self-balancing control system.
Capable of being operated either by remote-control or entirely autonomously, the machine is also fitted with both a diesel engine and an energy storage system, making it a flexible electric hybrid solution. It can be operated in diesel-only, hybrid or fully electric modes.
Volvo CE says that by redesigning the compactors themselves, the operator is removed from the unit – reducing exposure to vibration, noise, dust and other associated environmental conditions – and freed up to autonomously control a fleet of CX units working together to compact asphalt surfaces.
Rolling pattern, weight and number of rollers can all be adjusted to match the width, thickness and speed of paving operation, providing a complete paving solution for whatever the job might be, from light infrastructure to highway construction.
Electric-powered compaction equipment 
Manufacturers are responding to growing demand for equipment powered for a low emissions scenario and one of these is Bomag, which recently launched what it describes as the first ever battery-powered tamper.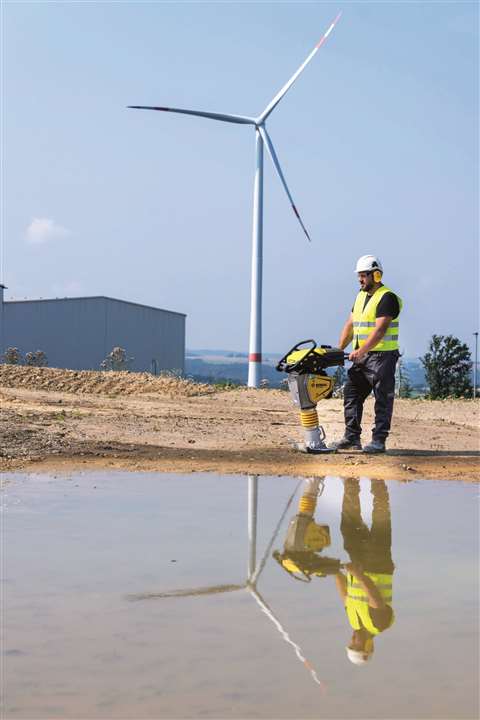 Battery-electric tampers
The BT 60 e battery-electric tamper is designed for trench and pipeline construction, landscaping, compaction work on backfills and foundations, as well as for repair work, in particular in areas where legal emission regulations apply, such as trenches or subways.
Two battery sizes with either 1000 Wh or 1400 Wh are available to operate the tamper. Standard and fast chargers are also available for recharging the batteries. Swapping power packs is quick and easy through a release lever.
Electric tandem rollers
Meanwhile a new electric powered tandem roller from Dynapac, which recently underwent field-testing, is designed to compete in the 1.5 tons tandem vibratory roller class.
It features a drum width of up to 1.0 meters, develops a centrifugal force of 16.7 kN, a nominal amplitude of 0.4 mm, and a static linear load (front/rear) of 6.1/ 7.9 kg/cm.
But, unlike the diesel fueled model upon which it is based, the new CC900 e tandem vibratory roller produces zero emissions at the point of operation.
Dynapac developed the machine in co-operation with its customer, global contractor Skanska, while rental company Loxam has also been engaged on the project to provide feedback.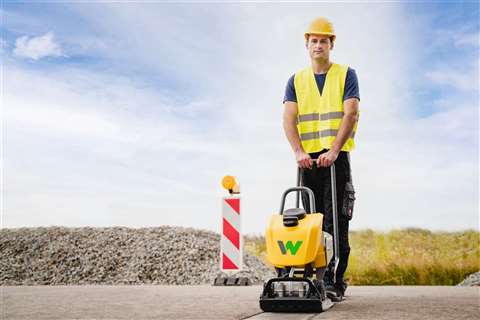 Electric vibratory plates
Wacker Neuson has launched a new series of vibratory plates comprising three electric models that offer "100% emission-free work and energy savings of over 70%".
Offering centrifugal forces ranging between 10 and 13kNW, the new APS Series comprises three models – the APS1030e, APS1135e and the APS1340e – with base widths of 30, 35 and 40cm respectively.
The APS vibratory plates are suitable for standard soil and fresh asphalt compaction applications and feature a maintenance-free electric motor and rechargeable lithium-ion battery, which can be changed without tools thanks to its modular design.
This design also means operators can use the same battery "as a module for all other battery-powered equipment" made by the compact equipment specialist, including battery-powered rammer and internal vibrator models.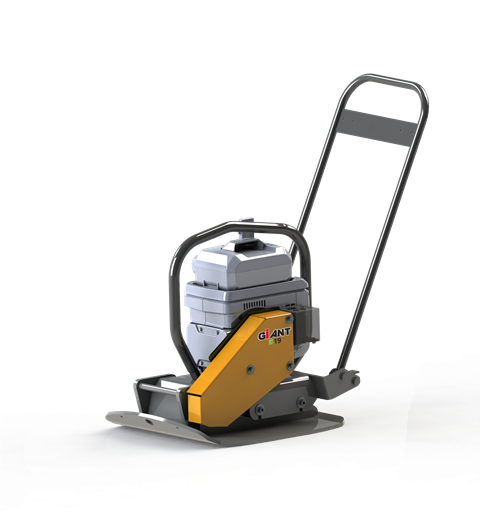 Tobroco-Giant recently partnered with Honda Engines to take an electric vibratory plate into production.
The Giant GP1950E is Tobroco-Giant's first electric compaction machine and is part of a wider complete line of electric rammers and vibratory plates to be launched in the near future.  
The machine is driven by a new electric engine from Honda and has a motor power of 1,6 kW and is designed for heavy work, weighing 103 kg and with an impact force of 19,1 kN.   
Light compaction equipment for soil and asphalt
In September, Bobcat confirmed the rollout of its new light compaction range for soil and asphalt, launched in collaboration with Swiss mechanical engineering company Ammann Group as part of the Next is Now offering.  
The Bobcat light compaction range comprises seven different product families in total and will ultimately offer 37 models, from vibratory rammers weighing 29 kg up to 2.6 tonne tandem rollers.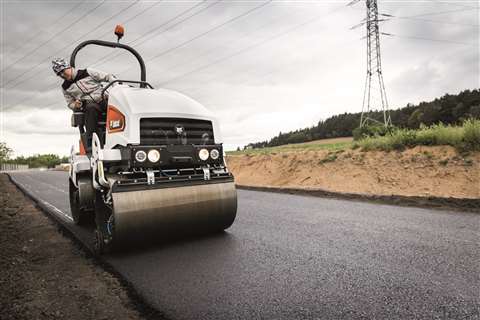 The recent releases include vibratory rammers; vibratory forward plates; reversible vibratory plates; hydrostatic plates; walk behind rollers; trench rollers and tandem rollers 
Vibratory rammers
The vibratory rammers comprise six models - the R30, R60, R68, R60P, R68P and R70D from 29 to 89 kg and are intended for small compaction works for trenches, drainage and pipelines.
Easy to transport, they are also used for road maintenance and are suitable for compacting mixed soils, sand, gravel materials, loam and clay. 
Forward vibratory plates
There are also six different vibratory forward plates for compacting sand, gravel, lean concrete, bitumen coated gravel and paving stones, also featuring compact size and easy transport.
The FP10.33, FP12.40, FP15.40, FP15.50, FP20.50 and FP20.50D models are the smallest products in the Bobcat vibratory plate offering, ranging from 54 to 115 kg.
They feature smart engineered handles designed to protect the operator from unwanted vibration, while the machine frame enables a secure grip and easy machine control. 
Reversible vibratory plates
Meanwhile Bobcat reversible vibratory plates are available in 12 models for machine weights from 109 to 490 kg: the RP22.40, RP22.40D, RP25.40D, RP25.50D, RP30.50, RP30.50D, RP30.60, RP30.60D, RP40.60, RP40.60D, RP49.20D and RP59.20D. 
The reversible plates operate with a twin-shaft system, enabling change of direction during compaction, and resulting in dual weight and a better compaction force. 
Hydrostatic plates 
The range's four hydrostatic plates - the HP50.75, HP55.75, HP60.85 and HP65.85 models weigh between 450 and 582 kg and are designed to compact all ground materials - such as sand, gravel, crushed stone, asphalt and paving.  
Designed for trench compaction, Bobcat's trench rollers include the 1340 kg TR75 (articulated) and 1305 kg TR85S (skid-steered) models.
They also cover a wide range of other applications such as pipeline construction, electric and other cable installations, whilst commercial or industrial developments and even dumpsite and landfill jobsites can take great advantage of these machines.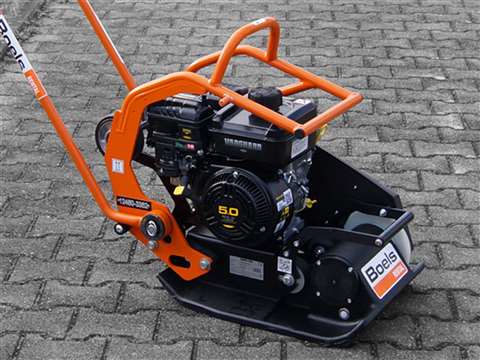 Boels Rental is specifying the use of Briggs & Stratton Vanguard engines in its fleet, with the latest new additions being Ammann APF 15/40 forward-moving vibratory plate compactors fitted with Vanguard 160, 3.7 kW single-cylinder engines.
Boels' Director of Fleet Operations, Guy Cremer, says the Ammann APF 15/40 compactors were "a perfect all-rounder for soil, asphalt, and paving stone compaction, plus it is easy to operate."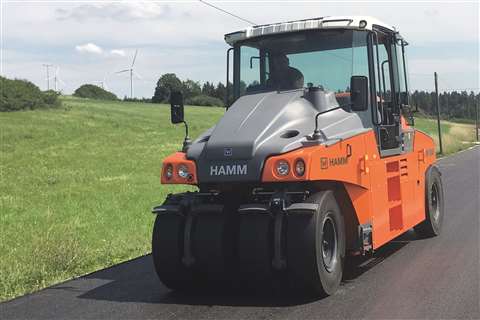 Pneumatic-tyre rollers
Hamm's recently released HP series comprises pneumatic-tyre rollers with a large, newly designed water tank, generously dimensioned so that the machines have sufficient capacity for a full working day without stopping to refill.

For the HP series, Hamm has developed a uniform platform as the basis for all model variants in every market throughout the world.
The HP 180i and HP 280i models (both with Easy Drive operating concept) comply with emissions standards EPA Tier 4 and EU Stage V, while the HP 180 and HP 280 models are designed for Tier 3 markets.
German compaction manufacturer Weber MT is now offering petrol versions of many of its diesel powered vibratory plates, highlighting their lower cost and decreased particulate emissions compared to diesel.
The petrol engine powered soil compactors now range from the small CR 1 Hd – with an operating weight of just over 90 kg - to the new CR 9 Hd E, which weighs 670 kg and delivers 100 kN of centrifugal force. The CR 9 Hd E is equipped with Honda's GX 630 engine.
NEWSLETTER
Delivered directly to your inbox, International Rental Newsletter features the pick of the breaking news stories, product launches, show reports and more from KHL's world-class editorial team.
CONNECT WITH THE TEAM
CONNECT WITH SOCIAL MEDIA