With Covid-19 restrictions causing cancellations across the trade event calendar including Intermat, IRE and APEX, IRN presents an overview of some of the products that would have been launched. This month we look at earthmoving, roadbuilding, compaction and on-site equipment.
Equipment buyers have been frustrated in their attempts to see new products over the past 12 months, unless you count peering at your screen at a virtual launch event.
In this and our April-May issues we will try to fill that gap: it is not the same thing, we know, but we hope our 'launch platform' features will at least help you keep up with some of the most interesting product launches in early 2021.
Our April-May issue will continue with more earthmoving products, as well as a look at the many access products that were scheduled for introduction at Intermat, the ARA show and APEX. We start our report with the earthmoving sector, with new Stage V products to the fore.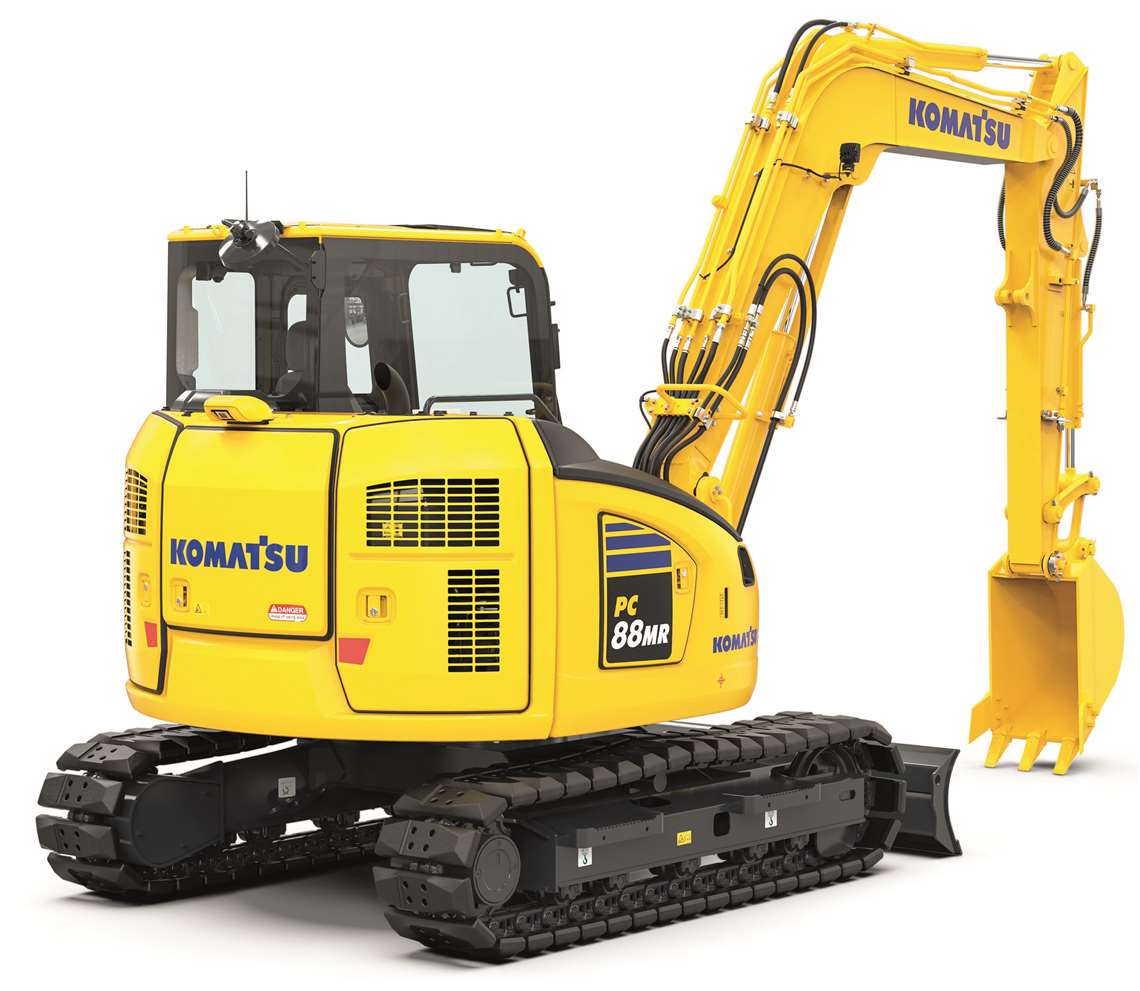 Earthmoving
Komatsu has launched its new PC88MR-11 midi excavator for the European market.
An upgrade of its PC88MR-10, the 8.5 t excavator offers a 7% increase in productivity based on faster hoist and swing functions.
The unit has a Stage V, 50.7 kW engine, which replaces the Stage IIIB unit used on the -10 model.
This lowers fuel consumption by 6%, while levelling speed is 14% higher and the oil flow to attachments has increased by 12%.
Among other changes are a 20mm reduction in transport height; larger access doors; a redesigned blade for better dozing; and a repositioning of the low/high gear switch to improve ergonomics.
Moving up in size – considerably – there are Caterpillar's new large excavators in its Next Generation range: the 395, 374 and 352 for the European market.  The 395 replaces the 390F series model.
"We increased swing torque and stick force by 10%," said Brian Abbott, worldwide product manager for Caterpillar large excavators. "These increases enable contractors to use larger buckets for much greater productivity."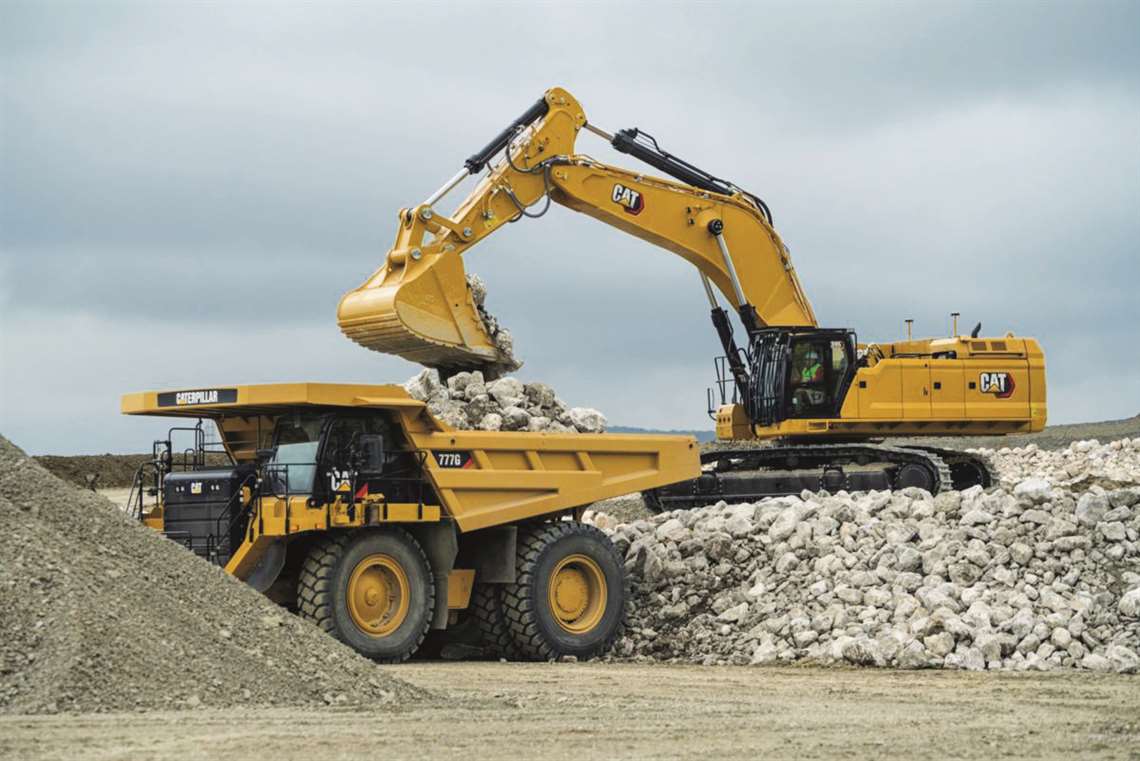 Three modes of operation are available: Power, Smart, and ECO.
Power mode is maximum power at all times; ECO mode lowers engine speed and cycle times while maintaining breakout force, to reduce fuel consumption.
All three come with Cat Payload, which helps operators increase loading efficiency with on-the-go weighing, while Cat Grade with 2D provides visual guidance via touchscreen monitor for accurate cuts.
Also making changes to its larger excavator line is Volvo Construction Equipment, which has launched a 35 tonne class machine, the EC350E, to bridge a gap between the 30 tonne EC300E and 38 tonne EC380E. The EC350E is for general construction duties.
Operators can select several operating settings, including boom/swing and boom/travel priorities, enabling one function to take the lead over another.
The boom-down speed can also be adjusted, giving added control for tasks that require extra precision, while boom-and-arm bounce reduction technology reduces machine shocks.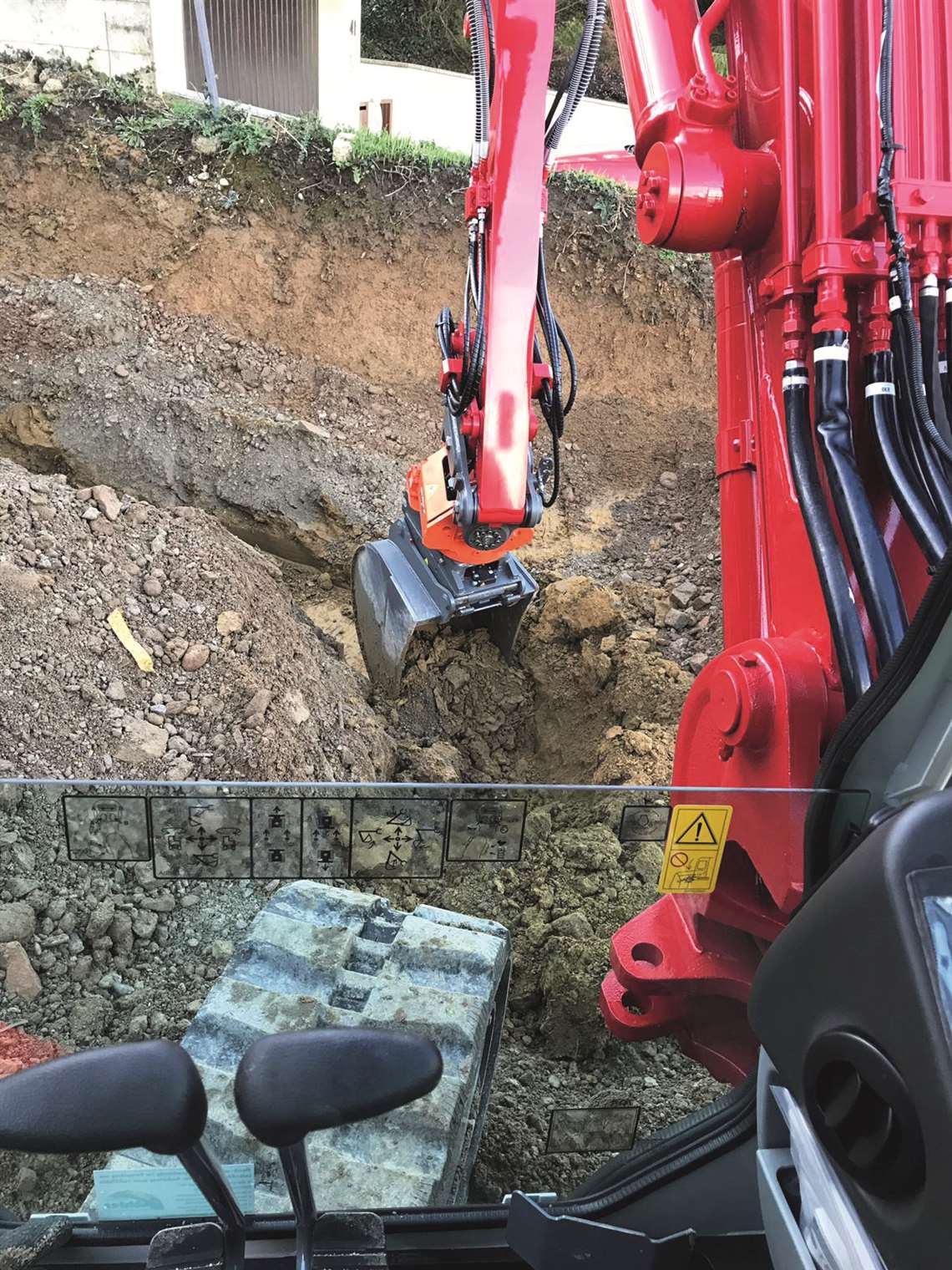 In the field of attachments, new from Germany's Kinshofer is the TR07NOX Tiltrotator, for excavators in the 4 to 7 tonne range.
It says the tiltrotators offer the same features as its larger counterparts, including no hydraulic cylinders or protruding parts.
The TE07NOX offers high and constant tilt force, low height and a 360° endless rotation, while the absence of cylinders and a cast housing have made it robust.
It is designed to be easy and comfortable to operate, especially when repositioning space for the excavator is limited, or for work around or between existing lines and pipes.
Road building & compaction
Volvo Construction Equipment has made its DD105 and oscillatory variant DD105 OSC asphalt compactors available to emerging markets equipped with Tier 3/Stage IIIA engines.
The 10-tonne double drum compactors are fitted with a 1,680 mm wide drum and are equipped with Tier 3/Stage IIIA engines and an Eco mode, which is said to cut fuel consumption by up to 30%.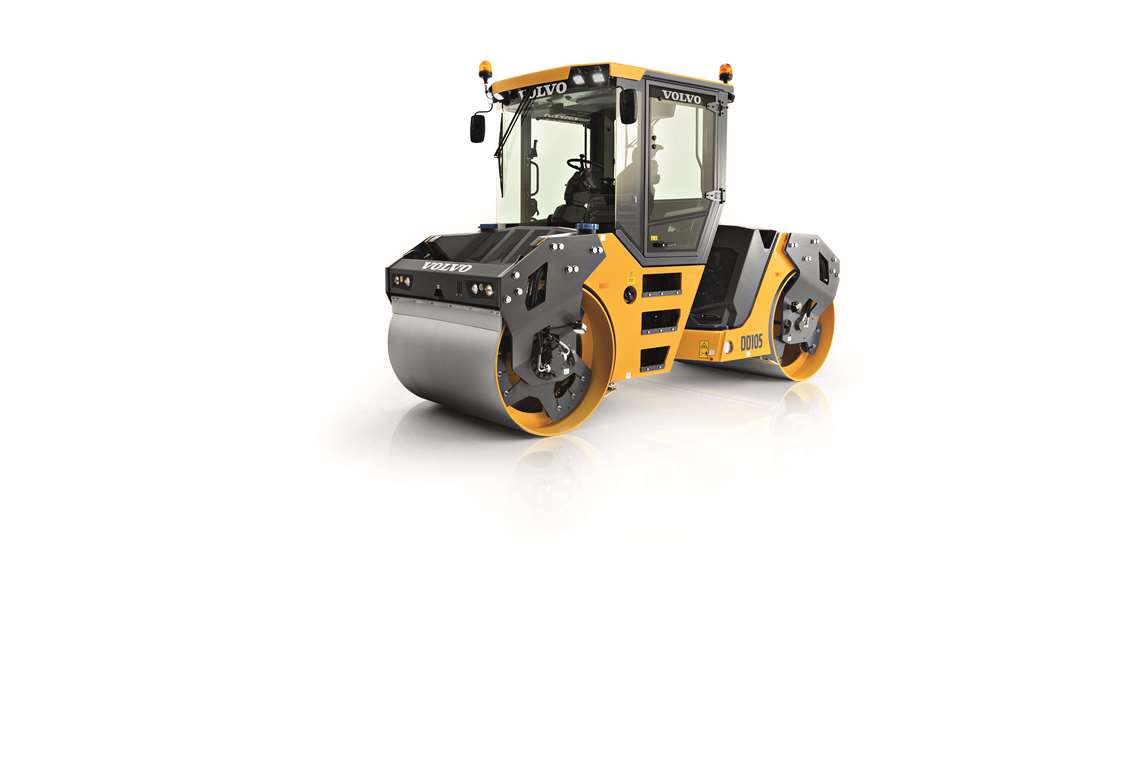 While the cabs in both models include ergonomically positioned controls and a climate system to keep operators comfortable, a curved front glass panel and a padded floor contributes also help to reduce noise and vibrations within the cab.
The DD105 and DD105 OSC also include an automatic water spraying system and for improved safety and precision, theoperator stations can rotate and slide to the side of the cab so that operators can see the edge of the asphalt.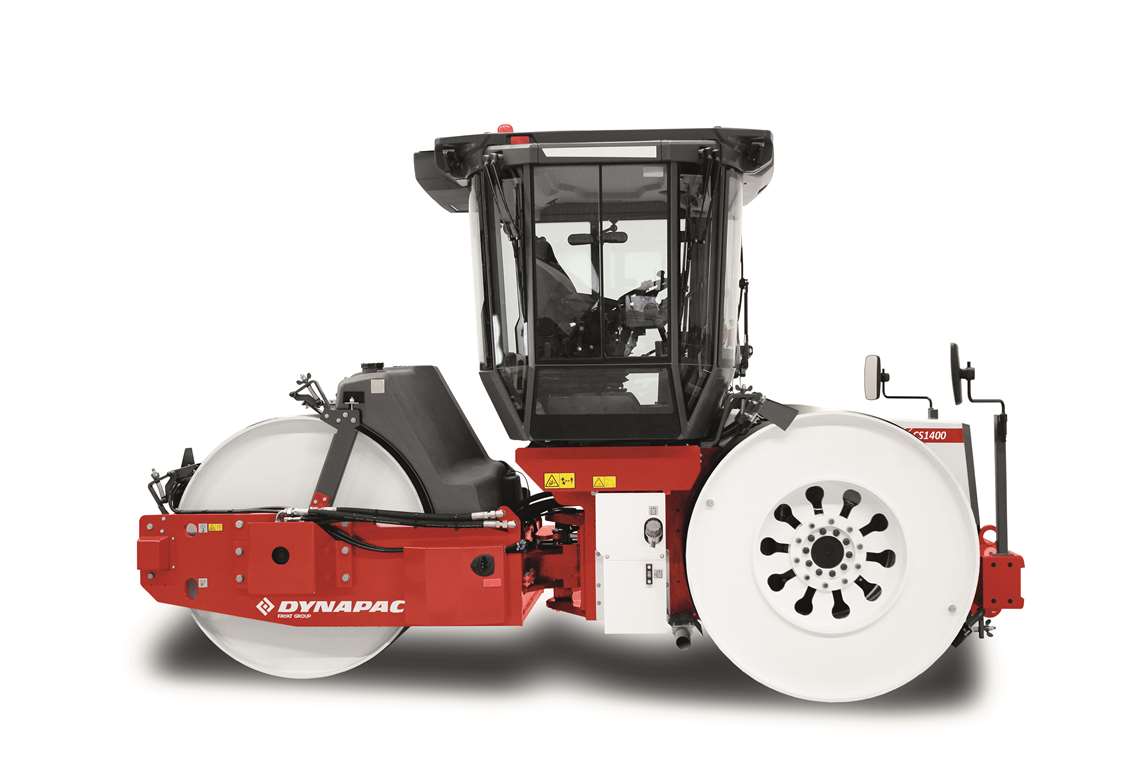 Also offering a Stage IIIA variant is Fayat-owned compaction manufacturer Dynapac with the new sixth generation version of its CS1400 static steel three-drum roller, with changes including the use of the larger operator's cab from the company's big vibratory tandem rollers and upgrades to its watering system and electrics.
Although using a Stage V/Tier 4 Deutz TD 3.6 L4 engine, it is also available with a Stage IIIA engine for markets without ultralow sulphur diesel fuel.
The larger cab will improve comfort and visibility for the operator, says Dynapac, while the new 24-volt electric system includes electronic drive control.
The watering system offers automatic water control, dual sprinkler bars visible from the cab and dual 'Heavy Duty' sprinkler pumps and 3-stage filtering.
The CS1400 VI, which has the same static linear load and 2100mm (2.1m) width of the previous model, is suitable for use on asphalt courses up to 50mm thick.
A different type of compaction product is offered by US-based Road Widener with its new vibratory roller attachment that is positioned to the side of the operator cab.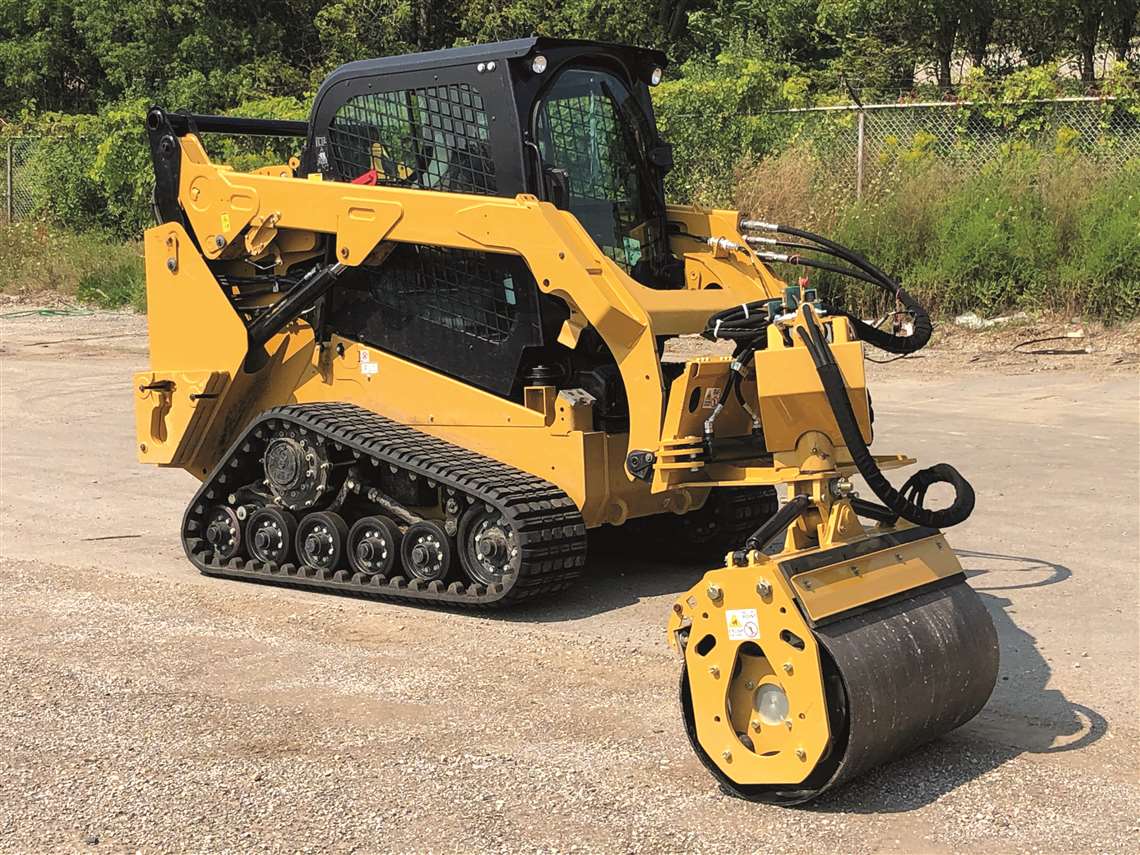 Described as an 'industry's first', the Offset Vibratory Roller attachment allows the host machine – typically a compact tracked loader - to be driven on flat ground while carrying out compaction work to sloping shoulders, ditches and other roadside areas.
Road Widener said this helps keep operators safe by reducing the risk of tipping.
The roller can be attached to most loaders, graders, compact track loaders and skid steer loaders.
Suitable for compacting materials such as stone, asphalt, gravel and topsoil, the attachment has a reach of 2.7 metres (9 ft).
ON-SITE EQUIPMENT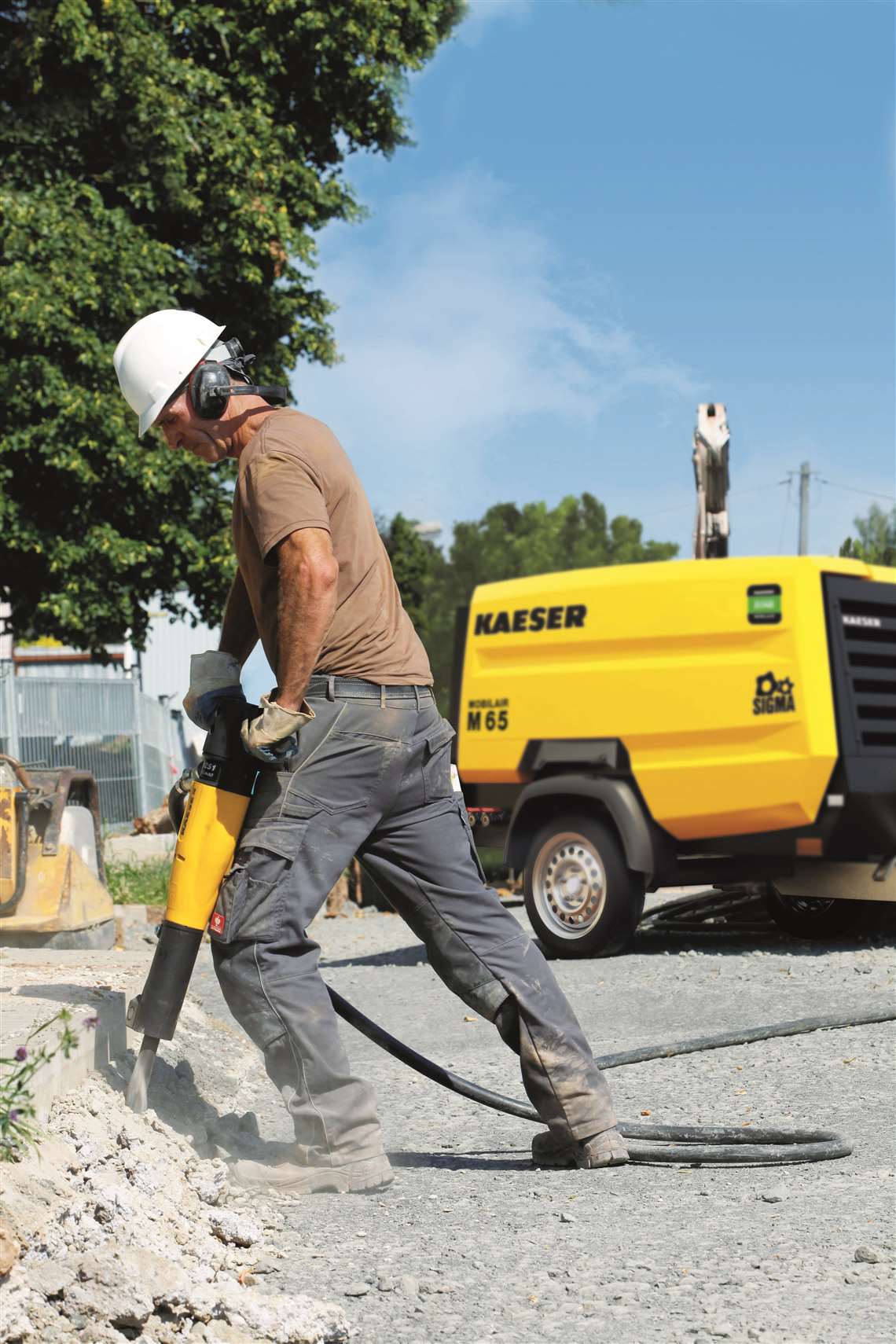 Another new Stage V product comes from from Kaeser Compressors in the form of the M65PE portable compressor, which delivers a flow rate of up to 6.6 m³ / min at 7 bar.
It is powered by a 47.9 kW 4-cylinder Kubota V2403CR-T engine and is compliant with Stage V.
Like the smaller M59 model, the M65 is equipped with polyethylene gull-wing doors and features Kaeser's adjustable pV-control, which enables the compressor to operate at different maximum pressures between 6 and 14 bar.
Also using Kubota Stage V engines is Atlas Copco with its updateds 8 Series compressors, comprising 11 machines.
The smaller diesel engines in the range, which include the D902 and D1105 power units, offer reduced CO2 and NOx emissions and a 25% increase in fuel efficiency.
Many of the 8 Series models also include a new Xc2003 controller, which features the PACE (Pressure Adjusted Through Cognitive Electronics) and ECO-mode apps.
ECO-mode allows operators to further lower fuel consumption by up to 50% when in idling mode during downtime.
Air compressors such as the XAS 68-10 and XAS 8807 models include the company's new Xc1004 digital controller, designed to minimise downtime by displaying the machine's service requirements.
They also weigh under 750kg and, claimed to be 10% smaller than other similar models, enabling car towing without a special driving licence.
Pumps & tanks
UK headquartered MHM Group is adding to its fluid storage range for gensets and heaters.
The new additions include Adblue tanks, HVO (Hydrotreated Vegetable Oil) tanks and a water bowser range. Along with MHM's existing Fuel Tank range, the new lines are available globally from January 2021.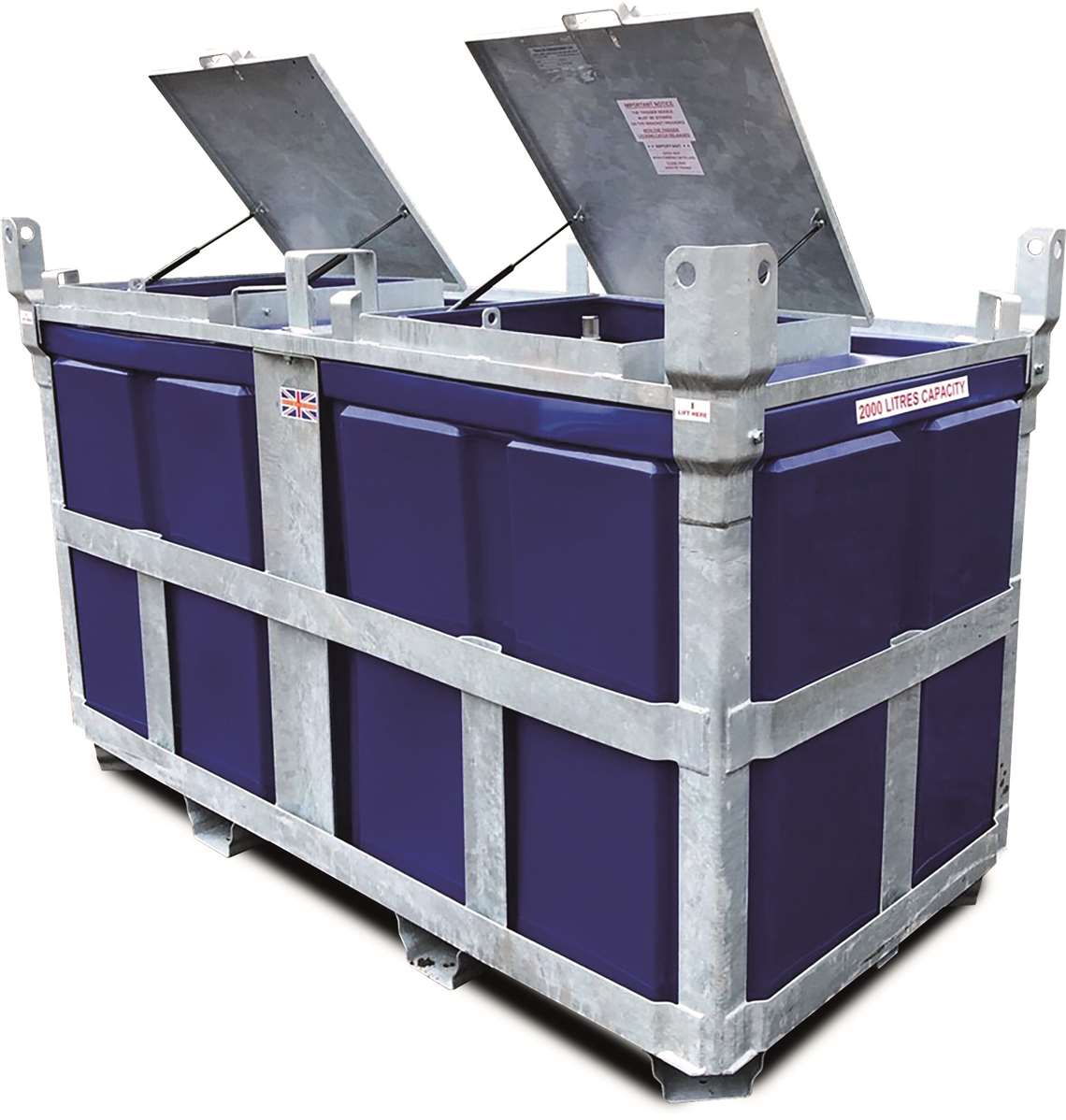 MHM's HVO range is a response to demand from rental companies looking for alternatives to diesel to reduce their C02 emissions.
It will be launched in sizes from 105l to 3000l, badged HVO Caddi 105, HVO Buddy 950, HVO Buddy 2000 and HVO Buddy 3000.
Meanwhile MHM will be introducing static, towable water storage units in 1100l and 2000l sizes.
All MHM's new products are designed for rental and complement its existing range of static and towable fuel tanks.
They feature interchangeable pump kits that can be swapped out in under 15 minutes and are fully bunded to retain spilt fluids.
Also going down the HVO route is UK pump sales and rental company Selwood, which is offering pumps that can be run on HVO.
Selwood pumps with a Stage 3B engine that can now be run on the second-generation biofuel include the S160Eco, D150Eco and HP35Eco models in the company's Eco range.
Pump users will not need to clean out or make any adaptations to the Stage 3B engine to use HVO, which is said to be a clean-burning and fossil-free biofuel that can reduce greenhouse gas emissions by up to 90%.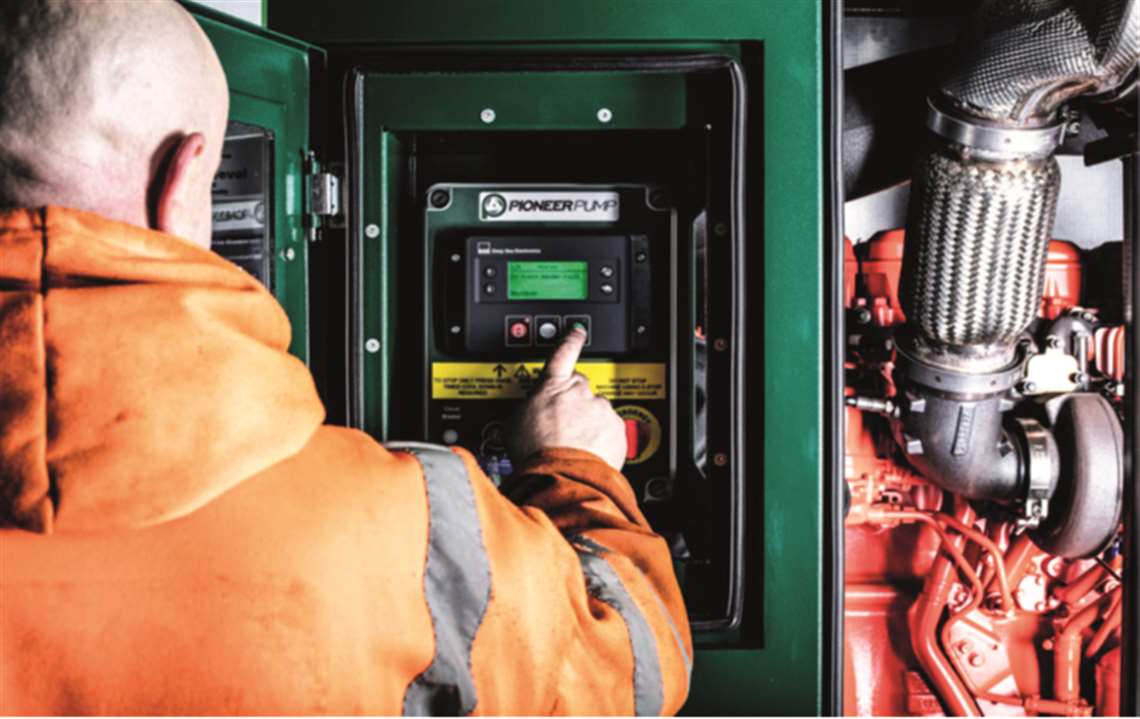 Meanwhile, Pioneer Pump (UK) has launched its Stage V EVO range, comprising around 40 models with diesel engines from Scania and Perkins, matched to the power requirements of its pumps to ensure reduced maintenance and downtime.
Featuring a green exterior, the EVO range means European customers have a choice of engine types on pump models ranging from 3" (80mm) to 30" (760mm) with flows up to 10,000 m3/hr and heads to 260 m.
The new engines incorporate a diesel oxidation catalyst (DOC), diesel emission fluids (DEF) and diesel particulate filters, which provide lower emission levels.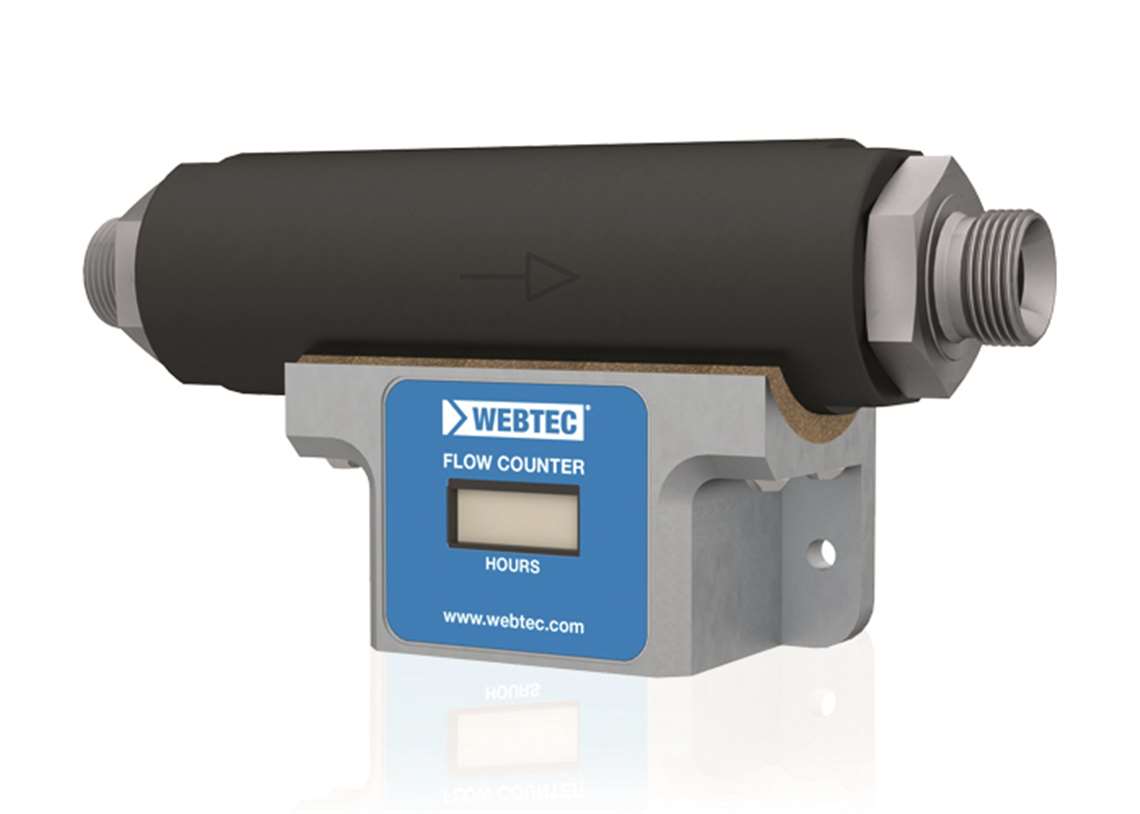 Devices & attachments
A new run-time meter for hydraulic attachments from hydraulic control manufacturer Webtec allows companies to rent attachments on a time-used basis rather than on machine hours.
The RFS200 flow counter is activated by the passage of hydraulic fluid and is unaffected by pressure, helping to ensure reliable readings.
The trigger point is set at 10 litres per minute with an anti-tamper design for security.
When the switch point is reached, the counter starts. The meter keeps counting whenever the flow rate remains above the trigger point. All counting is cumulative.
The meter also features Webtec's first-ever 3D-printed production part, the flow counter battery holder.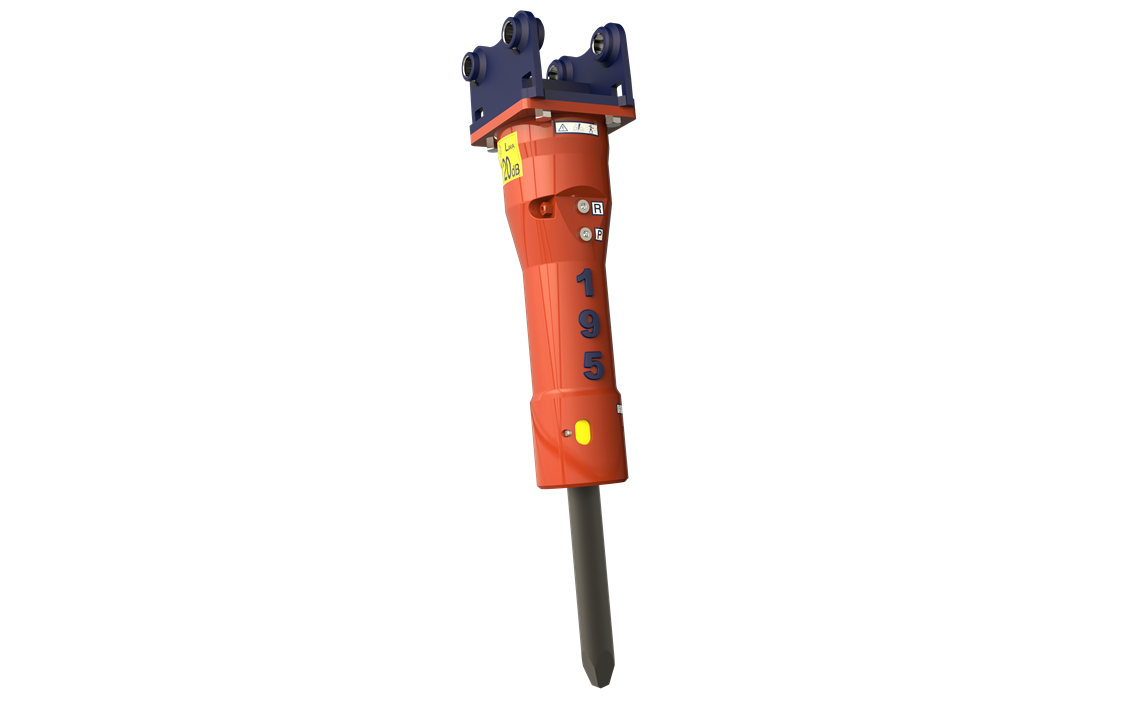 New hammer releases for 2021 from Spain headquartered Tabe are the MT 195 (pictured) and MT 800.
The MT 195 (200 kg) is designed for machines between 3 and 5 tonnes and the MT 800 (760 kg) for machines from 11 to 14 tonnes.
Tabe says the new products offer greater impact energy and greater efficiency with lower energy consumption, and they also offer the possibility of installing a dust protector.
Our April-May issue will again feature new earthmoving products, along with the important access equipment segment.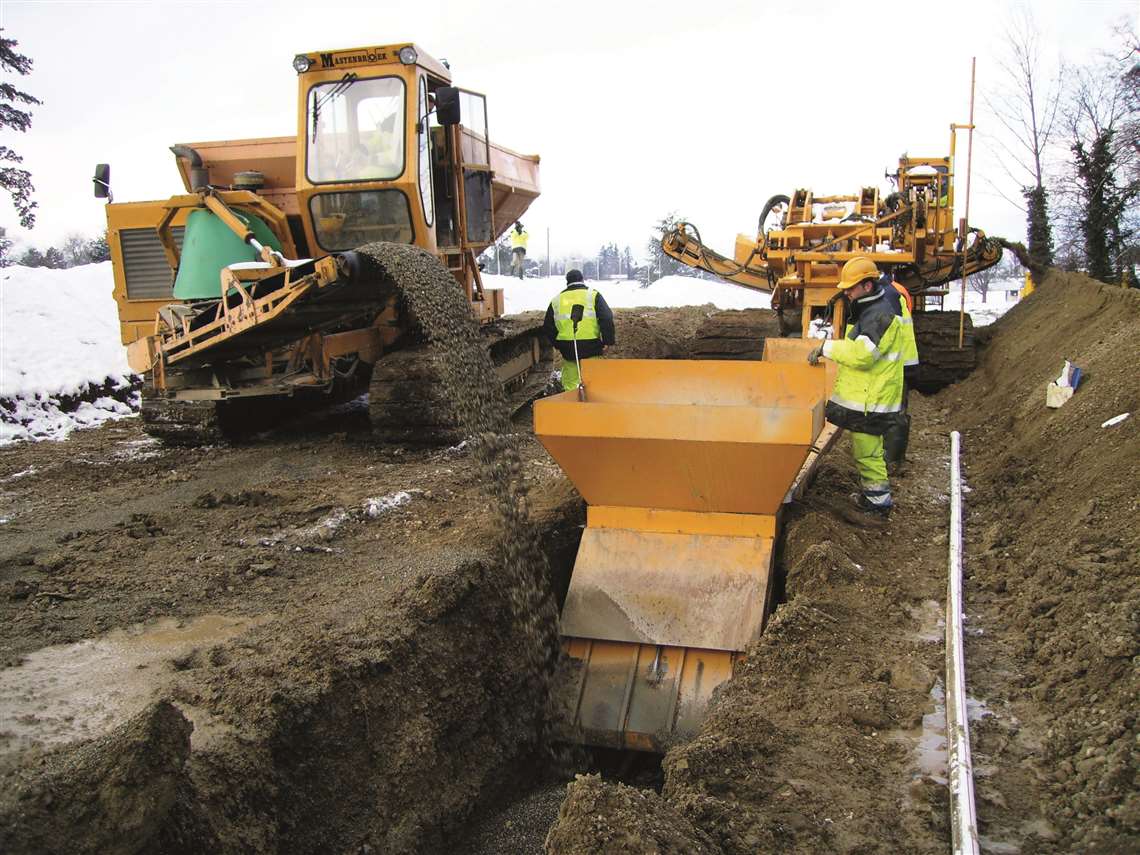 Mastenbroek, the UK-based manufacturer of self-propelled trenchers, has updated its CT12 crawler truck with a Volvo Penta D8 engine.
The CT12 features a discharge conveyor system, able to place backfill material either directly into a trench or into a hopper mounted on a trencher. The CT12's tipping hopper enables its additional use as a dump truck.
This Makita HR005GZ01 hammer is one of the new battery-powered, cordless tools from the company's 40V XGT range.
It has both rotary hammer and hammer only modes and a variable speed trigger provides speeds of up to 500rpm and hammer blows of up to 2,900 per minute.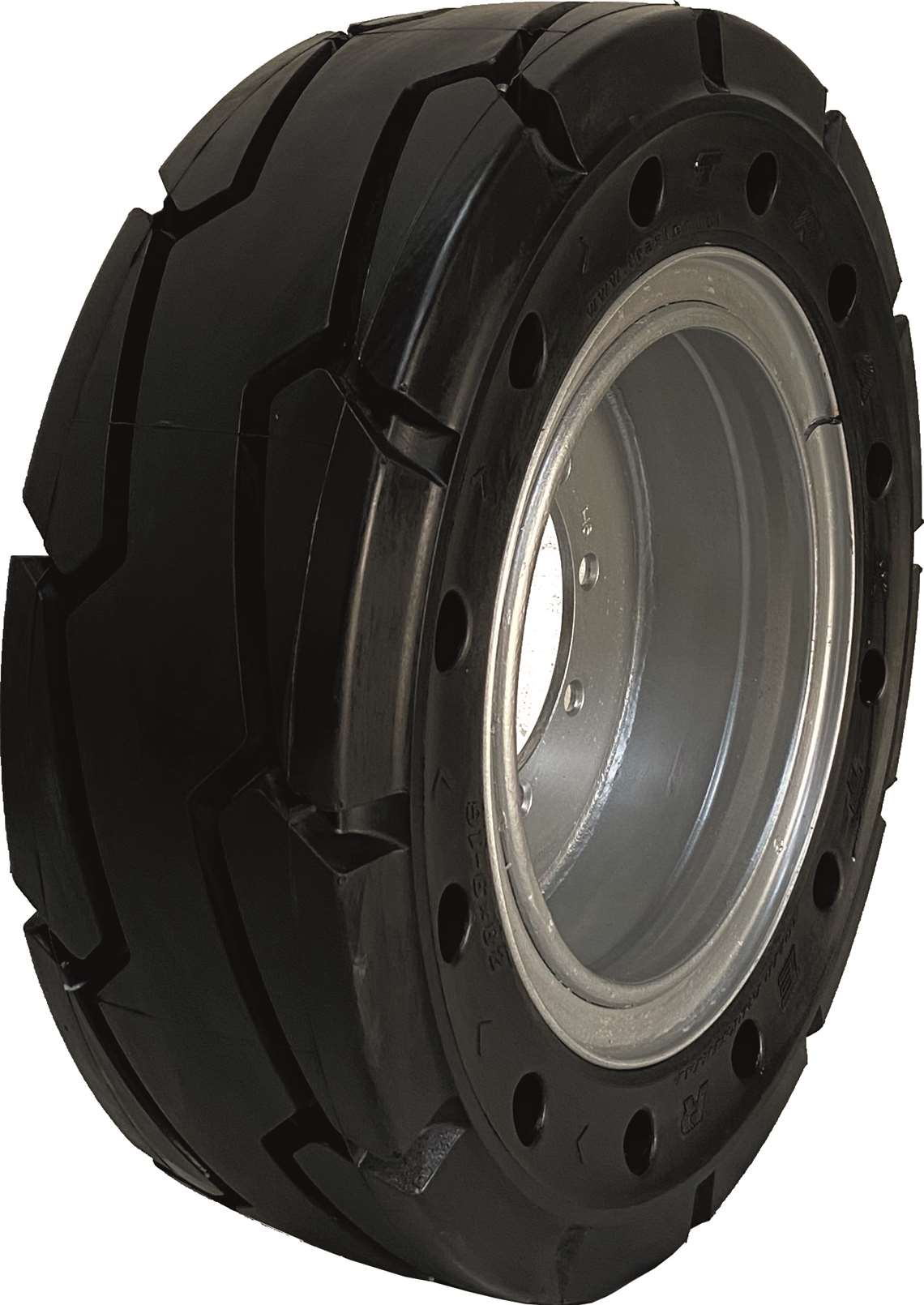 Trident has released a solid tyre with low rolling resistance coefficient (RRC), low vibration and non-directional pattern specifically for indoor electric boom lifts and electric mini-loaders.
The size 28x9-16 is an alternative for 9-14.5 (OEM P/N 45460, 45461, 54237, 54236) & 240/55-17.5 (OEM P/N 0258997, 0273468) foam filled pneumatic tyres.
This is also suitable for electric mini-loaders mounted on equivalent pneumatic tyre sizes 27x8.50-15 & 27x10.50-15.
NEWSLETTER
Delivered directly to your inbox, International Rental Newsletter features the pick of the breaking news stories, product launches, show reports and more from KHL's world-class editorial team.
CONNECT WITH THE TEAM
CONNECT WITH SOCIAL MEDIA