Interview: Dayim's Middle East expansion
Dayim Equipment Rental, which operates in key markets of the Middle East, is working to establish a lasting presence in the region's emerging hire sector, based on sustainable rental products and new business models. Dayim's Andy Carter talks to IRN Editor Belinda Smart.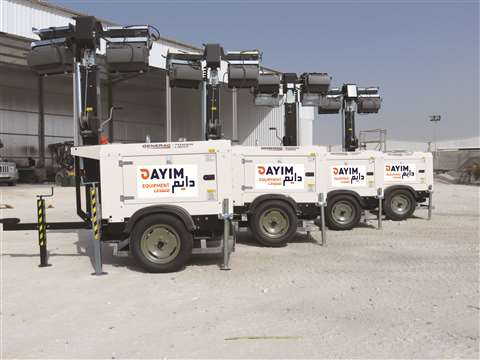 Dayim Equipment Rental is something of a pioneer in the Middle East; for one thing, it has broken away from its international roots to set its own course as a fully Saudi Arabian owned operation.
With a head office in Dammam, the capital city of Saudi Arabia's eastern province, as well as sites in Qatar, Kuwait and Bahrain, Dayim was once part of North American powerhouse Hertz Equipment Rental Corp, which became Herc Rentals.
The company emerged in its current form when Herc was split from Hertz to create the stand-alone business that it is now, exiting China and the Middle East to focus on the North American market.
Hertz Dayim, as it was formerly known, was formed in 2010 and was 51% owned by Hertz Equipment Rental in the US and 49% owned by investment vehicle Dayim Holdings.
In 2018/2019 all that changed, when the company purchased all Hertz (now Herc Rentals) shares and – as Dayim Equipment Rentals – continued its journey as a 100% Saudi owned business, steered by Executive Chairman & Co-Founder Rida Hassan Said, and Group Managing Director David Latter – a private equity specialist.
Saudi equipment rental market
Andy Carter, Dayim's general manager, Middle East and North Africa - whose track record includes stints running Middle East operations for UK rental company Speedy - tells IRN that the company's shift away from its origins with Hertz/Herc has given it new momentum.
"While the Hertz/Herc name had strong recognition, if anything the fact that we are now 100% Saudi owned has helped. We get significant subsidies from the Saudi government; better support."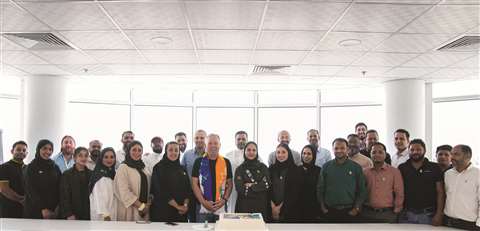 "The data is sketchy, but in terms of market share, we believe we're number one in the Saudi market, probably number two or three in Qatar and two or three in Kuwait, where we're focusing primarily on oil and gas," says Carter.
The firm is a full-service hirer offering aerial equipment including scissor lifts and boom lifts, electrical equipment, power generation products and air compressors, as well as compaction and paving and material handling machines.
Its rental fleet totals 5,500 items of equipment across the region from major brands – Atlas Copco and Generac for power generation; Genie and Zoomlion for lifting and access equipment.
"It's one of the youngest fleets in the region, with an average age three years," says Carter. "Any profit we make goes straight back into the fleet."
Sustainable rental fleet
But, another aspect of its 'pioneer' status, the business model extends beyond pure-play rental; Dayim is positioning itself as a solutions provision across a number of areas.
For example, it is also making inroads as a dealer, having taken on the dealership for Manitou for Saudi Arabia in early 2021 and for Qatar in mid-2021.
Following the buyout of Herc, the company developed a strategy to sell high quality product competitively, with a key criteria that the product must be a recognised global brand with reach across all sectors we support and "a synergy with our existing rental fleet," Carter tells IRN.
"This in turn of course provides a competitive edge by offering another high-quality service offering to our clients."
Dayim had already invested in the Manitou product in Saudi Arabia and Qatar for its rental fleet in 2019. At that point Manitou was a relatively unknown brand to the region.
"This was a perfect start for our dealership business; we had already given the market a feel for the product via our rental business, which gave our dealership offering real credence."
In the first six months the firm sold more Manitou product in Saudi than the previous dealers had sold in the previous three years, he says.
An extension of the dealership strategy is in the pipeline. "Next year our strategy is to add sustainable green products to our dealership offering that has synergies with our rental fleet and the markets we supply.
"We are currently in discussions at an advanced stage with a global brand to promote and sell their sustainable product range across the region."
Construction drives demand for equipment rental
Dayim's wide-ranging activities are supported by a dynamic construction market in the Middle East; in Saudi Arabia, the Saudi Arabia Vision 2030 strategy, established to reduce the country's dependence on oil and diversify its economy, has sparked a flurry of developments so large they are known as 'Giga projects."  
These include land and property development The Red Sea Project; NEOM projects – which include a fully pedestrianised city and an airport; Qiddiya, an entertainment, sports and culture complex to the southwest of Riyadh; and Diriyah Gate – a development northwest of that city, centred around the UNESCO World Heritage Site of At-Turaif and including around 38 leading global hotel brands.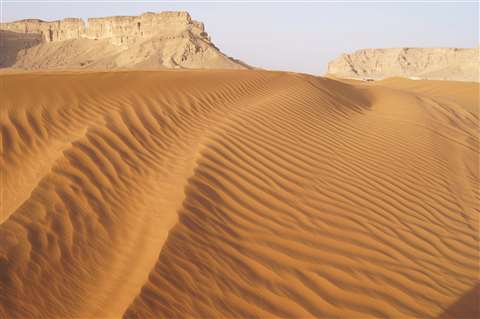 In the shorter term, in another major ME market, the upcoming World Cup from 20 November to 18 December 2022 in Qatar has also driven demand for Dayim's products and services.
Rental growth in the Middle East
An energised construction market coupled with supply and price challenges mean it's no surprise that rental is on the rise, says Carter.
"Europe is a very mature market, and the Middle East is some years behind that, but we see clear growth opportunities," he tells IRN.
"The current credit crunch and liquidity shortage have created that opportunity in a sense. Previously companies invested heavily in plant and equipment, however capital is so tight now that it doesn't make sense to invest in products; businesses are increasingly saying 'let the rental company do the work.'"
He says digital transformation is key to the growth of rental. "Certainly, that's something we're trying to drive through.
"We've fitted telemetry on much of our equipment and implemented an online platform to support the fulfilment centre for the Red Sea Project.
"Our view is that we don't just want to be a rental business; we want to drive costs down for our clients, because their clients are driving down their cost base.
"The more costs we can drive down for them using technology and telemetry, the more it's going to create a relationship of trust."
Sustainable gensets
From inception, Dayim has also had a focus on sustainable products including solar lighting, lithium batteries and gas generators.
In recent months it made a major sustainability play by partnering with The Red Sea Development Co. to build an onsite, carbon neutral operations hub, positioned as one the most carbon neutral fulfilment centres in the Gulf Cooperation Council (GCC) region - Bahrain, Kuwait, Oman, Qatar, Saudi Arabia, and the United Arab Emirates.
The hub will be powered by lithium-powered generators and solar panels.
Dayim also recently opened a facility in the eastern province of Saudi Arabia near its head office, where it produces green power generation products.
For the 2022 World Cup, Dayim is providing 650 generators; but once the football is over, the generators be taken back to Dayim and repurposed as hybrid green units, using solar, diesel and battery technology.
Solar power is still uncommon in the Middle East, particularly the rental market - despite an abundant supply of sunshine – but solar is another area of focus.
"We're offering a range of tower lights in solar. We've just taken on a 20,000 square metre site and we expect to start producing the units in the second half of next year."
Fleet management
Dayim sees service as another critical point of difference; for example, it offers an average response time of less than two hours in all the countries in which it operates.
But service extends beyond timely delivery to a more strategic offer, encompassing managed service. "We go in and we look at major construction companies' business; we look at their fleets and advise them on what's valuable to retain and what they could sell.
"We put a management team in to manage the company's plant and equipment division – to manage that fleet.
"Anything the company sells, we'll purchase it and rent at agreed pricing."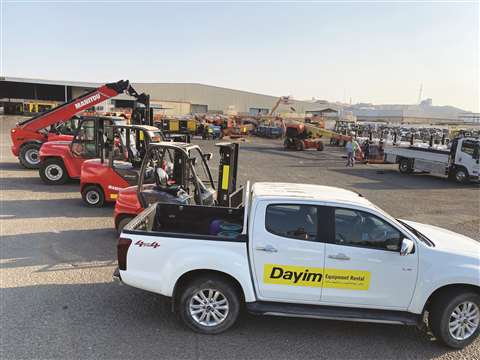 The concept is new in the region, he says – "We're the first ones in the Middle East offering this model; the Red Sea project is the first managed service contract in the Middle East."
Carter's experience at Speedy is relevant here; some years ago, Speedy purchased the plant business of a major UK construction company and took on its equipment and staff so it could focus on its core business.
"What we're doing with the Red Sea Project is a bit like a hybrid version of that. We've said to them, you can own it, but we'll manage it for you.
We will buy smaller non-strategic kit, sell it, generate cash, then provide our own kit.
"They will also retain strategic equipment, for example certain tower cranes, but products such as power generation or tower lights work well within a managed service model; you can turn the capex on and off when you need to.
"We can identify buyers for the company's kit, broker that deal and generate the cash, which is always welcome as liquidity is tight in the Middle East."
Dayim is in talks with contractors about using the managed service approach on other projects including NEOM - as well as the Riyadh Metro transit project.
A version of the managed service concept is also being rolled out for the Word Cup in Qatar, he confirms, where - along with power generation products - Dayim is providing a fulfilment centre, and stage management and car parking support.
What are the challenges facing rental?
Carter indicates that Dayim is now in a dynamic cycle, having successfully headed off recent well documented challenges. In the case of the pandemic, "We acted very quickly - we had a business continuity plan in place and the minute the pandemic hit, we took drastic cost reduction measures."
The supply chain crisis caused delays in some areas, but the company emerged relatively unscathed, he adds.
"We were due to open in the UAE in the first quarter of this year, but that has now been pushed out until the same quarter next year due to supply issues.
"Delays haven't unduly affected the company's fleet replacement program though; luckily, we'd forward ordered a lot of kit before the crisis began."
One challenge characteristic of the region is liquidity. Slower than average payment schedules, particularly on major construction projects, are common in the Middle East; as much as 180 days in some cases, "which makes it hard for cash flow and planning."
To offset this, Dayim focuses on better paying sectors such as the oil and gas industries, and tailors its offering, country by country; "In the UAE, we're steering away from what I call 'shiny buildings,' in other words, major construction projects where payment schedules are longer. We'll focus on oil and gas, logistics, aviation and distribution."
For those more specialised sectors such as oil and gas, Dayim is investing in specialty products such as nitrogen membrane units, air boosters and larger compressors.
Dayim targets continued growth and expansion
Overall, it seems headwinds can be counteracted by a promising outlook for this rising rental player, which, says Carter is forecasting 35 to 40% growth over the next 12 months to three years, organically and through acquisition.
In a region bristling with small and medium sized players, Carter predicts consolidation in the market in the near future; "Some of those new players have driven down prices and that trend can't continue. I think we will see consolidation; and hopefully we'll be a consolidator, not a consolidated business."
Acquisitions are about "the right fit," he says. "On product, does an acquisition give us something different? Or does it give us market share or access to infrastructure? Or is it a good cultural fit? Those are the questions I ask."
Until those opportunities emerge, Dayim will work to execute its ambitious plans.
"We're opening in the UAE next year and planning significant growth in Saudi Arabia through Giga Projects and managed service. We're looking at entry into Iraq for oil and gas as well as projects in India, also next year. The next three to five years are going to be very busy."
NEWSLETTER
Delivered directly to your inbox, International Rental Newsletter features the pick of the breaking news stories, product launches, show reports and more from KHL's world-class editorial team.
CONNECT WITH THE TEAM
CONNECT WITH SOCIAL MEDIA