Lighting towers - the newest green equipment on the rental market
By Belinda Smart13 September 2021
In most equipment categories in mature markets, the primacy of emissions reduction as a driver is of course beyond dispute, but another trend, particularly in the rental sector, is the need for agile, multi-purpose products. In some cases, meeting these needs simultaneously is driving innovation.
On emissions, the direction of travel has been clear for some time, thanks to movements such as The European Green Deal's aim of making Europe climate neutral in 2050. The United States has also set a goal to reach 100 percent carbon pollution-free electricity by 2035. 
Numerous manufacturers are now sharpening their focus on emissions-lowering product.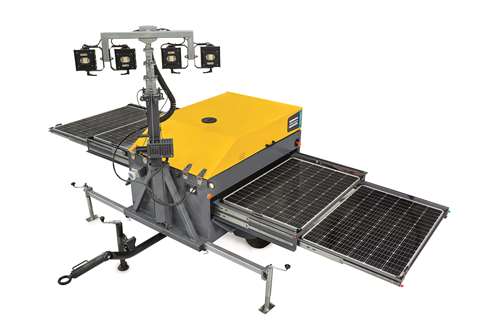 Solar powered lighting towers
Atlas Copco Power and Flow has launched a user-friendly solar-powered LED light tower, the HiLight S2+, which it says reduces CO2 emissions by up to six tonnes compared with traditional technologies.
The HiLight S2+ features 4x90W LED floodlights to deliver 2,000 m2 light coverage using solar radiation as an energy source. The system features an external control panel, and the lights have a dimming function to prevent light and energy wastage.
The tower provides autonomous operation where solar yield is greater than energy demand and can also be charged with Atlas Copco's ZenergiZe energy storage systems or any external power grid where energy demand is higher than solar yield, for example during winter.
Batteries can be recharged with solar energy in eight hours or an external power source in three hours.
Félix Gómez, Atlas Copco Divisional Product Marketing Manager – Light Towers says, "Users can easily accomplish a work shift of 11 hours with the HiLight S2+ reliable light source with hardly any CO2 emissions and noise."
Working at temperatures from -5°C to +50°C and at high altitudes without derating, The HiLight S2+ light tower is also suited for remote sites.
Construction site lighting towers that use HVO fuels
UK based MHM Group is responding to drive towards low-emission and emission-free machinery, while it also continues to focus on offering choice to customers, says Managing Director Mat Llewellyn.
"Our intention is to offer a good mix of lighting to rental clients in the UK and Ireland. This year we are encouraging our clients to look at their lighting rental fleets slightly differently, and perhaps embrace more sustainable products such as solar only power or the use of HVO fuels."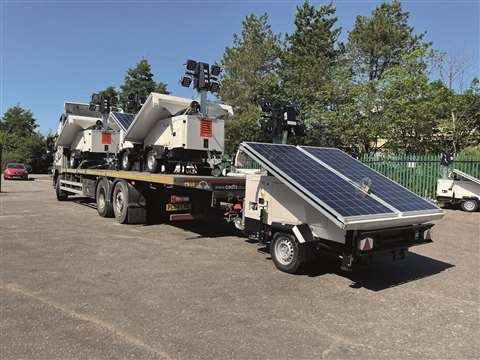 MHM's two emission-free, lighting sets, the MHM ST-9 and the MHM Street-Lite are attracting interest from the market, he confirms.
The ST-9 is the larger of the two units, and is a solar/battery, diesel-free, site lighting tower that operates from a combination of an AGM (absorbed glass mat) sealed lead acid self-charging battery, with four LG360 solar panels.
Illumination is via a bank of energy-saving LED lamps fitted to a nine-metre mast. The ST-9 is equipped with a 'Dusk 'til Dawn Auto Start/Stop Sensor' which means the lights operate only when necessary.
Meanwhile, the "diminutive" Street-Lite features an integrated Lithium iron phosphate battery and has no wiring or fixings.
The battery is charged via a solar panel which MHM says will operate in most weather conditions. It has a movement sensor that dims the light when it detects no movement and increases light coverage when motion reappears.
MHM maintains that demand is still strong for lighting sets powered by a small fuel-efficient diesel engine with energy saving LED lamps. It will continue to offer traditionally powered lighting towers for the foreseeable future and will champion the use of HVO.
Low fuel consumption from Himoinsa
Himoinsa has launched the HBOX+, the first in a range of new lighting towers for the European rental market, designed for low fuel consumption, with a large capacity tank offering a running time of 400 h and 600-hour service intervals.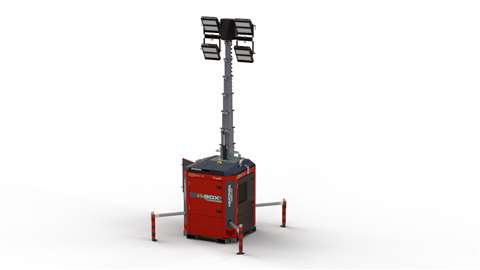 The European-manufactured model, which was unveiled at Matexpo, Belgium, between 8 and 12 September, has a two-cylinder Yanmar Stage V engine.
The 2TNV70 engine consumes fuel at less than 0.55 l/h, which Himoinsa said "makes it one of the most competitive products on the market in terms of consumption."
The light tower's hydraulic mast reaches a height of 8.3 metres and can rotate through 360°, guaranteeing optimum light coverage.
It has a light capacity of 210,000 lumens, and incorporates 4 x 350W LED spotlights (50X50 SMD Chip Technology). Meanwhile a Led Dimming Control offes a progressive start-up with dimming, to avoiding glare during operation in road construction.
Designed and manufactured by Himoinsa, the CET8 controller is designed to provide a user-friendly interface and includes an automatic working mode (start/stop), engine Run/Stop, mast Up/Down and lamps On/Off, as well as a reverse mode when the stop is activated.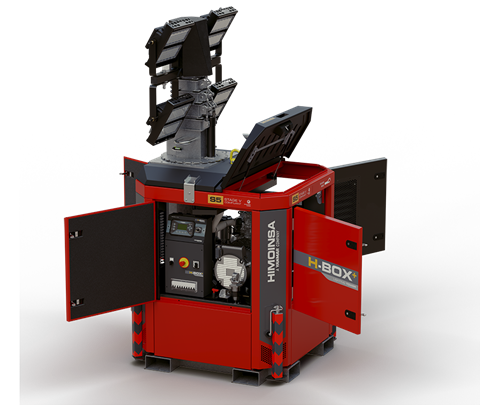 The control system uses a joystick to raise and lower the mast, while a stability system prevents the machine from running until it is level. A range of control options is available, suited to users with varying levels of expertise "to guarantee accessible and correct operation in every case."
The HBOX+ also uses CAN BUS, enabling connection to the C2Cloud fleet management module for remote control of the units.
Other features include wide, easy-access doors on all sides and roof, while the frame is easily removable for cleaning and maintenance.
The interior also contains emergency LED lights in case the equipment is switched off.
The light tower can withstand wind speeds of 110Km/h or more, and has a lifting hook at the top for transport as well as mounting points on all four sides of the frame for forklifts.
Up to 22 units can be transported in a 13 m mega-trailer truck and 20 units in a 40' container.
Italy's Trime Group anticipates that by the end of the year as much as 50% of its production will be made up of solar, solar/hybrid and full battery generators and lighting sets.
The company's recently launched 'GOAL2025' initiative will see the company phase out fossil-fuel equipment and, by 2025, only offer emission-free machinery.
"The use of fossil-fuel engines to power our lighting towers and generators is on course to cease production by 2025," says Matteo Tagliani, Trime Director of Sales.
"We are committed to invest in new solar and battery technologies. We will continue to market the largest range of sustainable power products and lighting towers available worldwide."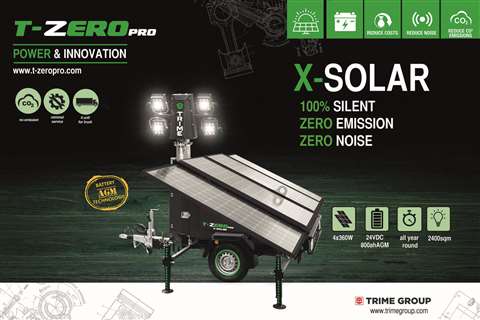 At the beginning of 2021 Trime also announced its T-ZERO PRO initiative, a line of battery, solar, hybrid and plug-in products designed "to dramatically reduce noise, vibrations, fuel consumption and CO2 emissions in the world of construction and rental companies."
The initiative will replace many of the diesel, gasoline and LPG engines currently fitted to Trime machinery used on construction sites, including lighting towers.
Trime UK has also achieved recognition for its sustainable lighting towers in 2019, receiving a Green Apple award for its X-SOLAR HYBRID lighting tower from international environmental campaign group, the Green Organisation.
This growing focus on emission-free products is reflected by the group's internal research, which found that in 2018 3% of its manufacturing capacity amounted to full 'Green & Sustainable' machinery, a figure that has now increased to more than 40% in 2021.
Multi-purpose generator light towers
If emissions awareness is now a 'given', agility is increasingly a watchword for the rental sector, as Sean Vandoorselaer, CEO of North American manufacturer Lind Equipment confirms.
"We believe the future for the light tower industry is in increasingly delivering more and more lightweight, mobile and versatile towers that are no longer constrained by large generators that require large size, weight, and mobility constraints.
"They are easier to deploy, with more features and more light output, without sacrificing any of the durability and reliability."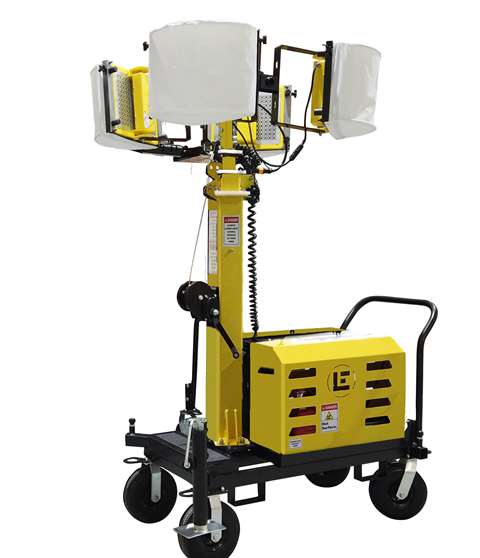 Lind's latest release is the All-In-One Beacon LED Tower, described as a single lighting asset that replaces the need for three separate lighting units, meaning it functions as an all-in-one generator powered light tower, a diffused light tower and an electric tower.
"It's first and foremost a durable and tough remote generator light tower that replaces the bulky, traditional 4x1000W metal halide towers.
Secondly, it can work as a no-glare diffuser light tower for nighttime road work or events that require diffused lighting.
"All that's needed for this mode is to simply clip on the diffuser frames to each light head to create no-glare diffused light. Thirdly, it can work as an electric powered light tower off an external power source for indoor and outdoor applications."
Featuring an all-steel construction and IP65 weatherproof rating, the tower is described by Lind as "the ideal rental product because it can be applied in every application imaginable for a light tower; remote areas that require generator run equipment, for diffused night roadwork or events, and of course, for indoor applications with an external power source."
Because the Beacon LED Tower doesn't require a generator, Lind says it halves the cost of a traditional generator powered light tower, but the real draw card is versatility; the light can run indoors and operate on an electrical circuit.
Other features include clip-on diffuser frames that attach to the LED light heads to create no-glare diffused light.
"These advancements mean that there can be a single rentable product that can perform in every light tower rental need," says Vandoorselaer.
"It eliminates the need for individual products for each application, with an All-In-One unit, every rental request is met in a single tower."
Italian company Generac Mobile is also focused on multi-purpose products, says Emiliano Terzi, Mobile Marketing at Generac.
"Big rental companies today are facing a problem: they must purchase many different models each of which must respond to a specific need.
For example, some customers will ask for a full-battery model because they need total silence and zero carbon emission; some others will need the power of a generator-driven model; in recent years, thanks to the increasingly elevated environmental consciousness across the planet, many customers are looking for a hybrid solution or even lighting towers 100% driven via solar panels.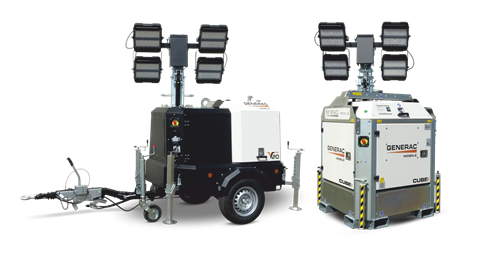 Generac Mobile's new PRO series brings an "all-in-one" power system to lighting towers, allowing the operator to choose their preferred power source, from diesel powered – meaning a power supply 100% from an integrated diesel generator, to battery powered - 100% from integrated/rechargeable battery pack, or a hybrid system that alternates battery working cycles with diesel recharging cycles.
There's also a plug-in option enabling the PRO to be connected to an external power source and work while charging batteries.
Other features of the PRO line include a darkness sensor and digital timer, installed by default in every PRO Lighting Tower. The towers also have a dimmer to adjust the LED light power from 25% to 100%.
Generac Mobile is introducing PRO Technology through enhancements to its top-of-the-range models for European rental companies, the V20 and CUBE+.
The new V20 PRO can be used in construction sites or urban areas and has a new trailer that allows customers and rental companies to optimise transportation costs.
Meanwhile CUBE PRO is described as "one of the most stable, safe, and widely suitable Generac Mobile lighting towers" in the rental market targeting the events sector.
V20 PRO and CUBE PRO became commercially available from June 2021, and Generac Mobile is planning to add PRO to other models in its range by the end of 2021.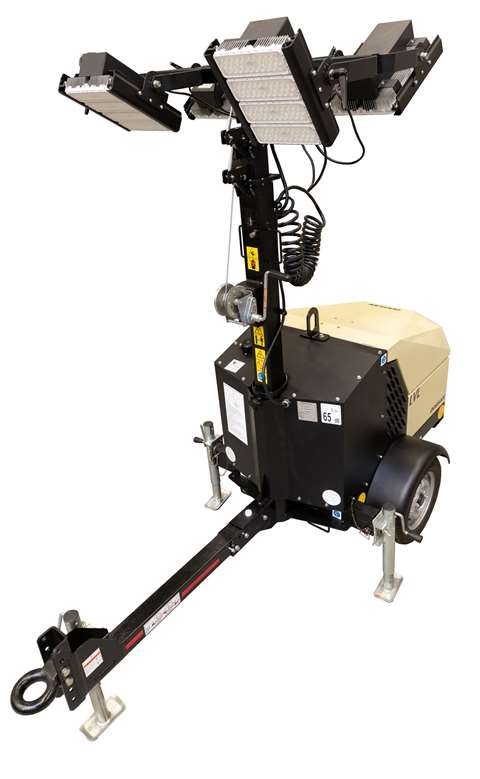 The Portable Power business of Doosan Bobcat has launched the new LVL 50 Hz portable light tower for markets in the Middle East and Africa.
Also available as a 60 Hz model, the tower is described as "ideal for the rental market" with a compact footprint for increased job site mobility and cost-effective transport.
It has a power train based around the Yanmar L48N5 Tier 2 diesel engine. Using a high output alternator while the fuel tank capacity allows an extended runtime for the four LED lights of 220 hours (200 hours for the 60 Hz version).
The clamshell-style canopy lifts easily for quick access to service points, ensuring routine maintenance is quick and easy to perform without having to take the machine apart.
The mast on the light tower can be raised to a height of 7 metres by dual, hand-operated winches and features an automatic safety brake.
NEWSLETTER
Delivered directly to your inbox, International Rental Newsletter features the pick of the breaking news stories, product launches, show reports and more from KHL's world-class editorial team.
CONNECT WITH THE TEAM
CONNECT WITH SOCIAL MEDIA