What's new in low emission lighting towers?
Focus on low emissions continues, and lighting tower suppliers are also fine-tuning their offerings in line with rental demand, writes Belinda Smart.
It's summer in the northern hemisphere and headlines warning of heatwaves are another reminder of climate change. The construction equipment sector is rising to this occasion across all categories – and light towers, which lend themselves relatively easily to innovation, are no exception.
Sustainable rental lighting towers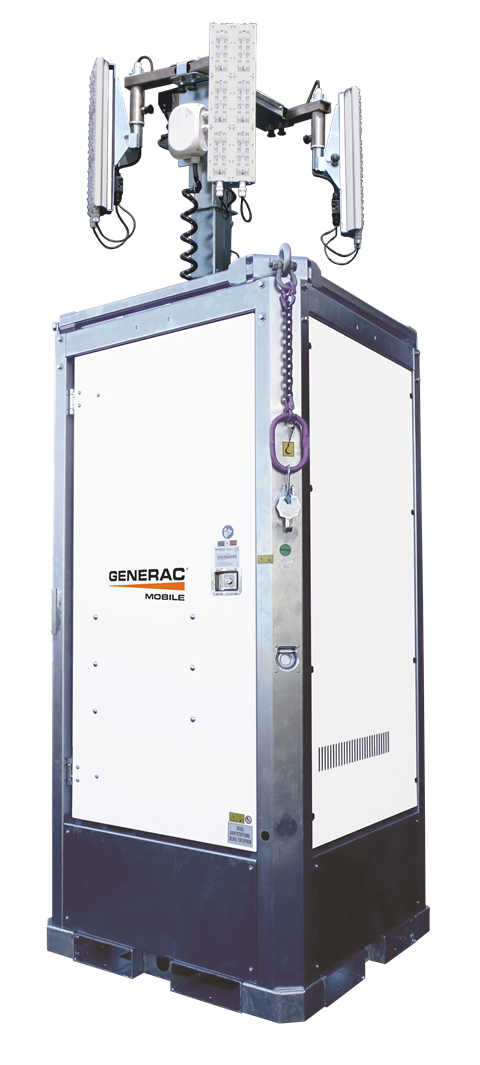 Generac Mobile has expanded its PRO lighting tower range with the launch of the Hydro Power Box PRO, designed specifically for the events sector.
According to Generac, the light tower can be "placed in the middle of the public in total safety, thanks to the absence of protruding parts and the fact that no electrical, mechanical or hydraulic components can be reached by unauthorised people."
The Hydro Power Box PRO joins the CUBE PRO - launched in 2021 - offering "hybrid power supply" that allows the operator to choose between integrated generator (with low-consumption Stage V diesel engine), rechargeable battery, hybrid system (generator + battery), or Plug-in external power supply.
The PRO range also includes the trailer mounted V20 PRO and accessories including the Solar Panel Kit - enabling the PRO unit's internal battery to be charged via solar energy - and the stand-alone I-Extender battery pack, designed as an external power source for the PRO unit, either in Plug-In, Battery or Hybrid mode.
The I-Extender is a stand-alone product equipped with power sockets, that can also be used on its own to power other types of electrical equipment, "in the same way as a small portable generator but without any fuel consumption."
PRO light towers and the I-Extender are now also available with a lithium-ion battery pack, in addition to the standard AGM battery pack, in a move designed to give customers a wider choice of battery technologies, Generac Mobile confirmed.
Italy-headquartered Trime has stated that its aim is to only offer emission-free lighting towers by 2025, in effect becoming 'net-zero' in just two and half years' time. Its T-Zero Pro brand is a key part of that objective, says Sales Director Matteo Tagliani.
"With environmental issues prominent in the global construction rental markets, and in particular the use of fossil fuels to power construction machinery, Trime has pressed forward in producing a wide range of lighting towers that operate from renewable energy," Tagliani tells IRN.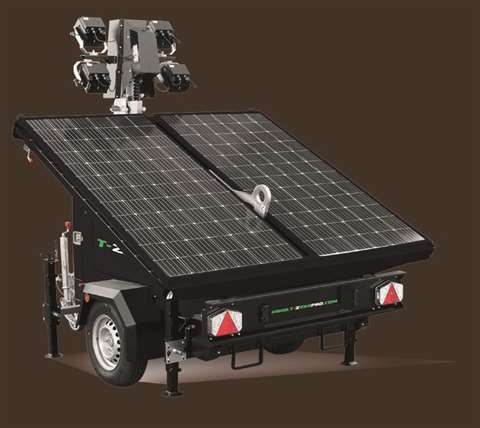 At the same time, meeting rental sector demand for more tailor-made solutions is another driver.
"Through its close links with the rental markets, Trime is aware that individual rental organisations have separate requirements. To meet these demands, Trime has a dedicated design team that can produce bespoke lighting towers that satisfy case-by-case requirements.
"With the T-Zero Pro brand, Trime offers a complete line of solar, solar hybrid, battery hybrid, plug-in, and battery-only lighting towers all equipped to deliver safe, bright illumination for a wide range of applications. All Trime lighting towers feature energy-saving, long-lasting LED lamps.
Rental companies also benefit from services including training for maintenance and repair – on-site or via video link; product training and advanced marketing programmes; extensive stocks of quality spare parts ready for immediate despatch; online up-to-date data sheets detailing product specifications and access to the Trime design teams for product customisation.
The recently released X-Eco Lithium Hybrid has attracted interest from rental organisations; powered by advanced lithium battery technology, it can be fully recharged in less than two hours, which means that in a ten-hour cycle, for 80% of the operation it is powered primarily by its batteries, delivering ultra-low noise with virtually zero carbon emissions.
For rental firms that require solar-powered lighting, Trime has also developed a solar-only lighting tower, the X-Solar. The unit is described as a robust, rental-quality, lighting tower that is powered by a combination of 335w self-sufficient solar panels and Absorbent Glass Mat (AGM) batteries.
Another supplier taking on the solar space is Atlas Copco, which has launched a "user-friendly" solar-powered LED light tower, the HiLight S2+, offering reductions of CO2 emissions by up to six tonnes compared with traditional technologies.
"The innovative S2+ light tower delivers efficient, high performance, giving workers good visibility while allowing sites to increase their sustainability and comply with zero CO2 emission and noise regulations."
"The light tower is robust, easy to transport, and comes ready to use. The lights can be easily manoeuvred into place and solar panels set up; they are simply pulled out from the canopy and their position can be adjusted to align with the sun's location for maximum solar yield."
"As HiLight S2+ uses solar energy, it is a reliable light source independent of fuel provisioning. The light tower is extremely easy to work with and use as there are no external cables or refuelling required."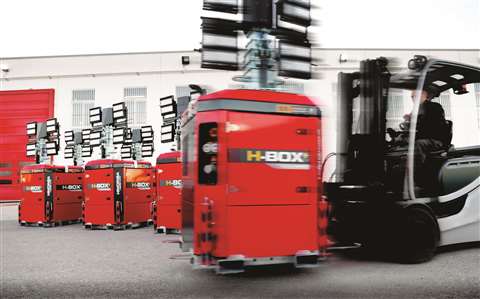 The new solar light tower provides autonomous operation where solar yield is greater than energy demand. And it provides light all year round. In cases where energy demand is higher than solar yield, for example during winter months, the tower can also be charged with Atlas Copco's ZenergiZe energy storage systems or any external power grid, achieving a total green and clean solution. Batteries can be recharged with solar energy in eight hours or an external power source in just three hours.
Also upping its focus on green products is Spanish OEM Himoinsa, which is "working on the development of a complete portfolio of new diesel, solar and hybrid battery-powered lighting towers for the rental and construction industry." (See also our interview this month with Himoinsa CEO Francisco Gracia, page XX.)
Its first release is the HBOX+ with Yanmar 2TNV70 two-cylinder engine, long service interval of up to 600 hours and optimised fuel consumption of less than 0.55l/h. To be exhibited at Bauma from 24 to 30 October in Munich, it incorporates 'SafetyMast' functionality, an electronic control device that can detect obstacles, impacts and high wind speeds and can regulate the height of the mast autonomously depending on the strength of the wind.
It has a light capacity of 210,000 lumens and incorporates 4 x 350W LED spotlights (50X50 SMD Chip Technology). Its hydraulic mast reaches a height of 8.3m and can rotate through 360°. It also has a LED Dimming Control that guarantees the regulation of the intensity of the light, due to a progressive start-up with dimming, avoiding glare, mainly when the lighting towers are operating in road construction.
Himoinsa is betting firmly on eco-friendly, versatile products, Miguel Ángel Ruiz, Global Engineering and Development Head tells IRN.
He confirms the company is already working on a hybrid HBOX+ version with batteries to offer a solution that allows further optimisation of fuel consumption and a reduction in the carbon footprint.
Solar only lighting for the rental sector
MHM Group in the UK has released upgrades across its ST-9 (LED 4) Solar Only, Diesel Free 9m Lighting Tower (mark two) Street Lite (LED 4) Solar Only 5.5m Lighting Tower (mark two), built by MHM group specifically for the rental and outdoor events industries.
Improved features for both models include increased battery capacity to improve power longevity and automatic power saving mode. Real time, clock time control as standard Plus, all usual expected features – lifting points, fork pockets, fully adjustable and tiltable LED heads.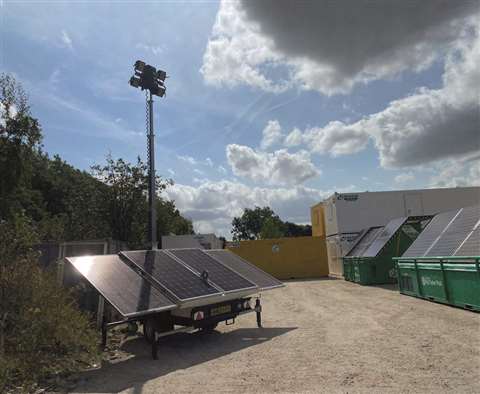 "MHM put a lot of time and energy and attention onto these two products due to the ever-increasing demand for solar only diesel free, emission free, noise free site lighting so that we were purely responding to that gap in the market where people don't want diesel lighting, they specifically want diesel free."
"We've seen incredible demand for this type of product as since the pandemic, acceleration towards net zero has exceeded expectations. The market is moving towards this net zero target faster than anyone really anticipated."
"Site lighting in the UK has traditionally been managed by 9m towable towers, but due to the move away from diesel, alternative lighting solutions such as our solar Street Lite have been under more scrutiny by a variety of sectors. Contractors and rental companies are more and more looking at site lighting in different ways and understanding the evolution of alternatives to diesel powered products which is what our Street Lite is addressing."
Lighting for construction and event rental
North American specialist Lind Equipment has released the new All-In-One Beacon LED Tower, which provides the functionality of three separate lighting assets in a single package.
"Our rental customers are looking to maximise the return on investment for their equipment fleet," says CEO Sean Van Doorselaer.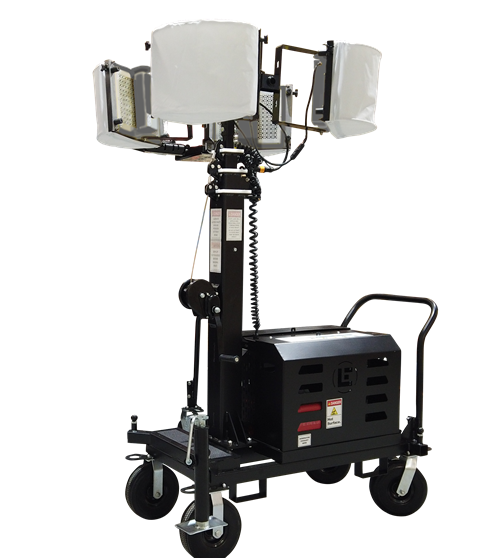 "Lind's All-in-One Beacon LED tower helps our customers to achieve this goal by filling the roles of multiple different types of light tower in a single package. This one tower can be used as a generator tower, an electric tower, a diffuser tower, and is highly versatile for both construction and event rental applications. All this comes at a very attractive initial price point which allows for rapid payback on investment." 
A single Beacon LED Tower can be used as a generator-powered light tower, a no-glare diffuser light tower, and an electric-powered light tower.
"What separates the All-In-One Beacon LED Tower is that contractors no longer need to own three separate towers for different types of jobs. This full-power light tower can illuminate remote construction sites with an onboard generator as small as 1000W.
The tower can also operate quietly without any fumes from an external power source – ideal for indoor applications.
Lind confirms the no-glare diffuser frames are the feature that makes unit extra valuable for concrete and road work. "Traditional balloon lighting produces light in all directions – including straight up. The tower uses separate diffuser frames for each light head, which enables contractors to adjust the light heads in the direction light is needed."
"In addition, the diffuser frames are removable, so contractors can attach them to lights facing traffic or public areas for no-glare lighting and not attach them to the light heads facing the construction work for additional bright light."
Doosan Portable Power targets Middle East rental market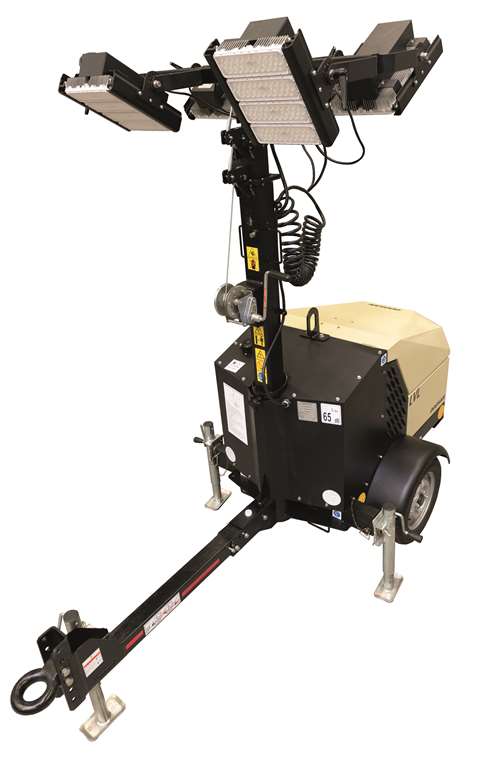 Destined for markets in the Middle East and Africa is Doosan Portable Power's LVL 50Hz portable light tower.
"Designed for reliability and durability, the LVL light tower - also available as a 60Hz model - is ideal for the rental market. The LVL light tower has a compact footprint for increased job site mobility and cost-effective transport.
"This latest light source from Doosan Portable Power provides simplicity, practicality and innovation to help customers provide temporary lighting for sites for longer. Applications include lighting for special events, road and bridge construction sites and all general construction applications, as well as providing lighting for emergency and disaster relief, oil and gas drilling and for mining and quarrying locations."
The new LVL light tower has a power train based around the Yanmar L48N5 Tier 2 diesel engine. Thanks to a high output alternator, the LVL provides light and power with class-leading run-time. The fuel tank capacity allows an extended runtime for the four LED lights of 220 hours (200 hours for the 60Hz version)."
"The four efficient and powerful 300W LED lights provide a total output of 1200W, providing the same area of lighting coverage as the previous generation metal-halide lighting tower. The durability of the LED lights is also a significant improvement providing up to 50 thousand hours of lifetime. This means that the LVL can be kept running for much longer and at a lower overall cost.
As well as the lighting capability, the LVL also has a 5 amp 230V or 120V (as a 60Hz option) socket with a multi-region connector for providing power for mobile phones and other electrical devices.
NEWSLETTER
Delivered directly to your inbox, International Rental Newsletter features the pick of the breaking news stories, product launches, show reports and more from KHL's world-class editorial team.
CONNECT WITH THE TEAM
CONNECT WITH SOCIAL MEDIA