Low-emission lighting towers: the latest launches
By Belinda Smart23 February 2023
With major projects – particularly in Europe – positioned as green construction sites, low emissions, pollution, noise, and operation cost reductions are expected in the lighting towers sector; so how are key OEMs differentiating their latest releases? Belinda Smart finds out.
'Green' lighting tower technology has come a long way in recent years; but as low or zero emissions models are increasingly seen as a "given" – the pressure is now on to raise the bar in performance, running time, robustness, and adaptability.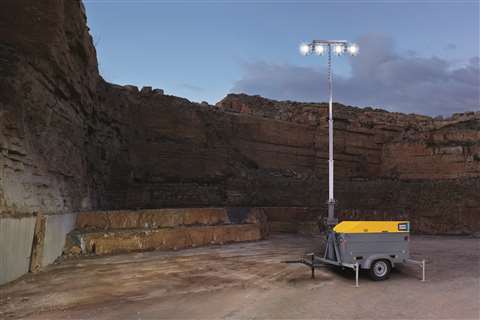 Take Himoinsa's HBOX+ Hybrid, designed to reduce emissions, noise, and fuel costs, which was introduced at Bauma and is being officially launched in the first quarter of 2023.
It combines a battery-powered system and Stage V diesel engine and is said to ensure a reduced noise and carbon footprint and low operating costs.
Hybrid lighting towers
Maintaining high levels of performance was key to its design; the light capacity (120,000 lumen) offered by the 100% diesel version has been maintained, Miguel Ángel Ruiz, Himoinsa's Global Engineering and Development Head confirms.
"We have managed to design a product that keeps all the benefits of the HBOX+ diesel version but also adds the competitive advantages of a hybrid battery-powered system," Ruiz tells IRN.
"It is a versatile lighting tower that can operate in four different working modes, as the customer requires at any given moment; 100% battery-powered 'electric' or 100% 'diesel' working mode, as well as in 'hybrid' mode (diesel and battery), or even being powered by the grid or any other external energy source (such as a generator set)."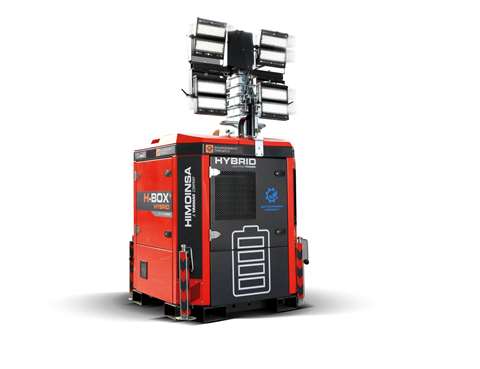 The HBOX+ Hybrid includes LFP batteries (Lithium Phosphate) and have been designed for a lifetime of 6000 cycles.
It also incorporates four 350W LED spotlights (50X50 SMD Chip Technology) and LED Dimming Control for progressive start-up with dimming, to avoid glare during operation in road construction.
Its hydraulic mast reaches a height of 8.3 metres and can rotate through 360°.
Guillermo Elum, Himoinsa's EMEA Region Head, says the HBOX+ Hybrid includes the CET8 control unit with "embedded assistant" for easy set up.
"Himoinsa has also developed a CET8 Hybrid App, so the user/operator can control the machine from a smart phone, tablet or PC to check battery status, fuel levels, hours of service or even manage the operation of the equipment," he says.
And he stresses the importance of the remote control for rental fleets.
"Users can decide whether more autonomy or more lighting capacity are needed, within the assistant, in a very intuitive way."
Plug in electric lighting towers
Atlas Copco's plug and play HiLight E3+ electric light tower is said to "operate reliably throughout the most demanding conditions found at construction sites, outdoor events and temporary public lighting installations."
It features Atlas Copco's HardHat canopy, and the complete assembly, which includes a heavy-duty seven metre mast, has a certified wind stability of 100 km/h, as Félix Gómez, Atlas Copco Divisional Product Marketing Manager – Light Towers confirms.
"The HiLight E3+ light tower's environmental resilience extends application opportunities, improves reliability, reduces total cost of ownership, and preserves resale values. Equally, though, they offer superior performance during operation."
"The light tower's luminosity and distribution have been improved thanks to four high efficiency 160 W LED lights to give 3000 m2 illuminated coverage while being 15 per cent brighter.
"This ensures a brighter, safer, and more productive site, while the lights also reduce maintenance costs due to a bulb life-expectancy of 50,000 hours."
The HiLight E3+ light tower operates on single-phase 50/60 Hz 230 V or 110 V power. 60 Hz versions with NEMA L5-20A sockets are also available. Furthermore, up to 10 units can be connected to one power source at 230V.
Low-noise lighting
Also from Atlas Copco, the HiLight H6+ is designed to offer higher levels of illumination while reducing noise and operational costs.
A key benefit, says the OEM, is a reduction in noise levels; it claims this is "the quietest light tower in the market," emitting 55dBA at 7m.
"The HiLight H6+ light tower's toughness improves reliability, extends application opportunities, reduces total cost of ownership, and preserves resale values, while offering superior performance during operation." comments Marketing Manager Félix Gómez.
Maintenance and transport efficiency were key when designing the HiLight H6+.
"On the first front, the light tower only requires a simple service after 600 hours of operation which can be carried out in 40 minutes," and it features an adjustable tow bar.
The unit features "new generation" LED floodlights that are more efficient and provide optimal light distribution up to 6,000 square metres of illumination. It also comes with a dimming function, delivering up to 40% C02 savings and extending the autonomy over 300 hours."
The HiLight H6+ will also be available in a 48V DC version for applications or markets that require low voltage.
Meanwhile the new user-friendly solar-powered LED light tower, the HiLight S2+, is designed to enable users to reduce CO2 emissions by up to six tonnes compared with traditional technologies.
The HiLight S2+ features 4x90W LED floodlights to deliver 2,000 m2 light coverage and uses solar radiation as an energy source, providing silent and cleaner operations.
In cases where energy demand is higher than solar yield, for example during winter months, the tower can also be charged with Atlas Copco's ZenergiZe energy storage systems or any external power grid.
Batteries can be recharged with solar energy in eight hours or an external power source in three hours.
Model upgrades
UK company MHM has responded to customer feedback to improve its solar lighting towers, the ST-9 and the StreetLite, Bradley Ireland, Group Sales Director, MHM Group tells IRN.
"We now have mark two versions available of both lights which include improved features to ensure the products are more user friendly and to increase the performance.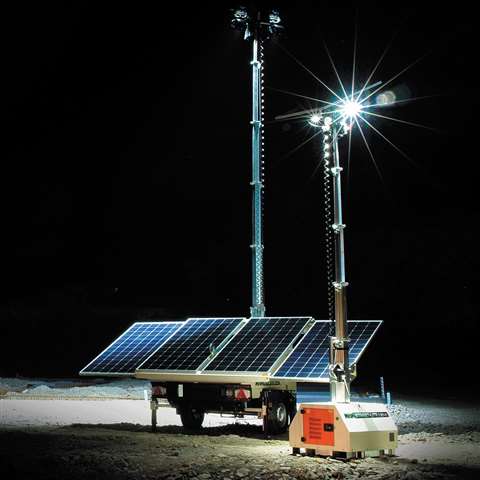 Upgrades to both models include a real time clock "where you can set the time period you want on the lights on – for example, 5pm to 10pm - this helps to conserve the battery and energy."
QR codes have also been introduced for all users to download specification sheets and user manuals.
Ireland also points to a "New and improved telematics system that gives great insight into performance and allows the machines to be managed and operated effectively.
"This is standard in our own hire fleet, and an optional extra for purchased machines."
The Street- Lite now also benefits from a new central lifting eye and side and rear fork pockets for relocation and transport.
"We've had an incredible demand for this type of product as since the pandemic acceleration towards net zero has exceeded expectations, the market is moving towards this net zero target faster than anyone really anticipated," says Ireland.
"We have already placed a number these products in the market, but we expect demand for this product to increase exponentially over next number of years."
Lighting equipment for rental
Italian specialist Trime tells IRN its new X-Solar and X-Eco Lithium products are proving popular with the rental markets.
Trime's solar-only lighting tower, the X-Solar, is an emission-free, noise-free lighting tower fitted with four 60-watt energy-saving LED lamps attached to a galvanised 8.5-metre mast. The X-Solar delivers light coverage of 2000 square metres.
Its build is designed to be robust, with galvanised metal works, and powder coating finish, making it suited for rental. For safe handling and efficient maneuverability, the frame of the X-Solar is fitted with forklift pockets and a central lifting eye.
Trime also offers optional features for the X-Solar including a telemetry system for remote location and operational monitoring, an automatic start-up PIR operation, and handy dimmable lighting.
Trime's X-Eco Lithium is powered by advanced lithium battery technology and can be fully recharged in less than two hours; in a ten-hour cycle, for 80% of the operation, the X- Eco Hybrid Lithium is powered exclusively by its batteries and emits zero noise and zero carbon emissions.
Illumination is via six energy-saving, long-lasting LED lamps, which deliver an illuminated area of over 3000 square metres.
Safety is also heightened by the Amoss security system, which automatically lowers the mast if the lighting set is moved whilst the mast is still erected.
Unlike many lighting towers on the market, this device is included as standard on both the X-Solar and X-Eco Lithium machines.
Illumin8, the UK-based lighting tower rental specialist, has recently invested in Trime's X-Eco Lithium sets, as has Netherlands-based rental giant, Boels Rental.
Gary Darley, Operations Director at Boels, says; "We selected the Trime X-Eco Lithium Hybrid lights because of their sustainability features and their high-quality design and manufacture.
"Our customers value the cost-effectiveness of the Trime products. We exclusively run only Trime tower lights in the Boels Rental UK fleet, and these lithium lights will complement our existing fleet of X-Eco Hybrid and X-Chain sets."
And UK independent hire company GAP Group Hire Solutions, which plans to become net zero by 2040, reports that the X-Solar Hybrid is popular with highway contracts.
Ken Stewart, GAP's Head of Procurement; comments; "We see an increase in our clients asking for solar only and solar hybrid sets as an alternative to diesel-powered units.
The feedback we have had from these clients has been positive. They appreciate the low-operational costs and all the environmental benefits the lights offer."
Trime's UK managing director, Paul Hay adds, "Major infrastructure projects such as HS2 are actively encouraging their contractors to turn to sustainable methods of lighting their sites.
"In addition, with the end of rebated red diesel, contractors are asking their rental partners for more economical methods to power their lighting sets."
All-in-one offering
Another leading Italian lighting tower specialist, Generac Mobile, is continuing to report strong demand – particularly from the rental sector, for its mobile lighting towers with a low footprint, in particular the recently launched PRO Line, a range of second-generation hybrid models equipped with an "all-in-one" power system: full-battery; diesel engine; hybrid system; and photovoltaic panels.
Following the launch of the CUBE PRO in 2021, last year saw the expansion of the range with the V20 PRO, the Hydro Power Box PRO and two accessories: I-Extender PRO and Solar Kit PRO.
Launched with the AGM battery pack, PRO lighting towers and I-Extender are also available with a latest-generation lithium-ion battery pack as an option.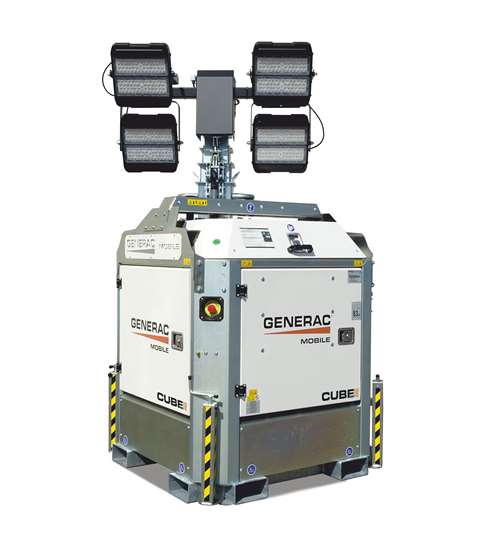 "Compared to first-generation hybrid lighting towers, the "all-in-one" PRO models allow rental companies to choose a single lighting tower model for their fleet."
Another environmentally friendly model recently launched by Generac Mobile is VT-Solar, a generator-free lighting tower with three solar panels able to recharge a built-in battery pack.
The OEM has since increased the unit's ease of use and performance, launching two redesigned versions in 2022.
The resulting offer includes a manual-mast and hydraulic-mast version, with higher battery capacity, more powerful solar panels (400W each) and four LED floodlights whose light power output can be adjusted from 25% to 100%, for a running time from 20 up to 50 hours.
NEWSLETTER
Delivered directly to your inbox, International Rental Newsletter features the pick of the breaking news stories, product launches, show reports and more from KHL's world-class editorial team.
CONNECT WITH THE TEAM
CONNECT WITH SOCIAL MEDIA