Gensets: preparing for the energy transition
Himoinsa is designing for the energy transition. Murray Pollok spoke to Francisco Gracia, CEO and President, during the company's May rental forum in Spain.
It is revealing that when asked about Himoinsa's 40th anniversary this year, CEO Francisco Gracia identifies the 2015 alliance with Yanmar as the "big milestone".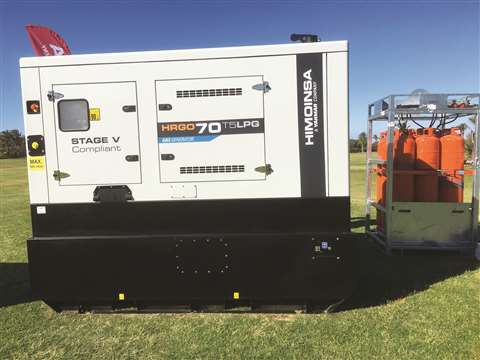 He goes on to acknowledge the importance of this year's birthday, but it is clear that Yanmar's 70% acquisition of Himoinsa seven years ago has been a key factor in helping the company achieve its goals.
Speaking to IRN during a workshop for rental customers in Europe and the Middle East, held close to its headquarters at the end of May, Gracia says the key message has been "to let them understand that we are refreshing the products and the company, powered by the support of Yanmar."
Himoinsa sits inside the US$1 billion Yanmar Energy Systems (YES) business – Himoinsa's 1000 employees account for around half of the YES headcount – and the two companies are cooperating closely on power technology, and not just in terms of engine supply.
"Being part of the Yanmar Group, any project that we want to invest in the future will be also supported by Yanmar in terms of R&D…For example, engineers from Japan are coming to Spain to develop power electronics and also to support us in the development of battery technology."
More than 20% of its 2021 EBITDA profits were invested in R&D. The meeting also gave Murcia-based Himoinsa an opportunity to promote its new products, including hybrid battery power sets, Stage V gensets, and lighting towers. It was also pushing gas powered gensets, using LPG and NG fuel, as a transition technology to bridge the gap between diesel and new low-carbon technologies such as fuel cells and hydrogen ICEs.
Helping rental companies manage the energy transition
The energy transition is a key factor in Himoinsa's strategy, with the company pushing a mix of technologies to help rental companies manage the change.
Gracia says; "Companies are forced to move into the Stage V/Tier 4F technology because it's now compulsory for everybody. For me, battery sets are going to create a new business line for the rental companies.
"Diesel technology can be improved with Stage V, but also in combination and in hybridisation with battery technology, you can reduce the carbon footprint even more. In the end, for me, the battery is an important step."
The company is also highlighting its gas gensets to rental – it offers 20 to 1000 kVA sets - although that is a complicated sell, because there needs to be a distribution network for the gas.
To help with this, Himoinsa has negotiated partnerships with Repsol covering Spain, Portugal and parts of south west France, and with Flogas in the UK. It will take time to create similar partnerships for other territories.
Gracia thinks it is ironic that rental companies are already asking about hydrogen sets but not about LPG gensets; "Hydrogen is a gas. They don't want to talk about [LPG or NG] gas for rental applications, but they are talking about hydrogen.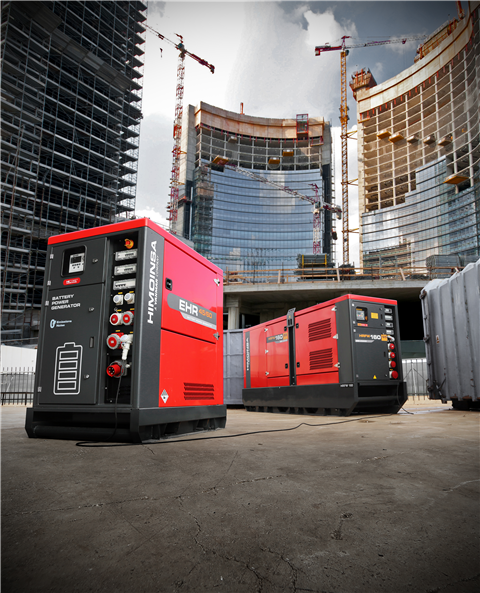 "We need to educate the market to let them understand that gas is a technology that is easy to apply. But they need to get the confidence to go into this this new technology.
"So, in the transition from Stage V, in my opinion, LPG is easy for companies, and in combination with batteries."
LPG is also becoming possible because Stage V increased the price of gensets significantly; "Before, the price of gas sets was much higher. In the past, from a Stage IIIA to gas generator, there was a big gap, but now, with Stage V, this gap has been reduced."
Gas gensets reduce CO2 emissions by around 20%, the exhaust is cleaner of particulate matter, and the sets are quieter and easier to maintain; "We have a clear picture from our existing customers. The noise level of the equipment is extremely low using the same canopy, and we can say that it is a green technology. You will not see any smoke coming from the exhaust."
When will hydrogen be used in rental?
In terms of future, cleaner fuels, he says that fuel cells are still too expensive for rental, even if Yanmar already has marine craft powered by fuel cells.
On hydrogen combustion, he thinks it will be 10 years rather than five, with the problem being one of the supporting delivery infrastructure; "If for some people it is difficult to use LPG gas because of the supply infrastructure, imagine [the difficulty] with hydrogen."
Battery storage is another focus for Himoinsa. It has a 45/60 kWh model and 250, 500, 1000 and 2000 kWh sets will follow. The 250 kWh unit will be ready next year and will form the basis of the larger sets. "Within the next two years, we will be ready with the full range."
Gracia thinks that up to 1 MW battery sizes will be best for rental. "You can imagine them working in parallel with generators, and in the field on construction sites where they need to recharge battery powered compact equipment. If you have 1 MW battery storage, you can charge batteries for many days."
The focus on rental is important for Himoinsa because almost a third of its gensets are sold to rental companies.
Himoinsa's global strategy
A key part of Himoinsa's strategy, even before the alliance with Yanmar, was a global distribution and production network. It now has eight production centres in Europe (where it has three), Latin America (two), USA, India and China, as well as 12 subsidiary companies.
This network, coupled with its vertical integration - it makes a lot of its own components and canopies and has its own genset control company as well – has served it well through the supply chain crisis. Gracia says lead times are still long, but that the company is able to deliver this year (he was speaking in May); "I think the situation right now is becoming better, but still we are suffering."
A year ago, it took the decision to increase inventory on the back of positive forecasts; "And in September, October last year the demand for generators increased drastically.
"The boom in demand of construction equipment was maybe one year before the generators, so we increased our level of security stock with engines, alternators and many other components."
The issue now is with smaller components, like injection pumps, that are affecting production. The global production footprint has other benefits; "It's an advantage to develop markets, because we can develop specific products for each region. So, when we are in North America, we have the factory and an engineering department developing specific products for that market."
Himoinsa's Asian market expansion
That will help the company meet its ambitions growth targets. Around 40% of its sales are in Europe, and over 50% if you include Africa and the Middle East. Gracia says they want an equal balance between EMEA, Asia and the Americas, which implies a big shift up from the current 15% of business generated in Asia.
"We want to double the company", says Gracia, "but still there are markets that we can say are new for us. So now in Asia, for example, we are expanding the business. In Australia, we made a joint venture with our distributor [Generator Power] and the market that we have in Australia after five years is incredible. They are doing really well."
Himoinsa is well established in the USA through its Hipower Systems business. Gracia says; "I think the potentiality of the market in North America is huge. And with the new manufacturing plant that we have there [in Loathe, Kansas] is one of the most modern factories that you can find in the market."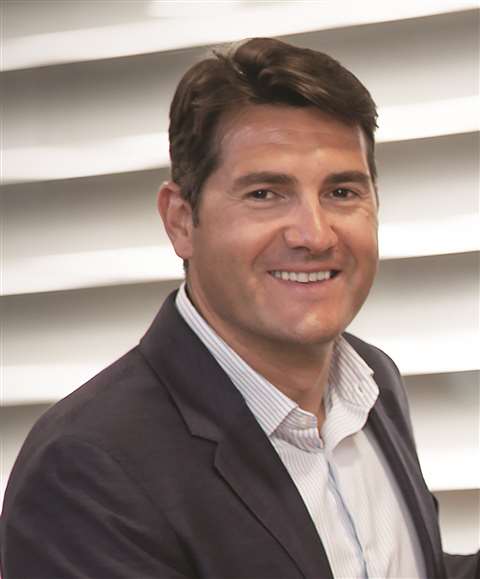 For Gracia personally, it has been a challenging past two years. He assumed the position of CEO in January 2020, just two months before the pandemic broke.
Having lived in China for five years earlier in his career at Himoinsa, he says he knew something major was happening when China stopped the population from travelling for the New Year celebrations.
"I remember that the following day, I invite all the executives of the organization to talk about the situation. And my message was something big is happening. And we don't know exactly what is going to happen…So then we accelerated the planning and protocols. We reacted very quickly."
He says the organisation performed very well during the pandemic, and quickly adjusted its management style. One challenge was not being able to travel on business.
"For two years we didn't visit any company. We identified that there is another way to manage the company. It was a big challenge, but we implemented a new, much more efficient style of management, and of course, with a strong cost reduction."
He says revenues dropped by 16% in 2020, and recovered by 25% in 2021, and he hopes for 20% growth this year. The company has a big backlog of orders for this year and has the production capacity for 60,000 units a year.
"We have the production capacity, but we don't know exactly if we are going to be able to produce all the equipment. If we are able to solve the problems we have in the supply chain, I think that we are going to accelerate our growth this year."
Having been with the company since 2020 – when it was run by his father – Gracia is totally immersed in the business; "50% of my life I've been involved in generators, traveling globally and with experience of different continents, different markets. I think that now it's in the right moment to a accelerate the business and to the next to the next level."
NEWSLETTER
Delivered directly to your inbox, International Rental Newsletter features the pick of the breaking news stories, product launches, show reports and more from KHL's world-class editorial team.
CONNECT WITH THE TEAM
CONNECT WITH SOCIAL MEDIA