The specialists driving Spain's genset market
By Belinda Smart and Julian Buckley07 November 2022
On an industry trip to Spain, Belinda Smart met the diverse genset manufacturers supplying the power market in diverse ways. Additional reporting by Julian Buckley, DPI.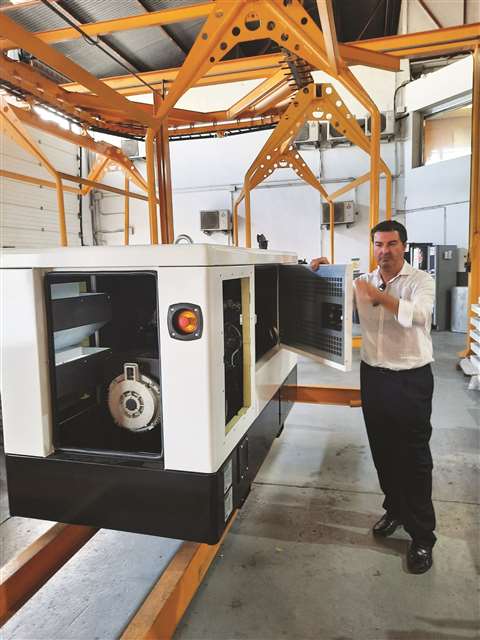 "This region, Murcia, has the largest concentration of genset manufacturers in Europe," says Ignacio Morell Morell, head of national sales at Inmesol.
The statement confirms lived experience; as well as Inmesol, the Murcia region in south eastern Spain encompasses power players Himoinsa and Pramac, all located a mere car ride from one another.
This "genset cluster" is one part of a manufacturing landscape that emerged out of Spain's construction boom in the early 2000s.
Just prior to the financial crash of 2008, construction had been in growth mode for a decade, driven by housing and public works.
The downturn that followed took its toll, but significant pockets of know-how remain. It's clear that Spain's striking, arid landscape is also fertile ground for these power players' healthy competition and can-do approach.
Inmesol itself typifies this attitude. The Murcia region headquartered firm, founded in 1990, has a reputation for well-built, robust units. One example of this, says Morell, is in canopy design.
On a walk around the Inmesol factory, he points to thick, premium grade sound proofing material, and – a point of difference of which he is proud - recently upgraded metal for the canopies themselves.
The canopies have also been redesigned with bevelled edges, said to be more robust than the previous rounded profile.
The factory visit brings to life Inmesol's recent output of products designed for the energy transition.
One example is a gen et released in February with a single canopy design suitable for Euro Stage II engines, Euro Stage IIIA and Stage V compliant engines.
Steel plates are added for strength, while the doors are equipped with metal plates on the inside, to protect the sound-attenuating panels throughout the life of the genset.
These upgrades advance the company's Rental Range of gensets that comply with EU Stage V/US Tier 4 and can be used with renewable fuels. The machines range from 12 to 110kVA are powered by Kohler engines, while the 170 to 740kVA models are powered by Volvo engines.
Low emission gensets
Another local powerhouse is the Murcia arm of Pramac, founded in 1966 in Siena, Italy, and becoming part of the US-based Generac group in 2016.
Speaking at the Murcia HQ, Raúl García López, sales manager for Consumer Power and Mobile Products at Pramac Ibérica, says the OEM's objective is to help customers – particularly rental businesses - to be more energy autonomous.
"For example, we're continuing to invest in energy storage solutions for domestic, industrial, and rental applications. This is particularly important in the US, where the national grid is not as reliable as in Europe."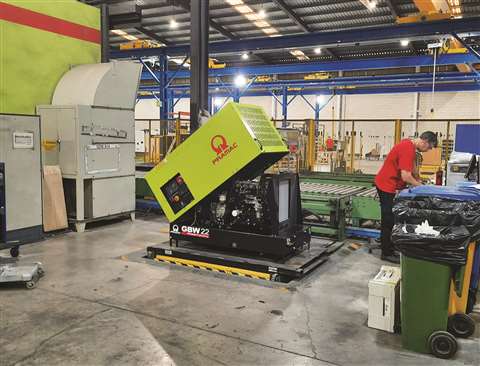 Where applicable, Pramac machines include hybrid and gaseous fuel variants to help reduce fuel costs and cut CO2 emissions.
Following the acquisition of UK-based Off Grid Energy in September 2021, the company introduced the SX, MX and LX battery energy storage systems (from 7 to 125 kWh capacity) to help further these goals.
Pramac is engaging with the use of gas (natural gas or LPG) for gensets. While not common, in the past 18 months the use of gas has accelerated, particularly given emissions restrictions in urban centres.
"Rental companies including GAM and Loxam are very focused on reducing their carbon footprints. These generators also carry lower start-up costs, lower cleaning costs and lower maintenance overall."
A car drive away, one of the most prominent manufacturers in the region, is Himoinsa, founded in the early 1980s and part of the Yanmar Group since it was acquired seven years ago.
The company is also working on low emissions solutions, Miguel Angel Ruiz, Global Head of Engineering and Development tells IRN, with the launch of units supporting Stage V and Tier 4 Final emissions requirements.
Cristina Avilés, head of global marketing and communications at Himoinsa, confirms new production line layouts at its newly expanded factories in Murcia will support its changing focus.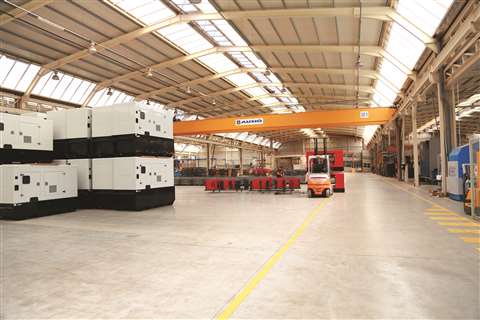 Himoinsa's strategy also includes the addition of gaseous and biofuel products (including those which support hydrotreated vegetable oil, or HVO), and battery storage/power packs.
And the OEM has set its sights on future equipment powered by hydrogen, although its more immediate focus will be on encouraging uptake of LPG-driven technology. 
Stage V compliant engines
Several hours' drive away is Dagartech, in Zaragoza, in the northeast of Spain. Founded 12 years ago, with a management team from genset manufacturing – almost a third of Dagartech's staff are engineers with a track record in power.
The company has achieved more than 20% average growth annual sales since inception. It is currently export focused, with about 70% of sales in international markets.
Its EURO 5 Rental Range is an example of its advances in emissions compliance, product innovation and focus on customer care, Dagartech export area manager Gonzalo Morlans tells IRN.
"The degree of complexity regarding the mode of operation for Stage V engines is increasing, particularly in terms of simplifying the use of the genset and being aware of problems arising from sustained work at low load, then and solve them - AdBlue crystallisation, for example."
In terms of new product, Dagartech is releasing a full range, up to 670kVA, to be available during 2023, having recently launched its offering from 20 to 100kVA. It complements its offer for the rental sector with EURO 5 gasoline equipment up to 24kVA.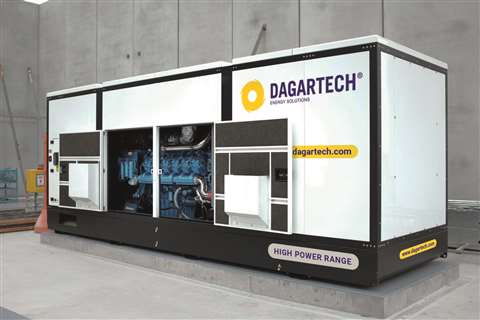 Morlans is proud of the OEM's customer-focused approach; "To give an example, customers operating in high humidity or corrosive environments will need specific solutions to protect the mechanical components of their generator sets - we advise them on the most appropriate surface treatments according to the circumstance."
Dagartech is also developing energy storage systems. "In a first step we will offer to the market units up to 100 kVA and 160 kWh and they will be available in 2023."
NEWSLETTER
Delivered directly to your inbox, International Rental Newsletter features the pick of the breaking news stories, product launches, show reports and more from KHL's world-class editorial team.
CONNECT WITH THE TEAM
CONNECT WITH SOCIAL MEDIA