How new site dumpers are meeting growing demand
New site dumper releases are meeting demand for lower emission, compact options and all-important safety upgrades, writes Belinda Smart.
A vital and fuel-efficient workhorse on many construction sites where substantial loads need shifting, but manoeuvrability is also required, site dumpers' latest releases respond to the need for low or zero emissions. Meanwhile safety features to eliminate common risks such as tilting or overturning are an ongoing focus for both wheeled and tracked versions.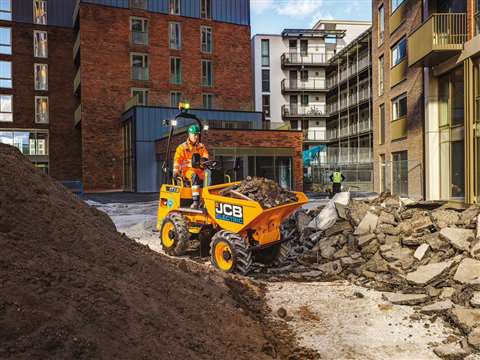 In October, JCB launched its first electric site dumper, a one-tonne high-tip model powered by lithium-ion battery technology. Designed to work indoors, underground and in emissions-sensitive areas, the 1TE electric dumper is positioned as a partner for JCB's 19C-1E electric mini excavator.
Key features include zero emissions and low noise levels, fast charge capability, full-shift operation in typical use, and a high-tip skip design to allow loading into skips and larger containers.
"The 1T-E site dumper is a durable, compact machine with a full steel skip and heavy-duty articulated chassis. The machine replaces the individual wheel motors of the hydrostatic 1T-2 with conventional drive axles and a drop box, to provide full-time all-wheel drive. A 7kW hydraulic motor delivers drive to the drop box, while a second hydraulic pump is used to power the machine's standard hydraulic circuit, for steering and skip lift."
"Power is supplied by two 5kWh lithium-ion batteries, capable of providing full shift operation in normal use. The batteries can be recharged from conventional site electrical supplies, with 110V and 230V cables available. In addition, the optional JCB Universal Charger can be used to rapid charge the batteries for extended operation.
Dumpers for the European and North American markets
"Designed for the European and North American markets, the 1TE delivers zero emissions at the point of use and low noise levels, making it ideal for indoor, underground and emissions-sensitive working sites."
Meanwhile, JCB's smaller site dumper, the 1T-2, which took out the prize for Hire Industry Product of the Year at the Hire Awards of Excellence 2021 in May, is a Stage V compliant 1.0-tonne site dumper equipped with a drive inhibit system, preventing travel unless the seatbelt is in use. It also has an initial movement alarm that provides an audible warning before forward or reverse travel commences.
Another feature is the Smart Safety pack which includes an intelligent tilt warning system using technology from JCB's Loadall telescopic handler range. This sounds an alarm when the skip is raised with the dumper sitting on dangerously uneven ground.
There is also an option to specify the machine with a wider track for additional stability, with an increase in wheel offset to raise the width of the machine from 850mm to 988mm.
Mecalac innovation
In July, France's Mecalac unveiled innovations to its MDX site dumper range, the first of which will see all new six-tonne 6MDX and nine-tonne 9MDX model fitted with optional hydrostatic transmission (HST), while the second offers a ROPS (Roll-Over Protective Structure) foldable roll bar, making the cabin optional on new models.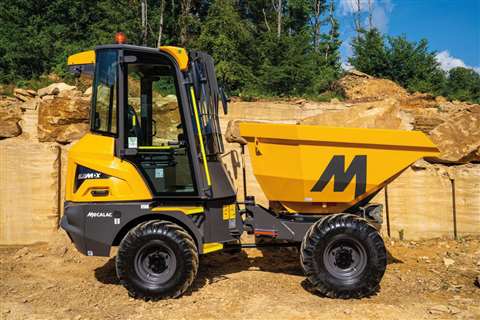 HST replaces mechanical transmission with fixed gear ratios, ensuring easier operation without gear shifting and enabling responsive dynamic braking. Mecalac says the result is easier and safer operation for experienced and new operators, well suited to rental fleets.
The 6MDX and 9MDX can be fitted with an isolated MDX cab to minimise vibration and noise, while optional air-conditioning provides operator well-being in all weather conditions. The certified ROPS/FOPS MDX cab has been designed and tested to withstand impacts while loading the dumper skip.
Both new models will be available with either an integrated cab or new ROPS foldable roll bar and a handle and gas strut to enable safe folding and unfolding.
Battery-powered dumpers
Italian manufacturer Messersì began working on battery-powered mini-dumpers in its Zero Emission line in 2013. It recently announced "the next step in Messersì tracked dumper projects is the new massive five tonne payload model," the TC550d, which is currently in prototype for testing and will be presented at Bauma 2022.
The Messersi range also includes the TC120-e dumper with a capacity of 1200 kg and fully electric transmission.
Its tracked undercarriage is electrically operated with two 2 kW electric motors (one per track) powered by the battery. The track has a patented layout with tilting rollers in the central area of ​​the track to ensure a large support area and high stability.
The TC120-e also has an emergency button and electro-brakes. Its two Lithium-Iron-Phosphate battery packs have 48 cells and a power of 11.5 kW and are positioned to ensure stability.
At the larger end of the scale, positioned as an all-terrain machine, the TC350d is a 2019 model shown at the BAUMA 2019 as a prototype and now achieving uptake across Europe.
It has a 3500 kg payload and is equipped with the 180° swivel skip. Controls are pilot assisted using joysticks on the armrests of the driver's seat, which rotates 180° to keep the operator oriented in the direction of travel.
What is in Messersi's Zero Emission range?
Positioned as "compact and agile" the TC50-e Zero Emission is the smallest tracked vehicle in Messersì's Zero Emission range and has a 500 kg payload. The 660 mm width allows the TC50-e to enter rooms through standard-sized doors, to access narrow corridors or stair landings.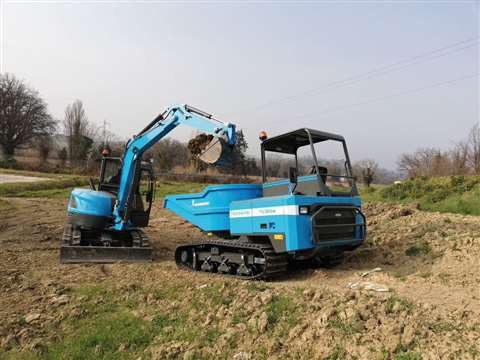 It has a mixed electric / hydraulic transmission driven by a 5.5 kW electric motor powered by a 28-cell Lithium-Iron-Phosphate battery.
The undercarriage and electro-hydraulic systems have rubber tracks with a width of 180 mm and the TC50-e can overcome slopes of 30% with low noise emissions.
Full charge of the TC50-e battery (Lithium-Iron-Phosphate type) guarantees autonomy of up to six hours.
Meanwhile Hinowa, a manufacturer of tracked mini dumpers for 30 years, introduced the HS701E tracked electric machine as a prototype at Bauma 2019, delivering the first machines in 2020.
Powered by a lithium battery pack (48 V ‐ 100 Ah, optional 200 Ah), the machine meets demand for use in indoor and outdoor projects including construction work, renovations, landscaping or in historic centres with low emission zones.
It has no exhaust gases and can operate without the need for a nearby electrical outlet. The battery pack is autonomous for one working day and the machine's compact 750 mm width makes it possible to charge the battery pack at any residual capacity without affecting battery pack life. 
Two speeds are offered: 'eco mode' for uneven surfaces and saving battery autonomy, and 'power' for flat surfaces.
While many mini dumpers transform electric power into hydraulic energy to move the tracks, the HS701E features electrically powered tracks, which also support higher battery autonomy.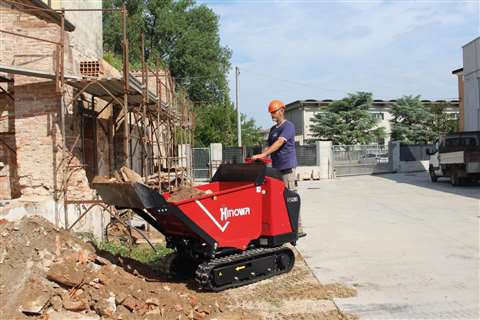 It can carry out work corresponding up to five hours or to 18 km on a standard battery pack of 120 Ah and in 'power" mode'. Charging time is less than three hours (230V).
Meanwhile the HS1203 mini dumper, launched at the end of 2020, is the latest evolution of Hinowa's medium-sized mini dumper, complementing the HS1103 - a compact earthmoving vehicle with a maximum 1000 kg load capacity.
The HS1203 is described as a "compact and versatile, agile and robust tracked machine."
It features rubber tracks with a width of 230 mm. The tracks have three rollers per side plus the slide, tensioned by a grease cylinder system.
Spanning an impressive capacity range, these releases demonstrate a category evolving to meet ever greater efficiency and safety demands.
Easy operation
Wacker Neuson's DW30 wheeled dumper, introduced late 2020, operates at 25 km/h with four tons of payload in total. With a diesel engine that meets Stage V standards, the machine has a compact design and articulated pivot point for manoeuvring on tight jobsites and rough terrain, while hydrostatic all-wheel drive eliminates gear changes for easy operation.
Winning qualities
Ausa's DR601AHG wheeled dumper with reversible drive has taken out the Gold Award in the 'New machinery developments' category at the latest edition of the Technical Innovations awards, organised by Spanish machinery and construction trade show Smopyc.
The jury recognised "R&D&I, quality, environmental engagement, sustainability and safety at work" in the dumper. Another key highlight of the DR601AHG, which features hydrostatic transmission and a Stage V engine, was "the reversibility of the driving position, allowing driving in the direction of the hopper or in the opposite direction, without having to stop the machine."
Other dumpers on show at Smopyc in Zaragoza in November included the new D1001APG, Ausa's largest model, with a 10,000 kg payload and a swing skip, the D450AHG with a 4,500 kg payload and hydrostatic transmission, the D300AHG with a 3,000 kg payload, the compact D150AHA with 1,500 kg and skip tipping at height and the D201RHGS rigid dumper with a 2,000 kg payload and hydrostatic transmission.
Zero maintenance
Launched in August as part of Kubota's Smart Energy Solutions range, the KC70H-4e fully electric site dumper is fitted with a low noise 48V lithium battery engine that can be charged up to 80% in just 1.5 hours, with a single three-hour charge providing a full day's work. An electric version of the Kubota KC70, the zero emission KC70H-4e, weighs 590kg and has a 700kg load capacity. The motor, battery and inverter mean the KC70H-4e dumper are said to require zero maintenance.
On the spot turns
From Yanmar, launched in October 2020, the C50R-5A tracked carrier features compact dimensions. Its direct-injection engine delivers 111hp and 410Nm of torque, and low emissions. At 2.2m wide, and 4.54m long, it can turn 360° on the spot in seven seconds.
Volvo Autonomous Solutions and Holcim Switzerland, a supplier of concrete and aggregate products, have partnered to develop and test autonomous electric haulers in a limestone quarry in Switzerland. Volvo says the haulers are quieter, more sustainable and safer than conventional haulers.
A dumper from UK site dumper manufacturer Thwaites recently joined forces with a Kubota excavator to break ground on new headquarters for Staves, the Czechia-based Thwaites distributor, driven by market growth. Designed and manufactured at Thwaites' Warwickshire (UK) factory, Thwaites site dumpers are offered in capacities from one tonne to 9 tonne and distributed to the rental and construction markets in over 70 countries.
NEWSLETTER
Delivered directly to your inbox, International Rental Newsletter features the pick of the breaking news stories, product launches, show reports and more from KHL's world-class editorial team.
CONNECT WITH THE TEAM
CONNECT WITH SOCIAL MEDIA