Skid steers and tracked loaders: the latest electric models
Compact skid steers and tracked loaders are responding to demand for versatility and efficiency, including by going electric, writes Belinda Smart.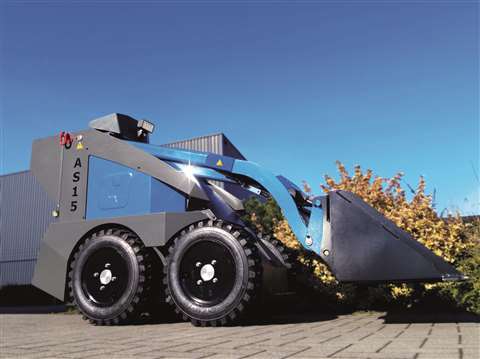 The Netherlands boasts several manufacturers focusing on electric compact equipment, including Tobroco-Giant and Conmeq (Construction Equipment & Machinery).
The latter launched its electric, 500 kg capacity AS15 mini-loader in 2020 and is described by its maker as bringing to mini loaders what Tesla brought to the automotive sector.
Conmeq claims the machine can work for eight to 30 hours – depending on application - without charging.
The loader does not use electric over hydraulics, preferring a direct power supply to the machine's four independent wheel motors. Only the boom functions use hydraulics.
The C also offers over 70 possibilities for attachments, for applications including construction, demolition, agriculture and logistics.
The small OEM got a boost late last year when Vermeer announced it had entered a distribution agreement in Europe to supply the AS15 through its dealers in Europe. Vermeer said the machine will not immediately be marketed outside of Europe.
Tobroco-Giant also frequently innovates in response to customer input; it has announced plans to offer its wheeled skid steer range on tracks - effectively turning it into a compact tracked loader - in 2023.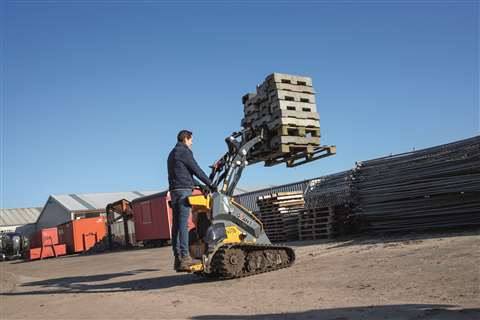 The move will see the SK252D, the SK202D and SK212G acquire tracks for better stability on uneven terrain; the new versions will also have what the company describes as "a remarkable higher lifting capacity," projected to be 890 kg, against the machine's own weight of 964 kg.
"With the skid steer, there have been many customers from the US, among them arborists, but also customers from European countries like Germany, the Netherlands or Belgium who communicated their requirement for a new version of the skid on tracks, which can cope better with uneven terrain and offers more stability."
Prototypes of the tracked skid steer are being built at the time of writing and will be tested by customers; an electric version is also on the agenda; Tobroco-Giant engineers are understood to be working on it at the time of writing.
Also innovative is the new Teleskid from JCB, which Ethan Clowes, JCB Product Manager – Skid Steer Loaders / Compact Track Loaders, tells IRN is "the only skid steer loader and compact track loader with a telescopic boom," The addition of the boom will enable the loader to "lift higher, reach further and dig deeper" than comparable machines, he says.
"It can access work sites and perform tasks that are not possible with a conventional skid steer machine. The telescopic boom allows the machine to be used in more ways than previously possible, further adding to the versatility of this SSL/CTL solution."
"Safety is the biggest challenge in the market and JCB steer and compact tracked loader models address it – for example the single arm improves visibility and makes the machine safer to use, as operators no longer have to enter and exit the machine over an attachment or a suspended boom."
Clowes also describes the current climate of rising fuel costs is "a further opportunity for JCB."
"Our machines provide excellent torque at low revs with an economical engine to reduce fuel costs. Customers are seeing the benefit of this fuel efficiency which could save significant money over the machine's life."
World's first all-electric compact track loader
Doosan Bobcat has unveiled an all-electric Bobcat T7X compact track loader, offering the benefits of eliminating hydraulic systems, components, emissions and vibrations.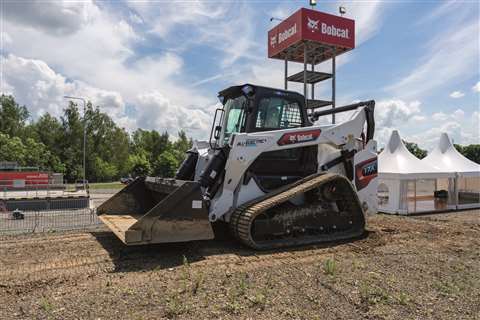 The T7X was initially developed for the North American market, but Vijay Nerva, Head of Innovation at Doosan Bobcat EMEA, confirms that the T7X "addresses a global need and challenge."
"We plan to undergo internal testing and gather customer feedback in various countries in the EMEA region this year to better understand customer needs in this market before taking commercial decisions."
The T7X is powered by a 62kW lithium-ion battery from technology partner, Green Machine Equipment, Inc. Its traditional hydraulic work group has been replaced with an electrical drive system consisting of electric cylinders and electric drive motors, which means virtually no fluids.
The new, all-electric Bobcat T7X uses just under one litre of eco-friendly coolant compared to around 216 litres of fluid in its diesel/hydraulic equivalent model.
"While applications vary, each charge can support common daily work operations and the use of intelligent work modes for up to four hours of continuous operation time and a full day of operation during intermittent use."
Stage V compliant compact loaders
In terms of updates to existing offerings, Bobcat has recently been strengthening its SSL/CTL range through new M-series and R-series Stage V models, with the rental market in its sights.
"The M-series provides great size and performance ratio, very important for compact environments in construction and rental applications," the OEM says – while the R-series has been designed for the higher performance and comfort needs demanded by these markets.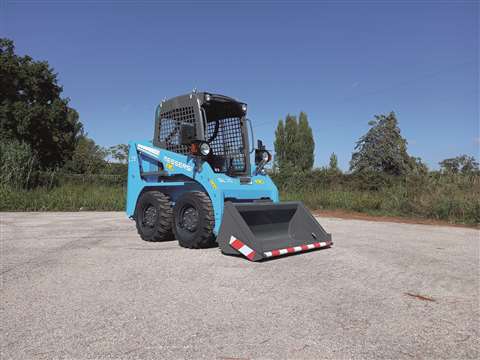 With regard to Stage V engine technology, Bobcat has focused on eliminating the requirement for DPF management, which is now automated in the new Bobcat machines.
"As with many market segments, rental has a very high focus on downtime reduction, where customers need to have full trust in a product. Our products are well known as being very reliable especially in tough applications where other machines on the market have difficulty."
Also responding to demand for Stage V equipment is Italian OEM Messersi, which is offering a streamlined compact loaders line of three models, says Alessandro Valere, Sales – Messersi.
"We completed the new Stage V line comprising two models on wheels, the SL35 1.8 tonne and the SL45 2.4 tonne - which are updates to a previous line, and one brand new model on tracks of 2.5 tons weight - the CTL45.
"For the rental sector, these compact machines are easy to transport – for example to the French market – and easy to use. The wheeled models' transmission is via four gear motors with no chain, which increase machine performance and reduce maintenance. The tracked models are the most compact in the market; and they all feature joystick controls."
Valere adds that, "for rental companies, Messersi offers the capacity to customise machines to satisfy the diverse needs of customers, for example through custom colour or hydraulic auxiliary lines."
An American icon
Chris Sleight, Managing Director of KHL company Off-Highway Research, describes skid steer loaders as "a quintessentially American product", popularised by farmers in the mid-West in the late 1950s and early '60s.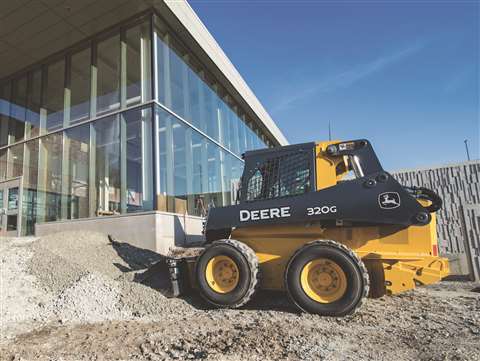 "Many manufacturers now offer them, but it tends to be the big American brands such as Bobcat, Case, Caterpillar and John Deere which dominate."
The high point for this product came in the mid-2000s, when global sales touched on 100,000 machines per year, more than two thirds of which were sold in Canada and the US. However, this period also saw the first compact tracked loaders launch.
"The machines look similar, but the tracked loader has wheels with a rubber or steel track. Although this adds to the cost – a compact tracked loader is likely to be around 30% more expensive than a skid steer loader of the same capacity – the fact that tracks exert much less pressure on the ground has proved a winning feature."
NEWSLETTER
Delivered directly to your inbox, International Rental Newsletter features the pick of the breaking news stories, product launches, show reports and more from KHL's world-class editorial team.
CONNECT WITH THE TEAM
CONNECT WITH SOCIAL MEDIA