New product showcase: Part Two
The cancellation of trade events this year has created alternative platforms such as IRN's New Product Showcase. This issue looks at releases in earthmoving, compaction & surface preparation and more.
Earthmoving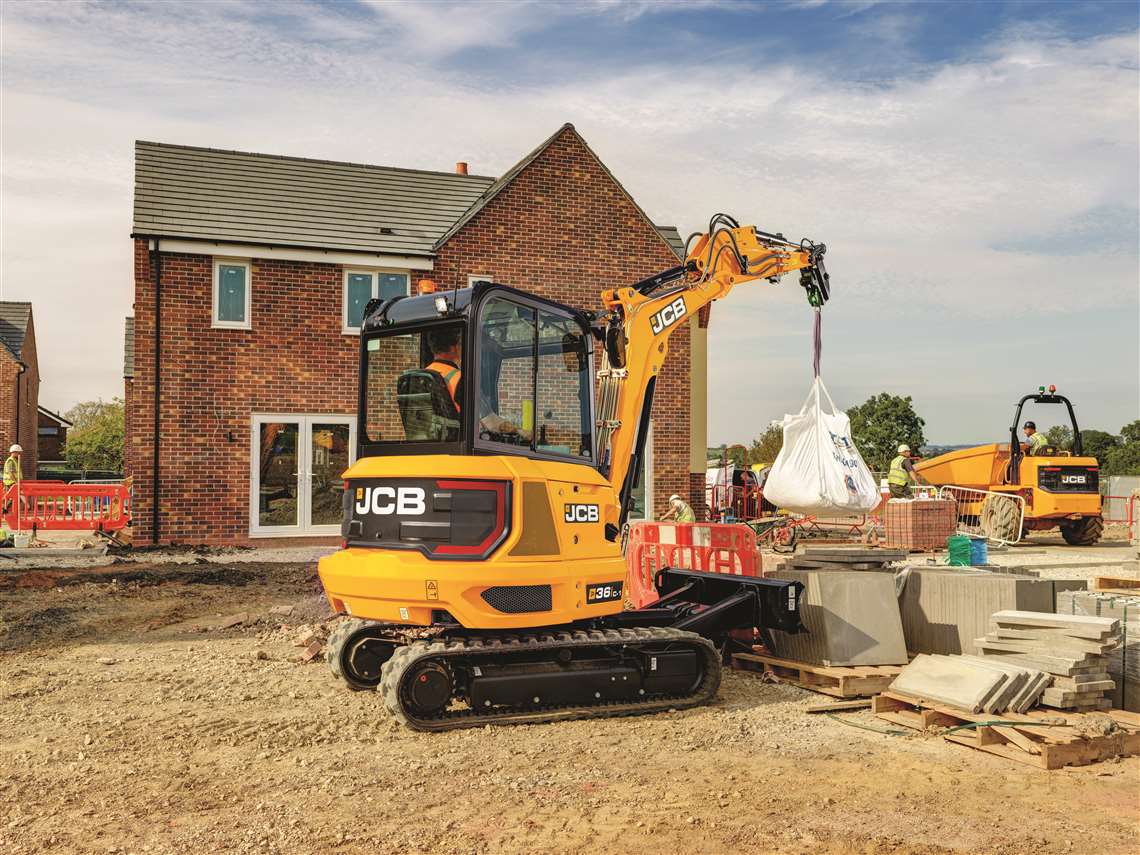 Stage V standards continue to play a key role in the latest releases destined for the European market, as demonstrated by JCB's new range of Stage V-compliant, diesel-powered compact equipment
Launched via a recent live online event, the new releases include two new 3.5 tonne excavator models – the 36 C-1 and the 35 Z-1 (zero tail swing) – launched, says JCB, to meet new customer demand in this weight segment.
Powered by three-cylinder Stage V Perkins engines, both models feature a Bosch-Rexroth pump, which eliminates stalling to enhance engine output, and a closed-centre valve block.
The models can be ordered with high-flow hydraulics (70 litres/min) as standard, or as a low-flow option.
Designed to be compatible with all makes of attachments, both JCB machines offer features including cabs with roll-over and falling object protection, LED work lights as standard and revised dozer blades and dig-end geometry.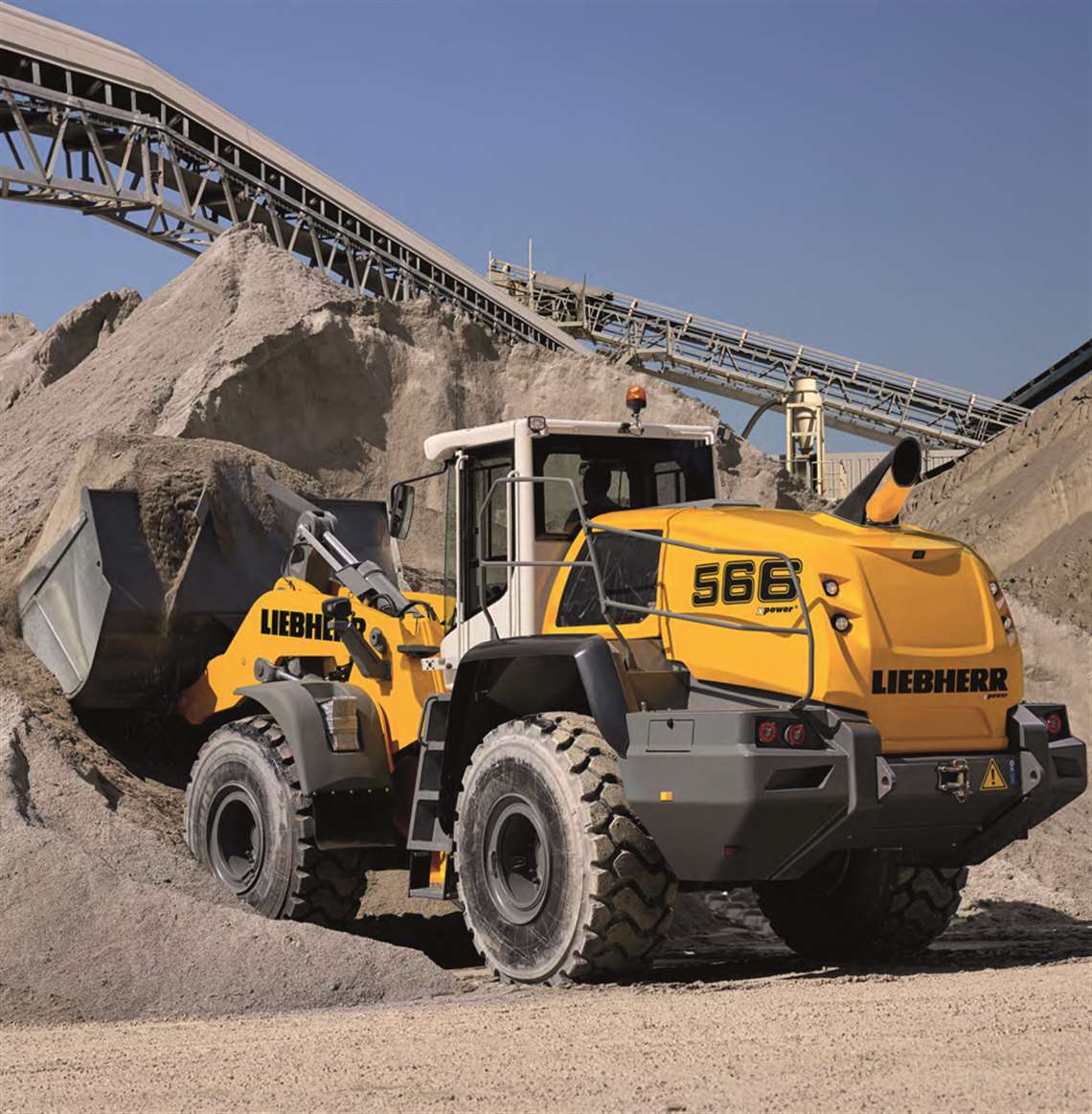 German manufacturer Liebherr has unveiled two updated versions of its XPower wheeled loaders – the L 550 XPower and the L 556 XPower, featuring upgrades to performance optimisation, power and durability.
Both have Liebherr's power-split travel drive, now with increased engine power, potentially leading to lower fuel consumption when accelerating or penetrating material.
There are four lift-arm versions of the new loaders, with Z-bar kinematics and industrial kinematics both having standard and high-lift configurations, all featuring new arms whose steel construction has been reinforced, increasing the tip load of the machines and allowing for larger buckets.
The fully automatic Likufix quick coupler system is also available on the new models. Optional extras include active personnel detection at the rear and a new braking assistant, for added safety.
Meanwhile the TA 230 Litronic articulated dump truck, released late 2020, offers off-road capability, traction and combined pulling force and is described by Liebherr as a "robust all-terrain machine."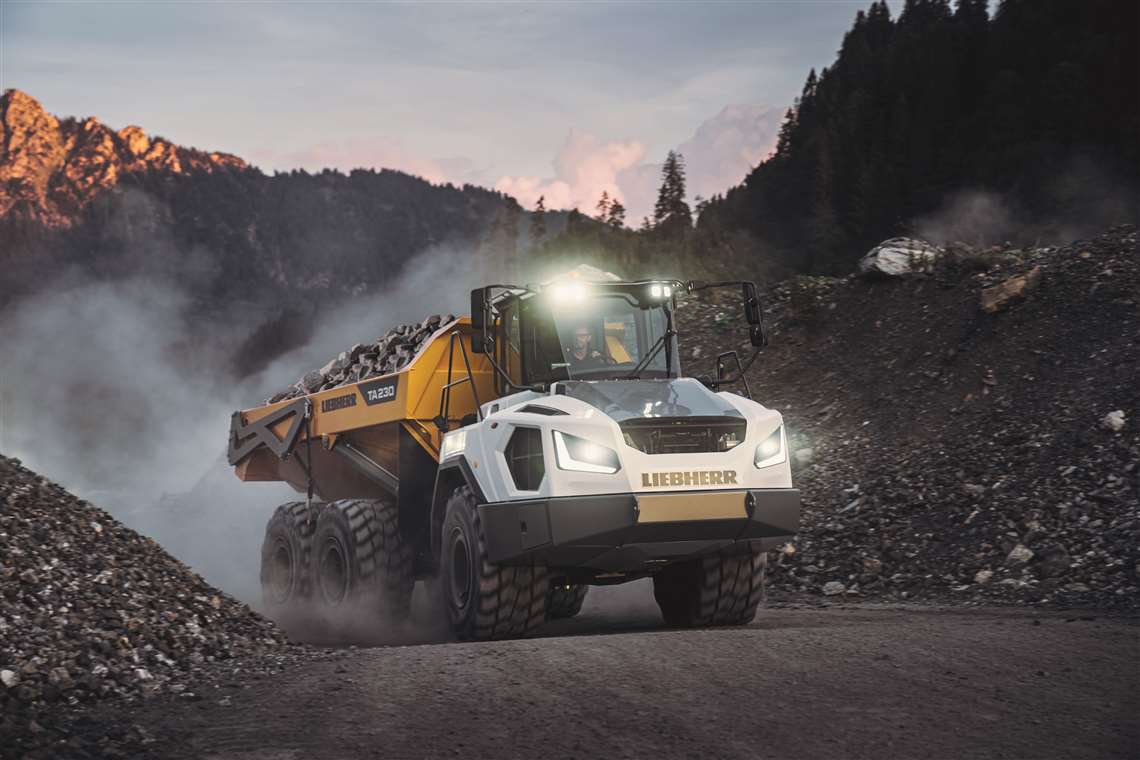 Designed for overburden transport and the mining industry, as well as larger infrastructure projects, it complies with the requirements of exhaust emissions standard V and has a 6-cylinder construction machinery engine.
Moving down in scale, Kubota has expanded its track dumper range with the launch of two new models for rough terrain.
The KC300HR-5 and KC300H-5 are "compact and powerful and are ideal for transporting construction materials quickly and efficiently."
Both have a maximum load capacity of 2,875 kg. The KC300H-5 is equipped with a hydraulic three-sided tiltable loading trough and has a maximum tipping angle of 55°.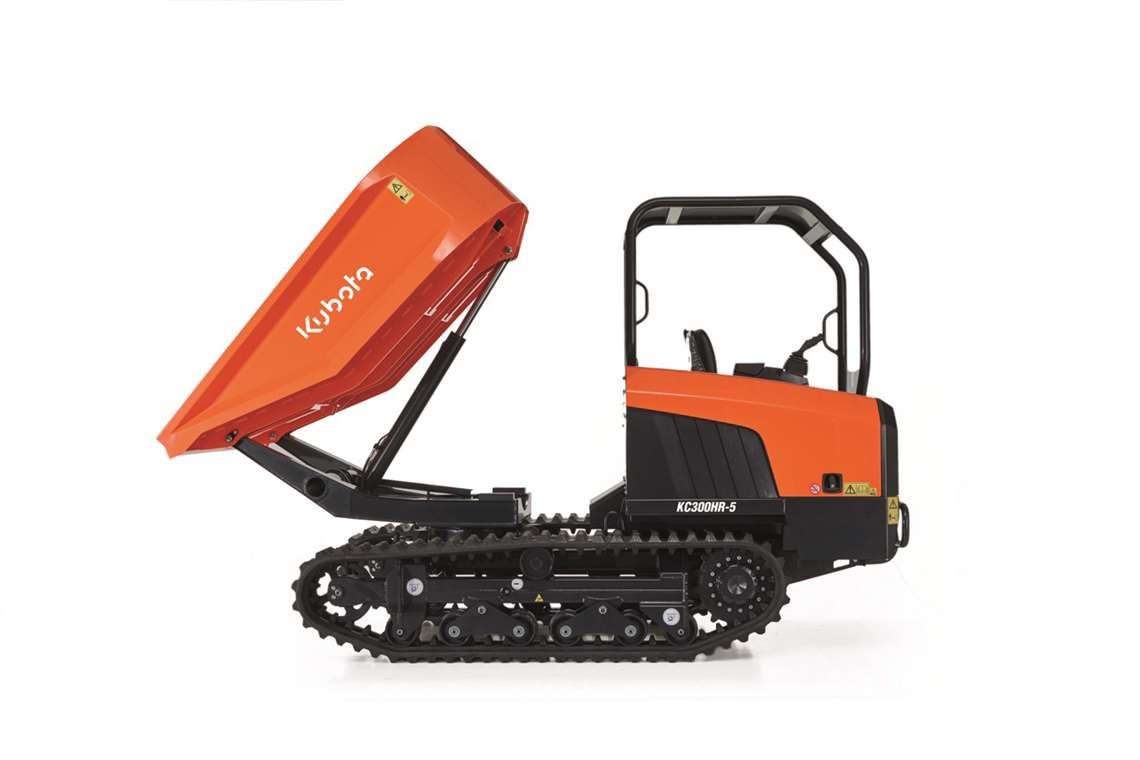 Both feature the liquid-cooled Kubota diesel engine V2403, which complies with the current European exhaust gas stage V.
The maximum tipping angle of the HR version is 84° and it is also equipped with a stepless, hydraulic 180° rotation function (HR - hydraulic rotation 90° right / 90° left).
This model's rotation function can be activated at the same time as the tipping of the body. This allows the operator to unload material with a high level of accuracy.
Some manufacturers have directly targeted the rental sector, such as Mecalac, which has launched a new backhoe loader, the TLB880, also suitable for use by smaller companies.
The TLB880 joins Mecalac's backhoe loader range; TLB870, TLB890 and TLB990.
Powered by a Stage V-compliant Perkins 904 turbocharged 4-cylinder diesel engine, it delivers 100hp (74.5kW) at 2,200rpm and 317 lb.ft (430Nm) of torque at 1,500rpm.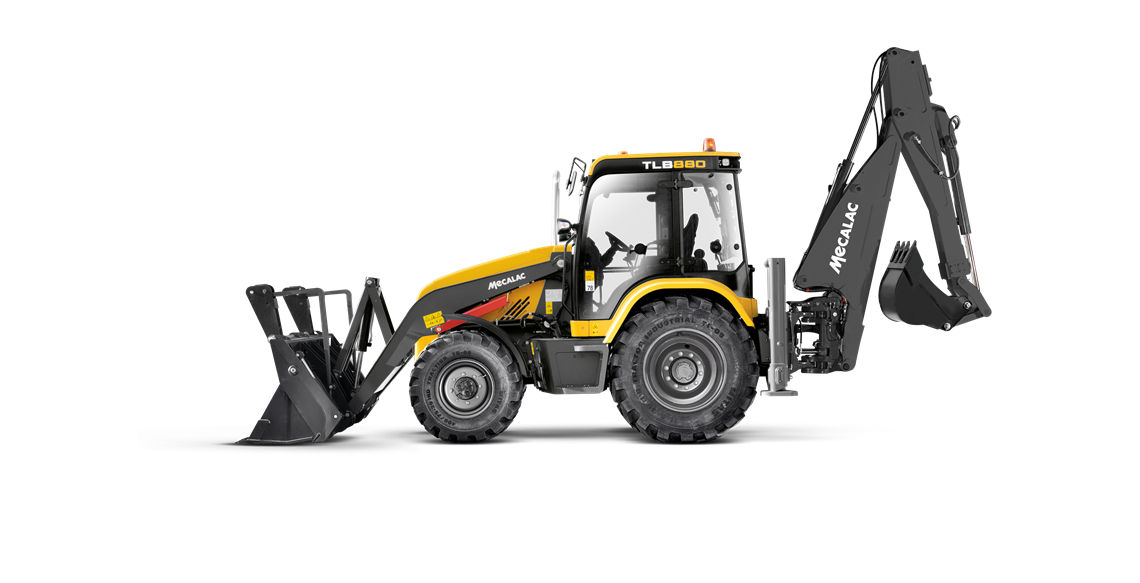 Paired with a choice of either four-speed synchro shuttle transmission or servo power synchro powershift gearbox, the new model offers fast and effortless roading speeds of up to 24mph (40km/h).
The TLB880 is equipped with Mecalac's closed-centre hydraulics system, delivering a maximum flow rate of 143L/min and operating pressure of 250bar.
It achieves a dig depth of 4,401mm (5,744mm deep dig dipper), dipper reach of 5,725mm (6,995mm deep dig dipper), dipper tearout force of 42kN and bucket tearout force of up to 69kN.
Also Stage V is Kobelco's new short radius excavator, the SK380SRLC, which weighs over 36 tonnes with a 6.2m-long boom offering a maximum lifting capacity of 12.4 tonnes at a ground level.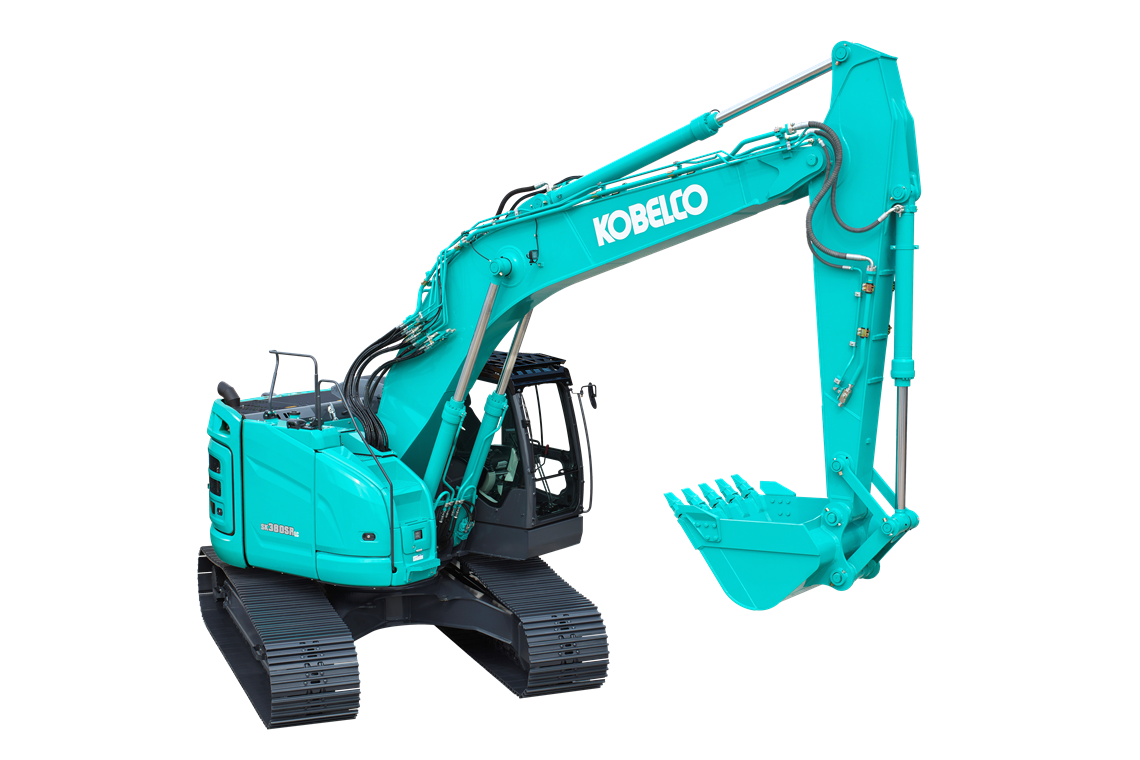 The machine is equipped with a turbocharged Hino diesel engine that provides 200kW of power and has a Power Boost mode, which provides 10% more power.
The SK380SRLC's powertrain delivers a drawbar force of 314 kN for smooth operation, making it suitable for both urban projects and for use on rough or sloping terrain.
Compaction & surface preparation
Caterpillar had the rental sector in mind with the release of its widened its 2- to 3-tonne compactor range, comprising three new tandem and combination compactors.
According to Cat; "the efficient Cat GC series compactors deliver low total cost of ownership, simplified maintenance and long-term durability."
The new line includes weight-based name changes: the new Cat CB2.5 GC replaces the CB2.5; the new CB2.7 GC replaces the CB2.7, and the new CC2.7 GC replaces the CC2.6.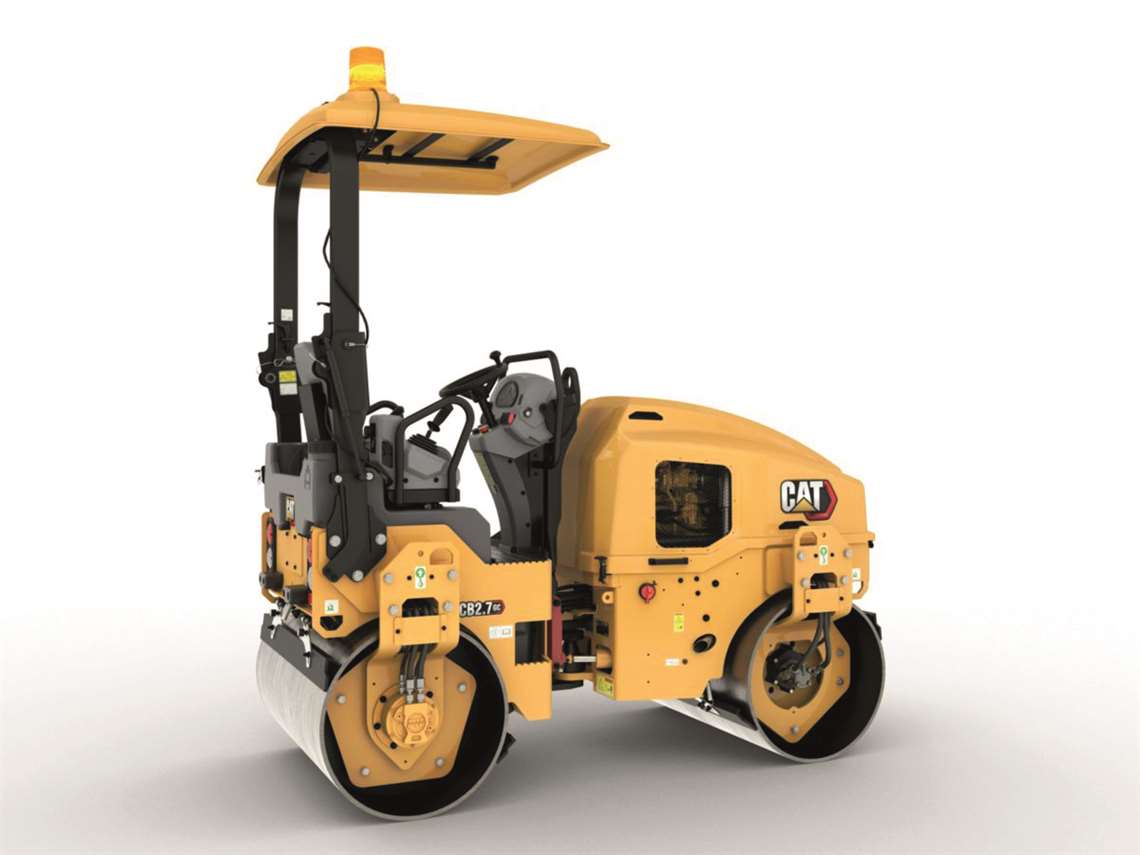 The machines can be used in soil and asphalt applications such as parking lots, driveways, urban streets, landscaping and small construction sites.
Powered by a Cat C1.7T engine rated at 18.4-kW, the CB2.5 GC, CB2.7 GC and CC2.7 GC models meet EU Stage V emission standards without aftertreatment.
They also feature upgraded hydraulics and power management software for high performance with a smaller engine, as well as a new auto idle shutdown to conserve fuel.
The machines offer compaction widths from 1,000mm to 1,300mm and large 720mm drum diameters for a smooth mat finish.
Thicker, heavier 14mm drum shells deliver added durability and greater compacting force, while a 50 mm drum offset makes compaction easier when rolling next to curbs.
At the small end of the scale, VonArx, a Bulgaria headquartered manufacturer of scarifiers for concrete, asphalt and steel, has launched a "new improved" version of its 20cm Scarifier, FR200 Genus.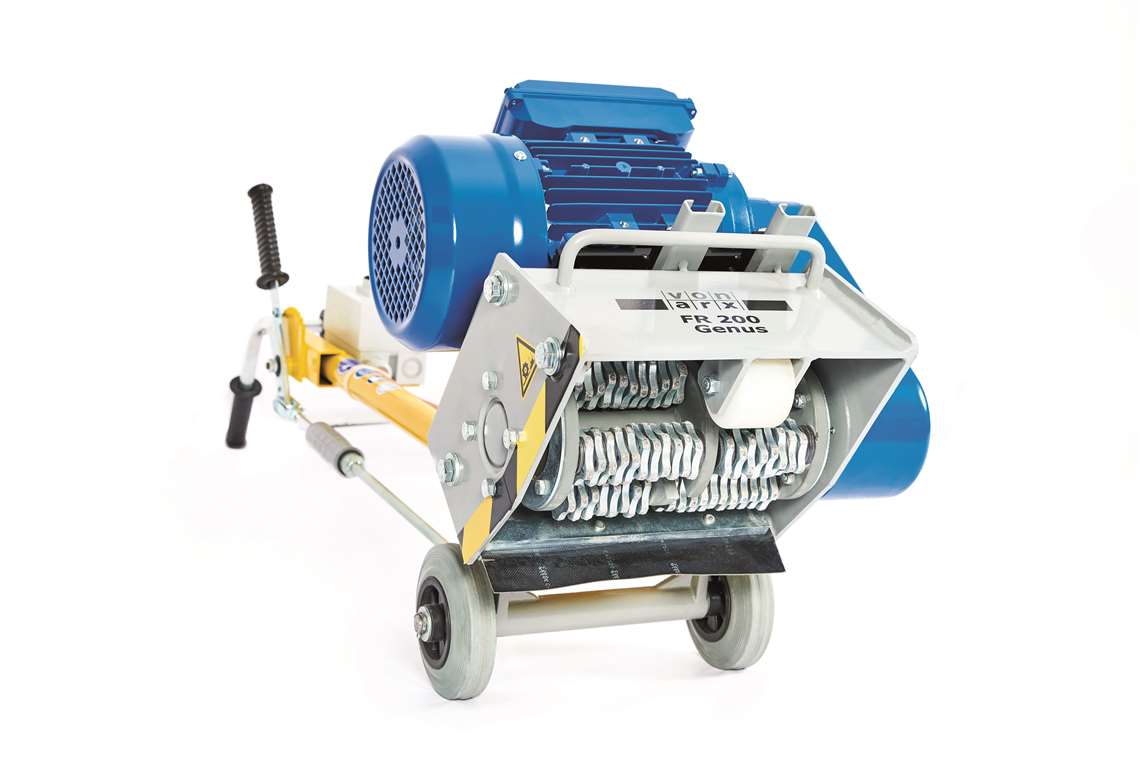 Available globally through VonArx distributors, the FR200 Genus offers vibration levels as low as 3,6m/s2 to protect operators from vibration injuries in their hands, arms, and fingers.
It also features improved dust pick-up capabilities, with an increased dust port size and positioning to best capture the dust and debris created by the machine.
Transport
German trailer manufacturer Kässbohrer has launched four new trailers: the K.TAN; the K.SPA MR 3; the K.SLA R 4; and the K.SLH 4.
The K.TAN drawbar series trailer has a tare weight starting at 5.5 tonnes. This, Kässbohrer says, helps increase the payload capacity plus provide fuel savings on unloaded journeys.
The K.SPA MR 3 is a three-axle extendable low-bed platform semi-trailer designed for the transportation of long, heavy loads. Its chassis is made of S700MC steel and its tare weight is 10 tonnes.
The wheel recess platform has a height of 620mm to enable the transportation of loads up to 3,380mm and the chassis extends up to 6,900mm.
The K.SLA R 4 was designed for the transportation of heavy loads such as construction machinery or ballast. It is a four-axle extendable low-bed semi-trailer.
The K.SLH 4 is a four-axle trailer with an extendable, hydraulically-steered low-bed, designed to provide good degree of manoeuvrability for tight turns in rural areas.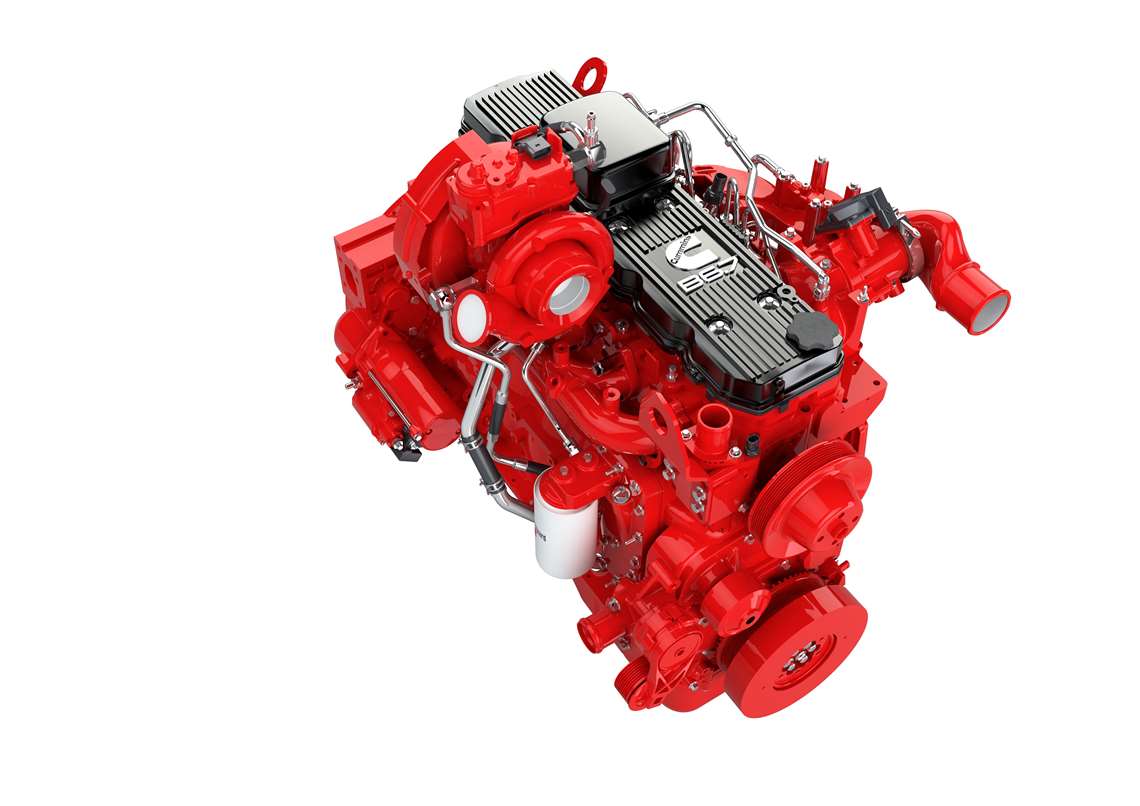 Cummins has upgraded its Stage V B6.7 engine with Stop-Start capability, enabling up to 10% less fuel usage than previous versions.
Integration of the new Stop-Start feature means the engine has been fitted with specially developed bearings and an upgraded flywheel ring and starter motor.
The supporting software's electronic control module (ECM) has now been integrated with the OEM's machine controller software, which tells the ECM when it's safe for the machine to shut off.
The engine is available in Europe and North America and can be used with crushers, screeners, wheel loaders, excavators and fork-lift trucks.
Telematics upgrade                                                                                                         
JCB has launched new features in its LiveLink telematics online portal and mobile app.
The updated version has a dashboard view for monitoring data and reporting on machine usage and performance. It can also store documentation such as compliance certificates and safety inspections.
Through the optional LiveLink Enterprise feature, information can be automatically extracted from existing rental or fleet management systems to reduce manual data entry and administration.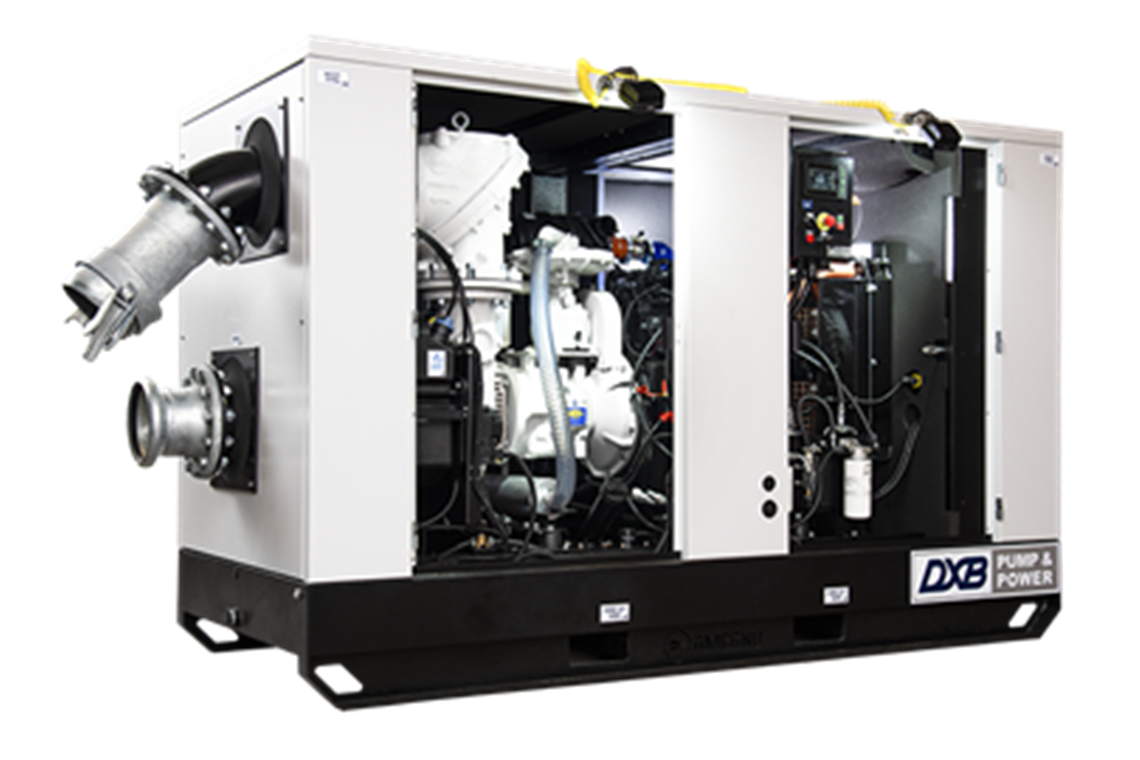 UK pump manufacturer DXB Pump & Power has launched DXB3, a multi-purpose, Stage V compliant rental pumpset.
DXB3 is a compact, high-capacity unit with a Cornell Pump and powered by a TCD3.6L4 95kw continuous power engine
from Deutz. It comes with three pump ends including a 3" (7.6cm) jetting head, 6" (15.2cm) medium head, and 8" (20.3cm) high flow, solids handling pump with a capacity of 1000m3/hr.
The pumpset is capable of flows up to 1000m3/hr or heads up to 120m, depending on the pump end, with fuel consumption of 25l an hour.
NEWSLETTER
Delivered directly to your inbox, International Rental Newsletter features the pick of the breaking news stories, product launches, show reports and more from KHL's world-class editorial team.
CONNECT WITH THE TEAM
CONNECT WITH SOCIAL MEDIA