Vertical mast lift insights
By Leila Steed12 August 2022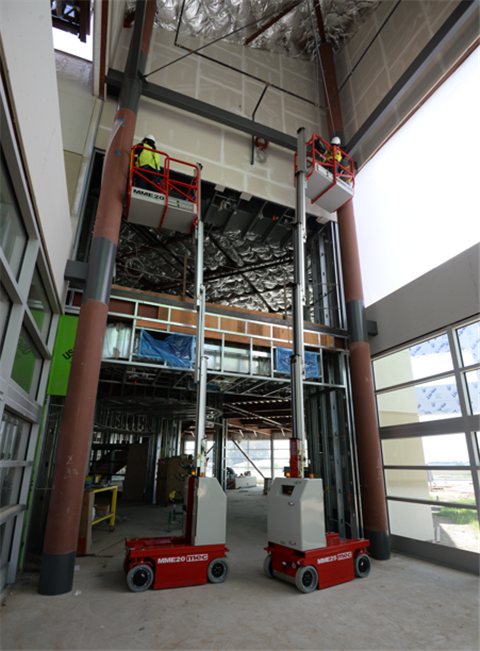 Mast lifts have long been the preferred choice for single-person requirements in tight spaces, explains Gary Crook, VP of engineering at US-based MEC Aerial Work Platforms.
While Cook says micro scissors have created an alternative in some applications, he adds that the core demand for vertical masts remains.
In addition, he comments, "The move to all-electric is definitely a trend but MEC believes real value can also be added by addressing weaknesses in this product category as well as driving for better jobsite and operator safety."
Electric vertical mast lifts
That said the move to direct electric drive for the high efficiency, longer duty cycles and higher product residual value that it offers, has been a very real trend in recent years.
In 2021, MEC introduced its Mast Electric (MME) Series with two models, the MME20, with 20ft platform height and the MME25, with a non-rotating vertical mast lift platform height of 25ft.
The company followed the MME Series with the 16ft all-electric MMAE16 in April this year. It is the first all-electric lift, steer and drive machine in the company's line, offering smoother controls, as well as parting with the hydraulics.
The low weight of 2,170lbs is combined with a rugged steel platform. It provides robustness and the platform comes with a glide-out extension deck to give the operator almost 4ft to work within and standard 350lbs capacity on both the main and slide-out deck; a standard full height lift gate completes the platform.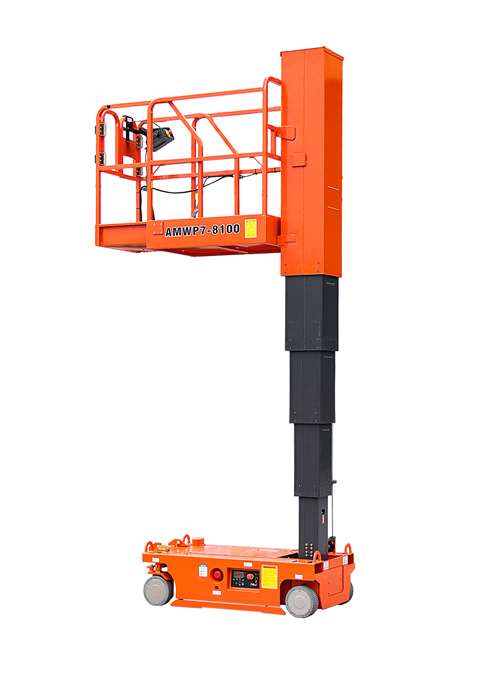 Oil-free vertical masts
On the subject of all-electric and the continued move by producers to avoidance hydraulic oil, Dingli has launched a fully oil-free electric series.
The new direct electric drive series of six scissor lifts and vertical mast lifts, wich has no hydraulic oil and offers working heights of 5m – 16m and maximum loads of 230kg – 450kg.
Using electric actuators for lifting, lowering and steering, instead of traditional hydraulic oil cylinders, the new series provides a range of advantages, says the manufacturer.
This includes low energy consumption, amounting to an energy saving of 30%, compared with the hydraulic system. With no hydraulics, issues like stuck valve cores, oil leakage, oil changes, and temperature inefficiencies are avoided.
The units are equipped with a maintenance-free permanent magnet synchronous motor (PMSM) and AGM battery, which greatly reduces maintenance costs, says the manufacturer.
New vertical masts for 2023
Snorkel will be expanding its line of mast lifts with an additional electric-drive model, the TM20E, which will debut at the ConExpo exhibition in in Las Vegas, US, next year.
The latest mast lift from the company is the TM12E electric-drive lift launched at the 2017 ARA Rental Show in Orlando, Florida.
The TM16E, a 16ft version of the same mast lift, debuted the following week at the previous ConExpo show. The TM12E can lift up to 500lbs to a platform height of up to 12ft and weighs in at 2,240lbs.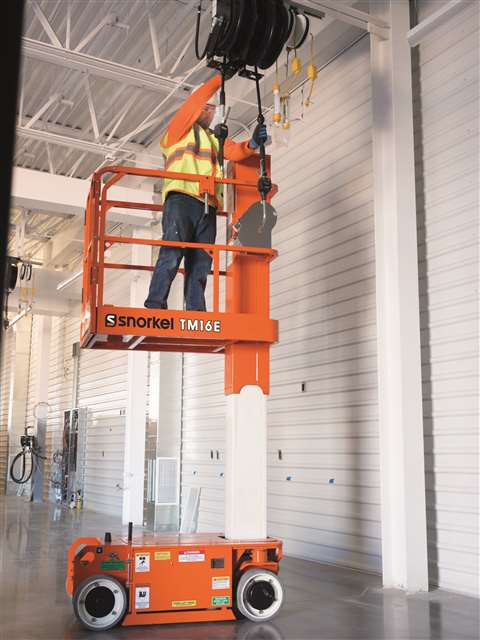 The electric drive system delivers longer duty cycles, thanks to drawing up to 50% less amps than hydraulic drive masts. The new drive system brings the additional benefit of a zero inside turning radius.
The TM16E features all the same capabilities but with a 16ft maximum lift height and a weight of 2,430lbs. It also features an electric braking system.
Electric drive is the main trend in the family, says Matthew Elvin, CEO, Xtreme Manufacturing and Snorkel. "As with all sectors of the access market, our customers are after more height and maximum deck capacity with an eye on machine weight, as these must go into elevators and be moved between floors on construction jobs during the final fit-out phase."
Powering access equipment: Electrification
Genie has its long-established GR range on the market. While the company cannot comment on future products, it pointed to recent launches of electric booms and scissors as a hint of what is to come.
Ryan Crow, Genie product manager, said, "Vertical masts, like all powered access equipment, is seeing more electrification."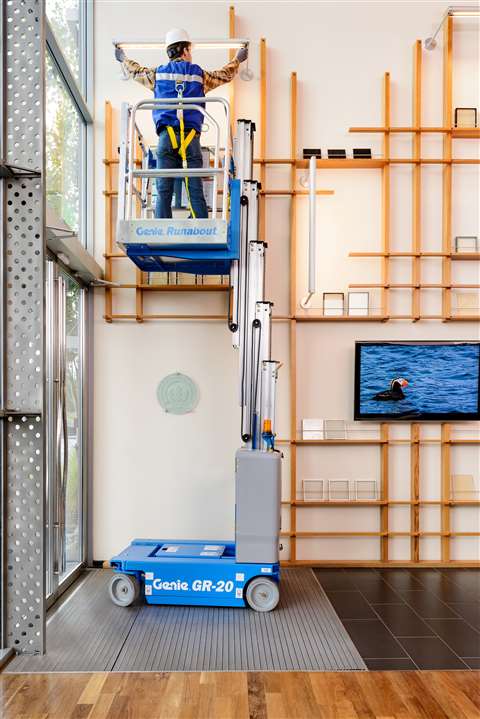 As mentioned, this is not only the case with the company's direct electric drive system E-Drive, but there is a trend to electric lifts which completely removes hydraulics from the machine.
"Electrification will ultimately lead to lower maintenance and repair costs. In addition, while electric lift vertical masts are going through a period of validation, I am confident this equipment category will be hydraulic free in the future.
Trends in the access equipment market
"Another trend we are watching closely is an increase in the average height of single-story facilities, such as warehouses and data centres. We anticipate that this trend will have an impact on vertical mast height requirements."
Crow adds, "There has been an expectation in the market that the introduction of microscissors would compete against and take industry mix away from vertical masts.
"We have not seen any big swings. Vertical mast demand has stayed strong, in parallel with the growth of the micro-scissor market."
Both Skyjack's new vertical mast units feature the manufacturer's new green Eco label, hence the 'E' in the name, accompanied by an Eco Matrix that provides additional sustainability benefits over previous models.
The aim was to make the range more compact and light. The SJ12 E and SJ16 E have working heights of 18ft (5.48m) and 21ft 6inch (6.55m) under ANSI standards, respectively, and 5.66m and 6.72m under CE certification, respectively.
Modelled on the company's SJ20 E, the units are driven by dual AC electric motors which provides up to 30% improvement in duty cycles, meaning less charging, less power consumption, and a lower carbon footprint.
They also achieved a 70% reduction in hydraulic connections, which ties in with the industry-wide focus on reduction of hydraulics.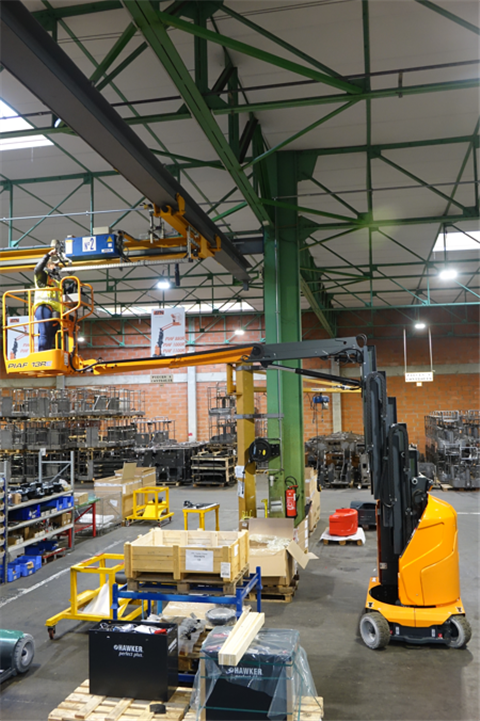 Growth of the vertical mast lift market
The latest PIAF vertical mast ATN Platforms launched was in 2019 - the 13RE. The PIAF 13RE has a working height of 12.65m and horizontal reach of 6.05m and a zero tailswing.
The ATN R&D team is now working on an updated version of its range of PIAFs on crawlers to provide smoother movements, with a new battery technology, and a small generator option.
The company adds, "Some 15 years ago, 90% of the worldwide vertical mast market was France. We've experienced more interest in Europe. North America is now looking at this product type, that brings advantages."
Low-level access from Haulotte
Haulotte has launched into low level access this year, with a line of vertical masts and scissors.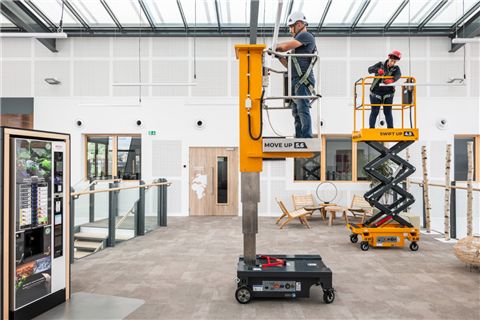 Included in the seven-model line-up is the Move Up vertical mast series, composed of two pusharound models with electric lifting and a maximum working height of 4.6m and 5.6m.
The Swift Up scissor series offers push around units with working heights of 3.8m or 4.5m, while the Swift Up SP self propelled scissor models have electric drive and lifting. And offer a maximum working height of 4.5m, 5m or 5.9m.
"Our range of low level access solutions guarantees user-friendly operation, whatever the job to be done. The AGM batteries and easily accessible components ensure minimal maintenance and operating costs," said Eloïse Guillet, marketing product manager at Haulotte.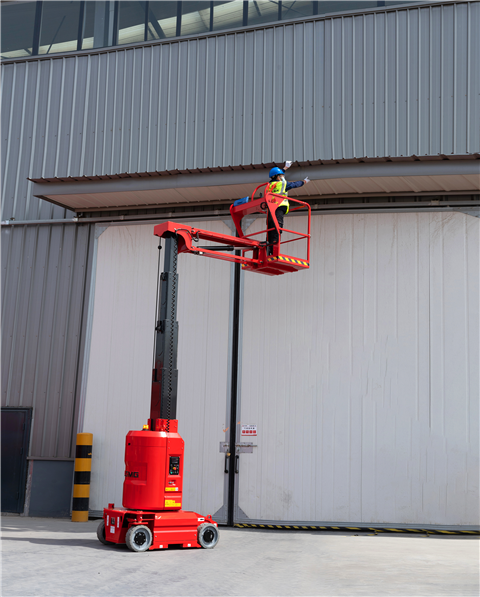 Zero Emission access equipment
From LGMG comes the 4m platform height M0407TE and the 8m M0810JE, with a further two new vertical mast products being available in the fourth quarter of 2022, with 6m and 10m platform heights.
The company says there are increasingly strict requirements on the construction process in terms of eradicating leakage of hydraulic oil, therefore pure electric, oil-free, zero emission, electric drive products have been developed.
The main features of LGMG products include good manoeuvrability and ease of operation in tight spaces, combined with up and over capabilities and a larger working envelope. They are also easy to maintain and compact for easy transport.
The company adds, "The unique design of the vertical mast means that compared to scissors, it has more advantages in operational convenience and will be very competitive in the market in the future."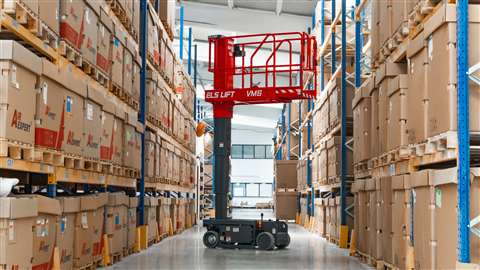 ELS Lift
The VM6 from ELS is designed as an efficient partner for use in warehouses. With a width of 0.74m, a height of 1.40m when closed and a total weight of 910kg, it offers easy passage through narrow spaces and can be easily stored without taking up space when the work is finished.
With a lifting capacity of 240kg, the VM6 has a portable tool tray offered as a standard feature. In addition to its electric driving system, the automatic closing door system prevents the danger of falling and potential accidents. At the same time, a 50cm basket extension is offered as standard.
NEWSLETTER
Delivered directly to your inbox, International Rental Newsletter features the pick of the breaking news stories, product launches, show reports and more from KHL's world-class editorial team.
CONNECT WITH THE TEAM
CONNECT WITH SOCIAL MEDIA