TIME MANUFACTURING INTERVIEW: Pulling out the stops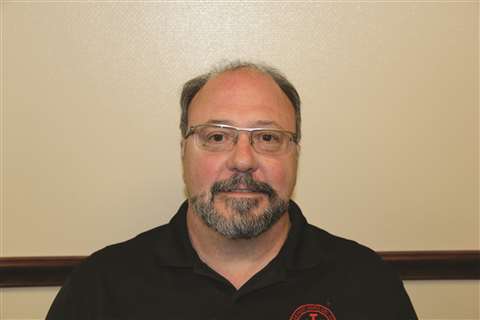 Curt Howell, CEO, Time Manufacturing
It was announced in February that Private equity company Sterling Group had acquired Time Manufacturing from O'Flaherty Holdings.
Headquartered in Waco, Texas, US, the business had been owned by the O'Flaherty family for more than 40 years and produces aerial lifts under the Versalift brand in Europe and Condor in North America.
Soon after came news that Curt Howell would take over the reins following the retirement of CEO Charles Wiley.
Mr Wiley was at Time for 46 years and specifically CEO for 26 years. Mr Howell, commented, "Charles has been responsible for building a platform for growth, and we thank him for his dedication. His lasting impact on the business is shown in the company's strong culture and impressive results."
As such, Mr Wiley will stay on at the company as a member of the Board of Directors.
Strong background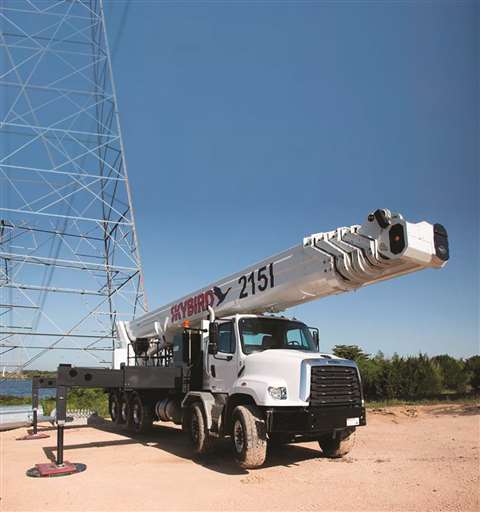 The Skybird insulated truck mount.
Mr Howell comes from a manufacturing background having been born in New York and raised in Detroit, in and around the automotive industry. His work record also provides a good indication of how new owner Sterling would hope to see Time develop in the near future. Indeed, he spent 25 years in the auto-industry working his way up from the shop floor to holding a high position at American Axle.
"It was a great experience being in the American auto industry for anyone who likes manufacturing. It was a brilliant training ground, I was lucky in my life to have good sponsors and mentors along the way."
Then Mr Howell took a call from private equity group HIG, asking him to run a bankruptcy turnaround company called Stant Corporation; a high-tech fuel system company that needed a lot of help in its operational manufacturing. "I thought if I am going to be CEO, this will be a great way to do it; go to a place with negative EBITDA and see what you can do. Just roll up your selves and go."
He adds, "It was a great experience, we grew that company from about $165 million to $300 million. Then HIG asked me to go to BigTex Trailers, which was growing very quickly. It was a home-grown American dream type company; a guy started it out of high school and built it from nothing to about $265 million and did a brilliant job. But now it was so large he needed a professional management team."
Led by Mr Howell, that team took BigTex from $265 million to about $500 million in revenue. He then oversaw its sale to Bain Capital and then the acquisition of its largest competitor to bring it up to a $1billion revenue. "Then I decided to leave."
One may ask, 'why?' He explains, "I like to take a company from $250 million to $500, then a billion and then I like to do it again. I am good at scale and bringing in a method and structure, and I love leading a sale process."
Time Manufacturing represents a similar opportunity. "It has grown up by out working others in its space. They have a brilliant product and so what I came here to do is lean out the manufacturing processes and drive this company to scale."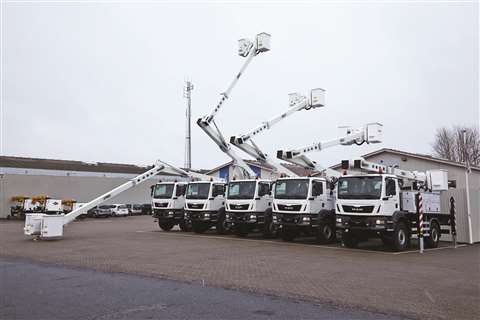 Czech Republic power company CEZ recently received five high voltage insulated Versalifts for live line maintenance.
Good fit
Mr Howell describes new owner Sterling as a 'middle market private equity firm'. It targets manufacturing, distribution and industrial services companies and has been involved in the buyout of over 50 platform companies, plus add-on acquisitions amounting to US$10 billion.
Speaking of Sterling, he explains, "They tend to like businesses of this size that have strong management teams with a lot of potential. They saw that in Time Manufacturing, and saw an industry that was ready to grow. There is a lot of infrastructure spending now, so they came in at what they believed to be the right time."
Once Sterling had been invited by Time to make a bid, it needed little persuasion of the company's capabilities. "They really saw something they liked. The business was owned by the O'Flaherty family for more than 40 years and they grew out a really strong brand. It got a lot of attention and Sterling ended up being the winner.
"Then Sterling called me. " He adds, "We think we can double the size of this company in two to three years."
That would mean doubling up from the current annual revenue of around $210 million. "It's a great group of people and a highly engineered product. We don't sacrifice or cut corners and we think about safety every day. I am proud to be here and pleasantly surprised by the team."
Mr Howell believes the company will grow both organically and through acquisition but it will not move out of its core product offering.
All Time Manufacturing's lifts are manufactured at its group headquarters in Waco, Texas, and then, where relevant, the products are shipped to Europe and mounted in Denmark at Time International, the assembly plants at Versalift UK and Time France.
Coming together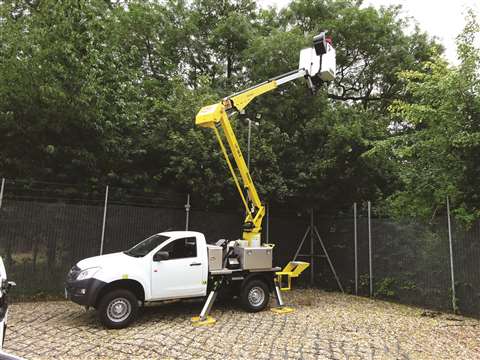 Versalift Lat-135-H mounted on a pick up.
Up until now the company has been run with highly independent business units. "We are becoming more unified and sharing our best practices, so that means Denmark, UK and France getting together under one umbrella and sharing some of those best practices."
Under this arrangement Time Denmark wlll take the lead outside of North America, with Versalift UK and Time France reporting in to CEO Per Torp, who is the longstanding head of the Time International organisation in Denmark. He, in turn, will report to Jay Jeffrey, who has recently been promoted to company president, and as such will also head up the sales and marketing wings representing North and Central America.
It would seem the company has a bright future, in terms of both organic and acquisition growth. "We are looking globally," says Mr Howell, "We are very open to opportunities for our manufacturing footprint."
This may include expansion of its mounting facilities, which are a crucial feature of the company's set-up. "The mounting really needs to be proximate to the basic trade area it services because not only are you doing the mounting but you have to be available to service your products," explains Mr Howell.
As you would expect, the group is also looking to expand its product offering. "We are also looking at some of the larger units; we have an excellent relationship with Ruthmann. There's a space between what we do and what they do, which is a little bit of a hole for us, so we are looking at some product development in that area."
For example, the two companies showed the Skybird 215I insulated truck mount at ConExpo. The Skybird is a joint venture between Time and Ruthmann, utilising the strengths of both companies to create a 66m working height insulated aerial lift that complies with ANSI A92.2 cat. A, 500 kV.
It's too early to say what products the joint venture will serve up next, "But we are meeting with them," says Mr Howell, "We are open to relationships; it's about how we can service the market best."
In North America and Latin America, Time serves its market with the Condor line. "We will introduce some fresh products this year," says Mr Howell, "Which we think the market is going to really like."
He adds, "We are always listening to the voice of the customer to think about what things we can do to enhance our product and take cost out." For example, "We are noticing a trend in Europe to using more insulated vehicles, so they can work hot."
Product innovations will naturally occur as and when required but before large scale expansion through acquisition can occur the business will need to go through somewhat of a transformation.
"We have to do a little restructuring," says Mr Howell, "To scale the way we are today would be a little chaotic. So, first we must make sure we are sound from an organisational and manufacturing perspective and I will put in a structure that has been done in the past, and I think the team is going to like it. Then we will be ready to scale."
He adds, "There is a lot of work to do in this initial phase to get all of us pulling the rope the same way, then we will be ready to look outside."
This restructuring will take a number of forms. "We need to concentrate on our throughput, we have to become better partners to our supply base and we have to improve ou customer service offering."
Scaling up
Mr Howell believes that until this is achieved, his vision for growth will be hard to come by. "Wuth a company like us that is so highly decentralised; there are potential synergies that we are not obtaining because we don't think about doing things that way. One of the advantages of scale is to take advantage of the opportunities and give suppliers the opportunity to participate in that scale – today that's not really thought of.
Mr Howell continues, "That's one example but there are many like that, because that's how centralised companies operate. We have to shore some of those things up so that we are ready to go to the next step."
Turning to global sales, the plan is to grow its main markets at about the same level. At the moment, around 21% - 25% of the company's sales are outside North America, and Mr Howell believes that will remain broadly similar in the foreseeable future.
And, he already has a good view of the direction of travel. "We are looking to grow with the independently-owned utility space; we see a lot of opportunity there and people who are interested in our product. It's a really competitive space and you have to have a lot of customer service and attentions to detail, so we are building our infrastructure to be able to take care of those customers."
NEWSLETTER
Delivered directly to your inbox, International Rental Newsletter features the pick of the breaking news stories, product launches, show reports and more from KHL's world-class editorial team.

CONNECT WITH THE TEAM
CONNECT WITH SOCIAL MEDIA