The potential for growth in Brazil's equipment rental market
Is Latin America's giant ripe for rental growth? Belinda Smart reports.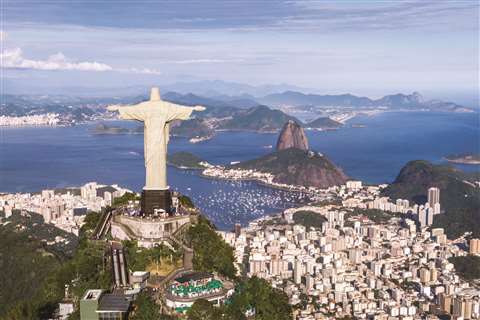 "Brazil's construction industry has struggled with cost hikes and increased lead times over the past year, with record low levels of capacity and heavily depleted inventories leading to a substantial demand-supply gap which has driven prices upwards."
Speaking mid-2022 on the release of a report by GlobalData, Jack Riddleston, an economist at the UK based analytics company, summed up the Brazilian construction industry's challenges.
The report predicted that growth would decline even further in 2023, to just 1.4% as the rising costs and lack of availability of materials causes significant delays and cost hikes.
With Brazil's new president Luiz Inácio Lula da Silva taking office on 1 January, the overall economic outlook remained shaky; the government last month revising down its official 2023 growth forecast from 2.5 per cent to 2.1 per cent.
But for the rental market these challenges can present opportunities. A report released November by US based credit ratings and research specialist Fitch, stated that "margin expansion, resulting in higher return on invested capital (ROIC) and a ROIC spread over the cost of debt at levels in line with historical figures, should allow rental companies to reconcile their growth and fleet renewal strategies with adequate financial leverage.
"For truck, machinery and equipment rental companies, the underpenetrated market should continue to enable growth," Fitch said.
Brazil's emerging rental market
That's a view shared by Sérgio Kariya, CEO of Mills, one of Brazil's largest rental businesses – the company rents and sells motorised access equipment, such as aerial work platforms and telescopic handlers, as well as earthmoving machines, compressors and gensets – it also offers specialty engineering services.
In July 2022 Mills entered the heavy equipment rental market with a significant acquisition - Triengel Locações e Serviços (Triengel) – whose fleet comprises 245 machines including wheeled loaders, compaction rollers, skid steers and backhoe loaders.
The deal was completed through Mills' subsidiary Solaris for R$ 133.7 million (€24 million).
Mills also committed to investing a further R$225 million (€40.7 million) in earthmoving equipment over second half of 2022 and the first quarter of 2023.
Kariya tells IRN that despite uncertainty over the recently anointed President Lula's plans for the economy, the company's plan is to capitalise on Brazil's emerging rental market; its penetration levels offer "tremendous opportunities for consolidation and growth," he says.
"We estimate that around 25% of equipment is in the hands of rental companies, while most of the equipment is with end users; however, in recent years this scenario is changing and each year the proportion of machines sold to rental companies instead of end users has been growing," he says.
In recent years, Mills has faced familiar challenges, not least the pandemic.
"The major challenge in the supply chain during the pandemic was to balance demand with equipment delivery planning."
The supply chain crisis later represented a further challenge, but the company maintained a focus on improving its processes, increasing productivity and recovering profitability, he says.
Rental acquisitions and mergers
"If we look at our revenue growth between 2018 and the 12 months to November 2022, we grew at a compound annual growth rate (CAGR) of 34%; on the other hand, our EBITDA margin expanded at a CAGR of 78%."
Much of that growth stems from the merger completed in 2019 between Mills and leading rental company Solaris; when the deal was announced, the combined businesses were projected to have a fleet of 8,400 aerial platforms (Mills with 5,700 and Solaris 2,700), the largest in Latin America.
Since then, the company has made the most of "synergies" from the merger says Kariya, but also increased market coverage, footprint, and completed other acquisitions.
Mills currently has a 10,000-strong fleet including aerial platforms, gensets, air compressors and earthmoving machinery, and while it does not disclose figures on planned investments, "we intend to continue investing in our product lines," Kariya confirms.
"If you look at our revenues, construction or infrastructure represents only approximately 35% of Mills' total revenue," - Mills' growth is mainly due to "constantly increasing penetration in other sectors of the Brazilian economy as industry, services and others," he says – "However, due to the recent infrastructure auctions and bids, it will be a very interesting growth path for the upcoming years and a source of revenue growth.
"We have highways, railways, airports and sanitation concessions that will require diversified types of equipment such as aerial platforms, gensets, air compressors and heavy machinery as well."
Mills has focused on growth through acquisitions in recent times; those completed in the past two years include lifting platform specialist Tecpar Equipamentos (April 2022); aerial lift rental group Altoplat (December 2021); aerial platform specialist SK Rental (May 2021); and low level access platform specialist Nest Rental (April 2021).
"The rental market is quite fragmented. The aerial platforms sector, despite having 30% of the market, still has relevant opportunities to consolidate.
"And in the earthmoving market, for example, there is no dominant player. Today the largest EMM player has approximately 4% of the market share."
"So, we are very focused on merger and acquisition opportunities and believe that there are interesting opportunities for consolidation."
Suppliers rise to demand
Brazil's rental market also appears to offer opportunities for equipment manufacturers.
"The rental market has gained prominence in recent years and represents a significant share of the overall sales of John Deere's yellow line," says Leandro Santos - John Deere's Brazil Corporate Business Manager, referring to machines targeting civil construction, agriculture, infrastructure, and mining.
"The rental trend has grown, but it has demanded increasingly robust technological equipment to serve the customer and ensure the proper life of the equipment, whatever challenge is ahead."
Santos cites recently released data from the Brazilian Association of Technology for Construction and Mining (Sobratema), showing that while rental has shown a 3% drop in 2022, the sector has otherwise recorded consecutive growth since 2018.
"The construction equipment market is very broad, and the rental opportunities are considerable. We have an excellent demand in the infrastructure, mining, and agribusiness sectors, but we are still looking for new entries.
"The rental sector for construction and mining equipment is no longer a bet, it is a reality."
Fleet expansion: rental equipment continues to grow in demand
Rental in Brazil is performing well for handling, lifting and earthmoving equipment specialist Manitou, a leading supplier of telehandlers for rental companies, with a range, from six metres to 30 metres lifting height, with a loading capacity respectively from 2.5 tons to 33 tons.
Marcelo de A. Bracco, Managing Director Brazil & Latin America regions says rental companies are investing to expand their fleets, and some are also opening branches throughout the country.
"In my view, the main factors which would motivate such a movement would be the fact that more and more end users are making the option of renting a machine, instead of buying them, seeing advantages on the rental alternative.
"Also, the economy in Brazil had a favourable year [2022], with strong increases in the agriculture, mining and construction businesses, therefore positively impacting the machinery rental business.
"Specifically for the rental market, Manitou Group offers in Brazil and Latin America countries, mobile elevating work platforms, called MEWPs, being articulated machines from 12 metres to 28 metres, diesel and electric versions.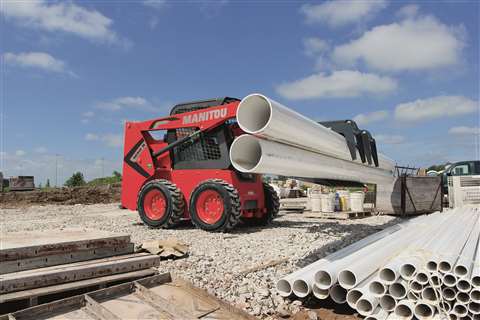 "More recently, we have successfully launched the skid steer loaders range, from around 600 kg to 1,500 kg of rated operating capacity, and backhoe loaders with 90 hp, which have been a success in all LATAM and are strongly increasing our turnover and market penetration in all countries."
Manitou Group's offering to the rental market had traditionally included telehandlers to be used on oil and gas or mining applications or forklifts to be used in an industrial site.
"However, we see more recently that MEWPs and skid steer loaders are the models that have been performing quite well with the rental companies in Brazil."
"Among the construction projects and oil & gas infrastructure investments, an interesting project is the solar panels investments being constructed in the north of Brazil, which are using Manitou telehandlers, due to the reliability and robustness of our products, and the technical skills that we own on such machines."
Crisis-opportunities
"For us in Latin America, I would say that the economy in the region has always been a roller coaster, and we have learned over the years how to live with that," he says.
"Just to mention some examples, when we had the construction crisis in Brazil, during 2015 to 2018, we focused our attention on selling agricultural and mining machines there.
"Now, we are seeing Argentina in a more difficult moment, and we have Brazil booming in the machinery market. In summary, we need to be creative, flexible and fast on our reaction in a complex region like Latin America."
NEWSLETTER
Delivered directly to your inbox, International Rental Newsletter features the pick of the breaking news stories, product launches, show reports and more from KHL's world-class editorial team.
CONNECT WITH THE TEAM
CONNECT WITH SOCIAL MEDIA