Rotating telehandlers in North America
"Contractors are starting to understand the dynamic uses that rotating telehandlers can provide," says Gary Weisman, COO of Magni Telescopic Handlers. "From the rental company perspective, a rotating telehandler has many advantages over a mobile crane, [including] small footprints, ease of transportation, high capacities and numerous attachments that lend the machine's increased flexibility."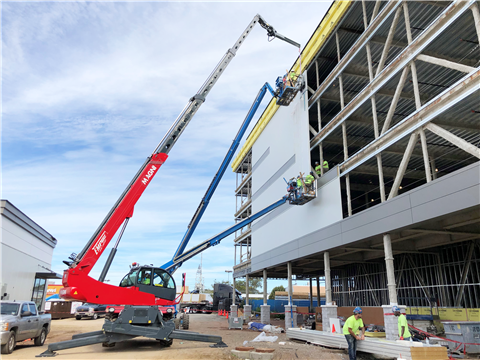 Magni has been operating in the U.S. since 2013, when the company branched out from its home base in Italy and opened six additional locations around the globe. The company currently offers 16 models of rotating telehandlers, with working heights from 57 to 167 feet and capacities of 11,000 to 28,600 pounds, alongside more than 100 attachments.
Telehandler demand
Magni has experienced strong demand for its products over the last decade, and its successes have not only grown its reputation across the U.S., but its footprint, as well. Like most, however, the company has felt the strain of recent industry complications.
"We've built a national network of highly dedicated dealers who understand the importance of education and training thus allowing contractors to easily step into a rotator and to realize the full value proposition of a rotating telehandler from Magni," Weisman tells ALH. "While supply chain and logistics challenges continue and machine availability will suffer, at Magni we fully expect to have all the rotators we need to fulfill the demands of our dealers and their end-user customers."
Overcoming obstacles in a (very) hot market
South Carolina-based Applied Machinery Sales (Merlo – AMS) has been importing Italian-built rotating telehandlers from Merlo since 2010. Austin Bailey, sales manager for the company, says the market is "extremely hot" and he doesn't see any signs of it "cooling down" any time soon.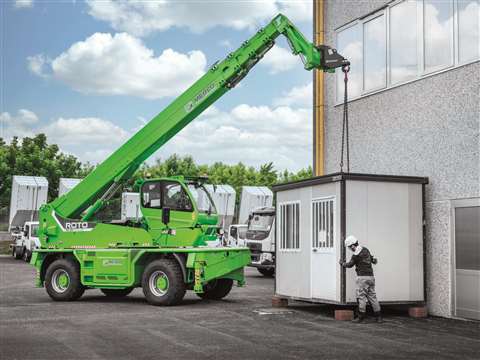 "Every urban market, especially the East and Gulf Coasts, is showing much growth for rotators," Bailey explains. "We are also seeing an uptick on the West Coast."
Bailey says while rotators continue to enjoy typical lift and place applications, Merlo (AMS) is seeing new sectors adapting the use of these machines, specifically within tree care and warehouse distribution builds.
"Rotators used within the tree care industry has exploded," Bailey says. "And we don't see it ending anytime soon."
Merlo (AMS) currently offers six models of rotating units to the North American market, with lift heights stretching from 69 to 115 feet and lift capacities ranging from 11,000 to 15,400 pounds. The company introduced several new models to the North American market this year, including the R70.24 S PLUS which can handle up to 15,430 pounds.
"More construction companies are adding rotators to their fleets as they come to appreciate how the versatility of these telehandlers improves their crew's productivity and the company bottom line," Bailey says. "We see the [market] growing even more, and not just within rental."
However, Bailey says one major challenge is impacting the sector currently – and it's not supply-chain related.
"Lack of operator training," he says. "Manufacturers, and by extension their dealers and the rental establishments that offer these machines, need to supply better training for any rotating telehandler operator. Merlo is a super easy machine to operate compared to some others on the market. Still, we offer training to our dealers so they in turn can train their end users."
Telehandler operator certification
Bailey isn't alone in his thoughts on training; current standards remain somewhat unclear regarding what's required for operators.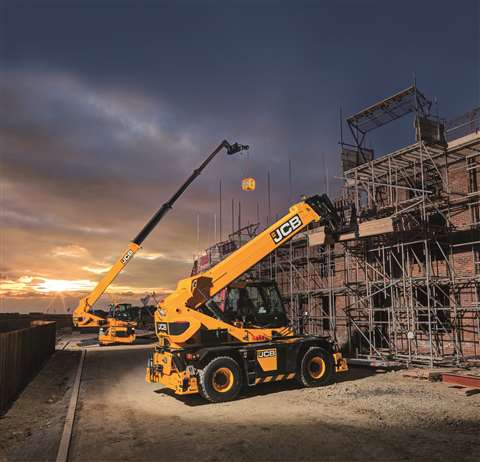 Rebecca Yates, senior product manager – material handling, with JCB, explains, "The ability to utilize a rotating telehandler that does not currently require specialized licensing while still achieving the same or similar result as niche machinery is a benefit to the operator. But where this creates a challenge is that with the industry standards not specifically addressing rotating telehandlers, not all operators will abide by the other jobsite or state requirements set for specialized equipment and overall, it can lead to confusion amongst owners and operators."
In 2020, the National Commission for the Certification of Crane Operators (NCCCO) set out to address the issue, forming the 26-member Telehandler Task Force that used the next two years to develop a new certification program for rotating telehandler operators.
Tony Dotto, general manager at The Crane School, is one of the Task Force members who has been integral to developing the new program.
"While standard telescopic handlers have boom sections to lift and extend materials for placement, rotating telehandlers can lift, extend, and swing. So, rotating telehandlers provide an additional dimension of operation," Dotto explains. "Currently there are many more fixed models in the field than rotating models, but rotating versions have significantly enhanced capabilities, so they are rapidly gaining favor over the legacy models. Rotating telehandlers also have additional crane-like capabilities that make them more likely to require certification."
Dotto explains that the recent OSHA Compliance Directive to the crane rule (1926 Subpart CC) indicates that OSHA intends to enforce operator certification when forklifts have a boom/jib and a hoist. Additionally, under OSHA 1910.178, evaluation requirements already exist. ANSI/ITSDF B56.6 has requirements for the operator as well.
To ensure operator and jobsite safety, the NCCCO will later this year debut a new telehandler operator certification course, which will be the first certification available in the U.S. that meets all three standards.
"There are many times when telehandlers do lift a suspended load, but they are not using proper techniques or proper attachments to do so; the operators simply wrap a sling around the forks," Dotto adds. "These unsafe operations must stop, and formal certification goes a long way to ensure these bad habits are discontinued."
Construction's demand for telehandlers
Back at JCB, Yates says the roto market is "strong and growing, more than double in terms of volume compared to last year and we expect it to continue to grow as a market with more acceptance from new customers."
JCB currently offers one rotating model to the North American market, the JCB 512-83R which features a maximum lift height of 83 feet and capacity of 12,000 pounds.
"Rotating telehandlers have truly brought a new dimension to the construction market, especially in those urban environments or even large, multifaceted work areas," Yates explains. "For example, new multi-unit building complexes can keep sections productive simultaneously with a roto telehandler getting materials from a central location to each build spot."
As jobsites become more congested and equipment and labor shortages continue to impact project schedules, rotating telehandlers will continue to trend upward, says Daliborka Ribeiro, director of product management – telehandlers, JLG.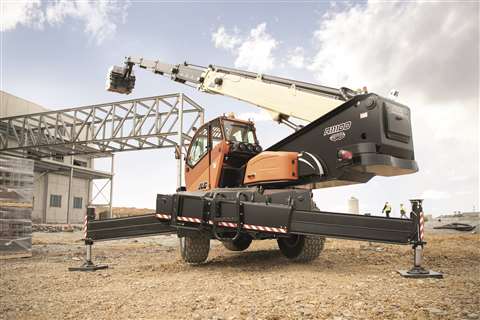 "Demand for rotating telehandlers in North America is increasing as worksite space decreases" Ribeiro says. "Whether operators need to lift and place, work at height or move suspended loads, rotating telehandlers allow them to better maneuver in confined areas, completely transforming the way crews work."
JLG offers three rotating telehandlers, with units ranging in maximum capacities from 11,000 to 13,200 pounds and lift heights from 67 to 97 feet.
"Rotating telehandlers are still a relatively new concept in North America, even to those who regularly use telehandlers. So, one of the biggest challenges facing this sector is making people aware of how the unique features and benefits of these machines can help them get work done more efficiently.
"JLG is working to drive awareness of these machines through ongoing engagement with our customers. For example, in addition to our product-specific details found on our dedicated website, which includes videos, product walkarounds, specifications and customer testimonials, we also offer in-depth insights into these machines on our blog. Content available includes use cases, market outlooks and highlights of their unique features and benefits. And finally, JLG's training programs are being updated to include a rotating telehandler curriculum."
With work aplenty and awareness growing, the rotating telehandler market, indeed, shows no signs of slowing down anytime soon.
Top tips when considering a rotating telehandler purchase
ALH asked manufacturers to provide their top tips for anyone looking to add rotators to their fleets. Here's what they had to say.
Austin Bailey, Merlo (AMS): How easy is it for an operator to operate the machine? Provided instructions ensure safe operating of your equipment as well as repeat business from companies who trust you to provide the best. Know the different kinds of attachments that are available. This is a selling point as it shows the end-user the versatility of the machine – have several of them in stock. Know how the machine is being used; If the Rotator is being used in 100-plus-degree temps or freezing temps, an enclosed cab with heat and AC will go a long way to increase customer satisfaction.
Daliborka Ribeiro, JLG: Rental companies considering the purchase of a rotating telehandler should keep these three things in mind: 1. How these machines will be used. 2. What lift capacities can these machines achieve? 3. What attachments increase the machines' utilization?
Rebecca Yates, JCB: As with standard telehandlers, review capacity beyond the maximum values - an understanding of the load chart is still crucial. The machine should be easy to use. Think beyond the standard carriage and forks and take advantage of attachments offered to increase productivity around a jobsite and efficiency of machine rentals.
Gary Weisman, Magni Telescopic Handlers: Look to do business with a company that is fully committed to U.S. based parts availability, service support, and sales/service training. Dealing directly with an OEM versus a company that doesn't control the manufacturing of its products and/or is distributed through an independent third-party company has distinct advantages Look for machines that are easy to both teach and learn how to use. Most rotators have a steep learning curve resulting in employee and operator frustration. This results in the end-user not realizing the benefits that the machine can offer.
NEWSLETTER
Delivered directly to your inbox, International Rental Newsletter features the pick of the breaking news stories, product launches, show reports and more from KHL's world-class editorial team.
CONNECT WITH THE TEAM
CONNECT WITH SOCIAL MEDIA