LiuGong chairman: why new tech will lead to fewer construction equipment OEMs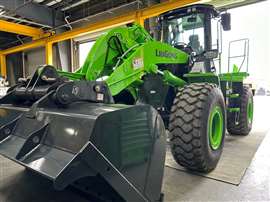 The construction equipment market is set to undergo huge change over the next 5-10 years and an acceleration in new technologies will see bigger players squeeze out smaller rivals.
That's according to Zeng Guang'an, chairman of Chinese construction equipment OEM LiuGong, who was speaking to International Construction's Andy Brown.
Zeng said that the construction industry faces a number of challenges, including the war in Ukraine, the rising cost of labour, and a general reduction in political stability.
But he said that new battery technology in electric machines, autonomous machinery, big data and enhanced machine control could all help customers in the construction sector by reducing costs, increasing safety and improving environmental protection.
Harnessing data from machines would allow customers to "very accurately understand" what is happening on job sites and how to improve will be a key priority for OEMs over the next decade.
However, this is a task that only the bigger players are likely to be up to, Zeng asserted. "Technology is becoming more and more popular but it's very expensive. So only big companies with real innovation can do this kind of job," he said.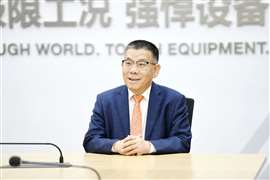 Zeng suggested that there would be consolidation in the market over the next 10 years, with smaller companies unable to afford the investment in new technologies squeezed out.
He also highlighted the importance of strong, new supply chains for components like batteries – something that he claimed LiuGong has already developed.
"We have already done a lot of investment for our company. We are heavily investing in an automated manufacturing system so on average we are going to reduce labour by 30%," he said.
When it comes to data, Zeng said that the large number of its machines operating in China means that it has been able to collect significant quantities of data over the past three years, which the company then divides into different categories and studies to understand machine performance, machine and operator safety, improve quality and reduce costs.
Bright future for electric machines
Liugong is confident that electrically powered machines form a major part of the future of construction equipment and aim to push into overseas market having already grown sales at home.
The OEM – one of the world's 50 biggest construction equipment manufacturers – launched battery equipment in China three years ago and last year sold 600 battery-powered loaders in the country.
Now the business is starting to export some of these machines for testing in overseas markets. In March this year, it showcased the 856HE MAX electric loader and the 9027F-E electric excavator at ConExpo in Las Vegas, with the 856HE MAX becoming the first electric wheeled loader to be sold in the US market. It has also recently demonstrated electric machines in the UK.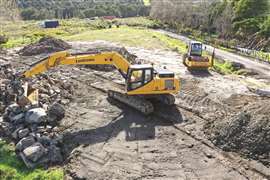 "We are in a leading position for battery technology and motor controls. We have full knowledge of the whole system and a very strong supply chain to support us.
"We will grow in these areas in the future in China and outside China," Zeng said.
He highlighted the fact that Liugong, which has already been operating in the US for 10 years, has recruited several new dealers. He put the OEM's US distributor coverage at 60% of the country, up from less than 40% in 2022.
Meanwhile, the company has also increased its parts stable, with parts availability at 91% at its facility in Houston, Texas.
But Zeng noted there was still more work to do in established markets like North America and Europe. "North America and Europe are very mature markets. The customers are very professional and there is strong competition, with many big brands there. So we still need to learn and invest in order to blossom," he said.
Nonetheless, he predicted a bright future for electric machines amid global efforts to reduce carbon emissions.
"I think electric equipment will soon get very popular," he said. "They have huge advantages over traditional machines."
He listed reduced carbon emissions, reduced noise (down by 30%), 40% lower maintenance, and lower total cost of ownership as advantages of electric equipment.
Zeng claimed that, in LiuGong's experience in China, battery-powered machines could reduce operational costs as a result of the rising cost of fossil fuels. While the capital cost of an electric machine is triple that of a diesel machine, he claimed that this would pay itself back within two and a half years as a result of reduced operation and maintenance costs. "The total cost of ownership for the battery machines is 50% of normal. That's a big saving for the customers," he asserted.
He conceded that providing charging systems for electric machines is a challenge in some countries and for some applications.
While sales of electric wheeled loaders are growing very quickly in China, excavator sales have increased more slowly. Zeng said the company was working on charging solutions for electric machines, including a fast charging system that allows operators to charge a machine for 30 minutes over their lunch break.
He pointed out that batteries on machines can also be swapped rapidly, or the machine can be tethered if working in a fixed position or area.
For now, LiuGong is focusing on selling electric machines to its key accounts and larger customers, who he said are keen to reduce emissions and are able to make cost calculations on the machines.
He concluded by confirming that LiuGong would keep investing in the Americas and planned to introduce more new models. "Even though we invent in China, I think it is good for the whole world," he said.
NEWSLETTER
Delivered directly to your inbox, International Rental Newsletter features the pick of the breaking news stories, product launches, show reports and more from KHL's world-class editorial team.
CONNECT WITH THE TEAM
CONNECT WITH SOCIAL MEDIA