Interview: LiuGong CEO on Chinese MEWP market growth
By KHL editorial staff11 October 2022
Zeng Guang'an, chairman and CEO of Guangxi LiuGong Machinery, shares his views of the China MEWP market and the company's growth plans.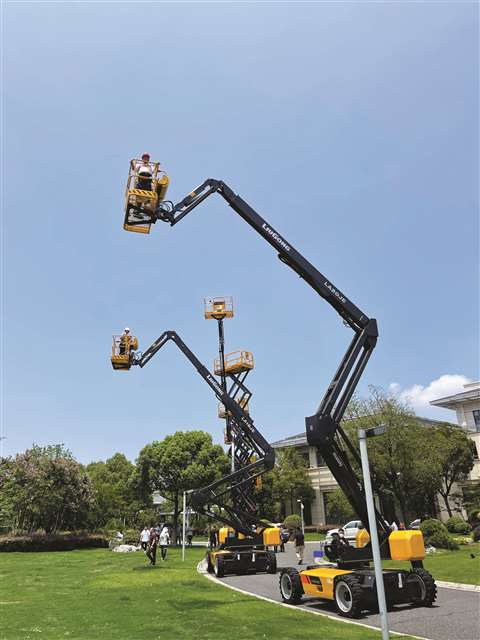 Compared to some other Chinese manufacturers, many of which are themselves relatively new to the access industry, LiuGong's MEWP division is still in its infancy - yet its ambitions are strong.
As Zeng Guang'an, the chairman and CEO of Guangxi LiuGong Machinery, explains, the company's access division was officially started at the beginning of last year, with a move to the company's Zhenjiang manufacturing facility, where it has traditionally built skid steers and backhoe loaders.
In fact, LiuGong has produced access equipment for a number of years but until now it was part of the crane product division.
The new division currently incorporates 4m to 14m scissors, launched last year, and 14m to 24m platform height articulated boom lifts; one of them being diesel engine-powered, and six telescopic booms from 20m to 32m platform height; four of them being diesel.
Indeed, the company's main focus will be scissors and booms going forward, although it has introduced a vehicle mount division, which is taking a back seat at present.
To meet its ambitions, the company installed separate state-of-the-art robotic lines for its scissors and booms and now manufactures much of the products in-house, including the chassis frames and boom elements.
"We are quite new compared to some other producers in China and of course Europe and America but we are not new in technology or manufacturing.
"We are very strong in R&D systems and very experienced in manufacturing of course, and we have a very strong market network in and outside China."
These capabilities will hopefully lead to a 5% market share in the Chinese access market in the short term, with that growing to bring the company into the top three manufacturers based in the country in the next five years.
This Mr Zeng adds would mean LiuGong will need to produce around 40,000 machines for the worldwide market each year.
Electric access equipment
Currently, LiuGong's factory has capacity for around 10,000 - 15,000 scissor lifts per year and around 1,500 booms. "Step by step we are increasing capacity."
LiuGong was also one of the earliest companies in the country to invest in electric equipment in the wheel loader and excavator sectors. "We are in a leading position in these two products so now we move the technology to aerial platforms, so it is quite easy as we have the technology and supply chain and control of design."
And because the access division is quite new it allows the company to take a different approach, which will see it produce solely electric access equipment from now on.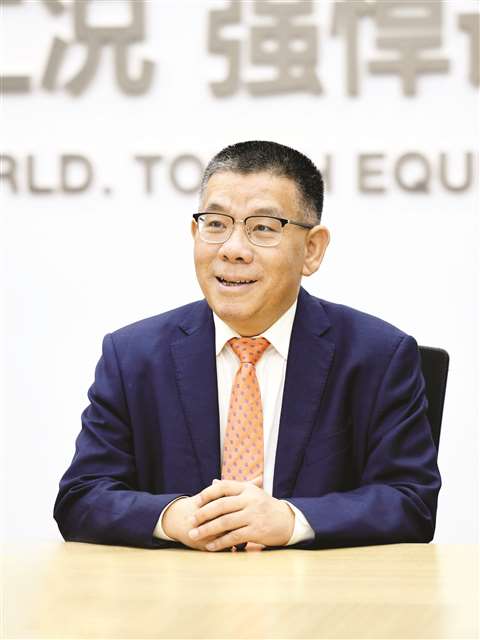 As Mr Zeng explains, the Chinese market is a quite complex. While it does not have the same level of standards as Europe and North America, it is more advanced in other ways.
LiuGong has already sent some of its scissor lifts to those two markets for testing by potential end users and rental companies with the view to receiving feedback and seeing where improvements to performance and safety can be made.
While the company sees long-term growth in those mature markets, it is initially pinning its interests in China.
At the end of last year the MEWP population in China stood at around 400,000 units, that, says Mr Zeng, could grow to 500,000 units by the end of this year.
Last year, adds Mr Zeng, total production of MEWPs in China, including those sent to the export market, was around 150,000 units.
"In the next five years we should be very close to the US market", thanks to the fact there are many applications for access equipment that is underutilised and potential new customers for it.
"Plus there are new rules for safety of workers and environmental protection and customers demand greater efficiency on construction sites, so this will drive the growth of platforms in China."
This means, says Mr Zeng, that the Chinese aerial platform population could reach 1 million to 1.2 million in total.
Growth of access equipment in China
It's no secret that competition in the Chinese MEWP market is extreme, thanks to the emergence of many new manufacturers in recent years and the growth rate of the market.
As Mr Zeng points out the access market is very different to general construction and that remains true in China. "Some 95% of equipment goes to rental companies and in last four five years there three or four big companies have grown every fast.
"Competition between rental companies is very strong. Rental rates have gone down continuously in the last five years and might be one third of five years ago."
Despite this, the rental giants have the edge on manufacturers in the country. "The rental companies have much more power than any of the manufacturers; they are driving the price down very fast and asking for monthly payments over three to four years."
"They have the advantage that they buy a large amount of equipment, which puts them in a good position for parts, payment and service, but there are disadvantages because the company is too big.
"If you have more than 1,000 locations some employees are not so well trained, compared to the middle sized rental companies that are able to manage their operation and educate their employees and build a good relationship with end users.
"Middle sized rental companies do not have to be in a big price war like the large ones, and they can find niche markets and have better access to local and regional end users.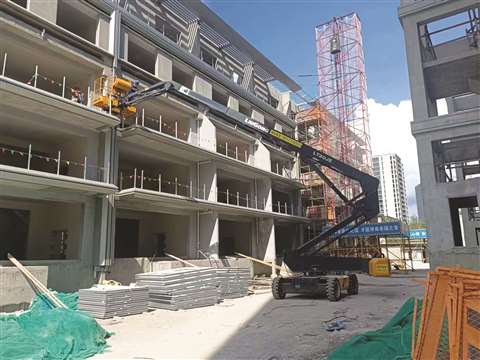 Mr Zeng adds, "Another risk for larger companies is how they handle their finances because they have lots of machines and they have lots of debt."
Another interesting dynamic is the emergence of a new business model, under which rental companies do not buy their equipment from manufacturers, but effectively rent it.
This means manufacturers retain ownership of the units and receive monthly fees from their customers. "The manufacturer owns those assets and they are operated by large rental companies. So, this reduces big rental companies' finance depts.
"It's a new challenge for manufacturers as they have their assets in the market but the return may not be for five to six years. Manufacturing really is a big challenge."
The rising competition between manufacturers 
Another advantage for rental companies is the scope for expansion, with many applications not yet explored, combined with the government's new worksite safety policies, although not specifically for MEWPs, which will also help drive the market.
Despite the new sources of work for MEWPs, the competition is so strong among both manufacturers and rental companies that only the strong will survive. "If a company is not able to provide strong service and finance they cannot succeed.
However, rental rates are likely to recover and the rate for scissors has now stabilised, having dropped so low in the last couple of years that it became unstainable. "I would say the market is slowly going up.
"For the boom lifts, "says Mr Zeng, "There is a mixture. Boom lifts are not so popular and there's not such a big population. I think, in the next two or three years everyone will have the technology to produce boom lifts and I see a price war in the next two or three years."
While growth continues, the access market's move towards maturity will also continue. "The Chinese market is not mature especially from end users. For every platform you need maintenance and we only have a few years of education in the market for end users so there is a need for a lot of training."
Expansion into global MEWP markets
As mentioned, the company does have ambitions in the major export markets, although we will have to wait for factories overseas as the company seeks to maintain growth in the Chinese market.
"For the short term, the next three to five years, we don't need factories outside China; we are focused on products and supporting dealers and rental companies," says Zeng.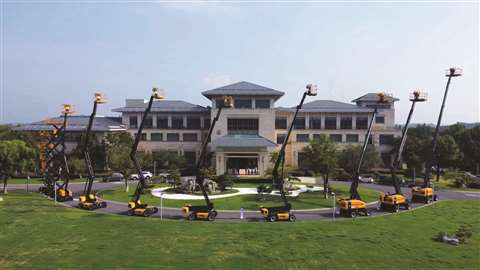 "For a factory outside China it needs to be in a huge market like the US and Europe, but there I believe there is also over capacity, and I do not think it's a good strategy - we are focused on technology and the support of the customer."
In the long term, Zeng highlights two areas in which LiuGong has established manufacturing facilities that keeps the door to the global market open. "We have a factory in India and one in Brazil so for us it is not so difficult to add new products to current factories. Therefore, the current strategy is growth in China market.
"We are advancing our technology to get market share in China then build aftermarket support capacity."
On the export side, Zeng adds, "We have 20 years' experience in Southeast Asia and a very good foundation, so we are going to start in the Asian market first.
"Europe is very strong - there are so many good manufacturers and the demand from customers are the highest in the world, therefore we need to carefully develop our machines and find the right dealers."
Zeng also believes there are many advantages in focusing on China. "There's huge advantages of human resources - there are more than 12 million new graduates from colleges of which 70% have an engineering background, so we have 8 million to 9 million new engineers each year for the market. That's much more than Europe and US."
NEWSLETTER
Delivered directly to your inbox, International Rental Newsletter features the pick of the breaking news stories, product launches, show reports and more from KHL's world-class editorial team.
CONNECT WITH THE TEAM
CONNECT WITH SOCIAL MEDIA