Interview: ERA president Stéphane Hénon on the future of rental
Following his election in June, Belinda Smart spoke to the European Rental Association's incoming President, Stéphane Hénon, Managing Director of Loxam, about the organisation's way forward in a changed economic environment.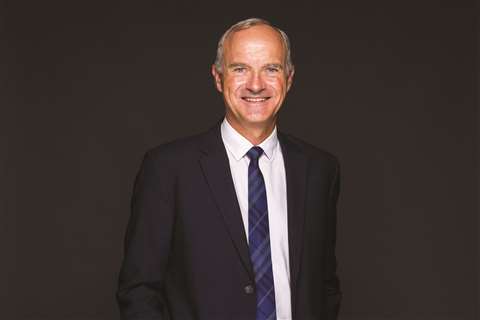 In taking up his three-year term as President of the ERA - replacing Pierre Boels, who had served in the office for the last six years - Stéphane Hénon is continuing the strong links between Loxam and the ERA.
"I'm very proud to have been elected President; it means a lot to me, because Loxam was at the origin of the foundation of the ERA back in 2006," he tells IRN.
"Since then, I have participated in different ERA committees and I was also member of the board, so my appointment allows me to continue the journey in a more active way."
A new board for the European Rental Association
The Convention in June also saw the election of a new ERA board, which Hénon describes as a good representation of the main rental countries. "Most markets in Europe, particularly the UK [represented by Andy Wright, CEO of Sunbelt Rentals] are now represented on the board, and I'm very pleased about that."
As President, his role will be to continue the ERA's support for the 15 national bodies and the 5000 companies that they represent, while driving ongoing projects aligned to digitalisation and the green transition.
He will also be tasked with guiding the industry through an uncertain climate, with the fading impact of the pandemic seemingly supplanted by new challenges. Recent data confirms inflation in the Eurozone reached 8.9% in July.
How is inflation impacting rental firms?
"Inflation is one of the major issues for our members," Hénon says. "The risk for our members is that their cost base is increasing. In some cases, businesses can pass those costs on to customers, but they can't always renegotiate agreements, meaning lost profitability – sometimes on a major scale.
"Many rental companies are inexperienced in dealing with inflation and that is something that we will have to work on, short-term. We cannot run their businesses for them, but we can guide them in terms of best practice."
Of course, inflation is a symptom of wider troubles; at the ERA Convention in June, ERA Secretary General, Michel Petitjean confirmed the association was downgrading its forecasts for 2022 / 2023.
Headwinds including disrupted supply chains and the fallout from the Ukraine conflict - chiefly fuel and energy costs - will see construction growth in Europe this year drop from 3.5% to 1.5%.
"Before the war in Ukraine and strong inflation, we believed we'd have good years in 2022 and 2023; at that point it seemed there was a bright future for our industry," he says. "That is all over this year. The first half of 2022 was very strong for our members in most countries, but there will undoubtedly be more challenges in the second half."
Is rental ready for the green transition?
Yet he believes construction in Europe will continue to advance, albeit within a more fragmented and volatile environment.
"In the context of the green transition, there is high demand for insulation projects and many governments have said they'll invest in that. The question is, will they be able to? Money will not flow so easily and could impact the dynamics of construction, so that' remains a question mark for us."
At the same time, "supply chain issues are more positive for rental; it's getting difficult to buy machines, so our customers will have more and more recourse to rental."
"And again, in terms of the green transition, I'm convinced businesses will not immediately invest in electric and hybrid. They are expensive emerging technologies and businesses can't take the risk. Instead, they will go to the rental companies and rent from them."
On the green transition; in recent months ERA has lobbied the European Commission to take rental into account in the EU Taxonomy list of sustainable activities.
"As regards the taxonomy, there had been a first draft issued by the commission and in that first draft, the rental sector was only included in a limited way, in other words, only encompassing the rental of some electric machinery."
ERA's CO2 Calculator
The ERA has been lobbying for the relevant EU Act to cover the different ranges of equipment, from plant to energy and modular space, he confirms.
Meanwhile the European Commission's proposal for a Corporate Sustainability Reporting Directive (CSRD) means larger companies will need to report on compliance with new European sustainability reporting standards.
ERA will use its CSR KPI Guidance Framework to push for a set of KPIs relevant to the rental industry to be included in the relevant act.
"It's important to ensure the KPIs will be rental sector specific, including things like green capex – so how much does a business invest in green machinery? It's also important to have a clear definition of what green machinery is, for example fully electric, hybrid and so on."
Meanwhile, he says the ERA's CO2 Calculator has proven a green transition milestone.
"Other industries are very keen on the Calculator. It's of interest to third parties – and many other associations are interested in investing money in it; I think this really demonstrates the Calculator's relevance and usefulness."
A version 2.0 of the Calculator, set for release in autumn, will include group jobsite or fleet calculations, as well as calculations for handheld tools, modular accommodation and hybrid machines.
What challenges will digitalisation bring to rental?
On the other key trend for rental – digitalisation - the Convention in June saw an update on the ERA's project to investigate its impact on rental, demonstrating the progress made by many rental firms.
However, digitalisation has created new challenges, Hénon tells IRN, not least how to manage data effectively, and the growing impact of the Internet of Things (IoT).
The related issue of cybersecurity will continue to be a focus for ERA, albeit with a focus on specific areas, such as cyber insurance.
"There was some [insurance] cover in the past, but because of the increase in the attacks, it's harder to get and more expensive, because some insurance providers are now saying they won't cover businesses for cyber threats. So, our role is to share best practice in cybersecurity with our members so they can protect themselves."
Attracting talent to the rental sector
Despite the challenges of digitalisation, Hénon is clear that there is no turning back, particularly if the rental industry wants to attract new talent.
"In my view, ERA has to work on the attractiveness of our industry for young talent. When new people come into the market, they dream of banking or the food industry. We need to work on changing that.
"Certainly, digital transformation will play a role, because we need to be seen as a fun and attractive industry. In the same way, the green transition will be important in attracting new talent, who see the sharing economy and a green approach as important. That's an area of focus for us."
Hénon has ideas on how to attract talent and numerous other initiatives, which he says will be proposed to ERA's new board when it convenes in Munich during Bauma 2022 in October.
"At that point we will outline a new strategic plan for ERA over the next three years. For now, it's too early to say what that plan will be."
It's a safe assumption that Europe's rental sector will be "watching this space" as the ERA moves forward under Hénon's leadership.
NEWSLETTER
Delivered directly to your inbox, International Rental Newsletter features the pick of the breaking news stories, product launches, show reports and more from KHL's world-class editorial team.
CONNECT WITH THE TEAM
CONNECT WITH SOCIAL MEDIA