ERA/IRN RentalTracker shows complicated recovery
With almost 150 responses, the Q1 ERA/IRN RentalTracker provides a very full picture of business sentiment in Europe's rental industry. The findings are positive, even if there is evidence of caution.
The survey was undertaken at the end of the first quarter of 2021 and reveals a rental industry in recovery mode and expressing a generally positive outlook, but complicated by the continuing impact of the pandemic.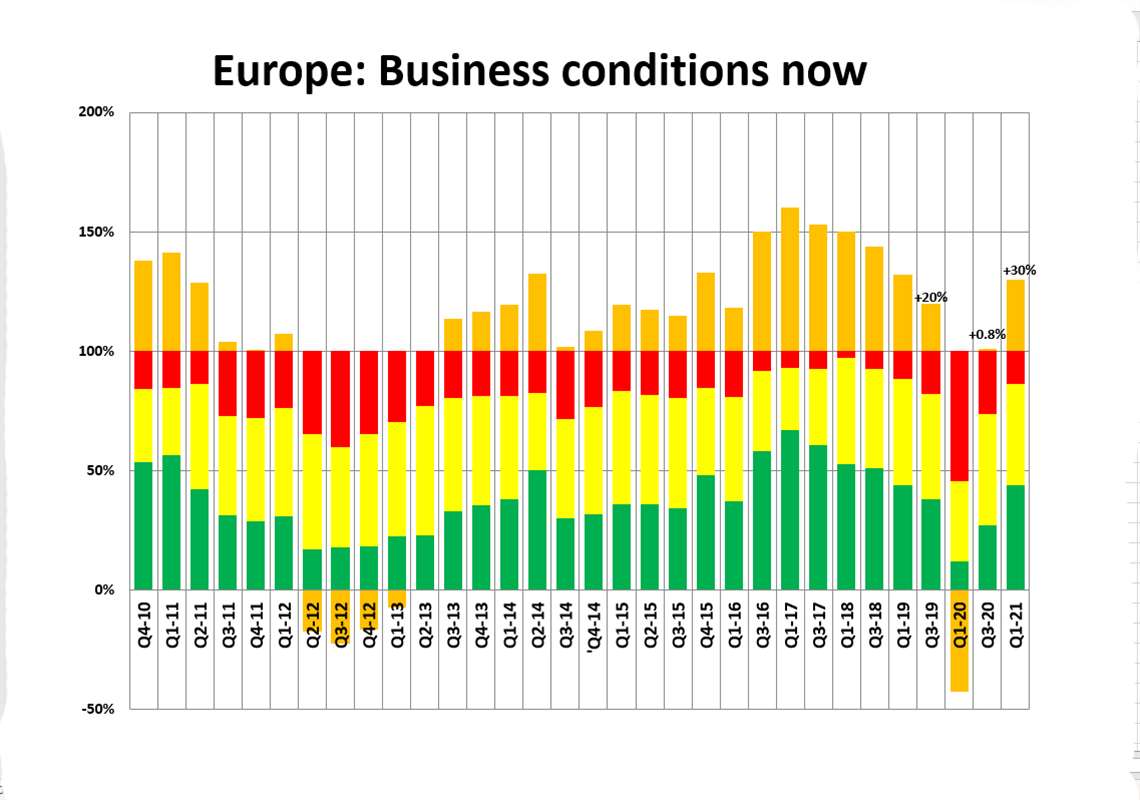 The overall picture is positive. More than 145 responses to the survey – the largest number since late 2013 – highlighted improving conditions, with a 30% positive balance on 'conditions now' at the end of March 2021.
The balance is calculated as the difference between the proportions expressing positive and negative views.
Forecasts for 12 months ahead are also at high levels, with a positive balance of opinion of 63%, the highest since the start of 2018 and much higher even than at the end of the third quarter of last year, when there might have been good cause for a positive outlook ('things can only get better').
Some 70% of respondents are expecting improved business conditions 12 months from now, and only 7% are expecting a decline.
Likewise, time utilisation levels were reported to be improving at the end of the first quarter of 2021, with a positive balance of opinion of 39%, showing a marked improvement from both surveys in 2020 when rates were - not surprisingly - reducing.
The health crisis means that countries in Europe are experiencing widely diverging environments, with some emerging from a third wave of infections while others contemplate further lockdowns. In addition, there are quite different 'base levels' of activity, related to the differing impacts of covid last year.
Capital investment
When it comes to investment intentions - an all-important measure of business confidence - the survey offers a largely positive view. Almost 40% of respondents said they would spend more this year than in 2020 and just 17% were expecting to reduce spending, giving a positive balance of opinion of 24%, the highest since Q3 in 2019.
However, viewed in the context of the wide reductions in investment last year, the 40% figure is, in truth, rather underwhelming. It suggests that there remains a high degree of caution among rental companies as they view the varying speeds of vaccination programmes and the uncertainty around the return to a normal business environment.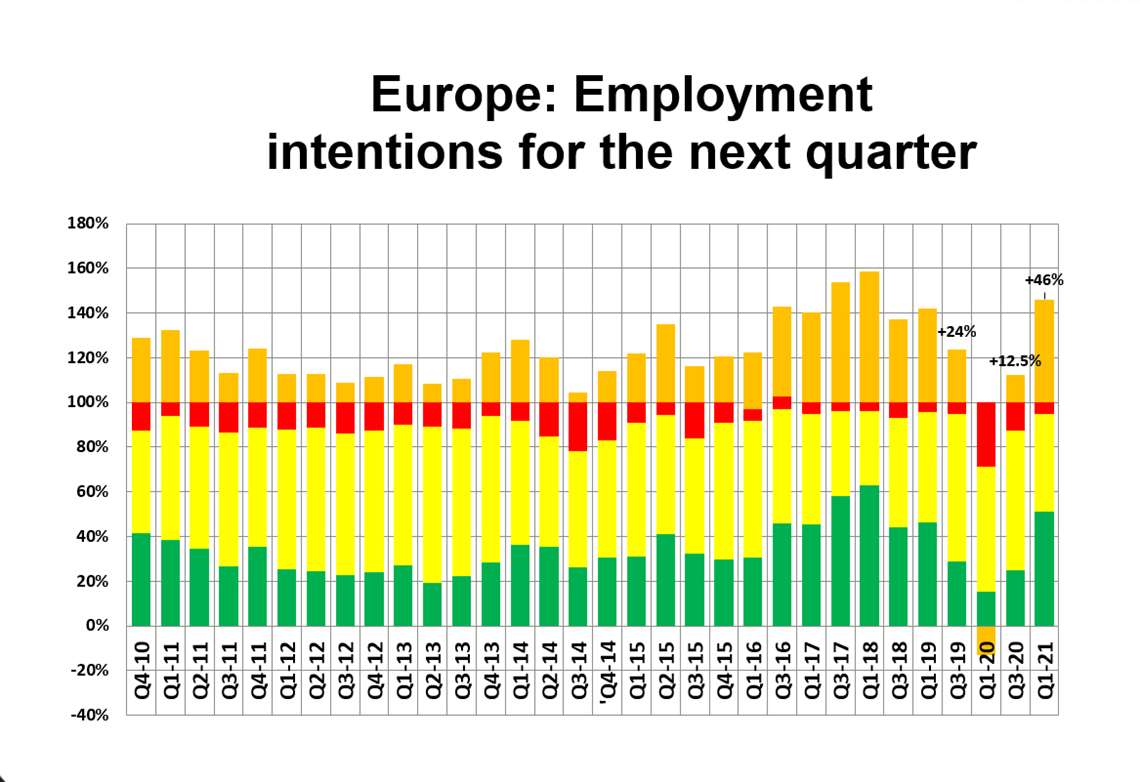 That cautious view on 2021 is supported when you look at the question regarding investment levels in 2022. The results here are significantly more positive, with 57% expecting to increase spending next year and only 5% forecasting a reduction.
Taken together, however, the results for CapEx this year and next year can be taken to give a positive view: in 2021, only 17% of respondents said that investment would be reduced, and that falls to 5% for 2022. Rental purchasing is coming back in Europe, just not in an immediate rush.
Employment intentions
The question of employment is complicated by the various state-backed furlough schemes in operation around Europe.
Is a returned furloughed employee an 'addition'? Not in the context of your official employee numbers, but yes in relation to actual feet on the ground.
Here, the picture is also positive, with more than half of all respondents expecting that their companies will add staff in the second quarter of 2021. Just 5% - 1 in 20 – will cut their employee numbers.
Around 45% were expecting to maintain current levels of staffing, which means that 95% of companies will maintain or increase employee numbers in Q2.
Expectations for 2021
The survey portrays an improving situation in the first quarter of the year, with 80% or respondents reporting business levels equal to or higher than the first quarter of 2020. The pandemic really began to have a significant impact around the middle of March last year, but the year had started strongly, so the finding for Q1 2021 indicates that for many businesses, activity levels are starting to get close to pre-pandemic levels.
What about expectations for the full year 2021? Around 65% of respondents forecasts a better year than in 2020 – which isn't saying very much – and 25% expect business to be stable year-on-year. Fewer than 10% expect 2021 to be worse than in 2020.
Regional variations
As stated, the findings are complicated by the wide regional variations in status of lockdown and the impact on wider economic conditions. There is a high degree of confidence about business levels a year from now and it is only in the Nordic region where this is less noticeable. This can be explained by the Nordic region's generally better economic performance through the pandemic last year: if you fall less far, you are less likely to expect a big bounce back.
Those experiencing the greatest improvements in 'current business conditions' included Italy, Spain, Benelux and UK/Ireland – in each case more than 60% reported improving conditions. All of these, with the exception of the Benelux, were among the worst impacted by the pandemic last year.
Those reporting the most modest recoveries – Nordic, German and multi-nationals – were among the better performers last year, so have less room to report significant improvements.
France was badly hit last year, so the fact that less than half of its respondents were reporting improvements at the end of the first quarter is a downbeat finding. The survey was undertaken as infection levels in the country were rising and new lockdowns imposed, so that may be what the survey reflects.
When it comes to investment in 2021, it is companies in the UK and Benelux that are ahead of the crowd. In the case of the UK, that likely reflects pent up demand after a terrible year.
Notable low spenders this year are Spain and Italy – caution after a very difficult year being the probable reason – and Germany.
For employment, it is UK and Nordic companies that are most likely to add staff. Germany is once again at the bottom of that table, reflecting caution as well as a more resilient response last year, which meant that there was less shedding of jobs than in some other countries.
Complicated, but positive
The survey, then, gives a complicated yet positive view of how Europe's rental market views the current landscape. Optimistic about 2021 but much more so for 2022; likely to increase spending this year, but holding back on the accelerator pedal until 2022; and quite widely differing views depending on local conditions on the pandemic. The key point is that we are no longer in April 2020 and progress is being made.
NEWSLETTER
Delivered directly to your inbox, International Rental Newsletter features the pick of the breaking news stories, product launches, show reports and more from KHL's world-class editorial team.
CONNECT WITH THE TEAM
CONNECT WITH SOCIAL MEDIA