Concrete equipment: improving productivity on concreting work
The latest releases in concrete equipment reflect demand for precision, speed, flexibility and lower costs, writes Belinda Smart.
Adaptability seems to be the watchword for the concrete equipment market, with market factors including wage costs and emissions regulations sharpening the focus on "doing more with less" particularly regarding the specific needs of the rental market.
Paving power
This principle certainly applies to German company Wirtgen Group's, whose SP 154i slipform paver enables two-layer paving with exposed aggregate concrete, meaning that only the top layer consists of expensive exposed aggregate concrete, while lower cost mix can be used for the roadbed.
The company says paving the top concrete layer 'wet on wet' produces a strong bond between layers.
The SP 154i has four steerable and slewing crawler units, allowing the machine to be flexibly controlled in different job site conditions.
It also has steerable and slewing crawler units making the pavers easy to load. It can be operated in 'ECO mode' to reduce fuel consumption and CO 2 emissions.
"The SP 154i features the same control panel design as the other models in Wirtgen's current fleet of slipform pavers, meaning continuous and precise paving without any delays due to training."
Typically, the SP 154i can be set up and used as both a top layer and bottom layer paver. As a bottom layer concrete paver, it is equipped with an automatic dowel bar inserter, up to three automatic longitudinal tie bar inserters, and a concrete conveyor to the top layer concrete paver.
"When used as a top layer paver, an oscillating beam and super smoother work together to create an ideal concrete surface.
"Texture curing machines like the TCM 180i bring up the rear of the paving train. They can create different surface structures and spray a dispersion on the fresh concrete surfacing to prevent it from drying out prematurely.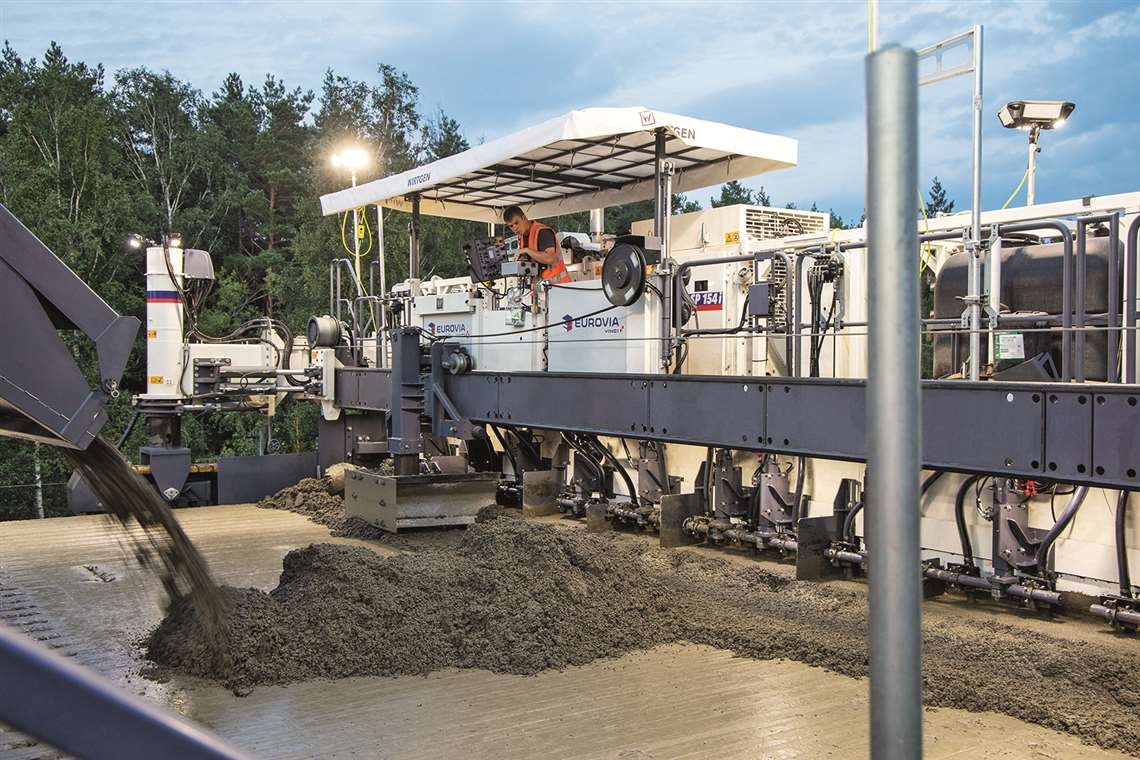 "When paving with exposed aggregate concrete, on the other hand, a surface texture is not created, but instead the distinctive exposed aggregate concrete surface, with a texture depth of around 1 mm, is produced by brushing off the top layer of slurry."
The SP 154i was recently demonstrated on the 11.5 m wide, 27 cm high road surfaces of a project to upgrade the D1 freeway leading into Prague in the Czech Republic.
During the D1 project, two slipform pavers and a texture curing machine from Wirtgen rehabilitated a 67 km stretch of freeway in the direction of Prague. The paving train paved two layers in one pass and widened the two lanes at the same time.
The project, under contractor Eurovia CS, saw more than 60,000 tons of concrete used over a period of 20 days, equivalent to 333 tons per hour.
Rental-friendly
Again, more with less applies to US company Curb Roller, which offers machine designed to reduce the need for skilled labour, a bonus as wages rise.
The company has a small but growing uptake in the rental market of the US Mid-West. About 2% is to rental only companies, while 10% is to companies that do in-house rentals.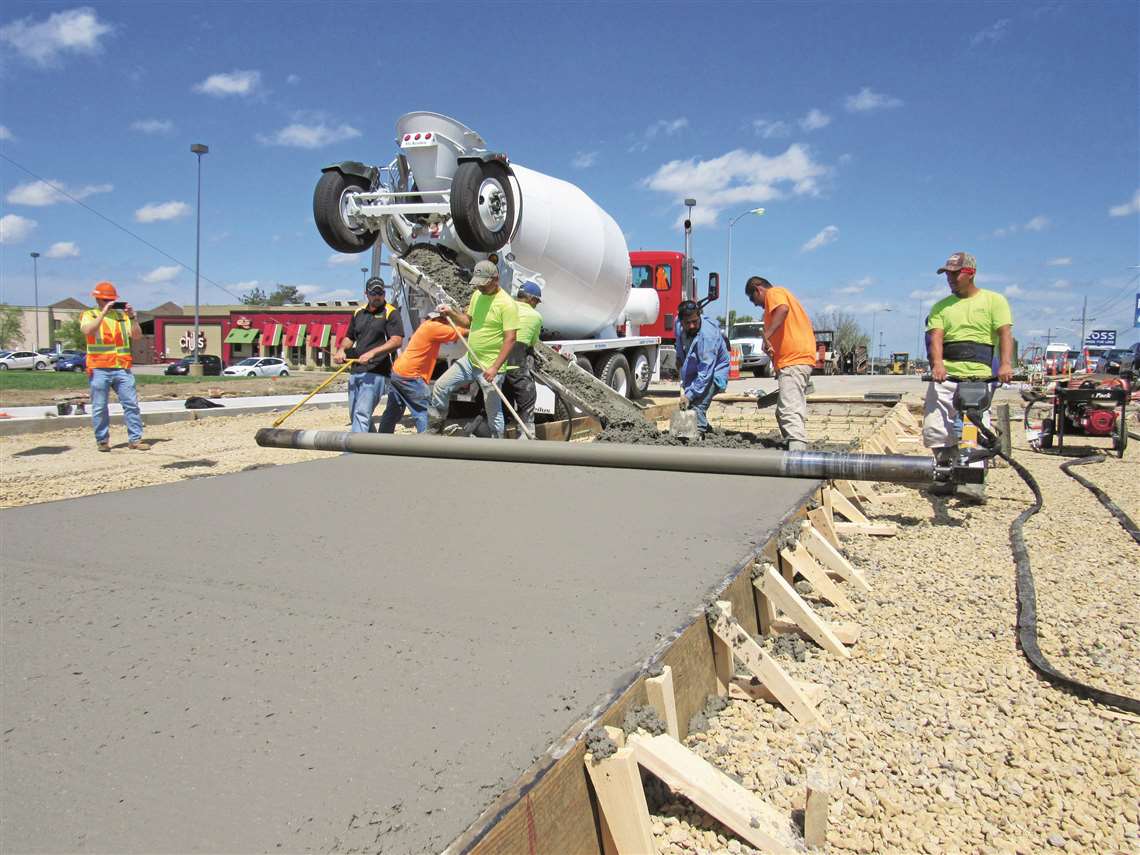 "Rental companies like to provide Curb Roller Manufacturing products because they can help fulfil potential voids in skilled labour markets," Seth Ulmer Sales Manager at Curb Roller Manufacturing tells IRN.
The Curb Roller screed levels concrete as the machine is pulled forward and is described as "especially useful for users/companies when subcontracting isn't an option or skilled labour is more difficult to come by," he says.
Given the labour shortage, Ulmer says the machines provide an opportunity for rental centres to meet demand for high quality concrete that's achievable to workers of all skill levels.
"By adding roller screeds that are adjustable, convenient and easy to operate, rental centres can allow contractors to take on more jobs and projects than previously possible. Rental centres can offer new opportunities to both contractors and DIYers."
They also offer a unique solution to projects that might have space or emission restrictions, such as indoors or difficult-to-access areas like basements.
Battery power
Curb Roller launched battery-powered roller screed platforms at World of Concrete in 2019, and Ulmer describes these as a game changer.
"These units operate with no cords, hoses or fumes, making them a highly mobile and precise piece of equipment. For rental centres looking to offer convenience, units that offer ample power with one removable and rechargeable battery means less hassle for renters and employees."
The machines use a standard DeWalt battery "which is very easy to purchase, replace or recharge" and are in demand in areas when contractors need to consider emissions. Ulmer says they also improve efficiency 30 to 50% over other methods such as a hand-held board or vibrating screed.
"Heavier, industrial-focused contractors will find a hydraulic system like our Hydra-Screed to be the best fit, while smaller, municipal contractors might find the most efficient will be an electric or battery-powered roller screed like our Eel Screed and Batt Screed."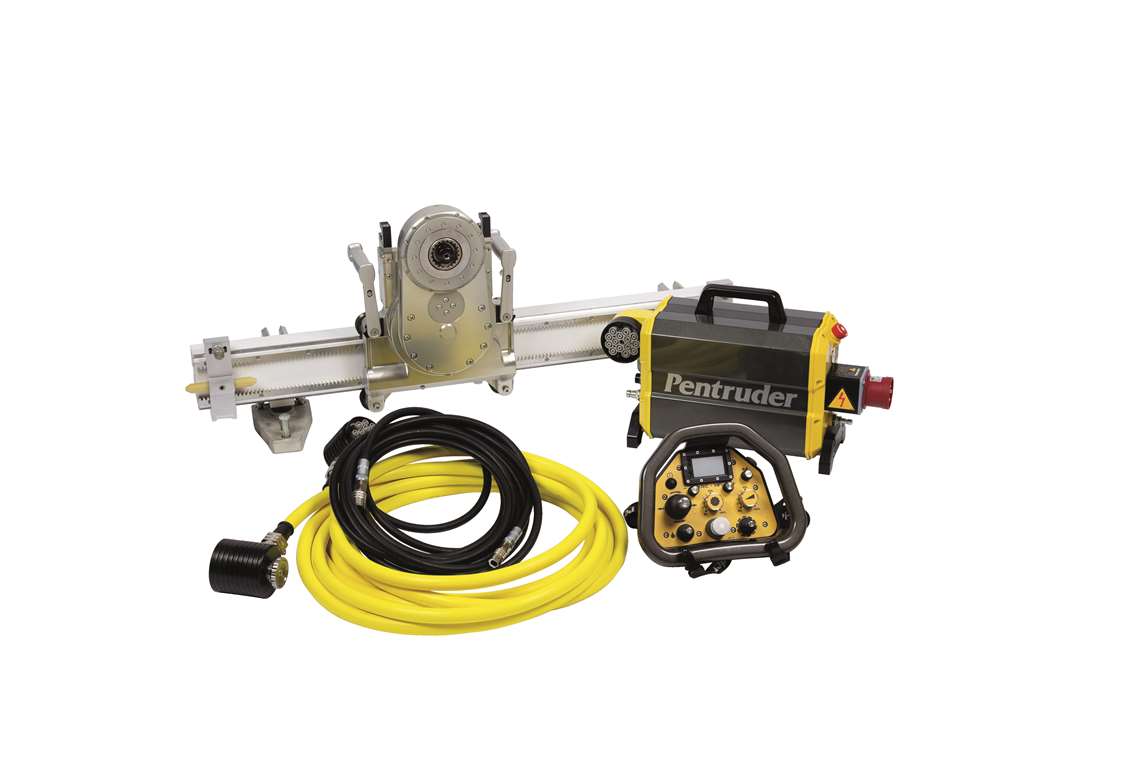 All-round saw
In March, UK concrete cutting specialist Pentruder launched the RS2 Wall saw, which now being sold in selected European markets.
"The RS2 is a medium sized wall saw with lots of capacity, basically a perfect all-round saw for the majority of jobs.
"The saw is small, and the saw head weighs less than 25 kg including the integrated 18 kW motor."
The RS2 saw head and PP3 Pentpak are connected with a single cable to shorten setup time, with the Pentpak 3 a much lighter power pack than Pentruder's previous models to keep the total weight of the system as low as possible for easy use.
"Another important feature is the modularity of the system. Pentruder's classic track system with the TS-track is much appreciated by customers for its stability and low weight."
The company says the US is a major market for its products, and it has launched the RS2 in selected European markets in order to keep up with growing demand. It plans to start selling the RS2 globally in the near future.
Mixing and handling
Florida, US based company CS Unitec's Mega Hippo Flooring Compound Mixing Station is designed for one person to mix, transport and pour, concrete reducing down time and material waste.
It has a dust extraction port to allow vacuum connection to reduce dust hazard during operation and has a specially shaped mixing bowl to eliminate pockets of unmixed product.
The machine is designed to allow consecutive batch mixing without downtime, as well as mixing in bulk.
Developed as a complement to the PortaMix Mega Hippo, the PortaMix Pelican Transport Cart enables transport to the work zone while mixing continues.
The Pelican "has a well-balanced design that allows one person to transport and pour with ease and precision."
The company's concrete attachments include the Helix Compound Mixing Paddle featuring Helix Ribbon Paddles that "lift and shear the product quickly and efficiently to produce an excellent mix consistency and thorough mixing of colours and additives."
Its large diameter paddle, measuring just over 20 cm, "provides an increased peripheral speed which eliminates the need for high RPM mixing and helps to prevent flash curing."
Meanwhile, designed for a range of products including engineered concrete, the PortaMix Mega Hippo Hand-Held Mixer Clamp allows compound material to be mixed, moved and poured at the application area.
Concrete crushing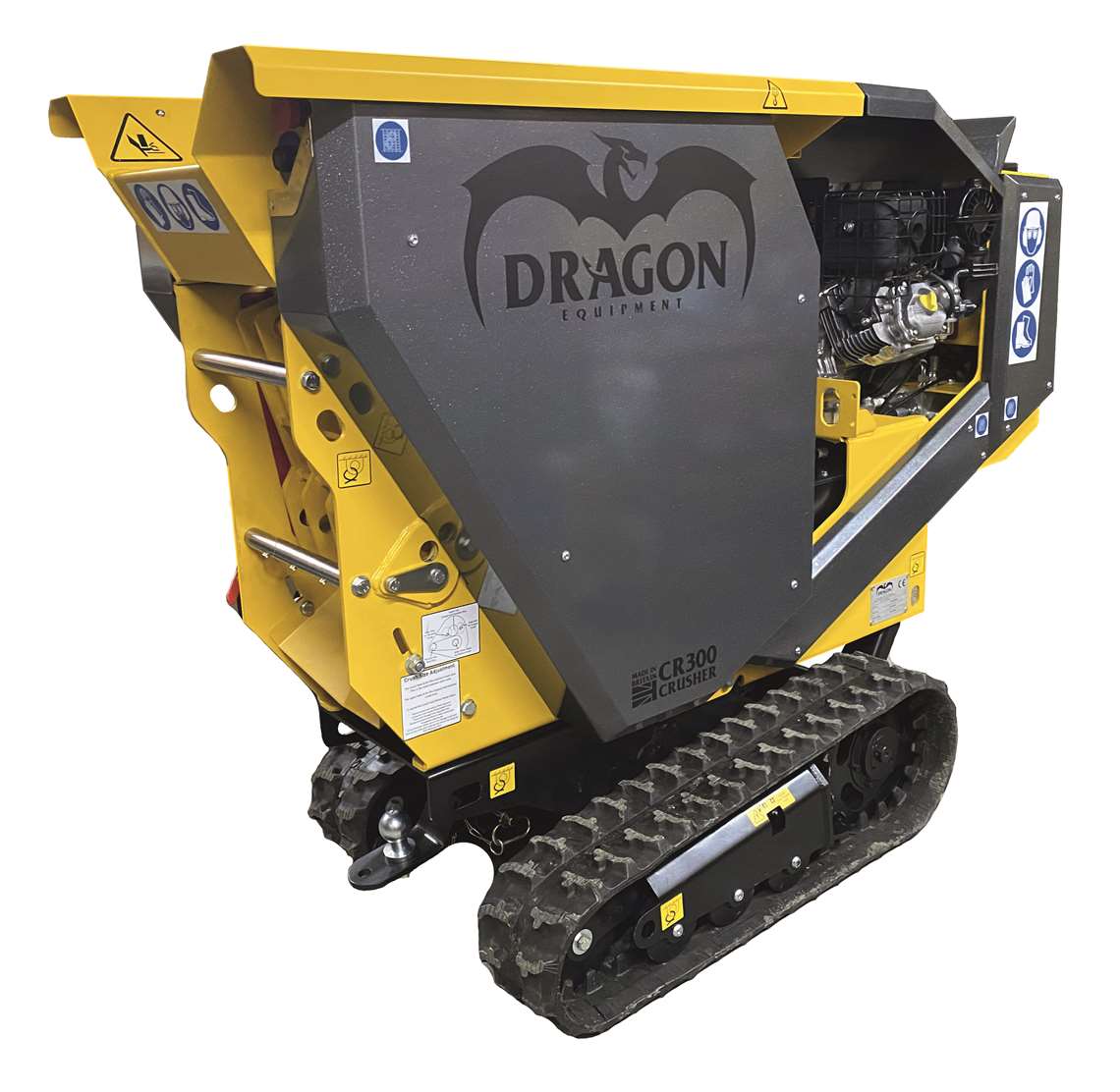 UK based Dragon Equipment's CR300 Concrete Crusher has "highly abrasive, resistant jaws" and a patent-pending crushing mechanism, "which means it effortlessly crushes up to six tons of concrete an hour."
"With performance that is comparable to bigger crushers, its compact size makes it a more manageable and approachable machine."
The CR300 weighs under 750kg and a single lifting point, enabling transport in a trailer or van. At 700mm wide, Dragon says it's designed for hard to access sites.
The crusher is powered by the new Vanguard 400 petrol engine which meets European Stage V and EPA Phase 3 emissions regulations and has a built-in dust suppression system to reduce air-pollution. Its average decibel level of 98 is also designed to keep noise pollution to a minimum.
It also features "simple controls, making it easy to switch from crush to track allowing users to complete the job faster. Built in safety features disable crushing automatically while the machine is mobile."
Formwork developments
The last two years have seen the introduction of two formwork systems from Paschal; NeoR and LOGO.pro, as well as planning software Paschal Plan Light (PPL) 12.0 and Paschal Maturix.
Boris Philippsen, Head of International Business at Paschal, says innovations have been introduced to improve productivity and lower costs, particularly on labour in high wage markets.
"If you look at how the construction costs for reinforced concrete are divided up, you can see that on average the largest cost factor is the formwork work at well over 40%," he tells IRN.
"These costs can then be divided into labour and material costs, and it then becomes apparent that the labour costs account for the largest proportion of the costs for the formwork work.
NeoR is a lightweight formwork system that also offers high levels of performance and can be used in applications including foundations, columns, beams, walls. "It can also be handled well without a crane due to its low weight and is therefore well suited for renovations."
The height offset of the panels can be achieved via oblong holes in each panel frame and each 90 x 150 cm panel features internal tie-points for both vertical and horizontal positioning. A floor height of up to three metres can be formed with just one extension.
NeoR has quick hook head attachment of accessories, and has a structural height of 7.5 cm. Its fresh concrete pressure capacity is 50 kN/m².
Meanwhile LOGO.pro is a one-sided formwork anchor system, allowing tie-points to be operated by one person from one side, which Paschal says is designed to save on labour costs. It can also be anchored on two-sides, uses standard tension material and requires no special tie rods.
Another product designed for productivity is Paschal Maturix. which transmits the required curing time of monitored concrete, with concrete temperature able to be controlled and adjusted from any location.
Looking at the market as a whole, Philippsen says new developments in concrete material are influencing demand, "for example, ultra-high-strength concrete or infra-light concrete."
There are also significant developments in the interaction of system suppliers, contractors, planners, enabled by BIM (building information modelling).
Paschal Plan Light (PPL) 12.0 supports BIM enabled planning, linking data from the 3D formwork model to the construction site, with an AR-App showing current status. PPL enables up to 50,000 formwork elements to be represented in detail in one model.
Clamping solutions
Netherlands based manufacturer Betonblock is fielding growing demand from the rental market in Europe and the UK for products such as the CL80 Concrete block clamp, designed to lift and manoeuvre blocks.
Using a lifting beam, the clamp can be attached to a machine such as a fork-lift truck and can lift 40 to 80 cm wide concrete blocks, with a lifting capacity up to 3.750 kg. Smaller clamps are also available, for a maximum 60 cm concrete block.
Meanwhile the R1900 Rotator clamp is an additional tool for the forklift truck to grip and rotate concrete blocks to set them aside for storage and further curing.
Its hydraulic rotation means concrete blocks can be easily moved into the correct position. It has a lifting capacity up to 3.000 kg and is purely designed for turning and lifting 110 to 190 cm long concrete blocks.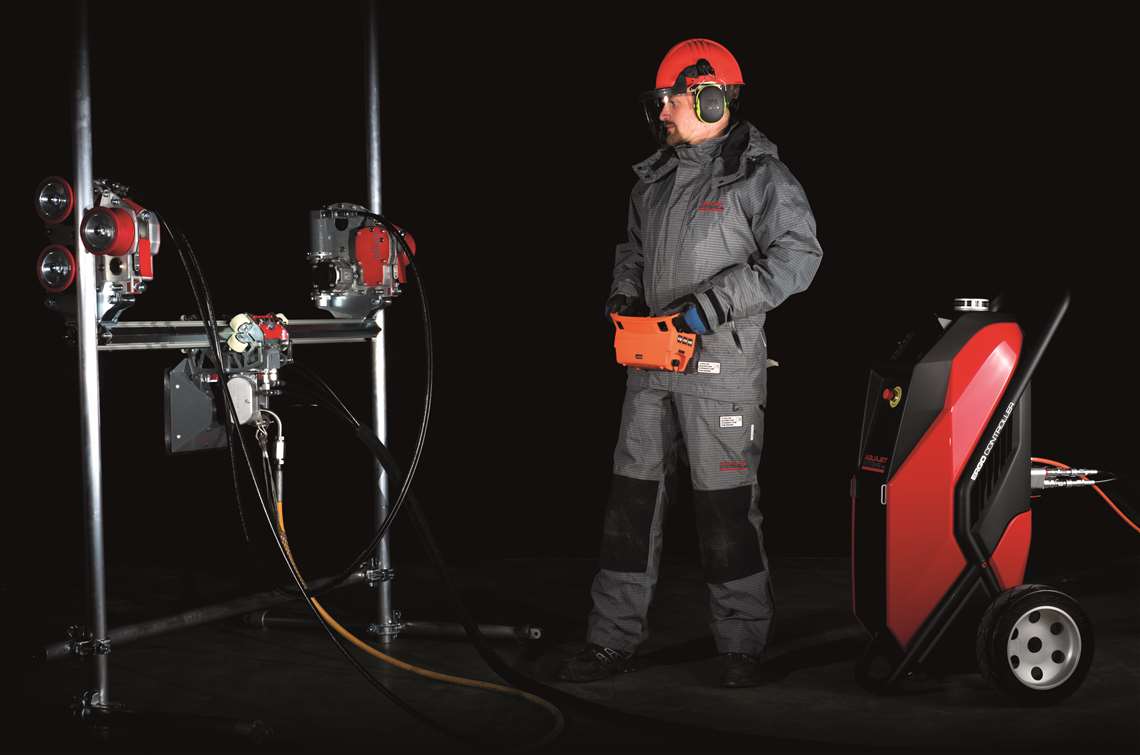 Hydrodemolition robot manufacturer Aquajet says its Ergo System provides four times the power of a hand lance in a compact space, for work on floors, walls and ceilings.
The Ergo System incorporates: a controller unit, which powers and controls the hydraulics, an Ergo Power Head, which manipulates the high pressure lance, and spine or climber systems used to support and manoeuvre the power head. The climber attaches to scaffolding pipes and robotically moves to remove concrete to a pre-set depth.
It features robotic intelligent sensing controls for safety and is lightweight at 123-kg.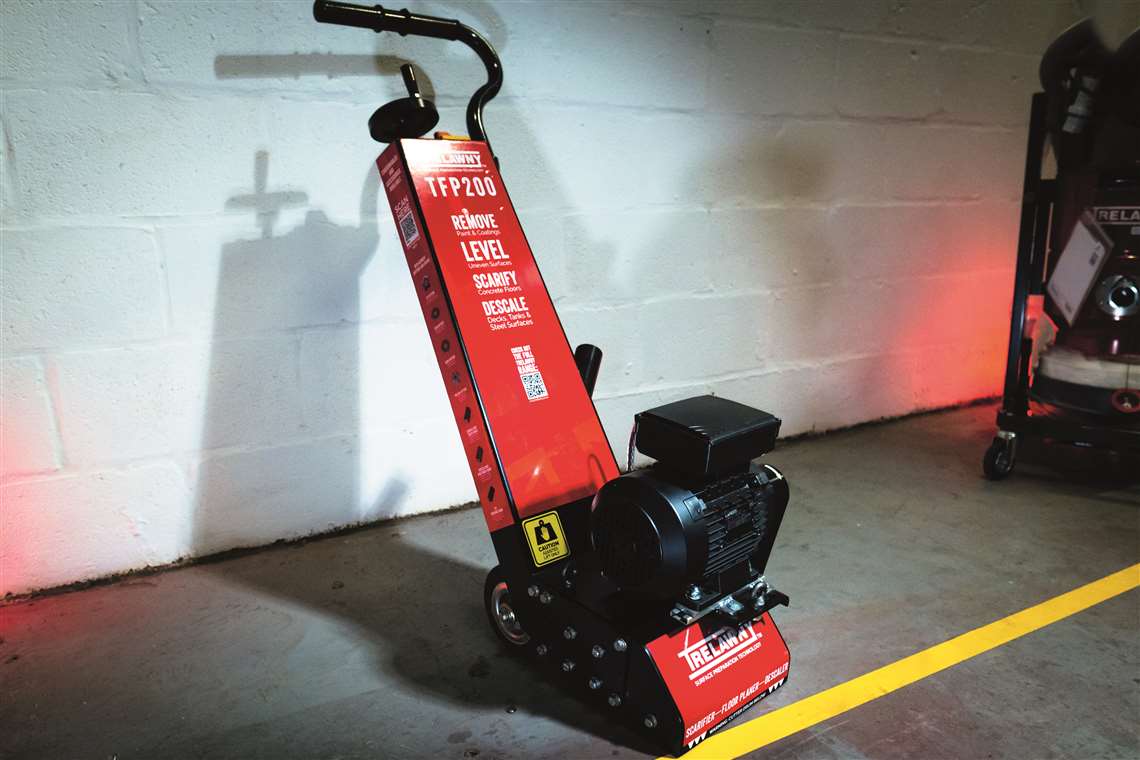 Last year saw UK based Surface Prep Equipment manufacturer Trelawny SPT LTD make changes to its range of TFP Floor Scarifiers and TCG Concrete Grinders.
These include a new rear mounted starter box enclosure and plug location and a new handle-mounted push button system with an isolation safety switch for easier operation.
New lifting points have also been added to improve safety and assist moving machines into location around sites.
The machines' colour scheme has also been updated, while the addition of a vinyl wrap system allowing Trelawny to offer bespoke branded machines to regular OEM customers, but also to hire companies wanting their own branding on their machines."
The updated products will launch in June.
NEWSLETTER
Delivered directly to your inbox, International Rental Newsletter features the pick of the breaking news stories, product launches, show reports and more from KHL's world-class editorial team.
CONNECT WITH THE TEAM
CONNECT WITH SOCIAL MEDIA