Attracting a young workforce - IPAF Elevation focus
The IPAF Elevation conference and dinner was held on Thursday last week in the UK, with the theme 'It's all about the people', running alongside the Federation's 40th anniversary celebrations, which take place this year.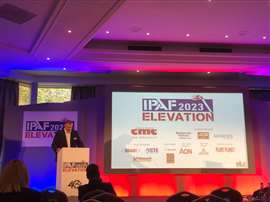 Chaired by IPAF UK's General Manager Richard Whiting, Elevation's presentations focused on the challenges and solutions of attracting talent, particularly in the form of young people, to the powered access industry, among other issues.
Forty years of IPAF
Peter Douglas, CEO and Managing Director of IPAF, looked back at some of the key developments in the Federation's history since it was established in 1983, including the start of its PAL Card training programme in 1993, followed later by the accident reporting initiative.
On the subject of accident reporting, Douglas said, "It is our most important initiative - It drives all the other initiatives."
From eight members in 1983, IPAF's membership has grown to 1,638, across 80 countries. As Douglas added, 2022 has been the record year so far, during which 133 new members joined. To date, more than 2.5 million operators have gained their PAL Card.
The Accident Reporting Portal has also seen significant growth since the programme was introduced 12 years ago and in 2022 there were 746 reports across 34 countries.
An example of the safety campaigns driven by accident reporting is IPAF's latest initiaitive High Voltage, which was introduced this year to raise awareness of working around power lines.
Douglas also looked forward 40 years to the potential membership if the association continues to grow at the same rate. By then, he said, membership could have grown to 4,128, across every one of the world's 195 countries, while the number of operator licences may have leapt to more than 24.7 million.
Tough mindset 
Rally driver, boxer, presenter and keynote speaker at the conference Penny Mallory delved into the topic of developing mental toughness. Twelve years ago Mallory became the first woman to compete in the World Rally Championships and has since won eight trophies in the sport.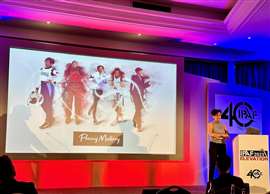 Mallory spoke of the imposter syndrome she felt at the beginning of her experience in a male dominated sport. "I just wanted to compete as an equal," Mallory added, "If I could just win something then I would feel like I belonged."
Mallory posed the question: "What is the difference between the people that win and those that don't?"
From research carried out by Stamford University, she quoted the statistic that just 30% of any achievement is down to skill, talent and intelligence. While mental toughness makes up the 70% majority.
Mallory went on to say there are three elements to mental toughness: control, challenge and commitment.
When people are in control, they tend to work harder and are able to reign in their emotions and not be influenced by others.
When it comes to challenges, Mallory believes that while physical exercise and goals such as climbing mountains aids mental toughness, those who succeed most are able to adapt to change.
Mallory added that it's better to take a measured approach than leap into any challenge. For example she had recently decided not to take part in the major challenge of rowing across the Atlantic Ocean in a team of eight, despite having undergone eight months of training. "Something told me not to do it – it took more mental toughness to say no."
She added, "A group of people is not always a team. The people you work with are not always a team just because you put them together. A team of people is made of those who are on the same page."
On the subject of commitment, Mallory said those who are not fully committed to a goal may be preparing to fail from the outset.
Mallory used her experience of a tough childhood, after which she hit rock bottom, to show how people can turn their life around by adopting mental toughness, and concluded by saying that an outward display of confidence is also a sign of mental toughness. "People make a judgement based on the level of confidence that you display."
Cyber security 
Jake McCanney, Cyber Underwriter at Aviva Insurance, focused on cybersecurity for businesses and individuals and explained how to manage threats.
McCanney revealed that global cyber crime was a $4.5 trillion dollar business, and much more in line with drug cartels than small ad hoc criminal gangs, and is often state run by rogue nations. This means it is very difficult to hold anyone to account and therefore businesses and individuals should protect themselves as much as possible, rather than becoming victims.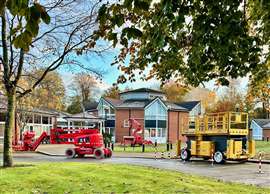 Unlike drug dealing, cyber crime is invisable until it is too late and those involved have control of your digital assets and are potentially demanding a ransom.
Cyber criminals cast such a wide net, much like a large fishing trawler, that they often don't know who or which companies they have trapped, said McCanney. The art of scanning across a wide network to test the online security of thousands of companies at anyone time, is followed by plugging in penetration tools once a weakness has been found and metaphorically attempting to 'kick down the doors'.
Ultimately the criminals will look to take the easiest route, therefore firms and individuals can take steps to ensure they are not easily caught out. One of those is to make sure your systems have good security that have up to date patches.
People should also be more aware of what phishing is. For example it may come in the form of an urgent email late on a workday asking that critical information about your account or business is provided before the close of play.
In our personal lives, McCanney suggested using incorrect information when asked to provide backup security details, such as your pet's name or the street you first lived on.
Also, he said, be wary of using QR codes in public places, such as restaurants to pay for a meal, as they may be fake and connect to a criminal software.
Safety sensing 
Darren Nash, HM Principal Mechanical Inspector at the UK's Health & Safety Executive (HSE) covered the issue of E Stop buttons.
Nash has been carrying out an investigation into Emergency Stop Buttons after an accident in 2022, in which the E Stop button on a failing scissor lift was pressed. However, apart from stopping the engine it also cut off power to the tilt sensor, which meant that the operator was not warned when tilting took place.
With the danger of E Stops cutting out all sensors, Nash asked if operators should be using E Stops to isolate or stop the power and if a change in the mechanical design of equipment was required.
He said he had identified 44 suppliers of MEWPs to the UK market, with 18 of them potentially providing equipment that causes the same problem.
Nash added that he was working with IPAF's International Safety Committee to identify the way forward, which could see the development of a future policy on safe stops and isolation systems.
With the investigation in its early days, Nash said there were no insights yet as to where it would lead.
Attracting a modern workforce 
Ali Moore, a leadership development consultant, specialising in the 'science of relationships' and equating the subject to  young people in the workplace in particular, said people must feel like they have a purpose in any relationship or they will not stay onboard.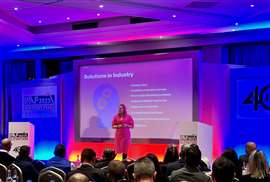 They must also feel like they are getting something out of the relationship or they will distance themselves from it, which in the realm of the workplace means that they disconnect, then leave.
Moore added that the challenge of a modern workplace is to attract a young workforce that is fully committed, with 'two feet in' their role, rather than one foot or both feet out. 
On IPAF's 40th anniversary, Moore looked back at the workplace 40 years ago, when a large proportion of employees were in a 'job for life'. Back in 1983 people would customarily stay in the same job for at least 10 years. Roll forward to 2023 and that has reduced to an average of 10 months.
Potential employees now want flexibility both in how they work and where they work and are interested in a company's ethics, for example 'how green it is' and what its sustainability policies are. They are also attracted to jobs that didn't exist in 1983, for example an online influencer.
On the subject of attracting young people and particularly women into the workplace, Moore said we are a tribal species and if the workplace feels like a male dominated tribe it will not attract the younger generations it seeks.
Moore said it is important to build a movement within the company that will attract young people to the workforce. "The biggest change is how young people see the workforce. What are you doing to attract those young people?"
NEWSLETTER
Delivered directly to your inbox, International Rental Newsletter features the pick of the breaking news stories, product launches, show reports and more from KHL's world-class editorial team.
CONNECT WITH THE TEAM
CONNECT WITH SOCIAL MEDIA