Q&A: New terrain for AUSA
By Belinda Smart19 February 2021
In late 2020 IRN caught up with AUSA Sales and Marketing Director Juan Urkijo to talk about the company's global release of new dumpers, forklifts and telescopic handlers, the impact of Covid-19 and the road ahead.
IRN: What is the thinking behind AUSA's new rough terrain range, released July 2020?
Juan Urkijo, AUSA: All the products have been motivated by the change to Stage V. What we have tried to do is to make our machines better, for instance moving from the old-fashioned mechanical injection to electronic injection. We had the opportunity to improve the concepts, to modernise our catalogue and to react to the needs of the operators. If you are going to change a machine to update the engine, change it from the ground up.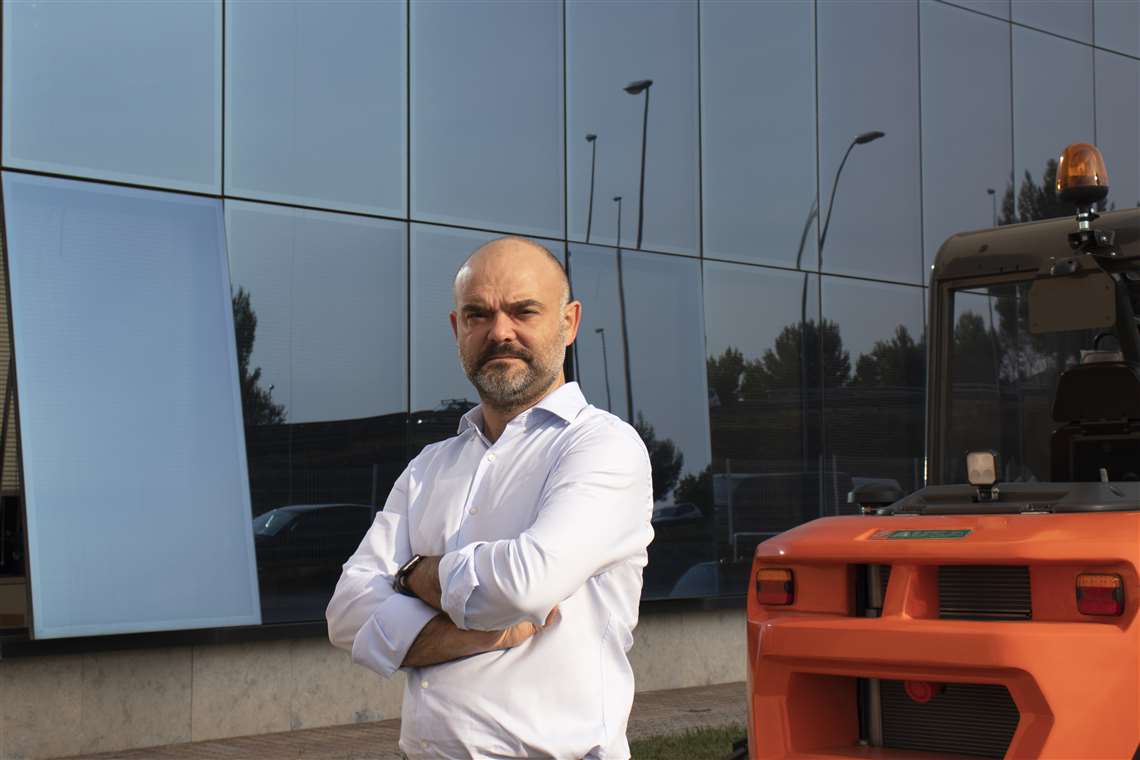 IRN: What are the benefits of the new releases for rental companies?
JU: Globally speaking, we have focused on improving the old concepts overall, in terms of safety and performance. We have tried to improve the accessibility and the location of the maintenance parts, and we have also worked on the data and information captured by the machine. Of course, safety and visibility in dumpers have been key factors in our design. Also, with the cost of kilowatts in diesel engines going up because emissions regulations mean the engines have to be cleaner, our machines are environmentally friendly.
IRN: In your view, what are the challenges for developing Stage V equipment?
JU: The emissions regulations allow us to keep mechanical injection in engines up to 19kW, so there is still the possibility of having greater simplicity in terms of mechanics. The D300AHG articulated dumper is a good example of this, where we have tried to make a performance machine but under 19kW.
For a three-tonne machine, it is a huge change. I think the medium sized equipment in our catalogue will split in two; those that work inside that 19kW cut-off, which are good for less demanding applications in urban or industrial settings where the ground is flat, and then electronic injection in the 350 and 450 models, which are good for more demanding sites.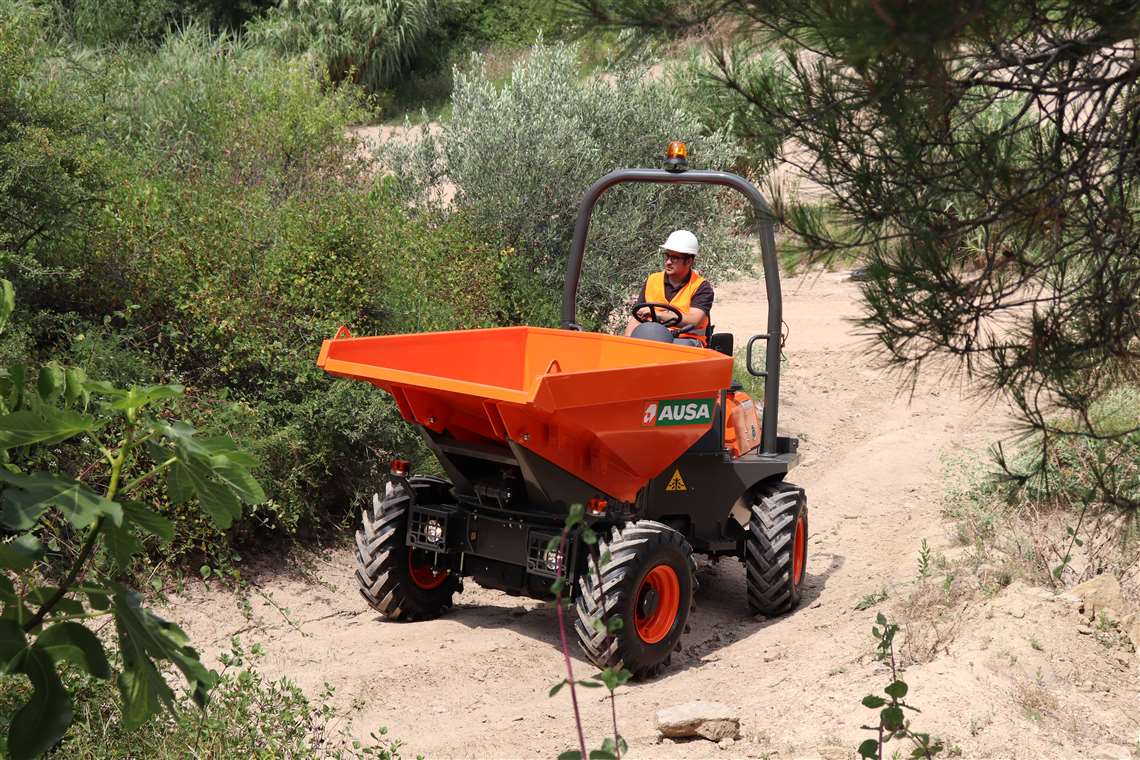 IRN: Being compact, AUSA equipment is a good candidate for electrification or hybridisation. What are your thoughts on alternative energy?
JU: Quite a long time ago we launched an electric dumper, the most compact dumper in our catalogue. We believe that electrification, especially in the smaller range, is going to be a reality. We are now in the process of understanding the market's demands.
We are doing tests in the field with different types of customers, trying to understand how we need to build these machines in the future, to deliver performance. We have an advantage, especially in smaller equipment, in that we design our own transmission, so that transmission can also fit an electric engine. This differentiates us from our competition.
IRN: Can you outline some of the considerations in developing alternative energy equipment?
JU: The weight of the batteries is not a big challenge for us because most of our machines have counterweights, so that counterweight can be replaced by the batteries. The issue is more that electrical technology is still evolving very fast, and any alternative technology applied to the rough terrain vehicle is not so well developed.
Even in electric technology, there is still a lot to do around lead acid and lithium and standards. Electrical technology has been in industrial forklifts for years. But it is quite new in a machine that has to work outside in mud and water. So, the two challenges are ensuring good performance of the machine and the safety of the operator.
IRN: How is AUSA performing in its key markets.
JU: Our two historical markets have been Spain and France, but the last couple of years we have consolidated our presence in Europe. Central Europe is a market with great potential that includes Germany, Austria, Switzerland and Poland. And we are doing very well in the Netherlands and Belgium. The biggest volume of sales in Europe comes from these countries.
We are doing very well in the US as well. A few years ago, we opened a subsidiary called Ausa US Corp and I think that we are now covering half of the territory with dealers. We are currently trying to improve our business in Australia and in Asia.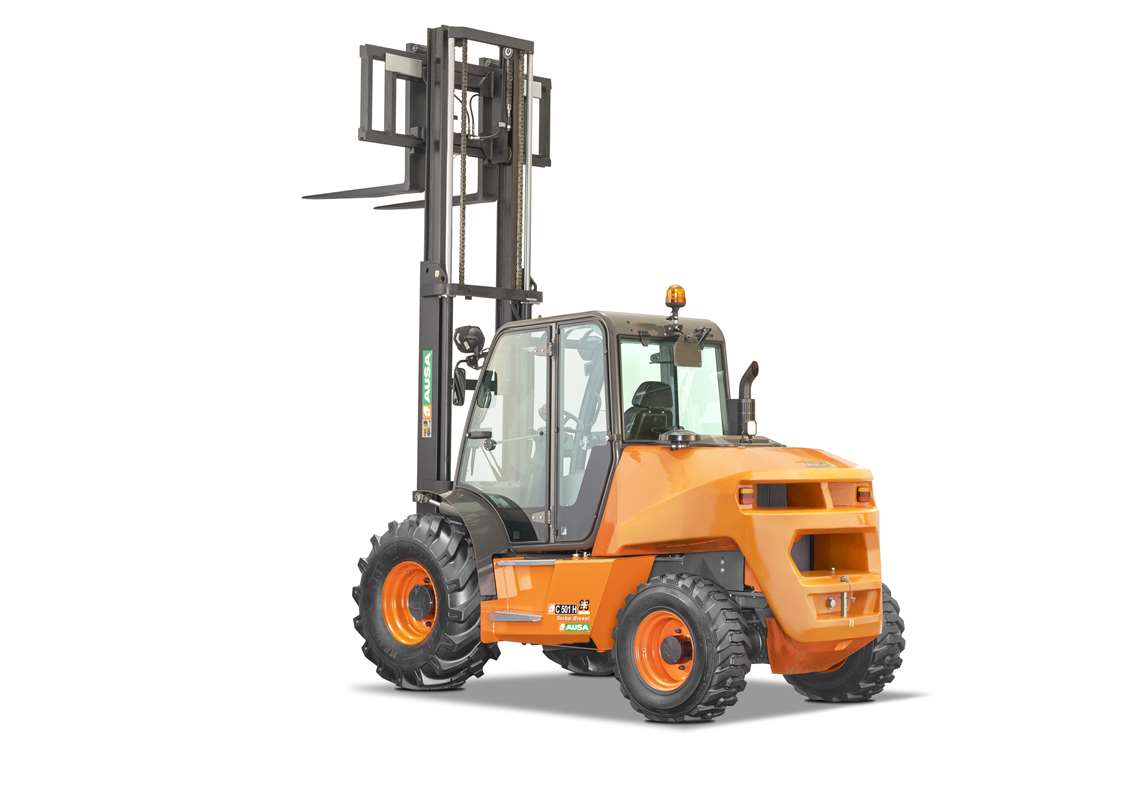 IRN: And how has Covid-19 impacted the market?
JU: It has been less than we anticipated at the beginning. Compared with the initial budget for 2020, in the earlier stages during March we were anticipating something around 32% below initial budget. [At the time of writing in late 2020] we now think we are going to end this year with 19% below initial budget. We started last year with a backlog, so we did not have any order cancellations at that time.
IRN: Are your rental customers reviewing their rental plans and their CapEx on fleets?
JU: [In 2021] we anticipate that they are going to be cautious. I think the rental companies will re-think their way of renewing fleets each year. Instead of blowing all their capex at once, they will probably start to make smaller purchases as the situation evolves.
In the past, big rental companies normally placed big orders to renew their fleets, so they would be clear what had been moved to the used market and what machines they would need during the year. There would then be a few small purchases during the year to meet those needs. But now I believe there will be a "smaller big order" followed by a series of small purchases throughout the year.
IRN: Is partnering with rental companies to develop products an area of interest for AUSA?
JU: Building a machine from the ground up, hand-in-hand with a customer; we haven't done that yet, but it's an interesting concept. Rental companies are well aware of the trends and the market's needs, and we try to understand those needs. So far, we haven't got our teams working together on a project, but it is something interesting for the future.
Ausa launches break new ground
Despite the cancellation of international trade fairs in 2020 due to the pandemic, five new Ausa machines hit the market in July 2020 via a digital launch.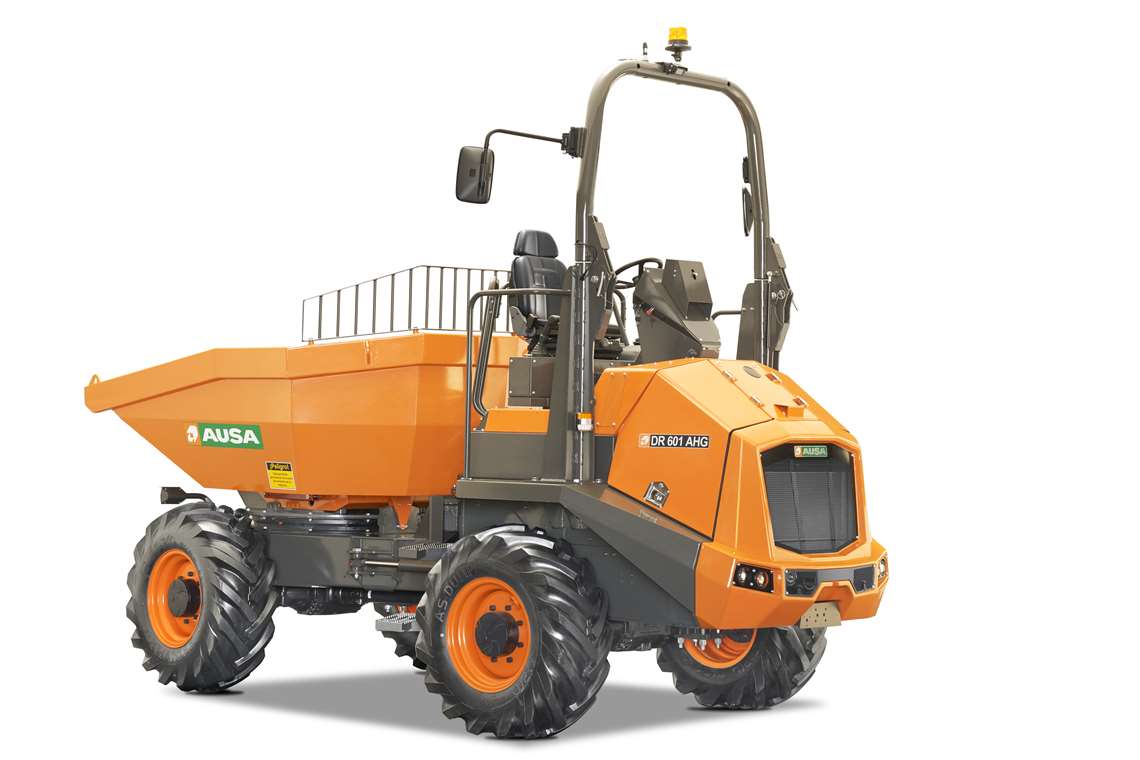 DR601AHG reversible dumper
The DR601AHG has a 6000 kg payload and comfortable hydrostatic transmission. Reversible design means the seat can rotate 180 degrees and all components are instantly adjusted to suit the driver's new position.
Features include the ECO Mode function, where engine speed is automatically controlled to ensure lower fuel consumption and CO2 emissions. It also features the Hill Holder start-assist and safety system. The DR601AHG has a 55.4 kW Deutz engine that complies with Stage V emissions, with a torque of 340@1500.
D300AHG articulated dumper
An articulated dumper with a 3-tonne payload, the D300AHG's design is based on a 4.5-tonne dumper. It has a side-tipping skip and hydrostatic transmission and is powered by an 18.5 kW four-cylinder Kubota engine that complies with the Stage V standards, with torque of 92.6@1700. The skip's shape ensures maximum frontal visibility, and it can be fitted with Ausa's Full Visibility System, consisting of cameras and proximity sensors.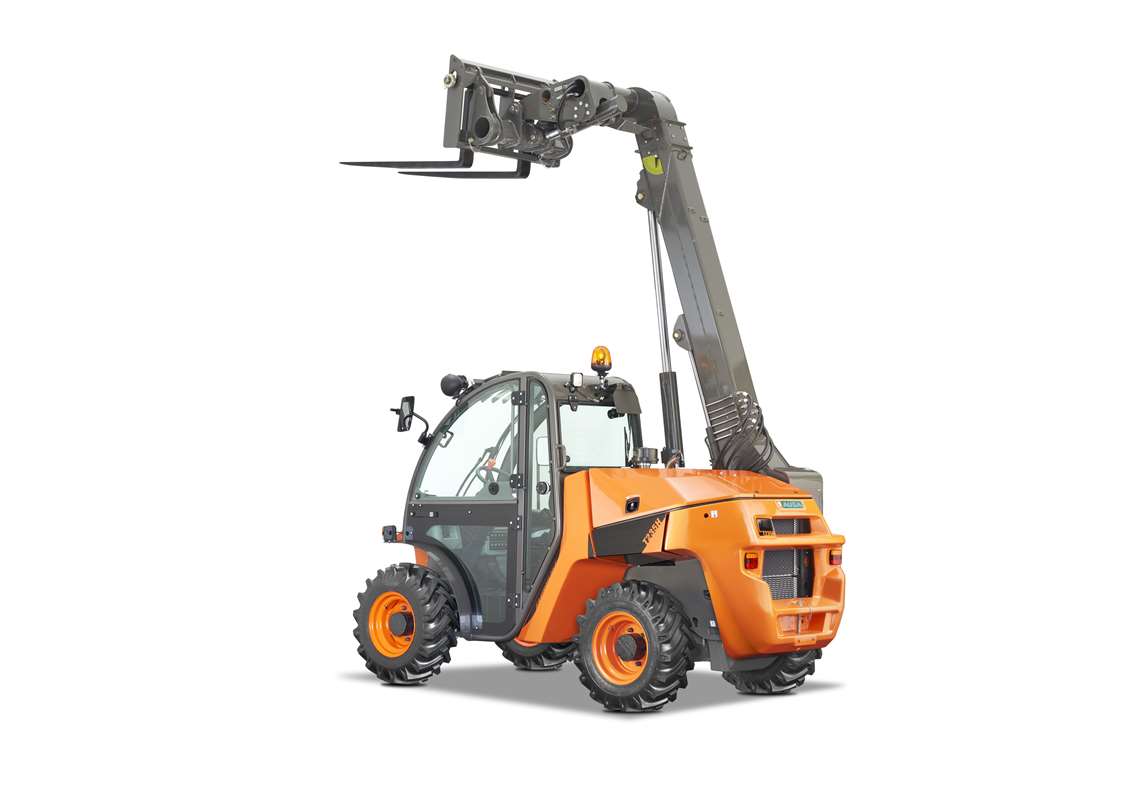 All-terrain forklift updates
AUSA has added C501H, which has a payload of 5,000 kg, to its forklift range, following the C251H and C351H all-terrain forklifts, which have 2,500 kg and 3,500 kg payloads respectively.
The new forklifts feature a digital screen on the dashboard, a self-diagnosis system and can incorporate telematics. ECO Mode system and Smart Stop functions reduce fuel consumption and CO2 emissions. In terms of safety, the operator's visibility has increased by 30%.
Redesigned telescopic handlers
Two new T204H and T235H telescopic handlers retain the name of previous models but have been upgraded "to offer a better user experience." The T204H has a 2000 kg payload and a maximum lift of 4.2 metres, and the T235H can carry up to 2300 kg with a maximum lift of 5 metres.
Both have a Kubota engine with 32.5 kW of power. From the interior digital display, the operator can control any part of the dumper and interact with and access the diagnostics menu and all maintenance parameters easily, quickly and efficiently. The machine has 4x4x4 drive and three steering modes: front-wheel, all-wheel and crab mode. Hydraulic functions and quick connect couplings for accessories and implements enable multiple end uses.
NEWSLETTER
Delivered directly to your inbox, International Rental Newsletter features the pick of the breaking news stories, product launches, show reports and more from KHL's world-class editorial team.
CONNECT WITH THE TEAM
CONNECT WITH SOCIAL MEDIA