Sustainable road building: latest electric launches
Sponsored By Electric equipment16 January 2023
Road building is embracing new equipment and processes on its journey to cutting emissions, reports Andy Brown.
Construction is an essential industry and road building is right at the heart of that definition of 'essential' – roads will always need to be built and maintained.
It is very difficult – if not impossible – to quantify the exact length of all roads in the world combined, but best estimates put the figure at around 60 million km.
The need for new roads will only increase as the global population rises, but the construction industry is coming under pressure to meet these demands in increasingly sustainable ways.
At Bauma Munich last October major players from the road building sector revealed some of their solutions to this issue.
For instance, at the Ammann stand electric and environmentally friendly releases were a key focus among the comprehensive array of equipment on display.
Electric road building equipment
New for the Swiss-based construction machinery manufacturer was the eARX 26-2, an electric version of the ARX 26-2 tandem roller, for narrow construction sites or along curbs.
"For us, the 'e' is the important part of the name," Ammann Germany International Key Account Manager, Patrick Stellwag, told KHL during a walk around the stand.
"It's the first machine you can work a full shift on one charge; and we are providing our rental clients the possibility to work emissions free.
Reducing green emissions on highway project
Green construction innovators, Dura Products, is helping leading UK infrastructure contractor Colas, reduce scope three Co2e emissions from its latest highways project on the A46 road in the UK by over 82,000kg.
Approximately 2,680m of the company's eco-friendly, lightweight, heavy duty combined kerb and drainage system,
Duradrain, will be installed as part of the project, which involves the construction of a new bridge and the realignment of slip roads to form the basis of a new gyratory system which will reduce delays and improve road safety in the future.
One of the aims of the project was to ensure a low environmental impact by using low carbon materials and technology.
Made from 70% recycled material, Duradrain is said to offer savings of over 30,000kg for every 1,000m of Combined Kerb & Drainage units installed compared with traditional solutions it provides an eco-friendly method of draining highways or any structure with a kerb edge.
Ian Burton from Hauraton UK, who supplied and distributed the materials on site, said, "In the current climate it is very important to consider the environment and carbon footprint.
So, to be part of a supply chain that can deliver a successful project and meet this requirement is a great success."
"It's electrified throughout, both in the driving and the compaction. There is very little need for hydraulic oil, which is also an environmental plus," he said.
Ammann Commercial Manager Leos Tymel added that the machine is designed to optimise energy usage. "We are not only using the energy from the battery; we are also returning it to the machine – what does the roller do? It starts, drives, and stops.
"During the stops the energy returns through re-charge," he says.
"The machine can be charged in three hours via quick charging or in 12 hours with an onboard charger, using single phase or three phase standard mains electricity."
Tymel added that to make it easier for operators to get used to it, the user interface hadn't changed from the diesel version.
Ammann also showed the electric eAPF 12/40, due for market release in February – an electric version of the APF 12/40 compactor, for small soil and asphalt work.
How can road building become sustainable?
According to Raman Ojha, global head of Shell Construction and Road, there are several challenges when it comes to making road building sustainable.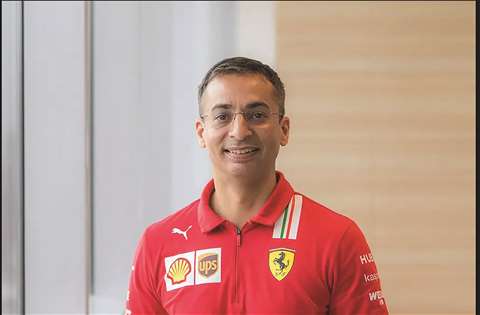 "There are multiple challenges to decarbonising road building, the most noticeable being the fragmented nature of the industry, which is why it will take collaboration across the entire value chain to overcome them," he comments.
"A combination of technology, low-carbon solutions, and supportive regulation can accelerate progress to net-zero."
Shell has recently developed Shell Construction and Road, an integrated sector team collaborating with customers to develop a tailored portfolio of low carbon and circular solutions to help solve decarbonisation challenges and meet the industry's sustainability goals.
Ojha believes that lowering demand for virgin resources through design and process optimisation and increasing closed-loop circularity for materials must play a key role in decarbonising construction.
He adds, "Asphalt is already one of the world's most recycled materials, and the increased use of Reclaimed Asphalt Pavement exemplifies the benefits of increasing circularity for the industry."
Battery-powered slipform curb machine
At Bauma Munich GOMACO introduced the CC-1200e, the world's first battery-powered slipform curb machine, to the international market.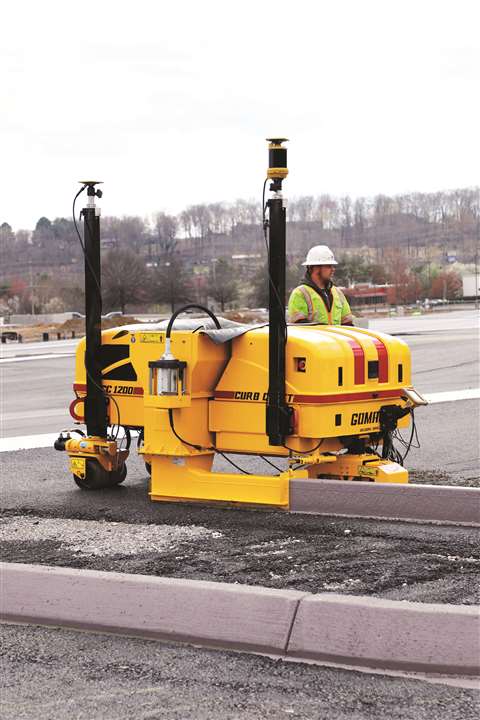 The electric curb machine is equipped with a 48 VDC lithium-ion battery pack for a paver with zero-exhaust emissions, reduced vibrations, and no engine noise.
The company says that the lithium-ion batteries provide enough power for a full day of paving and charging options include the standard five to six-hour normal charge rate or an optional quick charge system.
Mark Brenner, controls engineering manager at GOMACO, says, "This product is not just changing from diesel to electric – there are a whole host of improvements and new features that we have added."
He revealed that the machine could run for seven hours and that, due to the motor only spinning as much as required, it was much more efficient.
"This is not a concept model, it is available commercially and it is the world's first," he said.
It features the GOMACO G+ control system with a full function radio remote control that puts machine operations in the hands of the operator.
Travel control, manual three-point grade control, cross auger directional controls, vibrator control dial, warning lights, and emergency stop are all located on the remote's control panel.
At only 2.6m (8.2 ft) long and 2.38m (7.8 ft) wide, the CC-1200e was built for mobility and navigating around job sites.
Its rear track and two front-wheel assemblies allow up to 28.3 meters per minute auxiliary travel speed to move from one pour to the next or loading/unloading on a new project.
Brenner added that the company sees the opportunity to "scale up" in the future and power larger machines with electric power as the technology develops and becomes more powerful and cost-effective.
Electrification of road construction equipment
Jean-Claude Fayat, CEO of Fayat, also spoke about the increasing electrification of road construction equipment at Bauma Munich.
Talking to KHL, he described the increasing electrification of road construction equipment.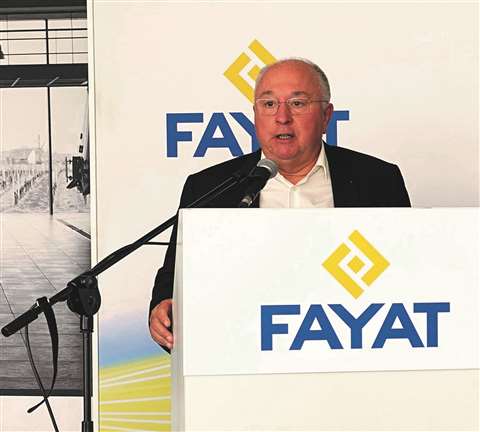 "The world is changing," he said, adding, "You have a significant number of [electric] machines that are not studies, they are ready to sell.
"The question is, what will be the future? This I don't know, but that step-by-step it will increase is obvious.
"It's pushed by all the municipalities that oblige contractors who want to tender [for contracts] to include some low-emission carbon within their response.
"If a contractor cannot offer that, he has no chance."
Fayat said a greater percentage of his company's research and development funding was also being shifted towards the development of hydrogen solutions, but also insisted that diesel still has a place within road construction equipment.
He said, "I'm not so sure that the main issue for pollution, for the environment, is the diesel engine, but, in the end, these are political decisions."
Fayat said recent studies had shown that the effect on the environment of modern diesel engines is limited, but that the push from authorities to decarbonise equipment would continue.
He added that, "Perfect solutions do not exist" and no energy would ever be fully clean. "There are compromises between the different solutions and at the end we'll create the least impactful solution for the environment," he commented.
Across the whole of construction, from equipment manufacturers to engineering companies and contractors, ambitious sustainability and carbon reduction targets are being made.
Japan-based Sumitomo is no exception, with Norihiro Kumagi, General Manager of the company, revealing that, "Together with our parent company, Sumitomo Heavy Industries, we have built up our sustainability targets to become carbon neutral.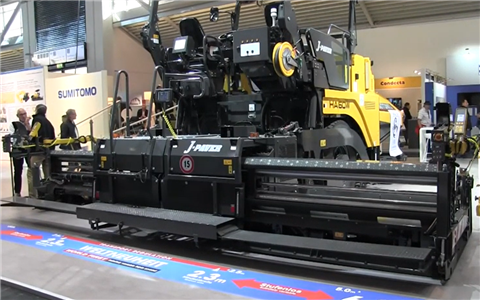 "From the operations side it is a little bit of a headache as it such a high target and difficult to achieve," he says.
"But if we ignore such targets then we must be kicked out from the market and we need to accommodate with the trend of sustainability."
He added that, regarding electric-powered equipment, "certainly the tipping point is coming soon, and we are preparing battery electric machines at the moment."
Sustainable roadbuilding machines
One of the leading players in road construction, the Wirtgen Group, put sustainability front and centre at Bauma with many of the company's 97 exhibits – including 37 world premieres – focused on sustainability.
The spotlight among the world premiere machines and innovations was on battery-electric tandem rollers from Hamm, the battery-electric mini road pavers from Vögele, and the all-electric impact crusher from Kleemann.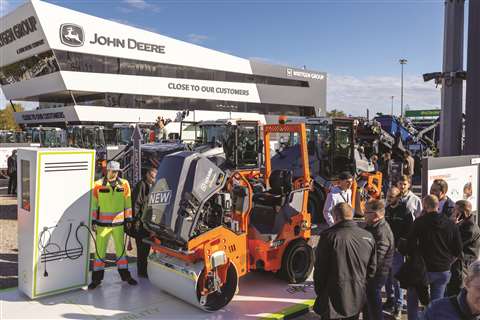 The two Wirtgen compact milling machines with comfort cabin, the Vögele Dash 5 generation road paver, and the Benninghoven REVOC system, a catalytic converter for asphalt mixing plants, also caused considerable interest, according to the company.
In addition to the individual machines, the company also presented production systems providing complete road construction solutions.
Bringing together solutions from across the whole lifecycle of road building can provide the greatest ecological and economic potential lies – solutions that cover everything from cold recycling and asphalt recycling to emission-free applications in cities and other sensitive locations.
Volvo Construction Equipment (Volvo CE) has introduced electrically heated fixed screeds to make large-scale paving more cost-effective and to boost the productivity and efficiency of major road projects.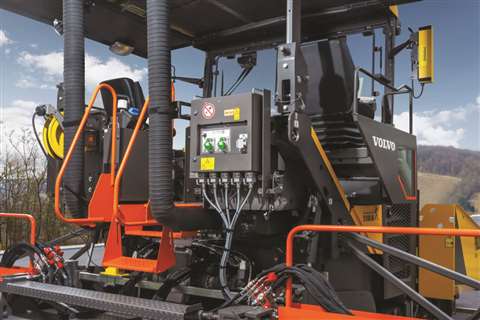 The OEM says that the MB122 and VTD121 Electro Thermo Controlled fixed screeds produce speedy, consistent and evenly spread heating from a single source of power.
Powered by a 55kVA on-board generator, there is no longer a need for customers to refill gas bottles to heat the screed.
Electric screed heating 
"For customer satisfaction it was important to realise a short heating up time for saving time and money.
"During development we had a close collaboration together with the supplier which helped us to optimise the system and realise our target of 40 minutes," commented Frank Dörrie, Global Product Manager at Volvo CE.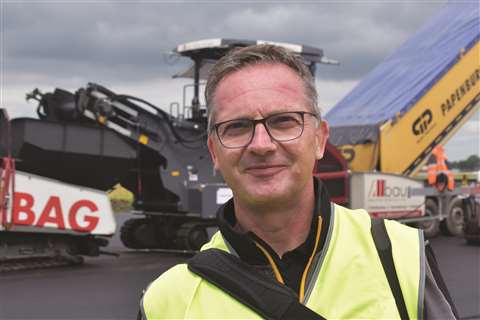 "This is finally a much shorter heating up time than the paver market was able before for a fixed screed offer with electric heating.
"A challenge for testing the new screed was finding a customer with a paving project of approx. 12m paving width. This is not very often the case in Europe.
"But eventually we found a customer in Germany building a large parking area."
These fixed screeds are now available on the Volvo P6820D ABG, P7820D ABG and P8820D ABG models.
They have been designed to lay everything from hot asphalt through to dry lean Roller-Compacted Concrete and Cement-Bound Materials, all the way to railway ballast and graded mineral mixes.
A new on-board diagnostic function helps to check the condition of the heating bars and detect if and where a replacement is needed, reducing downtime.
Talking about them in relation to sustainability, Dörrie said that the new product, "helps to reduce the overall engine running time due to the shorter heating up time.
"This helps to reduce Total Cost of Ownership for engine hours, working hours and fuel consumption, which ends in a reduction of the CO2 footprint."
F1 paving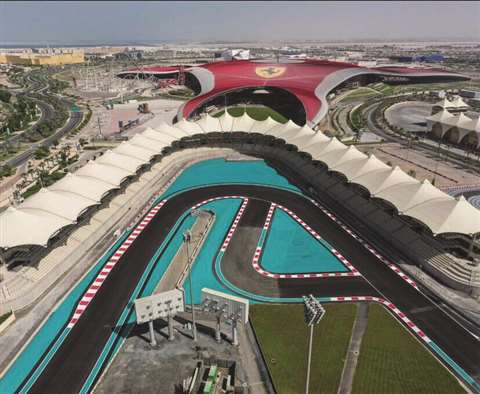 Formula One's Yas Marina Circuit in Abu Dhabi has undergone changes to several of the racetrack's turns — a resurfacing project was undertaken with the help of the latest paving technology from Topcon Positioning Group.
Construction firm Colas was contracted to resurface the circuit and used Topcon's technology for the milling, resurfacing and track creation process.
Throughout the project, Colas says that they utilised a wide range of Topcon technology, including its SmoothRide workflow, Pocket3D technology, total stations and HiPer VR Global Navigation Satellite System.
The combination of technology is said to have provided the milling and paving machines with the accurate data models needed to realise the track.
Mouad Moubine, operations manager at Colas, said, "This meant work could commence swiftly and to the specification needed.
Using more traditional methods can mean issues are left undiscovered or uneven sections are simply paved over with a constant thickness, exacerbating the uneven track.
"With Topcon's SmoothRide workflow, the data collected by the 3D scans was turned into a model of the circuit, which could be compared against a model of the desired end result to determine exactly what needed to be done in the following stages."
An autonomous future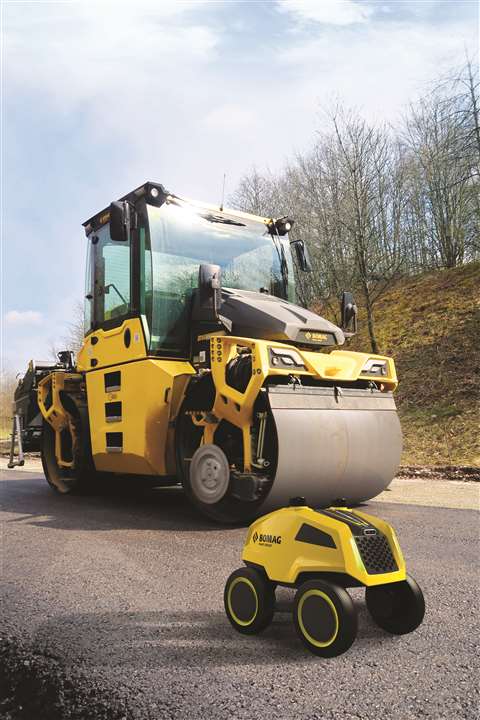 Most areas of construction have improved over the past decades including asphalt roller vibration systems.
Today, the state of the art is automatic compaction to a desired final stiffness.
This enables users to select a job profile and the roller self adjusts to provide rapid compaction with no further intervention.
Fully automated self-driving rollers have been presented as prototypes but still appear to be some way off – so, what's next?
Ensuring a smooth road first time has a key role to play in sustainability; if the job is done right first time and doesn't require re-work, saving materials and carbon.
Surprisingly, the degree of smoothness is currently only assessed once compaction work has been completed, making any correction of errors costly.
A mobile scanner that can measure the smoothness of the road during compaction could avoid this, but compaction rollers are unsuitable for carrying such high-precision measuring equipment.
A solution could be a fully autonomous measuring rover that travels with the other machines during road construction.
The rover could be a fairly small vehicle, as it would only need to carry a number of electronic sensors to evaluate the road surface.
The surface smoothness level measured could be wirelessly transmitted to anyone with a display device. In addition to waves and irregularities, such a mobile measuring rover could also assess the roughness of the road surface.
Incorporating an autonomous road surface scanner into quality control could allow for the building of higher-quality roads in the future.
NEWSLETTER
Delivered directly to your inbox, International Rental Newsletter features the pick of the breaking news stories, product launches, show reports and more from KHL's world-class editorial team.
CONNECT WITH THE TEAM
CONNECT WITH SOCIAL MEDIA