Interview: Cummins Engine Business president says no 'light-switch event' for zero emissions
Cummins Engine Business president sees continued future for internal combustion.
Cummins Inc. has had a banner year thus far in 2023, with acquisitions helping to drive sales revenues substantially higher. The closing of the Meritor acquisition in 2022 – at $3.7 billion, the largest in Cummins' 103-year history – proved a springboard for the company's Components segment, sending sales skyrocketing 74% in the first half of the year and edging out the Engine Business segment for first place in overall sales and earnings.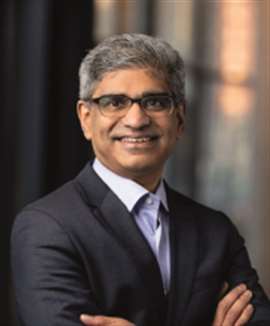 Yet, the Engine Business continues to retain a solid foothold among the company's business segments, thanks to the steady leadership of its president, Srikanth Padmanabhan, who was recently promoted to executive vice president and president, Operations at Cummins. He's spent over three decades at the company in various roles before becoming responsible for a division focused on development and production of 2 L to 15 L displacement engines for the on- and off-highway markets. In 2022, the Engine Business generated $11 billion in revenue and produced more than 1.2 million engines globally. It is on track to further that growth in 2023.
Diesel Progress spoke to Padmanabhan to get his insights on the opportunities behind the acquisitions, recent manufacturing milestones, the move to zero emissions and what lies ahead for internal combustion in the journey to Destination Zero.
DP: As a company, Cummins has completed a number of interesting acquisitions over the past couple years. What opportunities do they represent for the Engine Business and its customers, and what do you anticipate from them going forward?
Padmanabhan: The way we've been thinking about some of these opportunities that have come about as being related to help with... the internal combustion engine business, and then there are those that are agnostic to the internal combustion engine. Meritor is one we consider as agnostic to the internal combustion engine. Whether it is a battery-electric or a fuel cell electric or an internal combustion engine, you will always need an axle, which means that this acquisition helps us - whether it's an E-axle in the electrified world or a conventional axle. How it dovetails for us with the internal combustion engine is the performance and efficiency of the overall powertrain gets to be improved.
We have an Eaton-Cummins joint venture [for automated transmissions], so we have the engine, we have the transmission and we have the axle. When you combine them together with the electronics that are there, efficiency of the overall powertrain improves, which means that it helps with not only decarbonization but also overall fuel economy savings...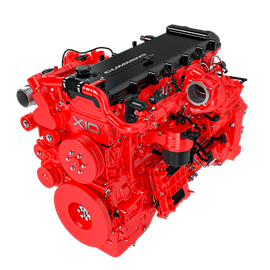 On the other side of it, there have been some acquisitions that we have made, [such as] Jacobs Vehicle Systems, that are primarily related to the efficiency improvements that we would need over the next several decades as we introduce higher efficiency internal combustion engines, and that help with the valvetrain. So, we think about both within and outside of the internal combustion engine as we think about the powertrain.
Then, there are acquisitions that we have made that directly go into our new power business, which are related to zero-emissions technologies, as well. So, we are thinking about this as both related to what we are doing today, as well as zero-emissions technologies that we will do tomorrow.
DP: Most of the zero-emissions technologies have been moved under the Accelera by Cummins business unit. What is still falling under the engine business unit?
Padmanabhan: Well, when you think about zero emissions, it is a destination that we will get to; it is not going to be a "light-switch event," which means that it will take a while.
We think about it as there are three phases to how we can get to Destination Zero. Today's phase is [where] there are lots of people that are trying lots of new technologies, whether it's battery-electric, fuel cell electric, renewable natural gas, natural gas and others. Then, there will be a phase in between where not only will infrastructure need to improve, you will also need to have some intermediary technologies that are starting to scale up. Eventually, as that infrastructure gets mature and as grid infrastructure gets mature, we will have… technologies that will help us towards that.
So, when you think about our portfolio, we will not only improve existing internal combustion engines with efficiency improvements, we will use low-carbon fuels like natural gas, biodiesel, renewable natural gas, those kinds of things, and also, at some point in time, zero-carbon fuels like hydrogen, on an internal combustion engine or/and hybrids... All of these fall under the purview of the Engine Business.
DP: Where is the company in its journey toward fuel-agnostic technologies, with the 10 L and 15 L engines that have already been announced and beyond?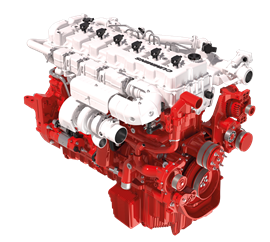 Padmanabhan: The fuel-agnostic engine the way we see it, whether it's diesel, petrol, natural gas, hydrogen, it should not matter if we design it from the ground up. That's the difference.
Historically, we have designed a diesel engine and then we will go and re-applicate it for a natural gas application.... The way that we have been thinking about [the fuel-agnostic engine] is that from the head gasket down, all components will be similar, and [from the] head gasket up – which is where the fuel delivery system is typically – is what will change. We are designing from the ground up, so we have been able to do the design that will generate the same power and torque that is required of a diesel engine in these new applications… and we are able to do it because it is a brand new set of platforms, and rightfully so...
We can't introduce it all at the same time. We are starting with, for example, the X15. We will introduce a natural gas engine pretty soon – in the next year, we will start introducing it. We're also starting to introduce, on the medium-duty platform, our octane engine, which has diesel-like durability and diesel-like performance... We're also going to start introducing on the L10, as well, some of these applications that we would use first on the diesel, then we would go on to other alternate platforms of fuels, as well.
In different parts of the world, we are introducing certain things differently... Hydrogen use – some of it would start to happen in Europe and some of it in India, and depending on how things go, in the U.S. Natural gas application – some of these have already started happening in China. I was just recently there... and we are celebrating one milestone of natural gas application on the 15 L, where we have been able to produce quite a few engines…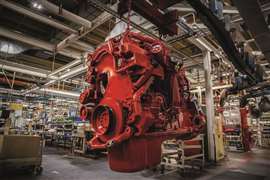 Over the next three to five years, we will be introducing all these products around the world in different stages.
DP: Earlier this year, Cummins celebrated a couple of different milestones at two of its engine facilities in the U.S. Tell us about those milestones and how that all ties together with the plans for the fuel-agnostic technology.
Padmanabhan: In Jamestown (NY), we celebrated the 2.5 millionth heavy-duty engine. What we did in the first 30 years or so versus what we have done in the last 20 years in that facility was just remarkable. And then, we [celebrated] the 5 millionth medium-duty engine in Rocky Mountain, NC... That facility was opened about 40 years ago or so, and in 40 years, we've done that, which is also quite remarkable.
We have said that we are going to invest over $450 million [in the Jamestown facility], and that investment is for the new engines. In fact, my hope is that the next milestone would be a hydrogen internal combustion engine for the 15 L that would actually come out of it. It's what I challenged the team [to produce for] the 3 millionth engine.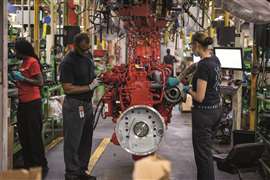 Likewise, we're doing quite a bit of investment in Rocky Mountain, NC, and that would be for the fuel-agnostic engines [powered by] octane that… we'll start producing in the next year or so. And then we would follow that up with propane. That will be followed up with natural gas and a few other applications, as well. So, all these fuel-agnostic engines will get produced in North America, particularly in those two factories.
DP: With so much focus on alternative fuels and the energy transition, what do you feel is the long-term future for diesel engine technology? Do you see it having a place going forward?
Padmanabhan: Destination Zero is the right thing for all of us to do in terms of how we decarbonize this world... Transportation and mobility is about 20% to 25% of the total carbon that gets produced, and once you put that out there, it's hard to take it out. As we all know, it takes over 200 years for that carbon to go away, which means that we've got to start today. We cannot afford to wait.
There are going to be applications where zero-emission technologies work, whether it's battery-electric or fuel cell electric or other things. We should accelerate those applications; school buses, transit buses, pickup and delivery vans are good examples.
But there are going to be lots of applications – whether it is in long haul trucking or in construction and ag and a few other places – that are what I would consider hard to abate places. Our view is that we should start using lower carbon fuels as quickly as possible, and then, over time, if zero-carbon fuels could be used and the infrastructure is ready, then we should use zero-carbon fuels like hydrogen as a method by which we could take long haul trucking to a hydrogen internal combustion engine. Likewise, in ag and construction – in those places where it is very difficult for charging infrastructure to happen, this kind of low-carbon or zero-carbon fuel could be used.
So, my view is that there is going to be a long tail and that it is going to take a long while before all of this is going to go to some form of zero emissions. Until that time, I think diesel and renewable diesel, natural gas, renewable natural gas, as well as other low-carbon and zero-carbon fuels are going to be used for a long while in reciprocating engines.
NEWSLETTER
Delivered directly to your inbox, International Rental Newsletter features the pick of the breaking news stories, product launches, show reports and more from KHL's world-class editorial team.
CONNECT WITH THE TEAM
CONNECT WITH SOCIAL MEDIA