High-capacity telehandler demand in N.A.
By Lindsey Anderson23 January 2023
"Despite all the constraints the global economy has experienced over the past couple of years, demand for high-capacity telehandlers remains steady and is promising for future growth," says Daliborka (Dali) Ribeiro, director of product management — telehandlers, JLG.
High-capacity telehandlers – units with 10,000-pounds or more of lifting capacity – have long been used on general construction sites, especially on bridge building projects, where crews today are faced with "building up" instead of "building out."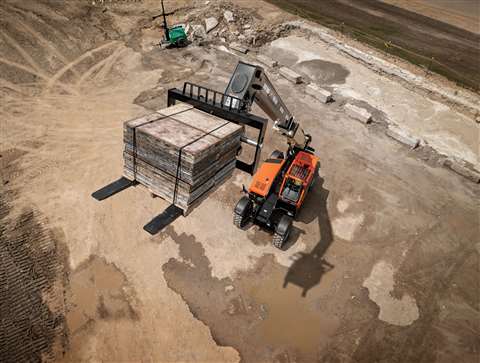 But recently, utilization for these heavy-haulers has expanded, with high-capacity machines popping up across a range of new applications and jobs.
"These machines' higher lift capacity helps minimize the number of trips required to move bulky, heavy materials, while their enhanced versatility allows them to move efficiently across the work site for improved productivity," says Ribeiro. "In addition to these more traditional uses for high-capacity telehandlers, demand for much larger, more powerful telehandlers is growing as specialty industries, such as mining and quarries, wind farms, industrial construction, energy exploration/extraction, log handling, waste and recycling, require machines that can pick and carry heavy, bulky loads on jobsites."
True, the increased demand for higher-capacity telehandler models has to do with the sheer size and scope of materials to be handled.
For example, the growing online consumer base has inspired a new wave of big-box distribution and warehousing facilities of at least 200,000 square feet — industrial projects of this size and scope use larger building materials that require equipment that can maneuver the busy jobsite without compromising lift capacity, driving greater demand for telehandlers to support heavy lifting and placing.
Because telehandlers are generally one of the first machines on a jobsite, and one of the last to leave, high-capacity telehandlers can help users in these types of applications save time, money and labor on the jobsite by allowing operators to accomplish multiple tasks with one machine.
Where telehandlers are working
Today, high-capacity telehandlers are being used to do work that had historically been done by small rough-terrain cranes, excavators and wheel loaders equipped with forks to improve productivity with advantages such as compactness, mobility, maneuverability, speed, lift height and forward reach.
But Steve Kiskunas, product manager, telescopic handlers, Manitou, says it's important to break markets out and examine them in two ways.
"There are the 10,000-12,000-pound capacity machines that represent significant total industry volume, especially as it relates to units placed for rental in the construction industry — represented in the Manitou product lineup by the MTA lineup of telehandlers, Kiskunas says. "There are then the much higher-capacity telehandlers for construction and mining work that range up to just over 72,000 pounds in capacity. These represented in the Manitou product line with the MHT Series and are sold at notably smaller volumes than the 10,000- to 12,000-pound models.
"As you get into those higher capacity machines, the markets they support – road and bridge construction, infrastructure, etc. — all look to be stable or strong heading into 2023. And where we're really seeing growth and success with those machines is in industrial process applications — essentially anything where they are part of the process in moving bulk materials and may be required to work both on road and off-road."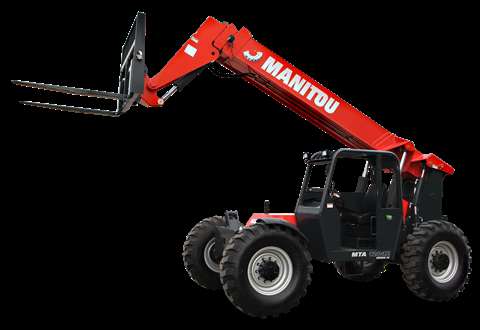 Manitou says market demand for high-cap teles is "as strong as it has ever been."
"If machines are not nailed down, people are buying them," Kiskunas says. "It's an unusually strong market demand that will carry into 2023. And it's particularly impressive for that 12,000-pound size category because it didn't even exist 20 years ago."
Meeting the market's needs for telehandlers
In response to growing requests for larger units, Genie will debut a 12,000-pound capacity telehandler at this year's ARA Show in Orlando. (For more details, see box story.)
"In North America, in general, the market for high-capacity telehandlers has been large and fast growing, and should continue into 2023," says Amalija Kopac, senior global product manager for Genie, "Especially with heavy investments in infrastructure, the desire for bigger, stronger telehandlers will continue to be a market trend. "
Genie is seeing continued demand in the oil and gas industry and civil construction, such as highways and bridges.
"That's really because of the type of work they need to do on these jobsites, and the materials they're lifting," Kopac notes. "If you think about oil and gas, you're talking about big, long pipes. So you need the height and strength of a high-capacity telehandler to be able to handle the torsion these loads put on the boom when you're lifting to the needed height.
"In civil construction, it's the flexibility to pick and place all kinds of building materials, from pallets of grout to lengths of pipe to demolition debris. The ability to efficiently manage your materials on a construction site with a high-capacity telehandler improves productivity and safety. And while you might not need a high-capacity telehandler for all of the tasks on this type of jobsite, it provides the flexibility to do everything versus having multiple machines."
Telahandler market trends
Attachment use and expansion provides a lot of opportunity for telehandler owners, as well as increasing technology within construction equipment and jobsites.
"For rental businesses, more attachments equals greater utilization, which means that your customers will keep the machines out on rent longer, and that these machines will spend less time sitting in the yard. And for those contractors or businesses that are considering buying telehandlers, that added attachment performance might get you to a utilization level where owning that machine makes more sense than renting it."

Adding to that is the growing use of telematics within construction. Yates with JCB notes that the company's telehandlers include LiveLink telematics with a five-year subscription as standard.
"Telematics systems allow owners and users to better understand the equipment while maximizing the utilization to impact overall productivity," Yates says. "For example, LiveLink will report the idle versus active time used for a telehandler. This data could show that the machine can be used in other areas of a jobsite to move material, thereby increasing productivity in multiple places—possibly illustrating one machine can do the job instead of two."
Ribeiro at JLG also notes how telematics are changing the landscape.
"With the importance of ROI growing in the high-capacity sector, the use of telematics will continue to grow in the coming year," Ribeiro says. "JLG's ClearSky fleet management telematics solution is well-suited to provide high-capacity telehandler owners and operators with access to critical engine and equipment operational data so they can make better decisions on their investment. Data points, including location, engine hours, usage, fuel and battery levels, and maintenance schedules are conveniently available in real-time and accessible from desktop or mobile devices."
At Genie, Kopac says users and owners need to also keep an eye on potential changes with training requirements and regulations.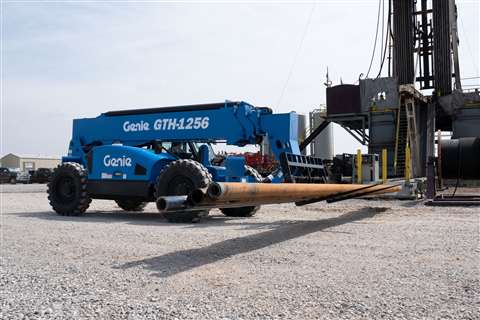 "As rotating telehandler designs evolve to include more and more features, increasingly, jobsites are looking for ways to replace cranes with telehandlers whenever possible," Kopac says. "Telehandlers provide additional flexibility and versatility compared with a crane, and they're less expensive to operate. At the same time, you're starting to see more scrutiny on rotating telehandlers in particular, and the question now is whether there will be any changes in how rotating telehandlers are classified and whether there will be new training requirements and/or regulations for individuals operating rotating telehandlers."
NEWSLETTER
Delivered directly to your inbox, International Rental Newsletter features the pick of the breaking news stories, product launches, show reports and more from KHL's world-class editorial team.
CONNECT WITH THE TEAM
CONNECT WITH SOCIAL MEDIA