Road building: Taking a different road
By Mike Hayes28 January 2020
They may sound out of place when describing construction, but the Cloud, Big Data and the Internet of Things are now recognisable elements of the road building process, as Mike Hayes reports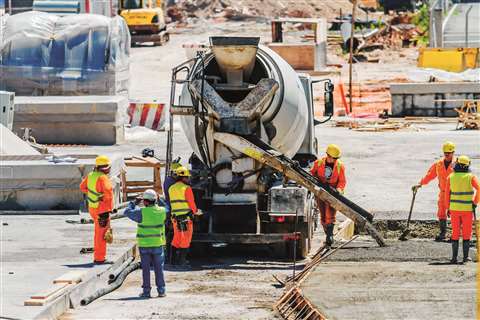 The expression 'construction technology' may have been the most overused in the industry in 2019 – but that doesn't make it any less relevant. Every sector has seen a dramatic uplift in the technology available to project stakeholders.
Roadbuilding is no exception, with high technology taking projects in new directions, in terms of the material used and the method of its delivery; the equipment in operation and the operator experience; the speed, efficiency and sustainability of construction and rehabilitation processes.
Taking ready-mix concrete as an example, GCP Applied Technologies is using the Internet of Things (IoT) to aid in the quality control of material as it's transported from the plant to the jobsite.
The company's VERIFI in-transit concrete management system uses truck-mounted sensors to assess the properties of the concrete, queuing injections of water and/or admixture into the mix when slump dips below set levels.
The data gathered by the sensors is sent to the cloud, allowing for analysis, across trucks and over time, that can lead to improvements in mix and transportation processes and subsequently to cost savings.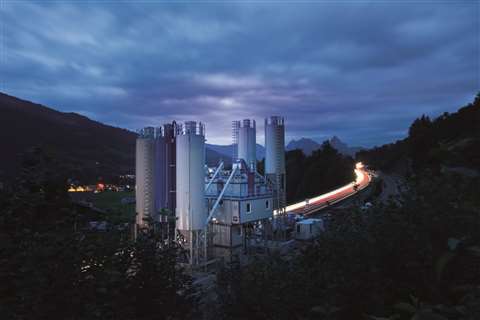 Construction 4.0 may have everyone's head in the Cloud, but at ground level, the quality of road construction material is crucial to the success of a project. In Switzerland, concrete manufacturer Kibag took part in a major highway rehabilitation project, between the villages of Küssnacht and Brunnen.
The contractor was tasked with bridge reconstruction work on the route and opted for ultra-high performance concrete (UHPC), which has benefits including significantly greater strength and a reduction in construction time. The material does, however, require a more complex mixing process.
Kibag called on the services of BHS-Sonthofen, which brought in two high-performance twin-shaft batch mixers, which formed the core of the mixing system.
The three-dimensional mixing concept is one of the mixer's main features. The turbulent overlap zone of the two mixing circuits generates an intense material exchange, as well as very high relative movement, which is a basic requirement for manufacturing UHPC.
Demonstrating that not all tech has to be new, BHS' Ludwig Bechteler said, "We developed this mixing technology back in 1888 and have continued to perfect it throughout the years.
Ursina Jenny, quality assurance manager at Kibag, said, "UHPC doesn't require long drying periods and can be processed without additional sealing. This has significantly reduced the construction time."
Kibag sees the reconstruction of the A4 route is also an important test and reference project for this new specialised concrete.
The project was also a major success for BHS and Bechteler said, "Our high-performance mixers are now used in a myriad of major projects across the world, such as in infrastructure projects, as well as in the construction of dams and skyscrapers."
UHPC has the potential to reduce construction time, which has the knock-on benefit of being less damaging to the environment. The use of technology and new materials to reduce emissions and promote sustainability is becoming increasingly important in this sector.
Curbing plastic waste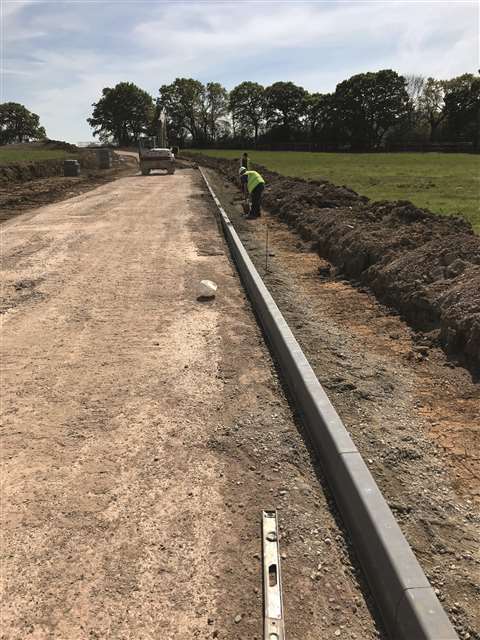 In the UK, where the government has set an ambitious target of zero carbon emissions by 2050, Econpro produces Durakerb, a sustainable range of kerbs, kerbsides and surface drainage.
Each Durakerb unit is made from 88% recycled polymer – basically the equivalent of 182 plastic bottles. Over the past 11 years, the company says it has actively prevented plastic equivalent to 72 million plastic bottles going into landfill.
According to Econpro, further environmental benefits include a 73% reduction in carbon emissions per full load – so far, that's equivalent to removing 1,000 articulated vehicles from the roads.
Another expression that has been in regular use in recent times is incremental gains. Few pieces of equipment could demonstrate this more clearly than the TinyPreMarker – a roadworks robot that can accomplish in two hours what an engineer would achieve in a day and a half.
As the name suggests, the little robotic machine carries out pre-marking tasks on large-scale road construction projects. Markings are accurately laid down using the robot's built-in GNSS technology (the standard satellite navigation system for autonomous equipment) and a control tablet.
Along with increased productivity with the marking robot, manufacturer TinyMobileRobots cites a reduced margin for human error and increased safety on the job, as operators controlling the equipment can do so from a safe distance.
The failures of concrete on Europe's highways are often obvious and can be painful or even deadly.
Materials testing is a vital element of major road construction projects, first for classification of soil types (including particle size, mass and moisture content), then for assessing the quality of the road material, be it concrete, asphalt or any other roadbuilding material.
Core technology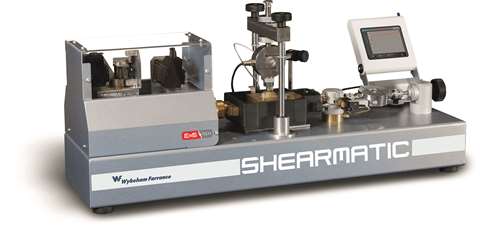 Controls Group is at the forefront of the development of testing equipment, with expertise in all formats.
Wykeham Farrance, part of the company's Soil Mechanics Division, has a range of ring shear testing systems, including the fully automatic Torshear EmS and Shearmatic Ems machines, which test the elasticity/rigidity of soil samples.
Another core business for the company is concrete compression testing and it recently released new equipment, including Automax Pro – for automatic standard failure tests.
Controls Group says its cutting-edge connective technologies allow laboratories – both on site and remote – to manage its test data online, with no risk of transposing errors.
To some extent, the use of high technology ahead of road surfacing work will be negated if the equipment used thereafter does not meet the same standards.
In Baden-Württemberg, in southwest Germany, the Ministry of Transport is attempting to eradicate this problem with QSBW 4.0 (quality in road construction in Baden-Württemberg 4.0).
Simply put, this is uninterrupted and digitally controlled construction process, designed to ensure excellent paving quality over the entire pavement, increasing the service life of asphalt layers.
To successfully tender for a road construction project, the new directive calls for contractors to utilise dynamic logistics and machine control, quality control and management, mobile networking, display options on smart phones, tablets or computers, as well as the documentation of all data with access authorisation for clients.
Eyes on the road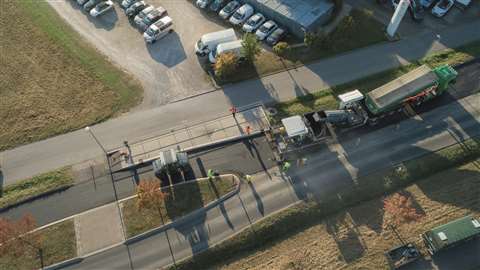 Vögele's WITOS Paving Plus paver is, according to the manufacturer, a QSBW-ready solution – with a fully integrated, software-based system for process optimisation and documentation.
The paver has five inter-coordinated modules for various parties involved in the process – from the asphalt mixing plant and the lorry driver to the construction manager.
To ensure an optimum asphalt temperature, Vögele's RoadScan temperature-measurement solution can be integrated in the system. Also, with RoadScan, a high-precision infrared camera can be used to scan the entire specified area behind the screed of the paver, across a width of 10m.
Vögele is part of the Wirtgen Group, as is Wirtgen, which is also tapping into the infrastructure of the WITOS telematics solution.
Wirtgen describes its Connected Milling approach, which, like Vögele, benefits from a direct flow of information between the machine, operator, service workshop and scheduling department.
The entire milling process is digitally mapped and simulated in real time, based on a comprehensive analysis of all parameters.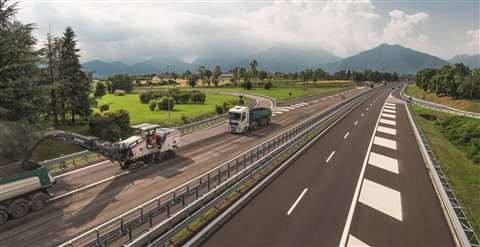 Wirtgen says the machine can respond dynamically to changing conditions, making the operator's job easier, improving machine performance and reducing diesel, water and tool consumption, as well as CO2 and noise emissions.
Wirtgen machines also boast Performance Tracker, which uses a laser scanner, along with GPS and sensors, to measure the cross-sectional profile to be milled, then assess milling volumes and performance.
A 'one machine solution'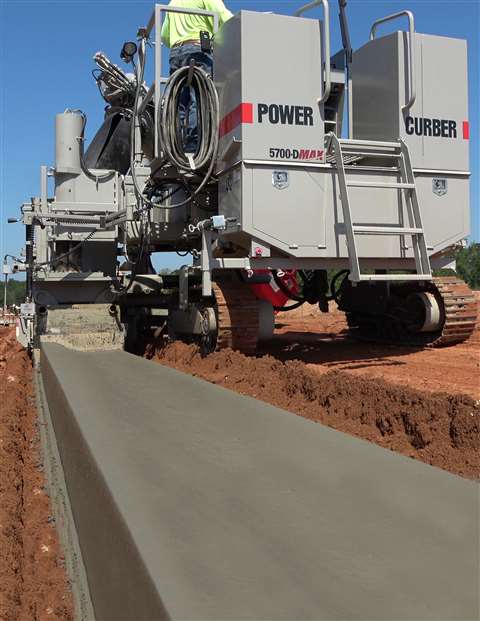 Early in 2020, US-based Power Curbers will release its new kerb machine, the 5700-D.
The compact machine, which promises a 'one machine solution' for concrete slipform applications, including kerbs, barriers and tunnels is designed to be simple to use.
Headline features on the new model include an 'all up' jog switch, that raises or lowers all crawler posts simultaneously, improved cross-slope control and enhanced vibration control.
At the same time, the 5700-D is ready to interface with some of the market's leading technology, including software from Topcon, Leica and Trimble.
As we see road construction ploughing ahead with its new technology, we are also witnessing changes in the way construction equipment is used.
Over the past few years, sales of backhoe loaders have been squeezed by a combination of specialised machines, including skid steers, compact excavators and compact loaders.
Back on the highway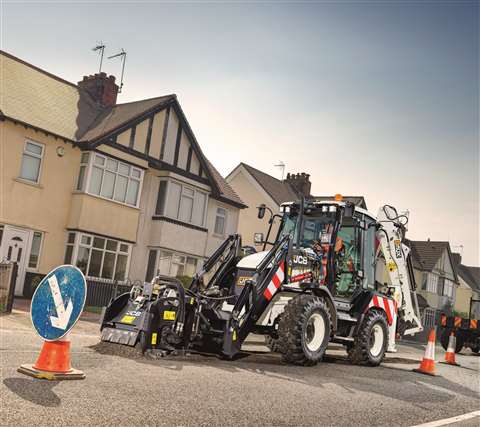 The fight back is on, however, led by the company's whose name is synonymous with the backhoe loader. The latest model from JCB is the 3CX Compact Highways Mater – specifically designed for highways maintenance work.
The machine is equipped with a skid steer loader quick hitch on the front loader arms and an attachment integration system, allowing for a range of specialist attachments.
The loader's SMART system allows automatic switchover of electronics, giving it the ability to work with third party operating systems.
The Highways Master has enhanced hydraulic power, with its front loader auxiliary lines delivering 120 litres/min of hydraulic power, compared with 70 litres/min on the standard 3CX. This gives the loader the ability to carry larger 600mm road planer attachments, allowing it to operate on larger resurfacing works.
An optional hydraulic quick hitch is also available on the Highways Master's rear boom, allowing for a 300mm rear planer attachment.
A side-shifting capability is also standard, allowing operators to mill square patches without having to reposition the machine.
Operating in the safe zone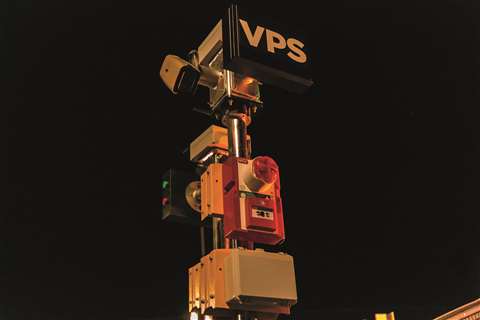 In the UK, Highways England reports that there are close to 300 incidents each week, that could affect the safety of road workers.
VPS Highway Solutions has developed a system that uses detection analytics and a bi-spectrum (thermal and high-definition) camera system, mounted on a self-powered Smart Tower, to alert workers to the danger of an approaching vehicle.
As well as the tower-mounted base system, the alert system incorporates individual call points, interlinked by a radio network. Sounders, strobe lighting and other alert systems are triggered when an incursion occurs and all incidents are recorded in real-time.
The patented technologies within the VPS system gives users the option of embedding medical alerts into the sounder, with text and email alerts sent with images to site staff.
Topcon's smarter roads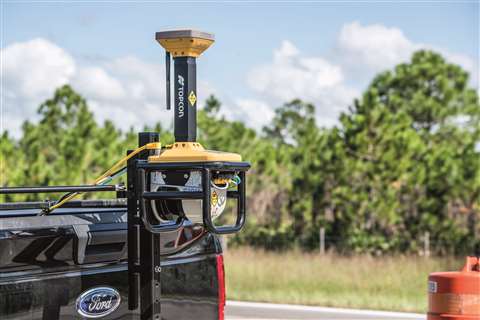 Many roads in Europe are neglected to the point where they're now at the end of their lifecycle and require complete redesigns to ensure public safety.
Such extensive construction work incurs heavy costs and long-term disruptions to travel, but this could be avoided by adopting more agile paving processes.
A combination of regular inspections and resurfacing when required – and the use of fast, accurate scanning and paving methods – can cost-effectively extend the lifecycle of a road.
Sjoerd Stoove, 3D paving specialist at Topcon Positioning Group, says the company's SmoothRide solution "provides a connected and efficient workflow at every stage of the process – from inspection and design to milling and paving."
The initial 3D scanning, completed by equipment attached to a car, provides an exact representation of reality and can be quickly undertaken, avoiding road closures.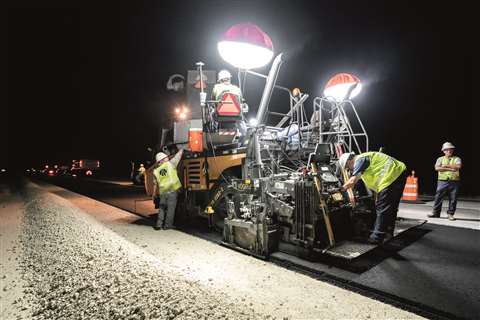 The scan also allows contractors to work out which parts of the road need resurfacing and to what depth, so they can produce a design that has no wastage in terms of materials and time.
When it comes to resurfacing, milling machines and pavers equipped with machine control technology, such as RD-MC, then carry out the planned resurfacing more precisely, evenly, quickly and safely than if done manually.
These measures can result in more regular maintenance work, extending the lifecycle of the infrastructure assets.
Stoove, says the adoption rate is slow, and believes this is something that needs to be addressed without delay.
"As an industry," he says, "it's never been more important for us to educate road owners and European governments on how optimised paving workflows can improve safety and quality, save money and support society as a whole."
Plane power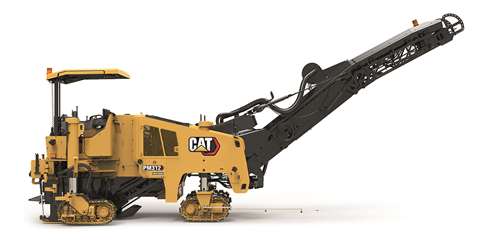 Caterpillar has announced updates to its PM300 series cold planers. Geared towards smaller jobsites, due to their compact dimensions and manoeuvrability, the machines are available with both wheel and track undercarriages.
Cat has upgraded the engines across the PM300 range, with its own C9.3 engine now available with 249kW of power. They also meet EU Stage V emission standards.
Other improvements include greater visibility, with a sliding operator's station, an optional camera and an auxiliary power connector for additional lighting.
The sliding station extends approximately 215mm beyond the frame, giving operators line of sight visibility when following an edge.
The new planers are available with Cat System K milling rotors, which can be fitted with optional Cat diamond bits that the company says are sharper, more efficient and can last up to 80 times longer than conventional carbide bits.
Bridging the highway gap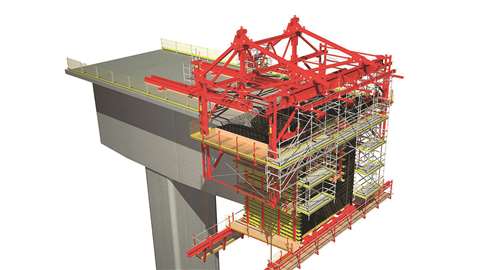 Without falsework and formwork, the most sophisticated roadbuilding project will grind to a halt when bridge construction is required.
In North Macedonia, Peri was brought in to assist with the construction of a 381m-long bridge with separate carriageway slabs.
Tricky elements of the project included working with the complex superstructure geometry of a 165m span with different bridge cross-section, superstructure heights and longitudinal as well as lateral inclinations. And all this in challenging terrain.
Peri designed a project-specific cantilever construction solution, based on its Variokit Engineering Construction Kit, plus the parallel use of four balanced cantilevered carriages for accelerating execution times.
The Variokit consists of a combination of loadbearing and core components that can be adapted flexibly to accommodate a wide range of bridge cross-sections and geometries.
In an effort to keep things simple and streamlined, the company worked to a just-in-time delivery method for formwork and scaffolding.
Peri engineers also remained on-site to support the construction team, in order to optimize work operations.
The company said construction time on the bridge was significantly reduced, as the construction team could concrete sections up to 5.75m long, rely on high load-bearing capacity and utilize integrated hydraulics.
NEWSLETTER
Delivered directly to your inbox, International Rental Newsletter features the pick of the breaking news stories, product launches, show reports and more from KHL's world-class editorial team.

CONNECT WITH THE TEAM
CONNECT WITH SOCIAL MEDIA