Feature: Packing a punch
By Helen Wright14 November 2014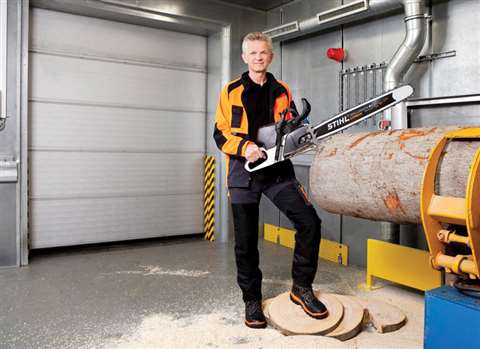 The power tools market is a dynamic place, with a stream of new models and updated designs being released from manufactures around the world.

The latest trends are for compact, ergonomically-designed tools that pack a punch – boasting improved power-to-weight ratios and highly durable parts.

Technology is also playing an important role, with manufacturers introducing new systems designed to reduced the level of vibrations that hand-held tools produce, for instnace. Other innovations include new dust control systems as well as the latest, long-life batteries to increase the length of time between charges.

And rental companies are a clear target market for many producers. Rob Chapman, group commercial director at manufacturer Trelawny, for instance, said sales to rental companies made up 25% of the company's worldwide business. He said the company saw growing sales from UK and European rental companies.

"The market certainly seems to be buoyant and we aim to maintain this momentum into 2015, we will be exhibiting at both the Executive Hire show, and American Rental Association [The Rental Show – see preview, page 39] exhibitions early next year," he explained.

"Trelawny is highly regarded for our core range of pneumatic tools which continue to be popular with many of the major UK rental companies. We see our increasing range of floor preparation machines as key in expanding our appeal to new rental companies and those which don't specialise in air tools.

"In our experience, rental for our type of products is lower in the Middle East, mainly due to this being a less mature rental market than for example Europe or the US. Many of the contractors in these markets will purchase equipment outright," Mr Chapman said.

For 2014, Trelawny has launched the TCG125 and TCG180 handheld diamond grinders and TFS230 floor stripper as part of its strategy to be able to offer a complete range of surface preparation equipment.


New materials


Elsewhere, companies are experimenting with new materials with a view to producing more lightweight and durable power tools.

Stihl, for instance, has developed a new Carbon Concept chainsaw as a result of a feasibility study – a 5.4 kW tool featuring ultralight materials such as carbon and titanium.

Stihl said the chainsaw weighed 6 kg, 1.4 less than the comparable standard Stihl chainsaw. As a result,the manufacturer said the Carbon Concept model achieved an "unmatched" power-to-weight ratio of 1.11 kg/kW.

In addition, an internal combustion engine with electronic fuel injection has also been used on this model – a first in chainsaw technology, according to the company.

Stihl executive board chairman Dr Bertram Kandziora said, "The Stihl Carbon Concept will not go into production as it is, but the knowledge gleaned from its development will be utilised to optimise our products and consolidate our position as the industry's innovation leader."

Other, more mainstream new power tools from Stihl include its new TSA 230 cordless cut-off machine – a battery powered took weighing 3.9 kg and equipped with a 230 mm abrasive cutting wheel. The company said a single battery charge was sufficient to cut 20 m of clay tiles.

Longer battery run-times have also been at the centre of Bosch's latest designs – the company said its 6 Ah batteries for 18 v professional tools were the world's first batteries with this runtime, offering a 50% longer runtime than 4 Ah batteries and 20% longer than 5 Ah batteries.

The latest batteries also offer Bosch CoolPack technology, which is said to ensure that the battery does not heat up too excessively during intense use. Bosch also said these batteries had the same dimensions as existing 18 v batteries, and weighed almost the same.

Flexible Power System technology is also said to ensure compatibility with all existing power tools and chargers within a voltage class from Bosch – a feature that is targeted at increasing the flexibility available to professional tradespeople. The new 6 Ah batteries will be available from 2015 onwards for 18 v professional tools.

And the latest 18 V power tools from the company include a new cordless jigsaw for professionals, which comes in a barrel grip version for optimised guiding of the saw from underneath (the GST 18 V-LI S), as well as a bow handle version with more cutting performance and cutting depth (GST 18 V-LI B).


Longer runtimes


Meanwhile, Worx has concentrated on increasing the intervals between charging batteries, together with increasing the power of its tools while maintaining a small size, and increasing durability.

Its latest power tools come in the form of the new Brushless collection, which includes the WX373 hammer drill, WX292 impact driver and WX175 drill/driver.

The range is also lightweight, ranging from 1.4 kg to 1.7 kg, and feature a belt hook to make them harder to drop or lose. The tools are designed to work with 20 V Lithium Powershare battery technology, which can also be shared across the manufacturer's entire 20 V range.

A battery pack indicator reminds users of the battery status, and Worx claims only one hour charge time is needed until the tool is ready again.

The new power tools also feature LED lights allow for better sight in darker areas, together with a 20 second LED light delay after trigger release – meaning that users can double check the last screw drilled.

Power and reliability were also central features of Husqvarna's latest launch – the new K 970 power cutter, which the company said boasted an enhanced power-to-weight-ratio.

It said a new cylinder design and a new carburettor had increased the tool's capacity, while a new muffler with integrated heat deflector also helped to ensure optimal operating temperatures and make the machine less sensitive to variations in climate and fuel.

The 4.8 kW tool comes in 350 mm or 400 mm blade diameter versions, and features a blade guard which includes a reversible blade bushing to allow users to switch between blades with different centre holes.

In addition, the 350 mm version has a new wet cutting system in order to make dust control easier. The progressive valve has distinct end positions and progressive adjustment, which allows users to adjust the exact water volume to avoid an excess of water and slurry, according to the company.

Designed for heavier cutting of concrete and stone in alterations, renovations and new construction, the K 970 is also said to be well-suited to cutting smaller holes and adjusting window and door openings, as well as for pipe, asphalt and metal cutting, cutting of curbstones and paving.


More power


Makita, meanwhile, has tried to fit more power into a smaller package with its latest power tool, as well as reducing overall weight and vibrations.

Targeted at the rental industry, its new HR5212C AVT rotary demolition hammer weighs 11.9 kg but boasts 1510 W of power with 2250 impacts per minute. To reduce vibrations, the tool features Makita anti-vibration technology - a dynamic vibration absorber which uses the pneumatic air pressure of the impact piston to move a counterweight in the body of the machine to dampen out the vibrations.

Makita said the body and grip handle were effectively separated from the motor and drive assembly to further reduce vibration transmission to the operator.

It said vibration levels stood at 9.0 m/s2 in rotary drilling mode, enabling double the recommended operating time.

The HR5212C AVT can be used in rotary drilling mode combined with hammer action, or in hammer mode only, for chiselling.
In hammer mode, the manufacturer said a switch provides for continuous chiselling action by push button control with lock-on mechanism.

However, if intermittent chiselling is required, it said this can be selected and controlled by the trigger on/off switch. A constant speed dial control is also positioned at the back grip handle.

In addition, Makita said the SDS Max sliding chuck would carry a bit of up to 52 mm in concrete and drive a 160 mm core bit. The latest Makita dust extraction system is also designed to be compatible with the new tool, according to the manufacturer.

Similarly, the the latest power tool from manufacturer MAC3 also has comfort and efficiency at the heart of its design, and comes in the form of new Airgo paving breaker, which will be available in January 2015.
The manufacturer said it concentrated particularly on reducing vibrations, and developed new fixed handles while ensuring a 3-axis vibration level lower than 5 m/s2.

The company highlighted that vibrations from traditional hand-held breaker designs can cause musculoskeletal disorders (MSDs), and said its R&D department had worked hard on developing ergonomic solutions to the issue.

The hammer is also very slim and is said to allow the operator to stand almost vertical, reducing risks related to awkward postures.

The company saud, "Today, pneumatic breakers are quite massive, and it is even truer when applied to the other technologies. And the thicker they are, the more the user must bend forward to reach the full view of the working area.

"This uncomfortable posture increases the risk of back and neck injuries. AIRGO, being very slim, allows an almost vertical position of the operator's body and thus reduces the risks related to awkward postures."

Airgo's handles also feature built-in exhaust air outlets to control diffusion and to avoid spraying towards the user's legs.

The Airgo paving breaker also boasts a double trigger which handles the safety and/or air intake role, and has been positioned to provide a better level of grip for both right-handed and left-handed users.

MAC3 claimed this meant the device offered less vibration and more impact energy than conventional hammers.

MAC3's complete range of handheld hammers includes pick hammers from 5 kg to 13 kg, as well as paving breakers from 15 kg to 40 kg.
The manufacturer claims that its pneumatic hammers use, at equal weight class, between 25% and 60% less compressed air than the equivalent hammers on the market.

This is said to be a significant benefit to the user - and could also pique the interest of rental companies - not only because the low air consumption will generate the savings, but also because MAC3 hammers will need smaller compressors to power them.

Indeed, the company said that a 2.5 m3/min compressor can run two 25 kg MAC3 paving-breakers, while it saiw the equivalent competitor tools would need a 3.5 m3/min compressor.

Lubrication of pneumatic hammers, too often neglected, is another issue to the users. Thanks to their careful design, coupled with suitable and high-quality heat treatment, MAC3 pneumatic hammers and breakers do not require any additional external lubrication, according to the company.

It is clear that the latest launches from power tools manufacturers have been designed to offer users the cutting edge in new technology.

From health and safety issues such as the user's poster, dust exposure and removal of fumes, to new technology that allows more power to fit into a smaller package, manufacturers are considering all the angles.

As well as tracking the continuous development of battery life technology, it will be interesting to see how design features from experimental developments such as Stihl's carbon chainsaw trickle down into more mainstream products in the years to come.
-BOX STORY-

Hilti assesses rental prospects
This year, manufacturer Hilti unveiled a Tools on Demand service designed to compliment its existing hire and rental offerings. Hilti's Tool Fleet Management service is targeted at contractors that want to use Hilti tools year in and year out, while the company's rental network is aimed at emergency, daily or weekly tool needs. Tools On Demand has been designed to offer contractors the use of tools for those months when projects peak.

Jahangir Doongaji, a member of the Hilti executive board and responsible for the manufacturer's electric tools; and corporate research and technology units, explained, "Hilti Fleet Management is a global programme and is adapted to our respective local markets.
Tools on Demand service is exclusive to the North American market and is available for a minimum time period of three months for customers who have signed a Fleet Management contract."

He added that the company currently had no plans to expand the Tools on Demand programme beyond North America. "Rental companies are an increasingly important customer group for Hilti and are a key element of our go-to-market strategy," Mr Doongaji continued.

"We've seen an increase in demand for power tools from rental companies in 2014 and expect this positive trend to continue in 2015. Because tool rentals allow more financial flexibility in the backdrop of changing demands and economic cycles, the rental industry has become more and more attractive as the construction industry continues to recover slowly and steadily."

Mr Doongaji said the latest power tools from Hilti boasted key features such as AVR (Active Vibration Reduction), which greatly reduces the vibration generated by powerful hammering mechanisms, and ATC (Active Torque Control), which helps prevent injury to operators by cutting the power of the tool if an operator is not in full control of the tool.

In the first quarter of 2014, Hilti launched the TE 1000-AVR floor demolition tool, and Mr Doongaji said it planned to launch the TE 800-AVR wall demolition breaker in 2015. Both feature AVR technology, protecting users against the effects of long periods of vibration exposure, and provide longer permissible switched-on times.

This is a feature from the November/December issue of IRN. For the full feature, including extra images and box stories, please subscribe to the magazine: http://www.khl.com/subscriptions/
NEWSLETTER
Delivered directly to your inbox, International Rental Newsletter features the pick of the breaking news stories, product launches, show reports and more from KHL's world-class editorial team.

CONNECT WITH THE TEAM
CONNECT WITH SOCIAL MEDIA