WORLD OF CONCRETE SHOWGUIDE: Concrete Destination
Show Hours
Monday, Jan. 16 (education program only) 3-hour seminars: 8 a.m. – 11 a.m.; 1 p.m. – 4 p.m.
4-hour certification seminars: 8 a.m. – Noon; 1 p.m. – 5 p.m.
90-Minute seminars: 8:30 a.m. – 10 a.m.; 10:30 a.m. – Noon, 1:30 p.m. – 3 p.m.; 3:30 p.m. – 5 p.m.
Tuesday, Jan. 17 – Thursday Jan. 19 3-hour seminars: 8 a.m. – 11 a.m.
4-hour certification seminars: 8 a.m. – noon; 1 p.m. – 5 p.m.
90-Minute seminars: 8:30 a.m. – 10 a.m.; 1:30 p.m. – 3 p.m.
Exhibits: 9:30 a.m. – 5 p.m.
Friday, Jan. 20
3-hour seminars: 8 a.m. – 11 a.m.
90-Minute seminars: 8:30 a.m. – 10 a.m.
Exhibits: 9 a.m. – Noon
Pricing
Exhibits-only:
$85 - After Dec. 1 and onsite
3-hour seminars: $175 – After Dec. 1 and onsite
4-hour certification seminars: $225 - After Dec. 1 and onsite
90-minute seminars: $135 - After Dec. 1 and onsite

What: World of Concrete
When: Jan. 17-20, 2017
Where: Las Vegas Convention Center, 3150 Paradise Road, Las Vegas, NV 89109
P: 702-892-0711
website: www.worldofconcrete.com
World of Concrete 2017 kicks off show season January 17-20 at the Las Vegas Convention Center. The annual masonry-focused event will feature new product demonstrations, events and competitions, more than 100 educational sessions, interactive workshops and hands-on training.
More than 1,500 exhibitors across 700,000 square feet will be on-hand showcasing the latest and greatest products.
WoC will include elements such as large machines for material handling, concrete repair and demolition, masonry product showcases and a range of the latest advances in construction technology.
Here's what attendees can expect to find at the Las Vegas Convention Center.
AMS-Merlo will show a number of its telehandlers, including two models: the compact P27.5 and Roto 43.35. The P27.5 lifts up to 6,000 pounds at heights of 16 feet while its big brother, the Roto 43.35 can lift up to 10,000 pounds at heights of up to 114 feet. The company will have a total of five telehandlers on display.
Bil-Jax will have its scaffold innovations at World of Concrete. The company produces sectional scaffold, ring scaffold, utility scaffold, shoring and events-related products.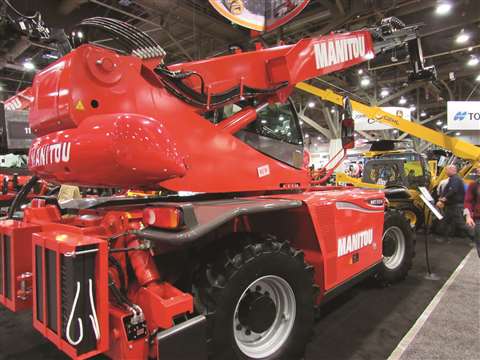 Caterpillar will show its TL1255D telehandler. The 12,000-pound capacity unit has a lift height of 55 feet and a 42-foot forward outreach. The machine is powered by Cat's C4.4 ACERT engine, which the company says reduces emissions but causes no disruption of work cycles. The engine is paired with a 4F/3R power-shift transmission. The new telehandler has large steering angles thanks to trunnion-mounted planetary axles and three steering modes: two-wheel, four-wheel and crab.
Fraco Products will be on hand to showcase products and information on its units. Fraco Products Ltd is currently involved in the fabrication of the footing and initial pier section combinations of the New Champlain Bridge which will connect the island of Montreal and the South Shore of the metropolitan area. This collaboration is expected to continue until the end of summer 2017, from which the installation of the piles of the new bridge should be completed. Stop by Fraco's booth to learn more.
Gehl Co., which will share space with parent company Manitou Group, will show a number of its telehandlers and compact products. Gehl will debut nine new models for ConExpo, which the company might hint at during World of Concrete. "The Manitou Group is dedicated to the development of innovative products designed for the specific needs of the construction and rental markets," said Dan Miller, CEO Manitou Americas, Inc. and president of the Manitou Group compact equipment division. "The number of new equipment offerings we have to unveil at [ConExpo] illustrate this dedication to providing relevant machines for these markets. The group has also increased its resources that focus on customer and aftermarket support to ensure our customers receive an excellent level of support during the entire life cycle of their Manitou, Gehl and Mustang equipment."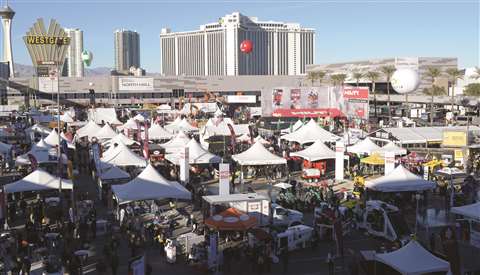 Hydro Mobile will once again be a part of the SpecMix BrickLayer 500 event. The company offers a range of versatile mast climbing work platforms to help contractors increase their profitability in every trade.
KHL Group is the publisher of Access, Lift & Handlers magazine. Established in 1989, KHL Group is now the leading supplier of international construction information in the world. It has achieved rapid growth through market focus and an intense knowledge of the world market. Editorial quality and independence from commercial pressures is why KHL's magazines enjoy a loyal readership which is the foundation of long-term success for a publishing company.
KHL Group is a diversified media company that delivers information in whatever format the market demands. Using its strong market-leading magazine brands, KHL has expanded into digital magazines, e-newsletters, directories, the internet, new media technologies, book publishing, direct mail, list rental, exhibitions, conferences and contract publishing.
KHL has introduced professional publishing practices to the markets it serves. It was the first publisher in the construction industry to launch a website in the early nineties, and the first to be accredited with the acclaimed BPA International independent circulation audit in specific markets. KHL was also the first publisher in any sector to offer digital magazines, and to have those subscription independently audited. KHL constantly monitors growth markets and offers advertisers proven and trustworthy routes to their customers within those markets.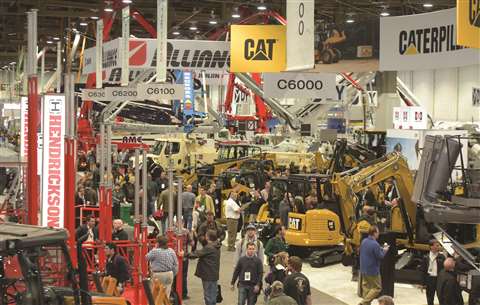 KHL Group, or any of its individual titles, are members of the following associations; Specialized Carriers & Rigging Association (SC&RA), Association of Equipment Manufacturers (AEM), European Demolition Association (EDA), National Demolition Association (NDA), Committee for European Construction Equipment (CECE), European Association of Heavy Haulage, Transport and Mobile Cranes (ESTA), European Rental Association (ERA), Construction Equipment Association (CEA), Periodicals in Construction and Agriculture (PICA), Association of Equipment Distributors (AED), Crane Rental Association of Canada (CRAC), Associated Wire Rope Fabricators (AWRF), International Powered Access Federation (IPAF), American Rental Association (ARA), European Confederation of Equipment Distributors (ECED), Hire Association Europe (HAE) and others.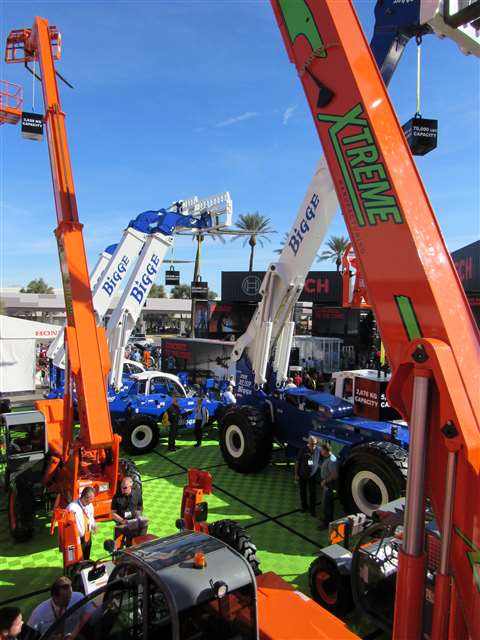 The publisher's ALH magazine is a go-to source for access, telehandler and scaffold-related industry news and business reviews. Stop by the booth for the latest issues from KHL and to meet key staff.
Magni Telescopic Handlers plans to show its RTH 5.35S rotating telehandler. The unit features 11,000 pounds of lifting capacity and a maximum lift height of 113 feet. The unit has a maximum reach of 85 feet; features electronically controlled hydrostatic transmission, automatic levelling device and scissors stabilizers. Magni has a number of distributors in the U.S., including Paramount Equipment located in New Jersey. The company also opened a new facility in Miami.
The new plant includes sales, warehouse and aftersales service. Sales director Jorge Salas will be based at the facility and is in charge of all communication with dealers and end customers, as well as aftersales service, technicians and spare parts across North and South America.
"Our work in the United States began in early 2015, and in almost two years we achieved goals we could not believe possible in such a short time; the great success in the U.S. is mainly due to the very compact size of our vehicles, despite the excellent lifting performances and working heights," Salas said. "Our 3-in-1 machines, that can be crane, aerial working platform or forklift, found a great success in this market and gave proof on field of their flexibility."
Manitou will show a number of its telehandlers and forklifts. The company, which plans a major launch for ConExpo, will specifically have its MRT 2250 Series II rotating telehandler on display, which replaces the MRT 2540. The MRT 2250 can lift up to 11,000 pounds and has a reach of 81 feet.
Attendees interested in JLG Industries should head over to McNeilus Truck & Manufacturing's exhibit, where JLG will share the space with its sister company. Last year, JLG showed off its telehandler product, which will likely be the case this year.
ReechCraft's PowerLift will be on display, a portable and versatile lift designed for use in tight spaces. ReechCraft says the PowerLift was developed largely as a response to businesses seeking safer alternatives to ladders and greater convenience over conventional aerial work platforms.
The lightweight and portable PowerLift meets stringent safety standards and complies with A92.3 of the ANSI, CE, CSA and AS/NZ standards, as well as CD EN 280. The PowerLift's fully enclosed personnel basket also provides an extra layer of security compared with traditional ladders.
"Our dealers and rental customers have played a huge role in defining many of ReechCraft's products, especially the PowerLift," said Jason Solhjem, vice president of engineering for ReechCraf. "We continue to analyze the needs of our dealers and customers with the goal of having our products available in numerous configurations for a wide variety of work requirements. We've noticed that in many cases, accessing a certain height is the first obstacle that must be addressed and the second is getting the equipment to function efficiently in a particular setting."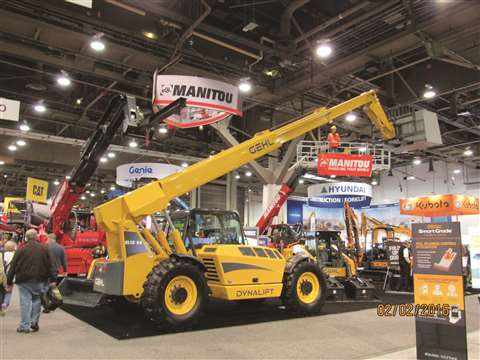 The Scaffold & Access Industry Association invites attendees to come and learn more about its online supported scaffold user hazard awareness training. "The Scaffold & Access Industry Association's (SAIA) most important asset is its members. They come from all niches of the scaffold and access industry. We have Ma and Pa shops, scaffold builders, erectors, workers on the equipment to CEOs of companies that do well over $100 million a year in scaffold and access business. Each member is unique and has something to offer the SAIA and the scaffold and access industry. Collectively, you won't find a greater wealth of scaffold and access knowledge or information from any other company or association in the industry," the company stated.
Skyjack's SJ1256 TH telehandler will make its debut at World of Concrete. The unit will feature the 107hp Deutz TCD3.6L powerplant, using DEF fluid but with no particulate filter for Tier 4 Final compliance. The unit has 12,000 pounds of capacity and a 56-foot lifting height.
The machine will be heavily based on the SJ1056 TH, Skyjack said, with these Skyjack features: Skycoded control system; Flexcab for easily converting open cab units to closed cab; Readyhook yoke mounted rigging hook for effective handling of suspended loads; and shared control systems, mechanical, electrical and hydraulic layout from the rest of the TH range, ensuring instant familiarization for operators of other TH machines, the company said.
The SJ1256 TH also shares control systems, mechanical, electrical, and hydraulic layout with the rest of the TH family of telehandlers, ensuring instant familiarization for operators who operate other TH models.
The unit will be for sale in the second quarter of 2017.
Snorkel will share space with it sister company, Xtreme Manufacturing. Snorkel has typically shown prototypes or sneak peeks of what people can expect from the company at The Rental Show or other tradeshows throughout the year. The company said it will have several aerial lifts on display.
Xtreme Manufacturing will showcase the majority of its 14-model product range, up to the incredible 70,000-pound capacity Xtreme XR7038 telehandler. Built to handle the toughest of jobs, with a focus on safety, productivity and serviceability, Xtreme offers the largest selection of high capacity telehandlers in North America. Launched in 2014, the Xtreme XR7038 is an award-winning telehandler with an incredible lift capacity of 70,000 pounds. The lift has a maximum lift height of 38 feet, 2 inches, a forward reach of 22 feet and comes in weighing 115,000 pounds. This heavy-duty lift is suited to applications in the mining, oil and gas and energy sectors, and can provide an alternative solution to mobile cranes.
Using a 300-horsepower, Tier 4-Final Cummins engine, the XR7038 features an electronic engine monitor, heavy-duty boom rollers and a rear-view camera system for complete visibility when maneuvering the lift.
The XR7038 is equipped as standard with a fork-positioning carriage, with forks that each weighs in excess of 2,000 pounds and foam-filled tires that are 6.5 feet in diameter. The XR7038 also features Xtreme's integrated machine-rated boom lift point for safer handling of suspended loads.
The Xtreme booth structure will be built entirely from "Xtreme Cubes", highlighting the versatility of these modular building structures across a wide range of applications, including within construction and industrial environments. Visitors can also meet with Cube experts during the show in the 'Cube Design Center' to learn more and configure their own Cube structure onsite at the show.
NEWSLETTER
Delivered directly to your inbox, International Rental Newsletter features the pick of the breaking news stories, product launches, show reports and more from KHL's world-class editorial team.
CONNECT WITH THE TEAM
CONNECT WITH SOCIAL MEDIA