Why are mini and midi excavators becoming more popular?
Factors such as regulations and demand for digital solutions is driving demand for excavators in the mini and midi range, writes Lewis Tyler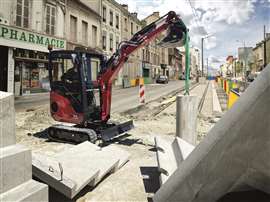 In terms of numbers sold, mini and midi excavators might not match up to some of the models in the larger categories, but they have certainly grown in popularity in recent years, as users can reduce both manual labour and costs.
Due to their capability to be used on a number of job sites, excavators in the mini and midi range are the equipment of choice for many end users. Able to carry out work that their larger counterparts are unable to, it is one of the fastest growing equipment sectors in construction.
The size, according to Kobelco, is partly why it is seeing an increase in demand for mini and midi excavators. "We're finding that the demand for short radius excavators has increased significantly in recent years. These machines are vital on jobsites with restricted space as they have a much smaller working footprint.
"In regions such as Italy, France and Austria, these short radius machines also are ideal for working on narrow, mountainous roads without disrupting traffic, or up against hedges, fences and next to ditches."
Electric powered excavators
While it could be argued that construction is historically slow to adapt to alternative powered equipment, the rise in popularity of electric equipment in the sector seems to point to an industry that is continuing to embrace new methods.
And, while there are obvious benefits for the user to opt for alternative powered solutions, Chris Bardas, product manager, Hitachi Construction Machinery (Europe) NV, believes stringent regulations in some areas has played a key part in the demand for zero-emission equipment in the mini and midi excavator space.
"Due to EU regulations and the growing need for sustainable zero-emission solutions, mini and compact excavators are among the fastest growing product segments.
"We have seen strong and steady growth in the traditional markets such as the UK and Ireland, Germany and Scandinavian countries. In addition, countries such as Italy, Poland, Greece and Portugal are also showing signs of strong growth."
Off the back of this growth, the company has developed its own zero emission excavators, the ZX55U-6EB mini and the ZX85-6EB, which it launched at Bauma 2022.
On the new launches, Bardas says the performance of the compact electric machines matches the level expected of excavators powered by traditional fuel.
"One of the main advantages of our zero-emission mini and compact excavators, the ZX55U-6EB and ZX85U-6EB, is the high level of performance they provide. No compromises have been made in terms of performance and they have been designed to provide similar levels of performance as diesel alternatives. The fact that they are zero-emission and quieter than diesel models are additional benefits," says Bardas.
Another OEM looking to embrace alternative power is US giant Caterpillar. Some its latest launches include the Cat 302.7 CR, 303 CR and 303.5 CR Compact Radius, which it launched in 2021.
However, Sam Matthews, product & application specialist for mini excavators and small track type tractors in Europe, Africa & Middle East, Caterpillar, reveals the company is currently developing an electric machine. "To help customers achieve their sustainability goals, we will expand the portfolio with a 301.9 battery electric model which is currently in development.
"This model will be equipped with a 32kWh (gross capacity) battery which allows to run the machine for extended periods. We will be releasing an off-board fast charger for it too. The 301.9 battery electric model will have the same features as the other next generation mini excavator models and with the same linkage and cylinders as the 301.8."
Technological advances
Another key factor that Hitachi's Bardas points to is technological advancements, which he says was a consideration for the OEM with its latest launches. "The ZX55U-6EB mini and the ZX85-6EB compact excavators are equipped with ICT solutions, safety features such as rear- and side-view cameras, and benefit from the Zaxis-6 cab, which is renowned for being highly comfortable and spacious, with an ergonomic seat and user-friendly controls and colour monitor."
The demand for technological solutions from the market is also echoed by David Cockayne, regional director, Northern Europe at Yanmar Compact Equipment EMEA, who points towards planned and predictive maintenance via telematics as a key driver for innovation in mini and midi excavators.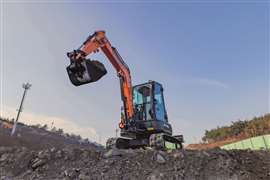 For Develon (previously Doosan), telematics is already a key feature in some of the company's latest models. Stephane Dieu, excavators product manager, Europe for Develon, says that, "With the arrival of our DX-7 range, all of the new mini-excavators in the range are now equipped with our DoosanConnect telematics system, which was restricted in the past to only our medium and heavy segments – 14 tonne and over in the excavators. This gives our customers the opportunity to fully monitor their compact fleet."
Elsewhere, Caterpillar has previously launched its Cat Grade platform, which is available in its dozers, excavators and paving equipment Matthews says the company is predicting more demand for this type of technology in the future. "There is a move towards using more technology, especially for the larger models. Tilt-rotate couplers which have been prevalent in Northern Europe are now increasing in popularity in other regions as they enable the machine to reach more work area from a single position and to manoeuvre around obstacles.
"Similarly, Cat Grade and other assist technologies help the operator get better accuracy, do less rework and lower costs."
Next generation equipment
In March this year, Kobelco gave a glimpse into the future of its equipment with the launch of the SK34SR-7 and SK39SR-7 mini excavators, which are said to offer increased engine performance, improved operability, an updated cabin interior and easier maintenance when compared with the previous SK30SR-6E and SK35SR-6E.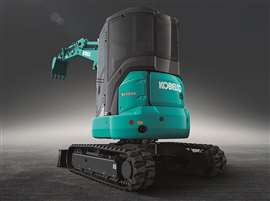 In addition to the new cabin design, the Kobelco SK34SR-7 and SK39SR-7 comes with increased engine output (from 18 to 19 kW), larger bucket cylinders (from 65 to 70mm) and 15% increase in bucket digging force (from 27.8 to 32kN).
Kobelco says the machines, which were showcased for the first time at the SaMoTer exhibition in Verona in May, demonstrates "how we are continually developing our mini excavator technology and machine concepts in order to better meet the increasing demands of our operators."
Another machine that is currently in the development stage, Yanmar is working on its SV17e electric mini excavator prototype, designed for the 1.5 to 2.0 tonnes segment. According to Cockayne, the unit is powered by an "all-electric drive and features an open-centre hydraulic system with load-sensing hydraulic pump, creating an exceptional experience for both owner and operator. It boasts impressive digging, lifting and carrying capabilities, all while meeting the world's most demanding emissions restrictions and offering ultimate comfort, ergonomics and control."
First EV mini from New Holland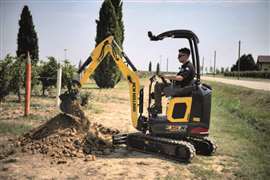 New Holland Construction is releasing its first commercially available EV machine E15X, the electric-powered, zero-emission mini excavator that debuted at ConExpo 2023 in Las Vegas.
The E15X has a 29hp cobalt-free lithium-ion battery and a 21.5hp motor – equivalent in power to its E14D diesel counterpart.
When fully charged, the battery can operate for up to eight hours, and it can recharge in 10 hours with a standard 110V outlet or within an hour with its fast-charge features, the manufacturer said.
The mini excavator uses bio-hydraulic oil to extend service intervals; comes with pre-set precision, normal, productivity and individual control modes that can be independently adjusted; and runs quieter than similar diesel models.
The machines variable height and width adjustments allow the E15X's undercarriage to be narrowed to 31 inches and the height to be lowered to less than 4.9 feet by rotating the roll bar. According to the manufacturer, customers can fit the E15X through most standard-sized doors.
NEWSLETTER
Delivered directly to your inbox, International Rental Newsletter features the pick of the breaking news stories, product launches, show reports and more from KHL's world-class editorial team.
CONNECT WITH THE TEAM
CONNECT WITH SOCIAL MEDIA