What on earth is internal PPE?
From ice jackets to specially formulated hydration drinks, the market for innovative solutions designed to keep construction workers cool in the summer heat is growing fast. Lucy Barnard looks at some of the new products on offer.
With 2023 on track to be the hottest year on record, construction firms are looking to new technologies to keep workers safe from the heat.
Manufacturers around the world are coming up with novel solutions - some of whom are billing them as 'internal PPE' - to keep construction workers cool and well hydrated in soaring temperatures.
Innovations include clothing designed to include icepacks, wearable technology that includes fans and hydration drinks designed especially for outdoor workers.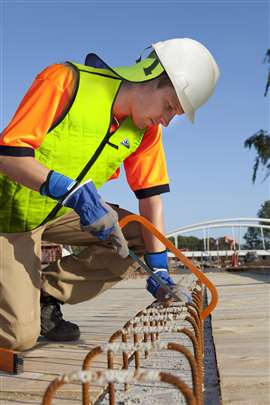 As concerns about heat stress and dehydration among construction workers continues to rise, drinks manufacturers too have started marketing hydration drinks specially formulated for construction workers.
Hypotonic drinks brands such as Working Athlete, Thorzt, and Hydrant are all being marketed specifically at manual workers as a way of preventing dehydration on construction sites.
US-based Working Athlete, which was created by a former American football director of athletic performance, has been marketing itself as "internal PPE" for construction workers.
Mark Paulsen, company founder says that the brand replaces the sugar element of sports drinks such as Gatorade with nutrients such as magnesium, glutamine, vitamin C and amino acids which construction workers lose quickly when working in high temperatures.
"You invest in all these things on the outside, your goggles and helmets and fire-retardant clothing and all this stuff, which is necessary, but nobody stops to think about the driving mechanism which is the human body," he says. "It's generally not going to be your boots that give out on you, it's your body."
And that's not all. UK-based startup TechNiche, which, among other things, produced the 55,000 StayQool hi-vis cooling suits distributed to construction workers building the Qatar World Cup stadia, reports that sales of its vests, hats, neckbands and other garments with built-in cooling technology have risen this year.
"Never before has it been more important for government organisations and major workforce employers to embrace science-based data to address the issues around heat stress for labour workers," says James Russell, TechNiche managing director.
The company worked with World Cup organisers to develop the suits, made from an outer layer of mesh fabric embedded with phase change materials that absorb and hold heat away from the body, originally designed by NASA to cool astronauts.
It says that by soaking the outer layer of the suit in water for two minutes each morning, construction workers in Qatar were able to reduce skin temperatures by as much as 8ᵒC for up to seven hours.
And TechNiche is not alone. Companies estimate that the cooling-gear sector alone has grown from $30 million in sales in 2020 to around $100m in 2023 and most expect it to grow even more over the coming years.
Qore Performance, a company established by a Californian law enforcement officer, works along similar lines, incorporating panel-like containers which can be filled with water, frozen, carried in a vest and then drunk via a tube as the ice melts.
Dutch firm EZ cooldown produces a similar vest which uses frozen vegetable-oil based fluid instead of water in order to reduce bulk.
In Japan, manufacturers including power tools and accessories maker Makita, markets fan jackets, complete with battery-powered electric fans to customers including carpenters and builders.
Certainly, the need for better heat protection for construction workers is growing.
According to data from the EU's Copernicus Climate Change Service (C3S), in June, July and August, the global average temperature reached 16.77ᵒC, which was 0.66ᵒC above the 1991 to 2020 average.
For construction workers, who are becoming more and more frequently required to undertake strenuous activity in extreme temperatures, the dangers are clear.
According to the US Bureau of Labor Statistics, environmental heat caused the deaths of 436 workers between 2011 to 2021 and was responsible for more than 70,000 injuries between 1992 and 2017.
Moreover, US-based NGO Public Citizen points out that these statistics only include deaths directly caused by heat stroke and heat exhaustion and not the many illnesses and accidents for which heat and dehydration were contributing factors.
It estimates that heat stress can kill up to 2,000 workers and cause an additional 170,000 injuries on the job each year in the US alone, costing the US economy $100bn annually.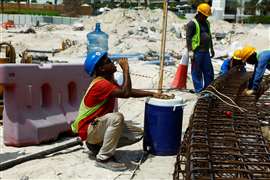 "The toll of unaddressed workplace heat stress on workers' lives and well-being is immeasurable and unacceptable," says Juley Fulcher, worker health and safety advocate with Public Citizen. "For every 1°C increase in temperate, workplace injuries rise by 1%, making heat stress prevention crucial."
But do these measures even work?
Occupational cooling technology remains a largely unproven field, with a small body of academic research on certain devices in workplace settings.
So far, the results are mixed. Research led by Lund University looking into the effectiveness of ice vests by measuring the responses of volunteers running on a treadmill in hot conditions, found that on average the vests reduced sweating by 13% and could promote efficient work time by 10%.
However, research led by Boston University which studied the effects of cooling bandanas and vests on farm and landscaping workers in Florida in 2020 found that although the bandana proved effective in keeping workers' core body temperatures at safe levels, 40% of those wearing the vests reported symptoms of heat-related illness.
A limited 2021 study of 50 workers by Qatar Airways and Qatar Aviation Services found that when workers were provided with hypotonic drinks and educated about the benefits of staying hydrated, dehydration levels fell from 50% to just 2%.
Official guidelines by the US-based Occupational Safety & Health Administration (OSHA) continue to emphasise the importance of water, rest and shade for outdoor workers in hot conditions.
NEWSLETTER
Delivered directly to your inbox, International Rental Newsletter features the pick of the breaking news stories, product launches, show reports and more from KHL's world-class editorial team.
CONNECT WITH THE TEAM
CONNECT WITH SOCIAL MEDIA