What makes the tracked excavator so versatile?
By KHL editorial staff02 November 2022
Tracked excavators are meeting demand from major construction and infrastructure projects, with robustness, fuel efficiency and operator comfort among the key features across all weight categories.
Durable giants with grip and traction, the sturdy characteristics of tracked excavators of all sizes make them useful for soft terrain, or uneven or sloped surfaces where stability and digging power are key.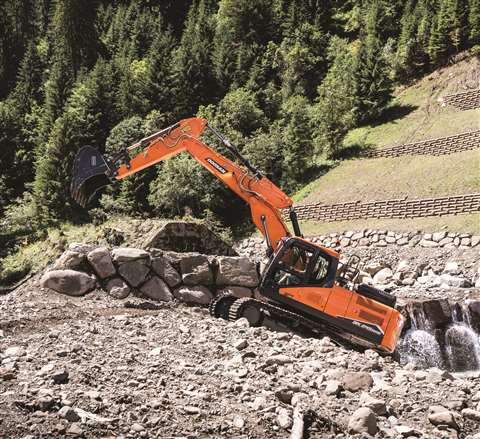 Their robustness also makes for minimal downtime, a boon in an increasingly cost-constrained environment.
Stage V compliant mini excavators
At the lower end of the size range, in September Doosan Infracore launched the next generation mini excavator range for the Europe market, with the first four models the DX27Z-7 2.8 tonne, DX35Z-7 3.9 tonne, DX50Z-7 5.4 tonne and DX55R-7 5.7 tonne Stage V compliant models.
The zero tail swing design of the DX27Z-7, DX35Z-7 and DX50Z-7 and the reduced radius design of the DX55R-7 models position them for work in confined spaces on construction, landscaping and utility projects.
The DX27Z-7 and DX35Z-7 are powered by the Doosan D17 Stage V compliant diesel engine providing 18.4 kW (24.7 HP) of power at 2400 and 2200 RPM, respectively.
The DX50Z-7 and DX55R-7 are powered by the Doosan D18 Stage V compliant diesel engine providing 36.4 kW (48.8 HP) of power at 2200 RPM.
The OEM says the result is four models that offer high power and torque in their respective classes and cover a wide range of applications including heavy duty work.
A new platform design featuring new upper structures has increased durability/robustness, while high hydraulic flow across all four enhances work with attachments.
"In all of these next generation mini excavators, newly designed cast counterweights ensure excellent machine balance and stability when working. In the DX27Z-7 and DX35Z-7, long arm options are available for both models with 60 and 100 kg additional counterweights included, respectively. An additional 200 kg bolt-mounted counterweight option is available for the DX55R-7."
Meanwhile a newly designed "high comfort" cab, has a full glass entry door to maximise operator visibility on this side of the machine from inside the cab.
The high luminance LED work lamps on the cab further enhance visibility and additional LED lamps are also available as an option.
The mini excavators incorporate a new dozer blade providing what are said to be a higher dozer lifting height and dozer digging depth than other machines on the market.
And the boom swing cylinder has been placed on the left-hand side of cab, allowing the operator to work right up against walls and other structures on the right hand side of the machines.
Low maintenance medium sized excavators
Moving up the scale, the new Doosan Medium Sized 'DX-7' Tracked Excavator Range, comprises 11 new models, completes the OEM's medium sized 'DX-7' range of Stage V crawler excavator models from 14 to 25 tonne.
The new additions are the DX140LC-7, DX140LCR-7 and DX160HT-7 14-16 t Crawler Excavators; the DX235LC-7, DX235LCR-7 and DX255LC-7 23-25 t Crawler Excavators; the DX225LC-7 23 t Crawler Excavator; the DX245NHD-7 25 t Crawler Excavator; the DX210-7, DX210NLC-7 and DX210LC-7 21 t Crawler Excavators.
Doosan says the machines combine enhanced comfort, increased tool carrier capability and novel operator assist technology, with new features to boost fuel efficiency, uptime and return on investment, with a focus on increased power, robustness and agility.
"Maintenance of the diesel particulate filter (DPF) has also been reduced, with no maintenance required until the machine has operated for 8000 hours."
The DX-7 medium sized machines share new features including High Comfort Cab, Tiltrotator Mode, Heavier Standard and Optional Counterweights, Enhanced Tool Carrier Capability, Smart Hydraulic System, Fine Swing Function, and Lifting Eye.
Operator comfort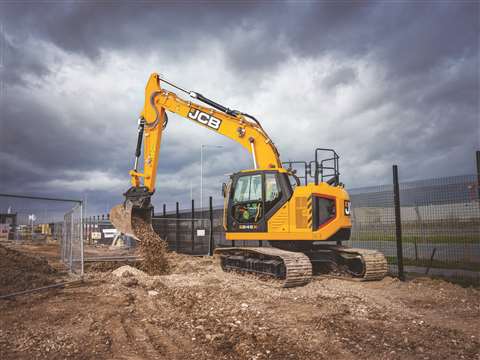 Meanwhile from JCB comes the first Stage V reduced swing model in its growing X-Series crawler excavator line-up.
The 245XR will compete in the 22-26 tonne reduced swing market, with a focus on operator comfort, stability, productivity, efficiency and serviceability.
The new machine features a Stage V JCB Dieselmax engine, easy access to service and maintenance points, and stability for maximum lifting capacity.
At 1,720mm, the 245XR has a tail swing that is 40% shorter than the conventional 220X, with which it shares many features.
The machine can be ordered with a choice of monoboom or a TAB triple articulating boom and there is a choice of 2.4m and 3.0m dipper arms, for increased breakout or maximum reach.
Maximum digging reach with the monoboom is 9,952mm, with a maximum digging depth of 6,627mm.
The full size, one-metre-wide cab has an internal noise level of just 69dBa, among the quietest in the sector.
There is plenty of storage around the cab, with a large space behind the operator's seat, and standard specification includes climate control, a factory-fit Bluetooth radio, window blinds, refuelling pump and tool kit. Specific packs to suit individual regions will also be offered.
MEA and Asia excavator markets
Beyond Europe, Bobcat has just launched the new R2-Series generation of 5-6 tonne mini excavators for the Middle East and Africa market – the E50z and E55z models offer a number of features and options.
Robert Husar, Product Line Director for Bobcat Mini Excavators in EMEA, says; "The truly striking styling of these new machines is indicative of their robust and dynamic design and excellent machine fit and finish.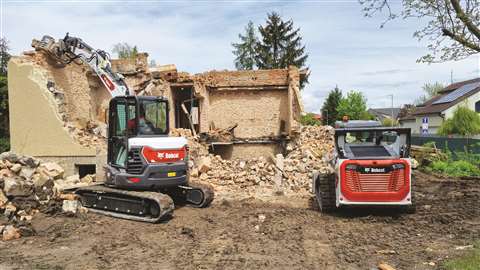 "All these models offer a best-in-class mix of high performance, superb stability and smooth controllability of the working functions."
"In the E50z and E55z, Bobcat's unique Zero House Swing (ZHS) feature adds another level of protection to the standard zero tail swing design, providing full peace of mind when operating the machine near walls.
"With ZHS, the rotation of the upper structure of the E50z and E55z remains fully within the footprint of the tracks. This includes the boom swing offset cylinder, front corners, handles, lights and even the door in both open and closed positions."
The E50z ZHS model is an easy-to-use, robust machine optimised for specific rental industry needs while introducing the next level of operator comfort and features required by demanding owner-operators."
The weight has been increased and optimised in the E50z to maximise stability, which has allowed Bobcat to provide a long arm as standard equipment.
The E55z is positioned as a premium performance model - it is the largest and most powerful Bobcat machine with the ZHS design.
Up to three arm-mounted hydraulic auxiliary lines plus a case drain line enable customisation options for attachments, enabling the machines' use as tool carriers.
Hydraulic equipment from Caterpillar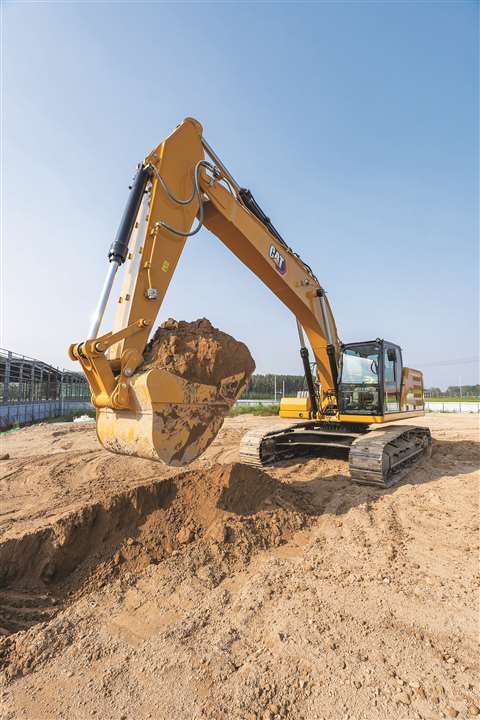 Juan Vila, Caterpillar excavation products and application specialist - Africa & Middle East, tells IRN the Cat 333 excavator - released in early 2022 for the Africa, China, Middle East, Indonesia, South-East Asia markets - offers increased digging force, durability and low cost-per-hour operation.
"Built for tough applications, the new Cat 333 Hydraulic Excavator offers an increased bucket size, up to 10% more bucket force and up to 15% more stick force than the Cat 330 to maximise performance.
The 333 excavator also has a wide track gauge and reinforced structures for increased stability and durability. Extended maintenance intervals combine with a fuel-efficient hydraulic system and two engine power mode options to lower cost-per-hour operation.
It features two engine operating modes – Power and Smart – to match the machine to jobsite conditions.
Power mode delivers maximum power to meet the most demanding tasks, while Smart mode automatically matches engine and hydraulic power to digging conditions, offering up to 10% fuel savings.
Combined with higher digging forces, the excavator's large bucket capacity is designed to move more material in fewer passes to improve productivity.
Environmentally friendly excavators
Stringent environmental regulations in many cities have resulted in a plethora of Stage V machines that are also tailor made for tight urban work.
Komatsu Europe's January launch of its redesigned PC170LC-11 excavator is a case in point.
"With growing demand for environmental solutions, and urban areas becoming increasingly sensitive to emissions, the PC170LC-11 EU Stage V crawler excavator provides customers with the opportunity to participate in any tender, demonstrate environmental credentials, and future proof their investment," says Paul Dickinson, Product Manager at Komatsu Europe.
"The updated PC170LC-11 Stage V has many new features. The introduction of Komatsu Integrated Attachment Control, with flow and pressure settings for up to 15 attachments, means quick and easy tool changes.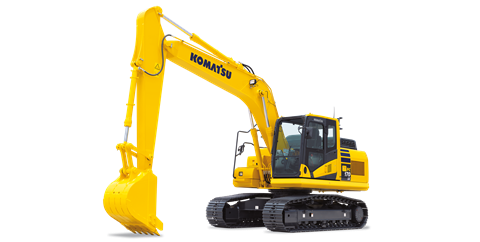 "The new blade specification undercarriage, with two width options, provides additional functionality for site clearance and basic dozing activities as well as additional stability for digging.
"The new LED work lamps extend the working day with daylight-like illumination in the working area and around the machine. Not forgetting, the Komatsu designed and developed low ground pressure option is available for those applications requiring ultra-low ground pressure."
Komtrax telematics and Komatsu Care, a Komatsu maintenance program for customers, offer fleet management and support, protect the machine against misuse and guarantee maximum efficiency and uptime.
Low fuel consumption
Case Construction Equipment introduced its E-Series range of crawler excavators in early 2022; and it also had uptime in mind.
There are seven models in this updated line-up, from the CX130E, through to the CX300E, covering the most popular European weight categories, says Egidio Galano, Director, Construction Equipment Product Management Europe, CNH Industrial.
"All of the E-Series machines are powered by the latest EU Stage V compliant FPT Industrial engines. When combined with the improved Case Intelligent Hydraulic System (CIHS), which offers new working modes and an efficiency-enhancing Super Power (SP) mode, some models deliver up to a 17% improvement in fuel consumption.
"This has become a critical consideration this year, with the construction industry now forced to use white diesel, rather than tax-rebated red diesel, massively increasing bills for operators. By reducing fuel consumption and cutting maintenance costs, Case Construction Equipment continues to deliver lower total cost of ownership for customers."
Demand for crawlers from demolition and rental 
In a further move to cut operating costs, Case has doubled maintenance intervals, from 500 hours to 1,000 hours, for the engine oil, oil filters and fuel filters.
This in effect halves regular maintenance costs across the E-Series line. In addition, the FPT engines are ready to work with a range of alternative fuels if desired, including the increasingly popular HVO (hydro-treated vegetable oils), that offers even lower emission levels.
"The E-Series excavators are all equipped with a bi-directional modem that enables the use of a range of Case Service Solutions, such as Case SiteWatch and Case SiteConnect, says Galano.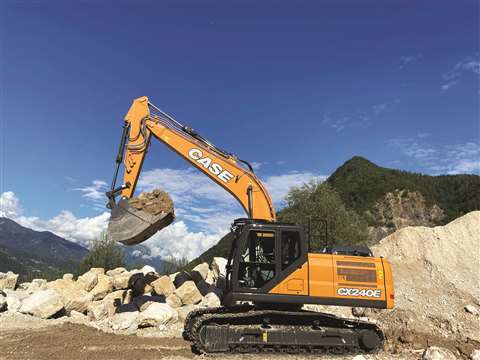 "Case SiteWatch is a telematic fleet management tool providing geolocation, for added security on site, along with a range of performance data, such as fuel consumption, utilisation rates, machine working hours and idling time, helping fleets to better manage their equipment on site.
"Continued demand from house building, civil engineering, infrastructure, demolition and rental customers, means the crawler excavator market remains incredibly buoyant, with demand for all sizes of machine.
"As with all sectors of the equipment market, there have been challenges in meeting this demand, with component supply in particular affected by the global pandemic, by shipping delays and by shortages of parts like supercapacitors.
"As part of the larger CNH Industrial group, Case continues to work with its suppliers to meet this challenge and to provide customers with the equipment that they require in a timely manner."
NEWSLETTER
Delivered directly to your inbox, International Rental Newsletter features the pick of the breaking news stories, product launches, show reports and more from KHL's world-class editorial team.
CONNECT WITH THE TEAM
CONNECT WITH SOCIAL MEDIA