What does the future hold for telehandlers?
By Lindsey Anderson03 May 2022
From new units to a hotter-than-hot market, the telehandler industry is poised for a solid year ahead. Lindsey Anderson reports on the latest.
It was a question they had been asked by customers for years: When is JLG going to get into the rotating market?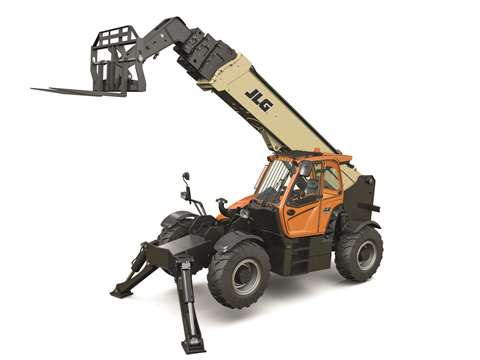 JLG answered that burning question late last year when the company announced they would introduce three rotating telehandler models for the U.S. market through a newly formed partnership with Italian manufacturer Dieci, which has produced rotators for more than 20 years.
"We have spent a significant amount of time working with Dieci to really focus on the design of these machines and to engineer them to look and feel like any other JLG machine," says Rogerio dos Santos, vice president of engineering for telehandlers at JLG. "When the time came to really get into the rotating market, our two highly regarded brands paired with Dieci's well-established rotating presence in Europe allowed us to develop a product that would meet the specific needs of the North American market."
Thus, the R1370, R1385 and R11100 rotating telehandlers were born. Featuring max lift heights from 67.3 to 97.1 feet and max lift capacities of 11,000 to 13,200 pounds, the three new JLG models have similar base configurations, though the R1370 and R1385 have four-section booms, while the R11100 has a five-section boom. All boom sections, regardless of model, are cylinder- and chain-driven to support higher reach and greater lift capacity.
"We really leveraged the product design and engineering expertise of both companies," dos Santos says. "Our customers can expect the same level of product quality, parts, service and support that they have come to expect from JLG products."
Automatic attachhment recognition 
JLG focused on standard key features for the new rotators – such as foam-filled tires, front and rear scissor-style outriggers with automatic leveling jacks, standard and continuous auxiliary hydraulics and 360-degree continuous rotation of the upper frame. This continuous rotation, dos Santos notes, enables both horizontal and vertical lift-and-place capabilities, adding a new layer of functionality where it's difficult to maneuver a traditional telehandler.
With automatic leveling jacks, the units' frames can be leveled up to six degrees to compensate for uneven terrain, improving machine safety and versatility.
Each model has also been engineered with three additional technologies: Automatic attachment recognition, a Load Management Information System (LMIS) and a Load Stability Indicator (LSI).
"The automatic attachment recognition system recognizes the attachment at the end of the boom, alerts the operator for confirmation, then loads the appropriate load capacity chart," dos Santos explains. "LMIS indicates whether the load is compliant and prevents operation that violates the chart's boundaries and LSI limits the rotating telehandler's functionality when a load nears maximum capacity."
These technology advancements were crucial to JLG.
"A very important focus for us was making the machines and operating interface as simple and intuitive as possible," dos Santos says. "Also, the three-in-one machine capability allows these rotating telehandlers to complete work done not only by traditional telehandlers, but also by MEWPs when equipped with a platform attachment or rough terrain cranes when equipped with a truss boom and winch — potentially eliminating the need for cranes up to 97 feet."
JLG expects their rotating units to be used throughout urban and congested jobsites where maneuverability might be an issue. They also see applications within warehousing construction, city center projects and more.
Production of JLG's rotating units has already started and dos Santos says the company has orders on the books. Units will start shipping in April 2022, however, a number are already in the field here in the U.S. as JLG customers are testing the machines to provide feedback.
In relation to the new units, JLG will also offer operator and service training certification specific to the rotating telehandlers, and, the company adds, parts are already in stock and ready to ship from its U.S.-based warehouses.
Demand for telehandlers increase
One could argue that in their infancy, telehandlers were perceived as little more than pick-and-place machines. Just 15 years ago, OEMs sometimes had to make a case for companies to choose a telehandler over a straight-masted RT forklift.
Oh, how far we've come.
From ultra-compact units to heavy-lifting rotators, telehandlers have not only solidified their place on the jobsite but continue to change the way work is done.
Looking back at a better-than-expected 2021, OEMs reported strong demand and sales for teles; during the three months leading up to Dec. 31, 2021, JLG's telehandler sales increased by more than 71% to $210.6 million compared to the same period the year prior. And with the U.S. construction market poised to keep climbing, the industry should expect demand for these units to do the same.
According to the Association of Equipment Manufacturers (AEM,) the construction pipeline, especially on the residential side, remains solid, and the association expects 2.7 percent growth for construction as a whole this year. "If that plays out, construction spending in 2022 will surpass 2019, which was a banner year for the industry," the Association said.
The total construction pipeline has $464 billion currently under construction, $742.71 billion in pre-tender, $33.65 billion in tender and $28.28 billion in the award/financing stage. Another $233 billion has been delayed or canceled, largely due to labor and materials shortages.
"The American Jobs Plan will give a big boost to spending on infrastructure," said AEM Director of Market Intelligence Benjamin Duyck. "The biggest impacts will be in 2022 and 2023."
Marked momentum
Another new rotating entry for the North American market came from JCB last year. The 512-83R features a lift height of 83 feet and a 12,000-pound maximum capacity.
Rebecca Yates, JCB's product manager – material handling, said demand for all JCB telehandler models—from compact to larger capacity to rotating—continues to show signs of significant growth for next year. Yates noted wind and solar sectors, large corporate building projects and general construction are all moving in a positive direction.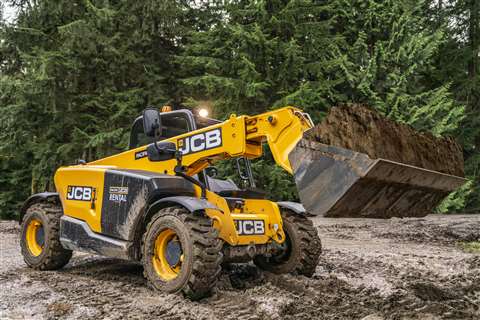 "JCB telehandler demand was consistently strong in 2021, and it has continued to increase as we've expanded our lineup to include the 505-20E electric compact telehandler and the 512-83R rotating telehandler," Yates says. "General construction and commercial development are the leading applications, but we're also seeing telehandlers work on roads and bridges, wind and solar farms and in industrial applications. Telehandlers have always prided themselves as first on the jobsite and last to leave. And with the need for materials to be placed quickly and in more locations, the telehandler is critical to keeping jobs moving."
JCB also blazed a new trail in the telehandler industry last year with the introduction of its fully electric 505-20E compact telehandler.
"The move to electric offers new applications where telehandlers haven't worked before, including inside buildings, around food and animals or even underground; it also allows for greater productivity on job sites for night or early morning prep without noise concerns while still providing 5,250 pounds of capacity," Yates notes. "Eco-friendly power source options are expanding opportunities for so many types of equipment, and telehandlers are no exception. Electrification isn't the last stop for telehandlers, JCB is taking the lead to develop other power sources like hydrogen and will continue to move the market to create new trends."
Also feeling the electric shift is Snorkel, which experienced increased interest in its all-electric telehandler, the SR5719E, says Matthew Elvin, Snorkel and Xtreme Manufacturing CEO. Snorkel says interest came from large contractors and rental companies looking to meet growing emissions and noise regulations in densely-populated urban areas.
"Globally, electrification is a significant trend," Elvin says. "At Snorkel, we were one of the first companies to offer a fully electric compact rough terrain telehandler which can deliver equivalent performance to its diesel counterpart. While we expect to see availability of more electric compact models in the coming months and years, technologically, the electrification of high-capacity telehandlers remains a little more challenging from both a performance and affordability standpoint."
The telehandler market remained strong in North America for telehandlers during 2021, Elvin says, noting the Snorkel SR5719 remained the company's highest volume model last year, and continues to be popular on construction jobsites due to its compact dimensions. On the Xtreme side of business, sustained demand remains for the 12,000-pound capacity lifts alongside the higher capacity models this year, such as its 15,000-pound capacity telehandlers and larger models.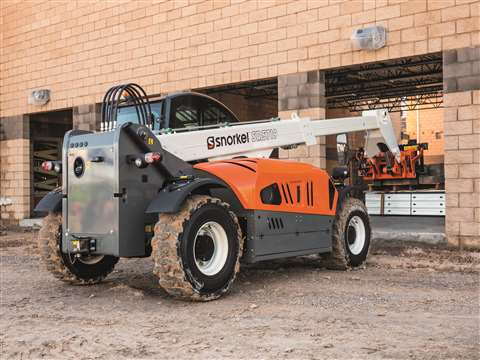 "Demand for telehandlers, and indeed most high reach equipment, remains strong and we anticipate that this will continue through 2022," Elvin says. "The biggest challenge facing the industry in 2022 is whether the supply of equipment can meet demand. Currently, with supply chain constraints, we may see a shortfall of new equipment through at least the first half of the year."
Supply chain issues for manufacturers
Mitch Fedie, marketing manager for Pettibone, also is concerned about supply chain kinks, though he does admit 2021 was "very strong" for Pettibone.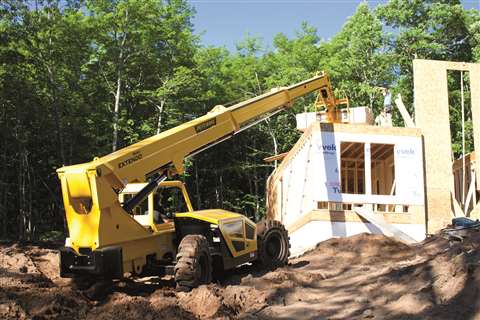 "The housing market has been strong, and it's been a good market for contractors who do residential and commercial construction," Fedie says. "In that regard, the demand for telehandlers, as well as other construction equipment, has certainly seen an increase. It's been a 180 from 2020, when there was so much uncertainty with particular jobs not happening.
"The challenge right now across the industry is in getting components to meet demand and managing some of the increased costs."
Pettibone introduced the Traverse T1056X telehandler last year, the company's first 10,000-pound capacity traversing model, which filled an important gap in the company's lineup.
For 2022, even more new machines will debut from the Michigan-based manufacturer, including two new 15,000-pound capacity X-Series units.
"I see the market itself in 2022 being even stronger than 2021," Fedie says. "As of now, we expect availability to be a strong point for Pettibone X-Series telehandlers, so there's a good opportunity for us to help refresh inventory for dealers and rental fleets."
Electric solutions in telehandlers
Genie expects that demand will remain strong, but also notes challenges regarding raw materials and supply chain constraints.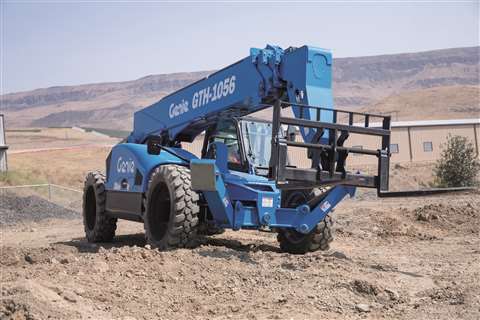 "This really is an unprecedented situation of sustained pressure on global supply chains," says Amalija Kopac, Genie product manager. "As a result, equipment owners are being forced to age their fleets. Aside from working to mitigate as much of the supply chain issues that we can, Genie is supporting our customers by focusing on responsive parts and service to assist customers with maintenance of equipment in the field."
As one of the pioneers of equipment electrification, Kopac notes that Genie has its finger on the plug-in pulse.
"The elephant in the room here is electrification because we're starting to see manufacturers come out with electric solutions," Kopac says. "This is certainly something we're looking at and paying close attention to at Genie. But we don't want to introduce an electric telehandler just because we can. Instead, we are focused on introducing the right technologies, and the right features, at the right time, so that they meet the needs of equipment operators on the jobsite and add greater value for equipment owners and their business."
The latest Genie telehandler, the GTH-1056, was introduced in early 2021 following its initial release in 2006. In the years that have passed, Genie says it made significant improvements to incorporate into the redesign of the unit.
"It offers the option of a 74-hp DEF-free engine that can be configured with an optional Continuously Variable Transmission (CVT,)" Kopac explains. "The CVT improves efficiency by transferring more engine power to the drivetrain, compared with a powershift transmission. Together, the 74-hp engine and CVT provide comparable drawbar pull to a 120-hp engine and powershift transmission, but without the need for DEF or aftertreatment. The end result is a more fuel-efficient machine that requires less engine maintenance and a lower total cost of ownership."
Strong rental demand for telescopic handlers
Manitou Group says its 2021 telehandler sales shaped up strongly.
"For North America, the rental and dealer fleet sales continue to have the highest demands," says Steve Kiskunas, Manitou's product manager – telescopic handlers. "We continue to see strong rental market demands because the telescopic handler is a well-established construction rental tool within the North American market."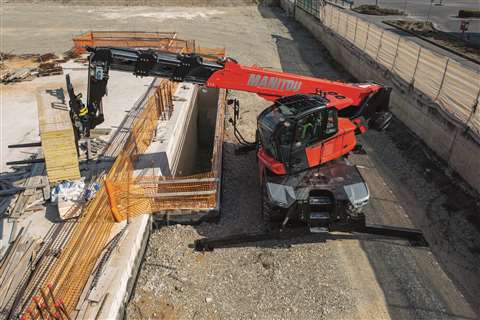 Manitou expects 2022 to continue to be a strong market for telescopic handler sales and the North American construction market in general.
"We are optimistic that the economy will continue to recover from the effects of the pandemic as we find new methods of working without virus exposure," Kiskunas says. "The biggest impact to the telescopic handler market right now, however, is the unfortunate supply chain issues we face as an equipment producer. These supply chain issues are delaying shipments due to component shortages."
In 2021, Manitou introduced the MRT Vision and MRT Vision Plus rotating telehandlers, which replaced the previous Manitou Privilege and Privilege Plus rotating telehandlers. The company has plans to introduce new models this year, but details have not yet been released.
2022 shows positive signs for the industry
Over at AMS-Merlo, positive sentiments also ring loud. "2021 was an exceptional year for us across our entire product offering," says Austin Bailey, sales manager for the company. "We've seen a large uptick on our P120.10HM, P65.14HM and Roto models but I would say the fastest growing market for us in 2021 was with the tree care industry.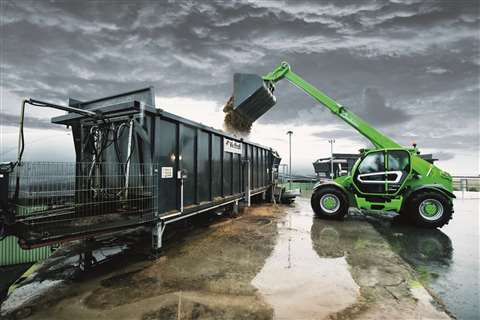 Bailey says arborists have discovered rotating telehandler models and have adapted the units with grapple saw attachments to utilize as tree cutting machines.
"This has drastically increased their productivity on jobs, allows them to do more jobs in less time, and also helps with the shortage of skilled labor," Bailey says.
In regard to the coming year, Bailey expects 2022 to be a continuation of 2021 and be an even stronger.
"We've added a lot of great dealers this year to our dealer network and with those new dealers and new markets come opportunities," he says. "We're excited for what 2022 will bring and anticipate the high capacity and rotating telehandler models to continue to be top performers for us."
Just up the coast at Magni, Gary Weisman, COO, says 2021 was "extremely positive" for the company – unit volume more than tripled when compared to 2020, and Magni added numerous new dealers, expanding its coverage across the whole of the U.S.
Magni introduced several new models to its TH line of traditional straight telehandlers in late 2021, and in relation, Weisman says, "We are ready to tackle the mainstream market but with safety features never seen before in the United States."
Magni telehandlers feature an advanced load limiting system, digital load chart with LMI and touchscreens.
"While rotating telehandlers are really taking hold," Weisman notes, "for Magni, the safety factor afforded by all our machines is a game changer. With safety being such an important consideration, and Magni's unique ability to help eliminate the potential for operator errors, more and more companies are seeing Magni as the go to solution."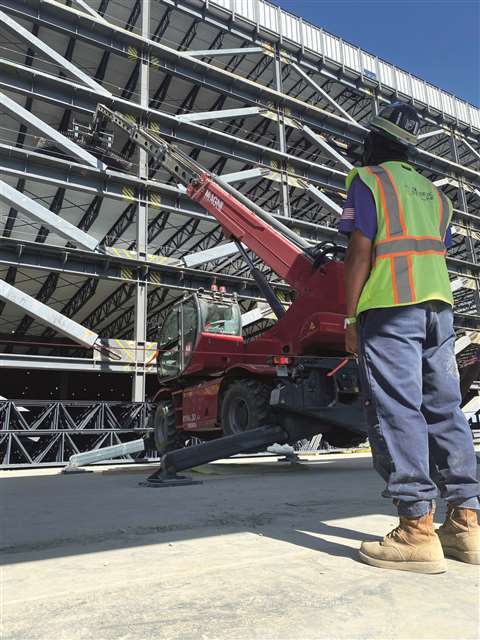 Up North, Skyjack witnessed steady growth of its telehandler series over the past five years, noting 2021 was no exception as a recovery to pre-pandemic levels was evident as the market grew over 30 percent in comparison with 2020. In mid-2021 Skyjack introduced an updated TH range, which, the company says, has successfully led to a percent increase in telehandler sales in the North American region. Skyjack expects this steady growth for all its TH models to continue into next year.
Compact telehandlers leads North American market
Bobcat, which also introduced a new telehandler last year, the TL619, says the small and mighty compact sector remains strong for the company.
"The biggest trend impacting telehandlers in North America today is the increased popularity of compact telehandlers," says Justin Moe, product specialist for Bobcat. "These machines have the maneuverability of an articulated wheel loader, the attachment versatility of a skid steer loader and high reach of a telehandler."
NEWSLETTER
Delivered directly to your inbox, International Rental Newsletter features the pick of the breaking news stories, product launches, show reports and more from KHL's world-class editorial team.
CONNECT WITH THE TEAM
CONNECT WITH SOCIAL MEDIA