Volvo, JCB, Doosan and more: How are these equipment manufacturers meeting demolition's electric expectations?
By Steve Ducker06 December 2021
With three new electric compact machines – the L20 Electric, EC18 Electric and ECR18 Electric – now being introduced to the market, Volvo Construction Equipment (Volvo CE) now has five such models.
With three new electric compact machines – the L20 Electric, EC18 Electric and ECR18 Electric – now being introduced to the market, Volvo Construction Equipment (Volvo CE) now has five such models.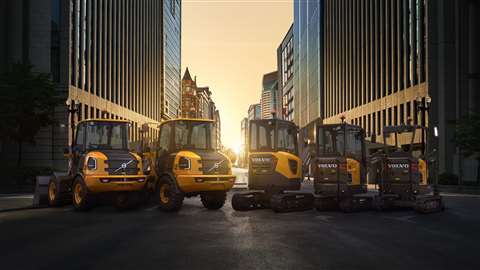 Scheduled for delivery in 2022, the new products are the next step forward in Volvo CE's ambition to reach net zero value chain greenhouse gas emissions by 2040 alongside development of hydrogen fuel cell solutions and more sustainable internal combustion engine products – and is part of the Volvo parent group's target to have at least 35% of its total range of vehicles fully electric by 2030.
'Leading the fight against climate change'
Melker Jernberg, president of Volvo CE, said: "We are proud to be leading our industry's fight against climate change as the manufacturer with the world's largest range of electric machines. Not only are we delivering real-world solutions for a more sustainable way of working but we are adding further power to our customers' business with the widest possible range of choice to best fit their needs."
The L20 Electric compact wheeled loader and EC18 Electric and ECR18 Electric compact excavators join the already launched L25 Electric and ECR25 Electric.
The L20 Electric concept is based on the larger L25 Electric model. It features a 1.8 t payload and a parallel-type linkage offering great visibility over the attachment being used, outstanding lifting height, as well as 100% parallel movements – making it a perfect fit for fork applications too. Expected to deliver up to six hours of active work per charge, the electric machine comes with a choice of battery pack (33 or 40 kWh) and is said to reduce maintenance by 30%.
The Volvo ECR18 Electric – like a diesel but with low noise
The 1.8 t ECR18 Electric is described as the same as its diesel counterpart but with the benefit of low noise, low vibration and more responsive hydraulics due to the immediate torque. Delivering an anticipated four hours of active work per charge, depending on the environment and task in hand, the ECR18 Electric also benefits from an ultra-short tail radius for confined spaces. It has been built with durability in mind – from its high-profile counterweight to all-round steel panels and hoses routed inside the boom.
Easy to operate and transport, the nimble EC18 Electric offers customers a cost-efficient compact excavator working in 1.8 t applications. Its variable undercarriage retracts to less than 1 m (3 ft) and expands up to 1.35 m (4.4 ft), allowing it to squeeze into tight areas, while the machine's design ensures the right frame corner, swing post and cylinder stay within the tracks' width, resulting in maximum visibility and a reduced risk of machine damage when working alongside obstacles.
A new fleet management solution designed for the remote monitoring of electric machines is also being developed for all five models. The Electric Machine Management Application (EMMA) will provide insights into areas including battery level and remaining working hours, charging status and geographical location.
Volvo US pilot project – what happened next?
In September, Volvo CE announced the results of an almost year-long pilot project testing the ECR25 electric compact excavator and L25 compact wheeled loader in North America.
The pilot covered sustainability, noise, performance and charging. Among the findings were fuel savings of around US$2,400 based on 400 hours operating time and exterior noise levels 9 dB(A) lower than on their diesel counterparts.
"The California pilot project supports what we've seen on jobsites in Europe and elsewhere," said Melker Jernberg.
"Our battery-electric compact excavator and compact wheel loader are viable alternatives to diesel equipment for construction fleets that want to reduce their carbon footprints. "Climate change is the biggest challenge of our time, we all have an important role to act, and by working together and collaborating we can reduce the amount of harmful emissions that are entering the atmosphere."
Stephen Roy, president of Region North America, Volvo CE, added: "Our customers' response to these machines validates that there is not only a desire for these type of machines in North America, but a pull in many markets."
Bobcat's E10e zero tail swing (ZTS) 1 t electric mini excavator is in full production at the company's compact equipment manufacturing plant in the Czech Republic.
Expanding into North America and Asia with Doosan Bobcat
Doosan Bobcat has chosen the Dobris factory to produce the E10e for all markets worldwide, with the first machines being sold in EMEA (Europe, the Middle East and Africa), with both North America and Asian markets to follow.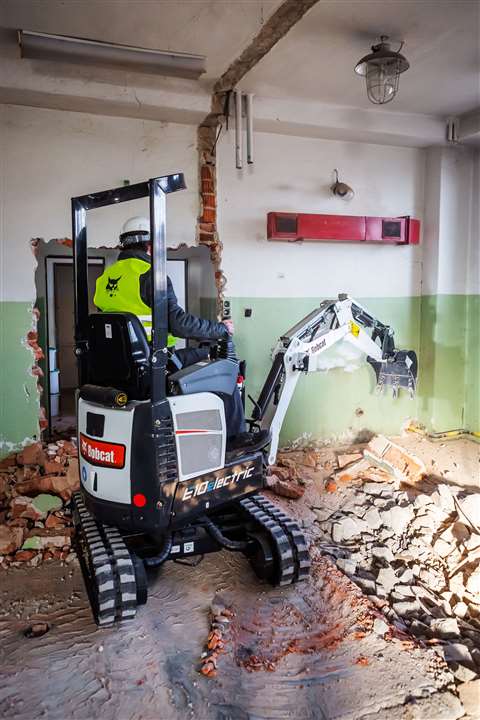 The company says the E10e is built on the same platform and produced on the same production line as the diesel-powered Bobcat E08 and E10z mini excavators.
This line currently has a total capacity of over 2,000 machines a year and according to Bobcat can produce the required mix of diesel and electric models as dictated by actual market demand.
Robert Husar, mini excavator product line director at Doosan Bobcat EMEA, said: "The E10e is just the start of our journey in further expanding our portfolio in alternative power sources. In essence, all the components in the powertrain are made to measure and we have adjusted the processes with our suppliers so that we can increase the production volumes when needed.
"Compact excavators represent the largest share of the construction machinery market and the machines are compact enough to be able to take full advantage of low noise and zero emissions.
"The machines have been well accepted in the most advanced markets such as the Nordics and the Benelux countries. We have also had success in specific applications in the United Kingdom market."
The Bobcat E10e combines zero emissions, low noise and a width of just 71 cm (28 in), allowing it to easily pass through standard doors and in and out of lifts and making it suitable for demolition, basement digging, urban developments and quiet zones.
The E10e has a lithium-ion battery pack with an advanced management system, designed to fit within the standard machine envelope to maintain the machine's ZTS profile, matching all the parameters and dimensions of the standard diesel-powered E10z mini-excavator. Based on customer studies, Bobcat has optimised the battery pack to provide capacity to match typical work patterns.
The E10e can therefore be operated for up to four hours on one charge. By using an optional external 400V supercharger, it can be recharged to 80% of its capacity in less than two hours.
As a result, the E10e can operate throughout a full working day when used with normal work breaks. The battery can also be fully recharged overnight by using the on-board charger from a standard 230 V grid.
Indoor demolition drives demand for Bobcat E10e
"So far, the demand is mainly driven by regulation and partially by the improved working environment, such as for indoor demolition," added Robert Husar.
"Therefore, the markets with the highest demand are also the markets in the forefront of the movement for reduced emissions and electrification in vehicles.
"We feel there are multiple solutions that can co-exist together, depending on the machine size and its application, but electrical power is definitely one of them."
Having developed the 19C-1E electric mini excavator, JCB is to offer a full glazed cab to increase the product's appeal in countries with a colder, wetter climate. The machine will use the same spacious cab as JCB's conventional 1 to 2 t models and will be equipped with an electric heater to provide instant heat to demist windows and warm the cab working environment for the operator.
With a large glazed area, the ROPS/FOPS cab is equipped with easy to replace laminated flat glass. It has a 70/30 front windscreen split, with clear jointing, for an unobstructed view of the digging area. Indeed, the JCB cab offers a clear view all around the machine, with no requirement for mirrors to meet European Union safety standards.
The cab uses the same LED working lights and wipers as the diesel models, making it easier to work in poor visibility or during hours of darkness.
When operating the machine with the heater on, JCB said there is zero impact to the machine's digging or tracking performance. And importantly, the battery capacity allows a full day's shift to be worked.
JCB expects the cab option will increase the appeal of the 19C-1E in Nordic countries and in territories with poor weather conditions, where a canopy is not suitable. The E-Tech cab provides a dry, comfortable operating environment throughout the working day, with a locking door adding to the security of the machine for contractors and rental companies.
How JCB is offering zero-emissions back up on urban jobs
JCB is launching a range of power packs to support its growing line of fully electric machinery – offering zero-emissions electrical back-up to remote and urban construction projects.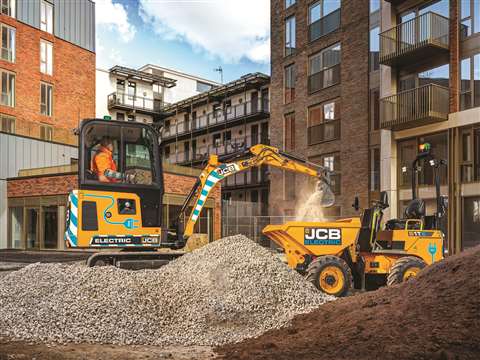 The JCB power pack range will be available with a choice of four or eight automotive quality, maintenance-free lithium-ion batteries. There is no requirement for daily checks, making them ideal for rental companies and contractors.
The batteries' depth of discharge is optimised to prolong the battery health and even after 2,000 full charge and discharge cycles – expected to be over 10 years – the batteries are guaranteed to still have over 85% of their capacity left.
The power pack can be recharged from a mains supply, or an on-site generator. It can then be positioned within emissions-sensitive areas, such as indoors or in tunnelling projects, to provide a zero-emission recharge facility for machinery like JCB's E-Tech 19C-1E fully electric mini excavator. The power packs can also be used to deliver back-up electricity on site, for lighting and security during the night, when site generators may be turned off.
With compact 1 cubic metre (35 cu ft) dimensions, the JCB power pack is supplied with fork pockets on each side of the steel canopy, to allow for easy on-site manoeuvrability. The units can be pallet mounted or stacked, to maintain a small footprint when space is at a premium.
Honda and Komatsu's electric mini excavator partnership
Honda Motor Co and Komatsu have partnered to create an electric mini excavator using Honda's battery pack. The batteries could also be used on other Komatsu equipment.
Hiroyuki Ogawa, president and CEO of Komatsu, and Honda's president and CEO Toshihiro Mibe signed an agreement that will initially see Komatsu's PC01 micro excavator fitted with Honda's Mobile Power Pack (MPP) battery and an electrified power unit (eGX).
The deal will, in time, also see the companies explore the "electrification of other micro and mini electric excavators of up to the 1 t class" and explore the MPP-based electrification "a variety of equipment used on civil engineering and construction sites, as well as overseas business launches".
The electrified Komatsu PC01 is expected to be launched by the end of March 2022. Described by Komatsu as the world's smallest excavator, it has an operating weight of 380 kg (837 lb) and can be transported on a mini pickup truck.
As part of the deal Komatsu, will also make its electric micro and mini excavators available more widely and add "a variety of electric equipment on civil engineering and construction sites" to its smart and electric operations.
Compact crushing gets the hybrid treatment
It is not just excavator and wheeled loader manufacturers that are taking a view of the potential of hybrid and electric equipment. The compact crushing market is starting to embrace it too.
United Kingdom-based Dragon Equipment has produced the CR300H, a compact hybrid crusher that it describes as not only powerful enough for the toughest of jobs, but also functional and easy to operate. The patent-pending jaws of the new CR300H can crush up to 7 t/hr into reusable hardcore.
Built entirely in the UK, the CR300H weighs under 780 kg (1,720 lb), has a single lifting point, and multiple tie-down points – combined this makes for a machine that is easy and safe to transport. Dragon says this makes it easy to attend multiple sites within a day and make more efficient use of time.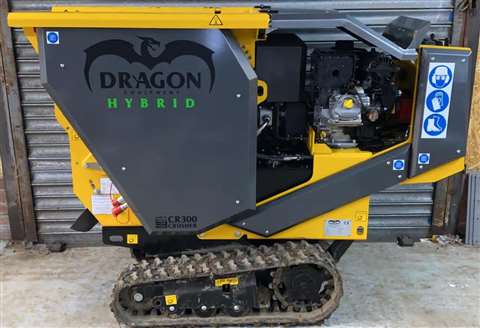 The 700 mm (28 in) width of the machine also makes it suitable for jobs with difficult or narrow access, or where access is through an existing building.
As no hazardous fumes are emitted, it can also be taken through a residential property.
According to Dragon, the inspiration for the hybrid machine came from the automotive industry. Its technology was then applied to the crusher to achieve the desired output.
The hybrid technology reduces the emissions produced while crushing and caters to the fact that many jobs are not in open spaces.
In addition, the built-in dust suppression system also alleviates air pollution concerns, especially for jobs in built-up areas, or those near schools and hospitals.
Article first published in the November-December 2021 issue of Demolition & Recycling International
NEWSLETTER
Delivered directly to your inbox, International Rental Newsletter features the pick of the breaking news stories, product launches, show reports and more from KHL's world-class editorial team.
CONNECT WITH THE TEAM
CONNECT WITH SOCIAL MEDIA