Voice-enabled equipment management platform promises time and cost savings
Foresight's Fleet Intelligence, an equipment management platform for construction companies, rental companies and equipment dealers, has a new AI-powered voice-control feature designed to simplify operations for those who use it. We spoke to Foresight CEO Dale Hanna about what this means for the future of asset management.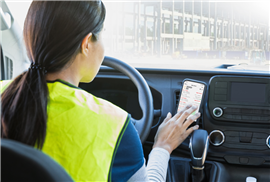 Ever wish you could simply ask your machines simple questions like, "Is it time for service?" "Where are you right now?" or "When is your current rental period up?" Turns out, you can now do just that.
New AI-powered features for Foresight's Fleet Intelligence solution now allow it to be controlled by voice - in English and Spanish - enabling users to speak into their mobile devices to ask for real-time information about the equipment being used for a project.
This can include equipment location, usage, maintenance and inspection details, all based on the user's specific role on the project. By making equipment information easily available, construction companies, rental companies and equipment dealers can better manage their assets, improve utilization and project outcomes, and make certain they are deploying the right resources at the right time.  
Available globally, the new voice control features are designed to be easy to deploy and use, with no training required or technology expertise needed. According to Dale Hanna, CEO of Foresight Intelligence, it's as simple as pushing a button and asking for the information.  
Relieving pain points
The construction and rental industries are facing a worldwide labor shortage, requiring businesses to do more with fewer people. That makes time a more critical commodity than ever.
"Fleet Intelligence helps our customers manage more equipment with fewer people," Hanna said. "We're taking those productivity gains to an even higher level with the introduction of our voice-enabled, multi-language capabilities, which will increase the effectiveness of every team member."
He added, "Construction managers, fleet supervisors, technicians and operators will be able to access relevant fleet and equipment data in their preferred language with the power of their voice."  
One example of how the new voice-enabled feature helps is during equipment delivery and pickup. "Rather than fumbling to figure out where machines are and where you need to drop off, you can just press a button on your phone and say, 'Where is machine #1234 and take me there.' The system then simply maps the driver to the machine," Hanna explained.
Field technicians can simply ask, 'Where's the machine I need to service?' For salespeople, if they're talking with a customer who needs a certain model, they can just say 'Show me the availability of a certain model.'
In construction, every minute and hour saved can add up to significant long-term gains in productivity and profitability.
"Sometimes on a big site, a delivery driver might spend an hour looking for a machine for pickup. If we can save every driver that time, every day, it really adds up," Hanna said. "That matters to our customers."
Another challenge common on job sites is the language barrier. "For between 25% and 40% of the people on a construction job site, English is not their first language," Hanna said, adding that
more languages will be added to the platform in the future. "This voice-enabled function instantaneously gives those individuals the same ability to communicate as their English-speaking coworkers. No additional training is needed: There's a button, you touch it. You talk to it."
Made for mixed fleets
Purpose-built for the construction industry, Foresight Intelligence is designed to provide detailed insights into every aspect of the mixed fleet environment. It allows those working with equipment and vehicles to use their voice to get immediate details on the exact location and status of all their assets and equipment from the office, field or other remote locations.   
Implementing the feature is simple. Hanna says existing customers can reach out to Foresight and add the features seamlessly. Users new to Foresight can visit FleetIntelligence.ai and a salesperson will walk them through the process of getting up to speed with the platform.
"We're a data company, so we're connected to over 60 manufacturers," Hanna said. "For companies with newer equipment, it only takes a few hours to get fully set up."
The new voice-enabled feature is just the beginning of Foresight's commitment to incorporating artificial intelligence into its products.
"AI is going to be the biggest driver of efficiency and productivity over the next five years," Hanna said. "This is step one of our AI roadmap. We have the foundation, which is clean data to build solutions for our customers. We're really excited to be part of the energy that's going to transform our industry in a really, really good way."
NEWSLETTER
Delivered directly to your inbox, International Rental Newsletter features the pick of the breaking news stories, product launches, show reports and more from KHL's world-class editorial team.
CONNECT WITH THE TEAM
CONNECT WITH SOCIAL MEDIA