Trailer mounts: a rising rental tool
Trailer mounted lifts might be considered a niche product, yet their applications are wide and in many cases they are considered an increasingly viable option in rental fleets.
Ease of operation stands out as the main advantage of trailer mounted lifts, says Simon Mayer at Niftylift, along with portability.
Niftylift trailer mounts can usually be towed behind a domestic vehicle, sometimes requiring a 4-wheel-drive. "So, they can be transported easily from site to site without specialist transport equipment." Mayer adds, "They don't incur a hefty delivery charge when hired as customers can collect them themselves."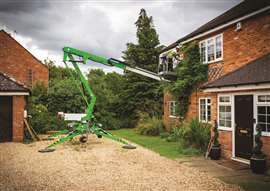 Add their ability to set up on most surfaces, due to their outriggers, including uneven ground or slopes, and it makes them a versatile option for working at height, particularly for short-term work.
"They are favoured for their outreach rather than their working height. Low level outreach is often essential, as demonstrated by the Nifty 120T, one of our most popular trailer mounts."
Cost-effective maintenance is also an advantage, says Mayer. "Trailer mounts tend to go out on short-term hires, such as weekends, so they need to be turned around quickly and easily to be ready for walk-in hires."
Mature option
Niftylift is also seeing more bi-energy options and the company offers its own Traction Drive solution.
The Traction Drive is an integrated drive system that assists with manoeuvring and positioning the trailer on-site, enabling a single operator to safely move the machine from one location to the next without extra assistance.
Niftylift's Bi-Energy offering is the combination of an IC engine with either battery or AC power to significantly increase the machine's flexibility, as it can work inside as well as outside, and, "increasing its utilisation potential".
The company's main markets are the US, Northern Europe and Australia, where trailer mounts are becoming more popular. Mayer adds that there had been growth in Eastern Europe until the recent conflicts in the region.
Indeed, mayor has seen an increase in trailer mount sales, possibly due to the general trend towards self propelled booms as access markets mature. "In addition, trailer mounts are often an entry machine for new rental companies starting in powered access, which, in the past, tended to move into self-propelled booms once they have invested in the appropriate transportation."
However, many rental companies now realise the higher profit margins that can be made on trailer mount hires, adds Mayer, as the customer base for these machines doesn't wield the same buying power that the self propelled customers, often large construction companies, do.
Finnish focus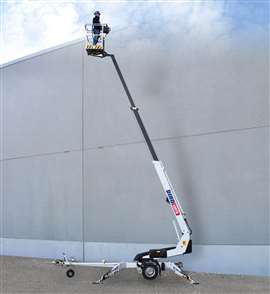 Finland-based Dinolift says it will be launching a new trailer mount soon, although no details are available yet, to join its telescopic range from 10.5m to 18m and articulated models from 16m to 26m. Battery versions are available for all models excluding the 26m working height 260XTD.
The company said the typcial requirements from customers are safe, simple and intuitive operation, combined with the best possible value and total cost of ownership. On top of that, digitalization has brought the lifts into an era of IoT and Dinolift provides its own MyDino telematics system as a standard feature in all machines. "Sustainability is of course one of the main interests these days and we are happy to be able to provide a wide range of machines with zero onsite emissions that are proudly made in Finland."
Dinolift adds, "Trailer mounted platforms have almost unlimited number of possibilities in enabling the working in heights as they are light weighted, reliable and easy to transport."
User friendly
At Spain-based Matlisa, the latest model is the Parma9 - a lightweight platform at less than 750kg and reaching a working height of 9.5m.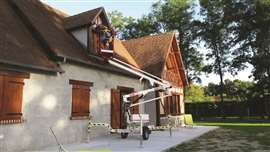 A standout feature of this platform is its compatibility with a standard driving license, making it accessible to almost any worker, says Amancio Lebrero. "Furthermore, it can be transported using almost any vehicle without requiring an additional driver's license."
In some countries, the machine doesn't even require registration or additional inspections, resulting in significant cost savings for customers.
In the near future, the company plans to launch an 18m trailer mounted model, equipped with a scissor mechanism that allows it to work in narrow streets without encroaching on car lanes.
Lebraro comments, "It is crucial to us that our machines are user friendly and easy to maintain. Our Parma9 platforms are designed to be entirely hydraulically operated, devoid of electronics or exposed cables in solenoid valves, simplifying operation and maintenance".
Given that Matlisa specialises in trailer mounted platforms, weight is a paramount consideration. "Rather than focusing on extreme heights, we concentrate on mid-range heights, making them suitable for various applications."
Battery source
The latest product from Ommelift is the 1500 EX, launched back in June 2021. The company says there are new products in the pipeline, but it is too early to reveal the details.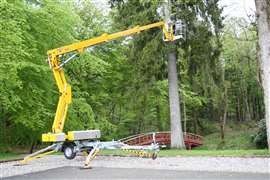 However, there are always updates, and the 1500 EX can now be supplied with a lithium battery pack, which leads into another point, says global sales and marketing manager Jesper Boysen. "To reduce emissions and join the circular economy, trailer mounted lifts can be an advantage, as they do not require large heavy internal combustion engines but use batteries as their primary power source."
The relatively long period since the company's latest launch reveals another important factor in the trailer mount sector, says Boysen, in that they are expected to last for many years, as well as being easy to use.
The main features of the 1500 REX are a 230kg unrestricted load capacity in the basket, and a 2000kg overall weight, meaning most small vans can tow it. It also has an 8.5m unrestricted outreach from ground level. It also has an independently operable boom system, while the up and over angle boom on outer telescope provides access over roof edges.
Another feature is the 1500 EX's its radio-controlled self-drive option. This makes it possible for the users to operate both stabilisers and propulsion from a distance.
Even mainstream scissor and boom lift manufacturers see the advantages of supplying boom lifts. Haulotte's US division has a full range of trailer mounts, including a 36ft telescopic boom and four articulating booms at 35, 45, 55, and 65 ft platform heights.
Mobility issues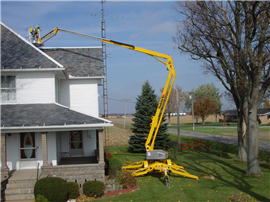 Paul Jensen, Haulotte's trailer mount product manager says its largest market for trailer booms is North America where pick-up trucks are very popular. "Australia is a growing market, sharing many of the same characteristics of the North American market. Towable booms are found in the European market, but vehicle sizes and driver's license requirements make it a challenge to take full advantage of the mobility features of the trailer design."
Haulotte's machines offer one touch auto-leveling, allowing inexperienced operators, which is common in the trailer mount sector, to confidently level the chassis and elevate safely on the first attempt. For the experienced professional, that same feature means they can get to work in less than 30 seconds of set up time.
The advantages of towing it with a standard full-sized pick-up truck, without waiting for a delivery truck and therefore speeding up the job in hand. "This mobility is great for businesses that work in tree care, lights, signs, residential construction, maintenance, cleaning, power washing, paint and more."
Intuitive choice
Jensen points out that trailer mounts are increasingly being seen in household projects. "Because professionals and amateurs alike will be using the same equipment, it's important that the machine not only be rugged enough to handle professional usage, it also needs to be intuitive enough for a first time operator to feel safe at height."
The biggest trend in booms, adds Jensen is both big and small. The company's biggest addition to the range is the 6543 A articulated boom. Even at 65 ft, the trailer is lightweight enough at 7,700 lbs to be towed by a standard pickup truck and narrow enough to access challenging job sites.
"Electrification has been the largest trend in the equipment industry in general. But in the trailer-mount sector, we've already been there for years." The entire Haulotte range is battery powered.
Jensen repeats the point that trailer lifts are a perfect gateway for rental stores. "They don't require large delivery trucks and they are easy to store between jobs."
NEWSLETTER
Delivered directly to your inbox, International Rental Newsletter features the pick of the breaking news stories, product launches, show reports and more from KHL's world-class editorial team.
CONNECT WITH THE TEAM
CONNECT WITH SOCIAL MEDIA