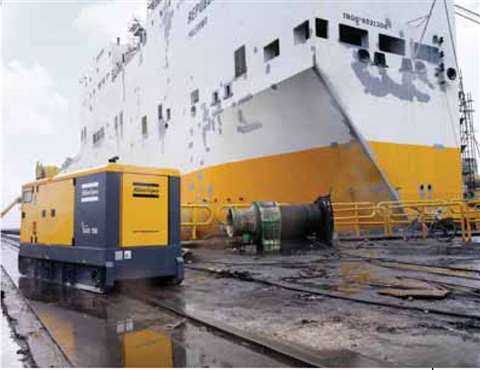 There is probably no other type of power more flexible in application than electricity, and manufacturers seem keen to provide rental sources for reliable, consistent quantities of voltamps on job sites.
For example, SDMO offers a wide range of gensets-spanning 2,75 kVA to 2500 kVA-designed specifically for rental. Its Base Rental Power range of skid-mounted generators, rated at 16 kVA to 630 kVA, have a double-wall chassis and central lifting eyes for fast installation.
The French company also offers over the same output range the Full Rental Power option. This 'upgrade' package includes road trailer mounting, "rental type" connection blocks, and battery isolating switch for additional manoeuvrability, comfort and safety.
At the very top of SDMO's offering is the Contenergy range of 715 to 2500 kVA models, easily identified by their container housings and available in two levels of soundproofing. Rounding out the French company's rental offering is the Event range, which have over-sized covers to enable sound levels less than 75 dB(A) (at 1 m).
Gesan too has a wide range, the 20 to 500 kVA Rental Line, formally launched worldwide at Bauma. The Spanish manufacturer emphasises the reliability sought by rental companies and points to the anti-corrosion treatment, socket panel, large capacity tank mount, and external tank connection features incorporated specifically for the rental market.
From the European operations of the US's Ingersoll Rand comes its 12 new PowerSource models of mobile and portable 50-cycle generators. The line offers outputs from 10 to 500 kVA, and it features Leroy Somer alternators, analog gauges, remote start-up, and 24-hour run capacity fuel tanks.
These models-which differ from their US counterparts in mainly being skid- rather than trailer-mounted-are also designed with rental firmly in mind. They are designed for low noise emissions; have large-capacity fuel tanks for 24 hr running periods; four lifting points; double-wall spill protection; and a remote auto start/stop control is standard on models above the G10. All the operator functions are located on one side of the unit and service points on the other.
There are a host of new offerings from smaller manufacturers, too. Notable of these is the UK's Stephill, in Northampshire. At the lower end of its SSDX range is the 425 kg 8,0 kW SSDX 10W model, powered by a Isuzu diesel engine. The 230 V output model is rated at 58 dB at 7 m.
Slightly noisier at 65 dB, but bigger, are new models in the same "super silenced" range: the 50 kVA, 1400 kg SSDP 50 and the 67 kVA, 1468 kg P67. Both skid-mounted, 3-phase 400 V output models have Perkins 1103A engines with high-temperature and low-oil shutdown protection, remote start, and bunded tanks giving up to 48-hour run times (at 75% load).
Also at 65 dB is Stephill's new SSD 10000 model, whose 8,0 kW, 115 or 230 V output from a brushless Mecc Alte generator is powered by a Kubota D772 engine. The 355 kg, 2-wheel trolley-mounted model is protected by low-oil and high-temperature shutdown features, and has highway trailer mount and remote start options.
Not to be outdone, one distinction of Arc-Gen's new Powermaker 6DV generator is that " both outputs [230 and 115 V] can be used at the same time without the need to switch," says sales director Andy Munford, sales director of the UK company. The Kubota-powered model, whose continuous duty output is 5,5 kW, is silenced to 62 dB(A) at 7 m.
GenSet, the UK dealer for the Italian GenSet company, is meanwhile offering a new 6,0 kVA diesel generator, built specifically for the rental market, says the South Wales company. A "unique" engine fan system cools the Yanmar l100 engine, which is protected by low-oil and low-fuel warning systems. The set is available in 240/110 dual voltage and 110 V versions.
Power from air
There are many uses for compressed air on work sites, and manufacturers of this type of equipment have been improving and expanding their offerings, too.
CompAir's new products, says the company, " protect the environment whilst still producing the most highly efficient compressors available on the market." The smallest example of that focus is its Honda-powered, 160 kg C14, which delivers 1.4 m3/min at 7 bar.
Somewhat bigger, the C20 and C30 models extend the company's range of single-tool compressors. Driven by Kubota engines, they deliver from 2,5 to 3,5 m3/min at 7 bar, and an integrated generator is optional. Different chassis are available and un-braked models weigh less than 500 kg.
A Cummins A 2300 diesel drives the bigger yet, new C50 portable screw compressor, which delivers 5 m3 of air at 7 bar. Optional versions are available weighing less than 750 kg.
Moving further along the scale of air output, CompAir has replaced the Deutz engines of the C85-14 to C140-91 range of portable screw compressors with the new QSB 4.5 engine from Cummins. The seven-model, single-axle range offers 8,5 to 14 m3 of air at 8,6 to 14 bar.
CompAir has also used a new Cummins engine, the QSB 6.7, its 3500 kg c250TS-12 Turboscrew model, which pumps 25 m3/min at 12 bar.it uses two turbo chargers to provide fuel egfficency reductions up to 30% and weight savings of 2000 kg, says the company, compared to other, similar capacity compressors.
Leading manufacturer Kaeser has been active, too. It has replaced its smallest 'Mobilair' portable compressor, the M 12, with the new M 13 and M 17. The M 13 delivers 1,2 m3/min at 7 bar, and the 15 bar M 17 model delivers 1 m3/min; a 10 bar version is also available. A Honda petrol engine powers both, and their noise level is about 97 dB(A).
The German company has extended the desing of the mobilar 26 to create the 500 kg mobilair 30, which delivers 3 m3/min at 7bar.A kubota turbo diesel engine powers the modal, which is quiet to 69 dB(A).
For large site applications is kaeser's 1900 kg mobilair 122, launched at Bauma.
With a standerd pressure range from 7 to 14 bar and a free air delivery of 11,1m3 at 7 bar, the Mobilair 122 is powered by a Deutz diesel engine with intercooler.
Atlas Copco hasmeanwhile been improving its mid-range compressors, the various XAMS, XATS, XAHS and XAVS 296-446 models. The big change is small size-mounted on a single axle undercarriage making them much more useable on urban or crowded sites. The key is a new compressor screw element that provides the same compressed air output within a "significantly smaller housing".
A 405 1 capacity fuel tank will allow the units to work full-on for 8 hours, and all use a 6-cylinder Caterpillar diesel engine rated at 187 kW at 1800rpm.
Site lighting
Renters have lots of choices for illumination to extend work hours on site. Launched at Bauma was Towerlight's VT-2, a compact version of its popular VT-1. The new model has a 7 m, manually operated mast to support four 1000 W halide lamps, is available with a site or road tow undercarriage, and is fully canopied. It offers 6,0 kVA of auxillary power, and options include a 360 balloon light.
SDMO's new tower, also launched at Bauma, is totally re-designed, says the company. It has a 7,5 kW generator, a new cover and trailer, and a 7 m mast to support its four 1000 W projectors.
Sandhurst Manufacturing in the UK offers the TL-90 lighting tower, which automatically lowers its fixed vertical mast when the parking brake is released for movement. The model has four 200 W lighting heads that quickly adjust with the optional PowerTilt lamp control.
Also in the UK, Taylor Construction Products says the 0,6 l/hr fuel consumption rate of its Ecolite mobile light tower offers operating efficiencies of about 75%. Rental companies are " seeing the [fuel savings] benefit they can sell on to their customers," says Barry Beavis, national sales manager. The 750 kg, Hatz diesel-engined model has a fully-hydraulic, single axis rotating mast to support four or six metal-halide lamps with soda limed glass, lowglare lenses.
Stephill also has a new tower. It has fitted four 500 W, 115 V lamps and a 5,5 m, 4-section, stainless steel mast to a 4,8 kW Yanmar 1100 generator to create the SLT 6000D. The model has fully adjustable stabilizing legs and runs for 26 hours on a full tank.
Also lighting up work, but using a pressurized, PVC 'balloon' cover, is the Moonlight product from Multiquip in California. It is available in 150, 400 and 1,000-watt capacities to illuminate to a distance of 30 m. The company says its system to maintain air pressure in the balloon reduces the dirt and other debris blown in by competitors' fans.
Offering a new rental opportunity by combining lighting and security is the self-contained security unit, called Site Eye, from Towerlight in Wales. It combines the VT 1 light tower with closed circuit TV cameras and is available with a wide set of options for observing and recording, as well as illuminating, site activities.
As you can see, if there is lots of work at job sites, you can bet rented power, illumination, and other site equipment is on the scene.
NEWSLETTER
Delivered directly to your inbox, International Rental Newsletter features the pick of the breaking news stories, product launches, show reports and more from KHL's world-class editorial team.

CONNECT WITH THE TEAM
CONNECT WITH SOCIAL MEDIA