OPINION: UK pump manufacturers lead on emissions reduction
By Belinda Smart13 July 2021
Simon Ruffles, Owner and Managing Director of UK company DXB Pump & Power, explains why UK pump manufacturers lead the European markets in reducing emissions
UK pump manufacturers are leading the way in developing high efficiency, lower emission pumps for the UK construction industry, which demands products to reduce the carbon footprints of large scale projects.
With many high profile projects like HS2, Thames Tideway and Sizewell C nuclear power station development, placing such high importance on reducing the carbon footprint of their projects, one of the main areas of focus is hired in plant and that includes pumps for dewatering, piling and bypass pumping.
As non-operated plant that uses diesel engines such as pumps, generators, compressors and the like all come under the spotlight, the manufacturers are working with other suppliers such as fuel providers that are now offering HVO solutions for older plant. These help towards the reduction in carbon emissions somewhat, but are only a steppingstone to the final low carbon solution.
What's worth noting is that every litre of diesel burned generates over 2kg of carbon into the environment, so it is incumbent on equipment manufacturers to reduce the fuel consumption of products like pumps where it is not uncommon for pumps to be running 12 hours a day and generate more than 250kg of carbon per pumpset on site.
DXB's innovates to reduce emissions
DXB Pump is highly focused on these challenges and since its founding in 2017 has continuously developed new pumpsets that leverage the tremendous reduction in emissions made by Stage V engines especially those below 56kw.
56kw engine power is a key focus for us as it is a level at which using DEF or Adblue is not required to achieve solid reductions in emissions in the environment. As a result, we have placed great emphasis on maximising pump performance without going over this power level.
Since starting the programme, DXB Pump has developed wastewater pumps up to 200mm, 80mm high pressure pumps and medium pressure slurry pumps for the piling market, all using the same small, 2.9 litre 55kw engine from Deutz in a canopy, which can operate in temperatures up to 45 degrees Celsius.
The delay of the introduction of the Stage V engines due to Covid-19 meant the market looked to the fuel industry and HVO as a stop-gap to reduce emissions and that has been a saviour for those companies with existing older equipment running off Stage 3 or 4 engines.
However, it does not reduce the volumes of fuel being burnt like the most modern Stage V engines, because older engines have to operate at speeds of 2000rpm or more to generate the required power in some applications, increasing noise and emissions exponentially on site.
From diesel to electric, hybrid and hydrogen
The very latest engines from companies like Deutz and Scania operate more efficiently by generating their power and torque at lower speeds, allowing pump companies like DXB Pump to run their pumps more slowly, reduce emissions, noise and fuel burn and even improve pump performance by increasing suction lift capabilities.
Harnessing the ability to operate at lower speeds has meant an extensive effort has been placed on new product development in the last two years since most of the engines were launched at BAUMA in 2019 pre-Covid-19.
Since then, DXB Pump has developed a new range of Stage V emission compliant pumpsets from 15kw to 566kw, all of which are used in the pump rental market in applications as diverse as mud pumping to crude oil tank cleaning on UK refineries and tank farms.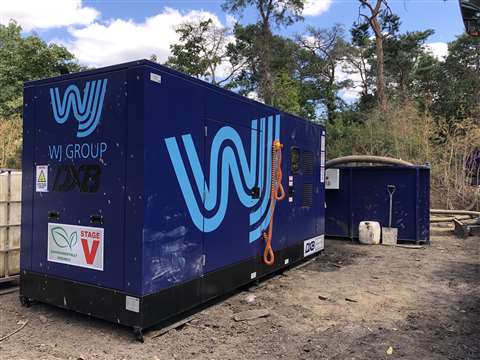 But designing pumps that operate on diesel is only a small part of the solution. Projects such as Sizewell C focusing on emissions has led to major parts of the project being run on a new electric ring main that is being installed at the very start of the project. This will mean that pumps used in the construction phase for applications such as dewatering will need to run on electric motors and offer the same control and performance as a diesel driven pumpset.
DXB Pump has placed a high degree of focus on developing such pumps for many different applications in the same canopies as those driven by engine. In fact, some of the pumpsets offered by DXB only are available in electric motor driven configuration such as the low head-high flow 300mm pumpset capable of pumping over 1000m3/hr but using only 75kw of power and zero emissions.
In addition to its focus on Stage V engines and high efficiency electric motor pumpsets, DXB is already working on alternative fuel pumpsets such as hybrids and even hydrogen powered pumpsets which can operate with only water vapour being the sole emission.
Modular design for adaptability
JCB has led the way in developing more environmental solutions for some time now in the UK and it is right that the pump industry steps up to the plate as well. We have now designed the pumps and the pumpsets in such a modular manner that we can take out the diesel engine and install an electric motor very easily, so the next step is to be able to do the same with hybrid, batteries or hydrogen.
We began this programme over six months ago after finishing all our Stage V development, and we could see the way the market was going when JCB brought in their battery powered and now hydrogen products, so we thought "why wait?"
There are certain applications in pumping that lend themselves to hybrid power that DXB have identified and through working with their partners have already begin the design of a six inch pumpset for the sewage bypass industry that will run on engine power during peak times during daylight hours and move to battery power at night when demand is greatly reduced and noise becomes a major consideration, especially in urban environments.
In terms of powering pumps with hydrogen, the use of a fuel cell is relatively simple, but it is the management and supply of the fuel which is causing some headaches. There are only around a dozen hydrogen supply locations in the UK most around the South East therefore, London is a market that might accept hydrogen powered equipment like pumps more swiftly than other parts of the UK. DXB Pump is not only looking at a suitable pump design but also designing the tank to store the fuels safely on site.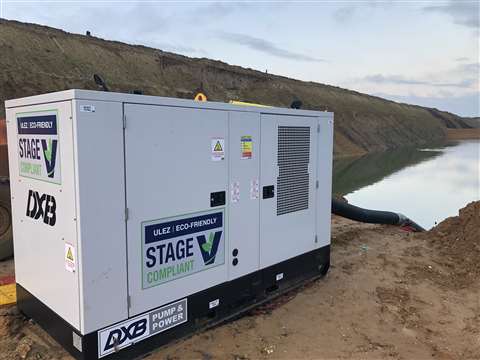 Complete solutions are the future
Being able to offer a complete solution will be the focus of efforts for all equipment hire companies wanting to work on prestigious projects like HS2 and Sizewell C. In such projects, innovation and carbon management are becoming much more important than lower hire rates and multiple depots that were required to support older, less reliable equipment.
UK pump manufacturers are responding well to that change in demand and that can only mean major product development programmes leading to improved work environments and major reductions in noise, carbon and energy consumption.
All this means that the UK hire industry will gain access to some of the cleanest, highest performing pumping equipment anywhere in the world, from UK manufacturers that are focused on reducing their own impact on the UK construction and environmental projects.
DXB Pump & Power is an independent pump manufacturer based in Ipswich and owned by its employees. The company designs and manufactures quarry and mine dewatering portable pumpsets that are used worldwide. It focuses on high down-time industries and offers pumpsets powered by Deutz, Scania and CAT engines up to 750kw in size for its standard products, allowing for flows up to 8000m3/hr and heads beyond 200m as seen in some major mining operations. DXB offers over 50 Stage V emission compliant models of portable pumpsets available for quarry and mining applications.
NEWSLETTER
Delivered directly to your inbox, International Rental Newsletter features the pick of the breaking news stories, product launches, show reports and more from KHL's world-class editorial team.
CONNECT WITH THE TEAM
CONNECT WITH SOCIAL MEDIA