Next stage construction industry pumps
New dewatering and sewage pump developments: Stage V/Tier 4 Final and beyond. IRN reports.
While the focus on lowering carbon emissions is often focused on excavators and other construction machinery, it is worth remembering that diesel gensets and pumps – often used for long, continuous periods on major construction projects – can have a major emissions impact.
Simon Ruffles, Owner and Managing Director of DXB Pump & Power says that for non-operated plant such as pumps, manufacturers are working with fuel providers to offer HVO biofuel for older equipment, which helps reduce emissions, but is only a step in the right direction.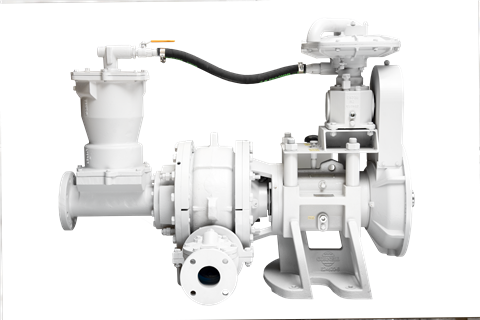 Reducing fuel consumption 
"Every litre of diesel burned, generates over 2kg of carbon dioxide into the environment, so it is incumbent on equipment manufacturers to reduce the fuel consumption of products like pumps where it is not uncommon for them to be running 12 hours a day and generate more than 250kg of carbon per pumpset on site."
DXB Pump says it has developed new pumpsets that leverage the reduction in emissions made by Stage V engines, especially below 56kw.
"56kw engine power is a key focus for us as it is a level where using DEF or Adblue is not required to achieve solid reductions in emissions in the environment", says Ruffles, "so we have placed great emphasis on maximising pump performance without going over this power level."
DXB Pump has developed wastewater pumps up to 200mm, 80mm high pressure pumps and medium pressure slurry pumps for the piling market, all using the same 2.9 litre 55kw engine from Deutz in a canopy.
Ruffles says the latest engines from companies like Deutz and Scania operate more efficiently by generating power and torque at lower speeds, allowing DXB Pump and others to run pumps slower, reducing emissions, noise and fuel burn.
DXB Pump has developed a new range of Stage V emission compliant pumpsets from 15kw to 566kw all of which are used in the pump hire market in applications as diverse as mud pumping to crude oil tank cleaning on UK refineries and tank farms.
Electric dewatering pumps
Running pumps on electric motors is also an option. Some DXB pumps are available in electric motor driven configuration such as its low head-high flow 300mm pumpset capable of pumping over 1000m3/hr but using only 75kw of power and zero emissions.
DXB is already working on alternative fuel pumpsets such as hybrids and even hydrogen powered pumpsets which can operate with only water vapour being the sole emission.
Ruffles comments; "JCB has led the way in developing more environmental solutions for some time now in the UK and it is right that the pump industry steps up to the plate as well.
"We have now designed the pumps and the pumpsets in such a modular manner, that we can take out the diesel engine and install an electric motor very easily so the next step is to be able to do the same with hybrid, batteries or hydrogen."
DXB has identified a hybrid application for a 6 inch pump for the sewage bypass industry that will run on engine power during peak times during the day and move to battery power at night when demand is reduced and noise becomes important.
Sewage bypass and flood contol pumps
Netherlands pump manufacturer BBA Pumps is also introducing new Stage V pumps. Its 12 inch BA300E D328 – developed for the rental market and available from September – uses a Tier 4 Final/Stage V Perkins 3.6 litre 904J engine and is from BBA's range of vacuum assisted centrifugal pumps with an open impeller.
The dewatering and sewage pump has a free passage of 120 x 105 mm and comes with cutting grooves and large inspection covers.
The BA300E D328 pump can be used for a range of applications, encompassing dewatering to sewer bypassing.
BBA says the sound attenuated canopy is also new, with integrated LED lights and integrated composite tanks. Forklift pockets and lifting eyes are fitted as standard.
Low emission pumps
Also using Stage V engines is Pioneer Pumps new EVO range, with pump sizes from 3 inch (80mm) to 30 inch (760mm), flows up to 10,000 m3/hr and heads to 260m.
Pioneer says that with Stage V engines it has never been more important to ensure that pump hydraulic performance is closely matched with the power output of the engine.
"For this very reason, our engineers have spent hours of diligent research and development on our new EVO range to ensure we deliver a proven, field tested, reliable product to our valued customers first time – every time", says Adam Race, Engineering Manager at Pioneer Pump.
The company adds that for some pump users it will be the first time they have used diesel oxidation catalyst (DOC), diesel emission fluids (DEF) and diesel particulate filters (DPF).
"At Pioneer we have done our utmost to make the transition as smooth and reliable as possible, including extensive remote telemetry control and field monitoring features", says Toby Wilson, Product Manager at Pioneer Pump.
UK-based pump manufacturer SPP Pumps is also now offering Stage V pumpsets throughout its ranges, including the Q-Series models used by contractors in dewatering applications as well as its high flow and high head ranges.
Pump durability 
Of course, there is room for innovation in pumps beyond the use of low emission engines.
For example, Atlas Copco Power and Flow and developed new wear deflector technology that it says will deliver "exceptional reliability'.
The Wear Deflector for its WEDA D70 electric submersible dewatering pumps uses a hydraulic design that provides a high level of pump operation and low overall cost of ownership.
Bart Duijvelaar, Product Marketing Manager – Submersible pumps at Atlas Copco Power and Flow, said; "Solids suspended in water can cause an impeller to wear and prematurely fail.
"However, this innovative design means the pumps are exceptionally long-lasting. The impellers are also manufactured from high-chrome stainless steel (55 HRC) and as such, have high hardness and exceptional wear resistance."
The WEDA D70 drainage pumps, which have a top discharge design, are designed for general dewatering applications, pumping groundwater and raw water at construction and industrial sites.
They can pump water with a density of up to 1100kg/m3 and handle water with solids up to 7mm in diameter.
The manufacturer says they weigh up to 40% less than competitive products and in a compact design.
The wear deflector technology is initially being applied to the WEDA D70 pump and in the future will be made available to the whole WEDA D drainage range.
Yes, the pump is suitable for construction and mining applications, and is available for rent. It is now available for purchase or rent in the Netherlands, Finland, France, Germany, Italy, Poland, Portugal, Russia, Spain, Sweden, and Africa, and is expected to be available to customers globally later this year.
Low maintenance dewatering pumps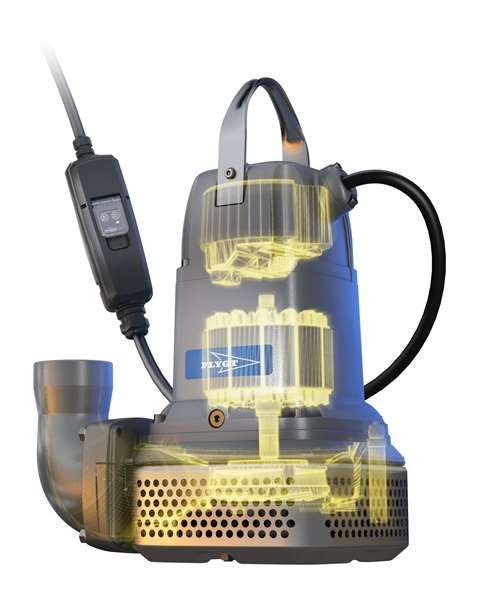 Global pumping giant Xylem – and owner of the world's largest pump rental business – has developed the new Flygt Biboα, which is described as a "breakthrough dewatering pump that dramatically reduces energy, wear and tear, and maintenance costs."
Xylem says the pump is designed to lower the total cost of pumping water on mining and construction sites.
The Flygt Biboα automatically adapts to its environment and only operates when needed, delivering energy savings of up to 60% compared to traditional dewatering pumps.
It adds that operational wear and tear is also reduced by up to 70% because instances of dry running are minimized.
In addition, it is said to have 30% fewer components, reducing the amount of inventory needed.
Anders Casselbrant, Global Product Manager, Submersible Dewatering Products at Xylem said, "By bringing this new, innovative technology to market, we can offer our customers an extremely reliable, compact and easy to use pump.
"The pump's plug-and-play capability means no configuration is needed — the pump can easily slot into existing operations.
"Additionally, by adapting its speed and performance, the pump creates a future standard of flexibility and improved asset management. That intelligence together with the pump's robust design will allow our customers to enjoy uninterrupted pumping so that they can focus on their key operations."
The new pump uses the same power electronics and systems platform as the Flygt Concertor, and lasts up to four times longer than traditional dewatering pumps.
It was field tested at the Renström mine in Sweden, one of Europe's deepest mines: after three years of continuous testing with mine operator New Boliden, the Flygt Biboα delivered product and repair savings of 40%, says Xylem, with New Boliden reducing the cost of its dewatering processes by almost 30%.
The Flygt Biboα is available for purchase or rent in the Netherlands, Finland, France, Germany, Italy, Poland, Portugal, Russia, Spain, Sweden and Africa, and is expected to be available globally later this year.
Stackable dewatering pumps
In Australia, AllightSykes – which is part of the same Seven group Holdings that owns Coates – has launched the Sykes Acoustic Stackable Pumpset.
The new pump has automatic priming, solids handling capability and comes with 316 stainless steel wear plates and impeller as standard, allowing it to be used for mildly corrosive fluids.
Sykes says the two-high stackable frame "takes space efficiency and convenience to a whole new level".
The pump can also be operated without having to open doors; with the control panel, throttle control, suction and discharge pressure gauges all accessible from the outside.
Power is provided by a Perkins 400 Series or 1100 Series engine, with oil change intervals up to 500 hours.
Meanwhile, the UK pump supplier and rental company Selwood has been designed as a preferred provider of diesel and electric pumps to Scottish Water under a four year agreement.
Operating from branches in Aberdeen, Edinburgh and Glasgow, Selwood will provide pumps and ancillary equipment.
Selwood says it was ranked in first place in two supply packages, for the hire of diesel pumps, and the hire of electric pumps.
John Lovell, Managing Director at Selwood Pump Rental Solutions, said: "We are delighted to strengthen our partnership with Scottish Water with our appointment to this framework…To be ranked first on both lots is recognition of our exceptional teams in Scotland and throughout the Selwood business."
Oil leak test
Submersible pump manufacturer Tsurumi has developed a test tool that provides information about oil leaks and the tightness of the pump.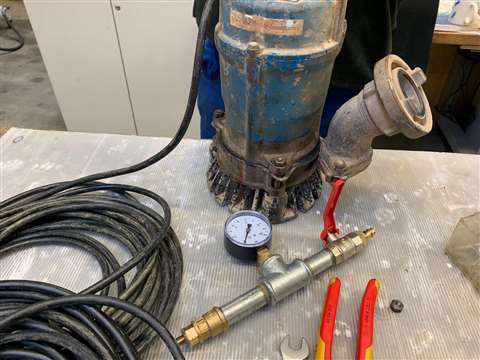 The tool is in use at Tsurumi´s service facilities, for checking rental pumps on their return, but the company is considering offering it on the market if there is sufficient interest.
The tool is screwed into the thread of the oil drain and pressurized with compressed air. A pressure of two bar is sufficient to check the tightness of the oil chamber. If the needle of the manometer drops, it is possible there is a leak.
Tsurumi says a regular check of the pump is always advisable; "The costs of a capital damage due to water penetration are likely to exceed any maintenance effort by far."
Water pump telemetry system
Pioneer Pumps is now fitting telemetry control as standard to all its Stage V engine EVO range of pumps. The company introduced telemetry as an option in 2017 and the technology can be added on all models from 19kW to 1000kW.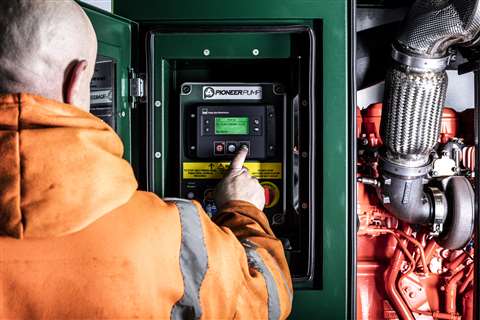 The company says; "Being able to access reliable pumpset data remotely, gives the operator greater confidence in their pumping system and helps to guarantee optimum engine and pump performance."
Telemetry allows the pump user to remotely stop and start a pump, as well as diagnose issues from a distance and spot potential problems.
The system transmits engine and pump data to the operator via a single dashboard on a webpage or a mobile App. It will track a pump's location with geofencing, running status, fault diagnostics, track engine parameters, and trigger SMS, in-App and e-mail alerts.
Pioneer can also 'white label' the dashboard to suit customer branding.
NEWSLETTER
Delivered directly to your inbox, International Rental Newsletter features the pick of the breaking news stories, product launches, show reports and more from KHL's world-class editorial team.
CONNECT WITH THE TEAM
CONNECT WITH SOCIAL MEDIA