Middle East in focus
By Euan Youdale13 November 2018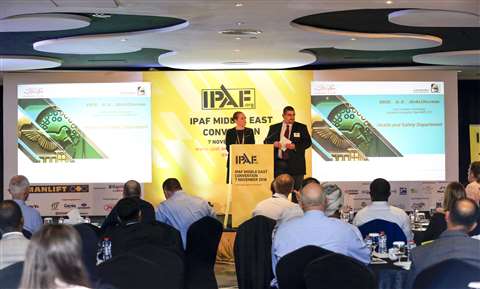 There were more than 200 delegates at the IPAF Middle East Convention, which took place at the Meydan Hotel in Dubai, on Wednesday last week (7 November).
The fourth edition of the convention, at the Maydan Racecourse, provided a full day of top level speakers and sought to inform its delegates about the UAE's unique business, legal and safety environment, as well as sharing insights into new technologies and training from a global perspective.
As with any nation, the UAE has its own set of standards and legal requirements that companies moving into the area should understand. At the conference Ahmed Khalil Abdul Kareem, principle safety engineer & safety department, Dubai Municipality (DM) and Rebecca Kelly, a partner at the Morgan Lewis law firm, provided an insight into accident investigations and the legal pitfalls that working at height equipment providers could face.
The Dubai Municipality (DM) plays a pivotal role when it comes to all accidents in Dubai, in that it investigates all incidents and concludes if a public prosecution should be brought. But there are other authorities outside of Dubai that have influence. This includes Federal law, which overarches all seven Emirate states.
Unlike in other countries, for example the UK and Australia, no precedence is set in the UAE from one similar accident to another. Indeed, identical accidents can have very different outcomes in the UAE courts. Kelly said, "You need to be aware of the legislation. If you don't have copies of the legislation you need to source copies. Do not wait until the day of an accident to source it.
"People who come from different places, like the UK, ask if they can adapt their company policies to the UAE," says Kelly. The answer is yes, but there are key differences that must to be understood."
Criteria set by the DM includes a stipulation that all injuries resulting in three days or more of sick leave, must be officially registered. Under Dubai's Code of Construction System there is an obligation to report significant injuries, which add to the Emirate's official statistics database. And reporting an accident immediately means the individual is covered at a later stage if the injury becomes more critical. Whereas, a failure to report may lead to prosecution.
Kareem says an action plan is vital for a company to ensure it is prepared for accidents.There will be other legal obligations following a reportable incident; embassies may have to be informed, along with other regulatory bodies, while witnesses must be dealt with appropriately and those involved should be informed of their legal rights. Kareem adds, "Lack of adequate supervision from the person in charge sparks the potential of criminal or civil liability."
Anther potential pitfall can result from conversations with the authorities on site immediately after the accident. It is near impossible to change the view of officials once they have concluded there is adequate suspicion of wrongdoing on the day. Therefore, it is vital that all individuals on site understand what they are being asked and consider their response carefully. For a site manager, quick access to a good translator is vital – if the wrong thing is said there may no going back.
If there is a fatality on site there will automatically be an attempt by the authorities to find criminal liability for individual. Unlike in other countries, the onus is on the individual and a corporation is unable to take ownership of accident. In addition, ex-pats in the UAE can have their passport confiscated for the entire legal process, which can be protracted, taking anything from three months to three years.
Kareem adds, "You cannot just count on your 20 years' experience, you must have a plan," and, he adds, "In my experience, most accidents are the result of management systems failure
Occupational health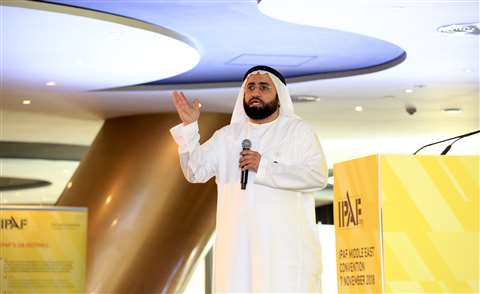 A second member of the DM, Raed Mohamed Al Marzooqi, echoes this view. As head of occupational health at the Health and Safety Department, Marzoogi, says companies must have a plan in place to reduce the risk of accidents. Equally, local and cultural factors must be understood to create an efficient worksite.
An example is the heat, which statistically, is the biggest cause of accidents on construction sites in the region. Falls from height, often in first place in many parts of the world, is the second biggest course, and in terms of actual injuries and fatalities is at number one.
The diet of workers is also a major issue. Low paid migrant worker often eat food of low nutritional value, or nothing at all, and spent long days on an arduous construction site. Or, he adds, "They sweat 15 litres a day and collapse through dehydration. Companies must invest in this area."
He provided a number of checklists employers and employees can use to ensure they are working safely, along with strategies to help create a safe workplace. These include precautionary measures, like education and training for workers with a multitude of different languages to ensure they truly understand what they are being told to do and the potential hazards.
Often, workers will nod their heads, rather than admit they don't understand. In addition to the varying nationalities on any given site, there is a high level of illiteracy. "Correct training is vital. There must also be an understanding of the machines and their potential technological issues and dangers," added Marzoogi.
New public and occupational safety law will be launched by the Government in Dubai this year 2018, under which workers will have to undertake a one-day training and registration course. Plus, there will be a new working at height Code of Practice, and an updated accident investigation regime in which there will be more interaction with the accused.
EXPO 2020 Dubai
A major project underway is construction work for the Expo 2020 Dubai, taking place in October of this year. Rob Cooling, Vice President of Health, Safety, Quality & Environment (HSQE), at Expo 2020 Dubai, and Robert Munn, Health & Safety Director of Operations at the site, provided some impressive statistics about the site.
The Expo site is strategically positioned close to the new Dubai international airport and close to Abu Dhabi. The target is for 25,000,000 visits, equating to 350,000 people a day. One of the real challenges the large number of third-party contractors, employing 30,000 people. And there are wider projects, including a 15-mile extension to the Dubai Metro.
Cooling said, "We are not perfect when it comes to health and safety but there is unrelenting commitment to improve safety." he adds, "We wanted a positive vision. This means moving away from 'zero' language, so we have gone for 'better together'."
This includes detailed welfare documents, which they must build into contractors' costs. Visual aids are used, rather than text heavy documentation for the workers and managers of the many contractors on site are put on health and safety 'tours'.
Munn provided an insight into the working at height systems in place, in which contractors must provide a fall from height management plan. In the planning process, 10 significant hazards were identified, with working at height taking first place in the list. Scaffolding was number two. For each of the top 10, a further six critical behaviours were identified regarding front line workers.
In the ensuing scheme, everything from pre-task briefings are carried out and visual charts are used to help overcome language barriers, and guidance is sought from the likes of PASMA and IPAF, with the latter's VR simulator used as an example of effective training. Information is available in nine languages, with a range of other educational tools used, rather than just putting a poster on a wall.
Mike Palmer, Regional QHSE & Training Manager at MEWP rental company Rapid Access, explained the advantages of the IPAF logbook. He said ISO 18878 states that a log book should always be provided on site, and in the case of the IPAF's version to ensure the appropriate experience has been gained on specific equipment. "IPAF is the only one that provides that in the region," said Palmer.
The logbook also includes the name of the trainer and contact details of the training centre. Plus, it shows basic competence in the period following the training. Safety managers may view this as a more valid form of certification and a log of familiarisation with different machines and brands. "I don't care about the PAL Card," said Palmer. "It shows that someone can switch on a machine, but without the entry in the logbook we cannot tell the history.
"As a hire company we are sending machines out with all these different controls. How confident are you operating one machine on your training day and then the next day and using a completely different machine?"
Accreditation
Dr Rehab Faraj Al Ameri, director of the national accreditation department (ENAS) at the Emirate Authority for Standardisation and Metrology, spoke about the role accreditation has in enhancing quality outcomes of inspections.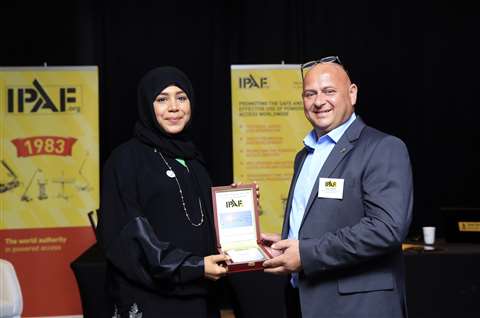 The UAE has a population of 10 million, 80% of which are expats, with 60% of those expats coming from Southern Asian. This means, says Ameri, "We are exposed to cultures from 120 countries, which makes us powerful."
Ameri forecasted that by 2050 the UAE will have seen the last of the oil barrens, therefore it is vital the country develops a range of other global services, including developing its finance, international medical provision, education, among a others. By 2071, Ameri believes the UAE will have become the "best nation" in the world, thanks, in part to its rich cultural heritage. "To do to this we need a strong equality structure. This will happen through standardization and an accreditation system."
ENAS's role is to pathe the way for this vision, by improving the quality of infrastructure, providing a safe working environment. "Everything needs to be done correctly, with stable regulations, which are flexible to create high revenue, and facilitate trade."
One of the many initiatives is a record of accidents, relating to lifting equipment. "We want to get this information to enhance our standards and regulations." Currently, there is little data on working at height incidents. This is all part of the plan to make the UAE more efficient.
A recent economic study into the construction industry by students in Saudi Arabia showed the cause fatal accidents on work sites was generally due to human factors, like lack of training and ineffective communications with onsite management. "Our government is now mandating harmonization of accreditation across the UAE – it is not mandatory in other countries, we are the first to do this."
Fahad Al-Raba'ani, Senior Lifting Engineer at Petroleum Development Oman (PDO), described how it developed a safety culture in the oil & gas Oman Project. There are 8,000 workers on the project, which is 60% owned by the government, and 30% by Shell.
Over the years PDO has worked to improve safety on site, following a large number of accidents involving lifting and hoisting equipment. The project, which has more than 600 overhead cranes, saw 108 accidents related to lifting and hoisting in 2007. "We had a Safety problem, including some fatalities. It was a very scary situation for PDO. We have enhanced our standards and have new procedures, and now we have 8 incidents so far this year. And, for sure our goal is zero."
The organization worked to improve three areas, precision, competency and certification. And In 2016 involved IPAF and ASA and started working on a national occupation standard (NOS). From this year it abides by ISO/EC 17020.
Now everyone involved in lifting and hoisting must carry a certificate of competence. In addition, lifting and handling procedure used to be in a 160-page manual, now it's down to 40 pages, and has less technical language.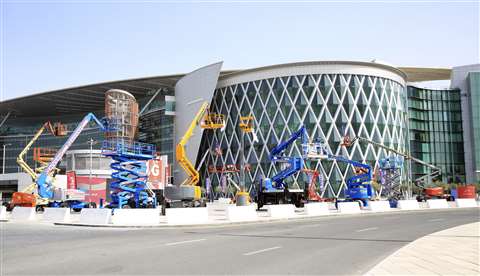 Panel discussion
The convention's panel discussion focused on HSE performance on mega projects. Chaired by Matt Cox, UAE chairman, International Institute of Risk & Safety Management (IIRSM), he asked the panellists for their advice on risk management, considering the UAE's role in delivering many mega projects.
Wim Raath, Head of Occupational Health, Safety, Security & Environment (OHSSE), DWCC. Dubai South said we must understand Federal rules and Local Orders for each emirate. But he added that when a regulation is created it must be valuable for the user and empower stakeholders so they understand what is expected. Overall it means communication must be good.
Victor Perkins, Head of Health, Safety, Security & Environment, HSSE Unit, DAEP, talked about oversight of multiple mega projects. He said, "It would be nice if everything was standardized, but it's not going to be in our lifetime." He added that big projects covering different jurisdictions, csn prove complicated in this area and it's important to be able to listen to the view of others, like contractors, etc.
Cooling, of Expo 2020 Dubai, who was also on the panel, said, "We work hard to get a level playing field. We have developed agreement with contractors. And within those are our standards. Where we have challenges are projects outside the Expo site. We have to work hard to influence and build relationships with the appropriate authorities to make sure that have the same levels."
raising awareness
Jason Anker, chairman & director of his safety advisory company Anker & Marsh, provided a chilling and emotional account of how a fall from height can affect your life forever, along with everyone's around you. Anker fell from a ladder he thought had been footed. The accident left him paralyzed in both legs. The ensuing trauma effected his entire family and still does to this day.
Anker's main message to workers and managers is that people must feel confident enough to raise an issue before it turns to tragedy. Before climbing the ladder, he suspected the working conditions were not safe, nevertheless he persevered and ended up in a wheel chair. He urged everyone, in whatever job they do, to highlight potential dangers to their managers and warned that health & safety should not just be about ticking boxes. Read more about Anker and his personal experiences in a future article in AI.
New technologies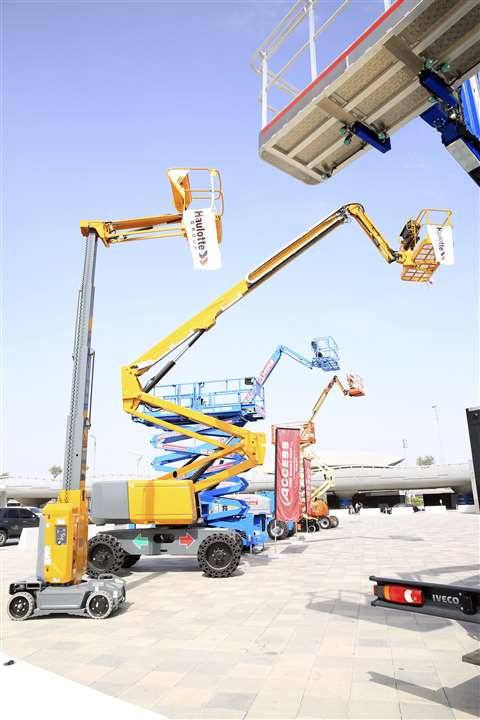 Nigel Taylor, European Director of VR training specialists Serious Labs, talked about the company's simulator for boom lifts and scissors. The unit has a moving platform, as well as realistic visual scenarios for all areas of lift work. "VR has changed the game. But on its own it is not enough, which is why we introduced the motion base." He added, "If you are unsure of an operator' skills on site, give them half an hour on this simulator and they will be back to the level they should be at."
The VR technology means that an operator can have experience of an entrapment situation before getting on site, and therefore have first hand experience of such an accident without having to go through it for real. Taylor adds, "You can train people to a much higher level using a simulator." This he explains is because simulators can put an operator through extreme conditions they might otherwise rarely come across, and more than likely not at standard training centres.New technilogies
Serious Labs is now working on a simulator for airline production, in which a MEWP bumping up against an aircraft can cost around $50,000, while real damage could amount to $1 million cost. Taylor added that there was an opportunity for 2,000 simulators in the aviation market.
Another new offering in the company's cannon is Open Room, which allows any number of operators to work together and interact in the same environment. This powerful software is designed to reduce the risk of multiple units working on the same worksite.
Spreading the word
IPAF's Middle East & India Representative and Auditor, Jason Woods was the last main speaker of the day. Woods, who co-organized the event, pointed out the importance of using MEWPs safely and their potential to grow in numbers in the Middle East.
He said, "Would you drive a 7.5 tonne truck on the road without a license?" explaining that appropriate training on MEWPs was vital." He added, "We work the way we do because we do not want to change."
Woods said that IPAF can help change the way people work at height, as its well known training wing, is just one of many ways that the organisation promotes MEWPs.Apart from training, IPAF also acts as a lobbyist for relevant regulation across the world, as well as offering technical support and publishing guidance a range of MEWP-related activities.
He added that courses on offer went beyond the basic PAL Card training and into more advanced training options like MEWPs For Managers, to help supervisors understand the various risks on site and how to mitigate them.
Finally, Robert Cavaleri, Regional Technical & Operations Manager, at rental company Manlift, and Chairman of IPAF's Middle East Council, provided the closing remarks, thanking the event's sponsors and speakers for an enlightening day.
NEWSLETTER
Delivered directly to your inbox, International Rental Newsletter features the pick of the breaking news stories, product launches, show reports and more from KHL's world-class editorial team.

CONNECT WITH THE TEAM
CONNECT WITH SOCIAL MEDIA