Lighting the way: IRN lighting towers report
By Belinda Smart19 February 2021
Sustainably powered lighting towers are front and centre for manufacturers and rental companies in Europe, which is moving steadily towards 2030 climate and energy framework targets for cutting emissions and increasing renewable energy usage. Meanwhile a new administration in the US could also see climate concerns returning to the fore and influencing the market. Elsewhere in the global market where emissions regulations are less pressing, the need for cost mitigation and easy maintenance solutions is influencing design.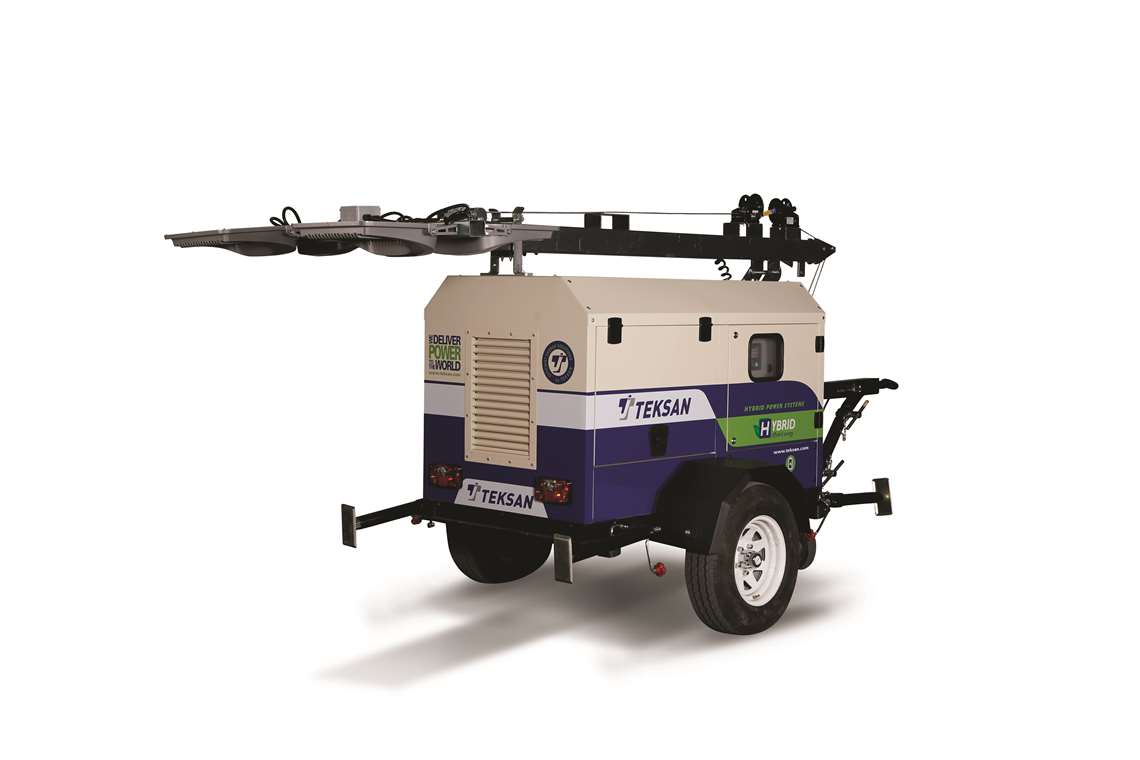 Trime - eliminating fossil fuels
In Europe, a company that has been investing in battery, hybrid, and solar powered products for some time is Trime. Sales Director Matteo Tagliani tells IRN that "the reduction and elimination of the use of fossil fuels to power lighting towers remains a core part of our R&D programmes."
With a UK-based sales operation and a manufacturing plant near Milan, Italy, Trime recently launched three lighting sets for the rental market under the Green Line banner. The Trime X- Eco Hybrid Lithium is powered by lithium battery technology and can be recharged in less than two hours, so in a ten-hour cycle, for 80% of operation, the X- Eco Hybrid Lithium is powered exclusively by its batteries.
Two solar powered lighting towers, the X-Solar Hybrid and X-Solar are the other new additions. The X-Solar Hybrid is powered by a combination of solar and engine power and will run for 3000 hours before refuelling is required, after which it requires 0.55 litres of fuel per hour. The X-Solar is powered by series of solar panels and are emission and noise free.
The new products feature a nine-metre vertical mast and LED lamps and there are compatible add-ons, including a telemetry system for remote location and operational monitoring, an automatic start-up PIR motion detection system and dimmable lighting.
A dedicated business division for UK based TCP Group demonstrates the company's commitment to sustainable lighting towers. The division is called TCP Eco, and the company is using it to grow its output of lighting towers and develop hybrid solutions, including combining hydrogen with solar panels.
TCP Eco experienced high demand across the UK in 2020 for the TCP emission-free mobile lighting tower Ecolite TH200, says Nadine Daines, Head of Marketing and Communications. Powered by BOC's Hymera fuel cell, the tower uses a chemical reaction to produce clean energy with water vapour as the only by-product. It combines the fuel cell with low-energy LED light masts to provide carbon-free lighting.
The Hymera fuel cell was developed by BOC Linde and produces DC power from bottled hydrogen, which eliminates the risk posed by ground spills. The silent reaction does not involve combustion and produces water vapour as the only on-site by-product.
"Unlike diesel engines, there is no CO2 released at source, nor any other harmful chemicals such as nitrous oxides which can cause respiratory problems for those nearby. As a result, it is safe to use in enclosed areas, requiring no more ventilation than two adult men."
The Ecolite comes with dusk-to-dawn auto switching as standard and can run for up to 240 hours without human intervention, depending on cylinder configuration.
Meanwhile the Ecolite-T is described as well suited to use in urban environments; its Prismatic Lens Technology lamps produce evenly spread light with no flicker and reduced glare, reducing light pollution.
TCP has been producing hydrogen products for nearly six years and during that time, says Daines, "has been acutely aware that there has not been a local platform to promote the use of hydrogen." Recently, TCP ECO became a founding partner of Hydrogen East, a new business-led network in the UK launched to promote the role of East Anglia as a UK Hydrogen cluster, building on the region's strengths in offshore wind, gas landing and distribution and nuclear power.
Rental versatility at Generac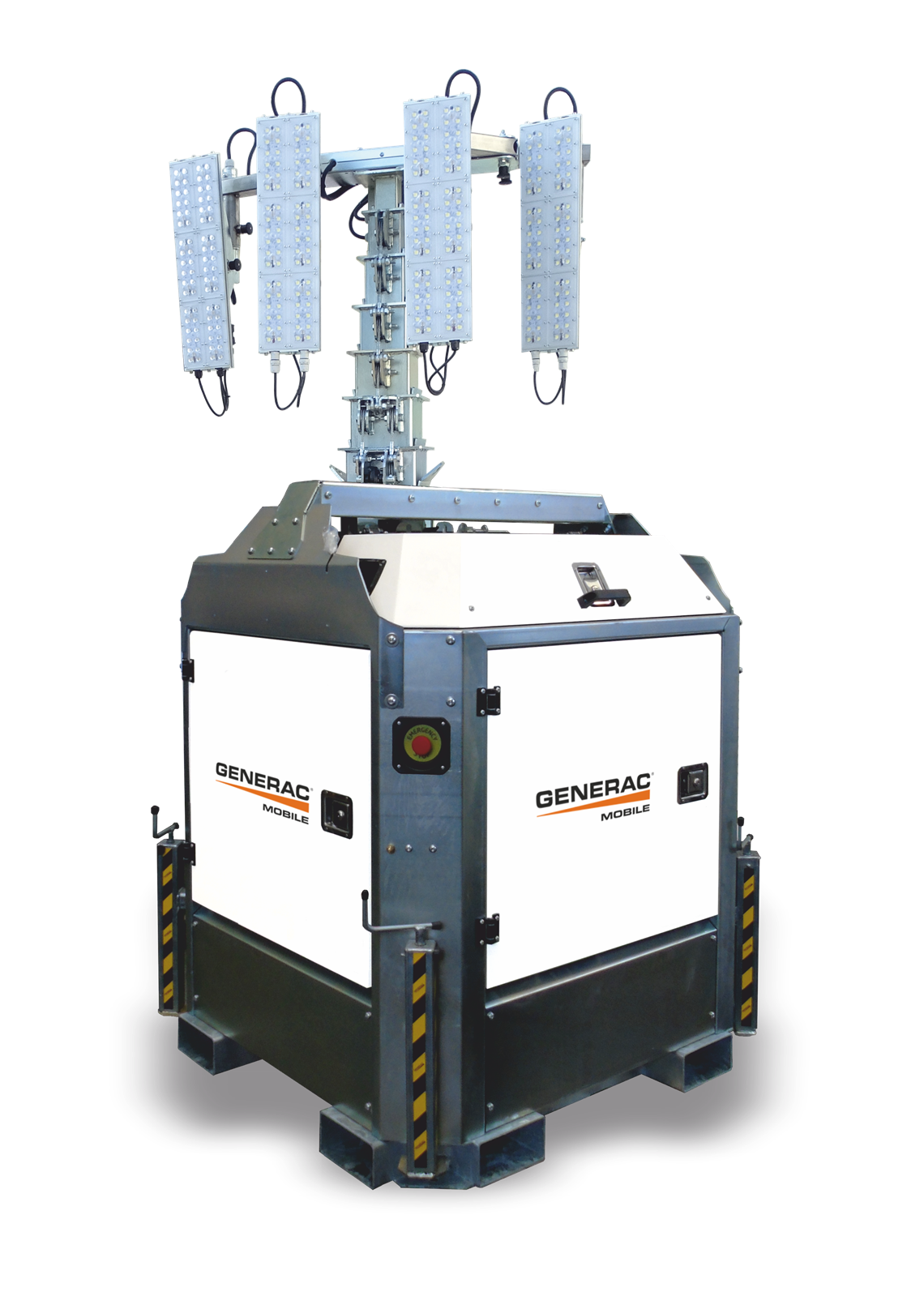 The Cube Pro from Generac is equipped with Generac Mobile Hyper LED technology, including arms that can be articulated in three points on the two axes. Designed to meet the needs of both end users and rental companies, it combines 100% battery-powered supply with Generac Mobile hybrid power supply as well as low consumption diesel engines.
"From now on, there will no longer be any need to choose a specific model for a specific use," says Emiliano Terzi, Mobile Marketing at Generac.
The tower operates in electric mode for more than seven hours using a built-in battery pack. Once discharged, the batteries can be recharged by connecting the lighting tower to the grid, to a generating set or by using the backup generator inside the lighting tower itself.
In hybrid mode, the light uses the engine to power lamps and simultaneously charge the battery pack. When the batteries are charged, the system automatically turns off the engine and allows the battery pack to control the lamps directly: this combination reduces fuel consumption by 50% up to 0.4l/h. When the batteries are flat, the system makes the engine repeat the cycle.
"There will never be any service interruption, for this reason our Hybrid system is suitable for applications where a very long autonomy is required," says Terzi. Cube Pro can also be powered exclusively by its Kubota Z482 integrated diesel low fuel consumption engine.
A darkness sensor and programmable timers from Generac's Mobile digital control panel enable Cube Pro to be automatically switched on and off depending on ambient light conditions or at set times, without manual intervention.
HBox connectivity from Himoinsa
HBox+, the first of a new range of lighting towers from Himoinsa, is scheduled to be unveiled at the IRE (International Rental Exhibition) in June. Manufactured in Europe and designed for the European rental market, the HBox+ incorporates a Yanmar 2TNV70 two-cylinder engine with a fuel consumption of less than 0.55l/h. It features a large capacity tank with a running time of 400h.
The tower can withstand winds in excess of 110km/h without the need for extra accessories. To make it easier to transport, it has a lifting hook at the top, as well as forklift skids on the four sides of its frame. Up to 22 units can be transported by truck and 20 units by container.
Miguel Ángel Ruiz, Global Engineering and Development Head at Himoinsa, tells IRN "Without a doubt, the most innovative aspect of this new unit is its connectivity. It supports Bluetooth and Wi-Fi, which allows the user to control the unit from a smart phone, tablet or PC."
The HBox+ also includes CAN BUS, which means it can connect to the C2Cloud fleet management module to enable remote control of the units.
Robust + versatile Atlas Copco
Atlas Copco has launched HiLight H6+, a tough unit featuring a 'HardHat' medium-density polyethylene body.
Félix Gómez, Atlas Copco Divisional Product Marketing Manager – Light Towers, says the tower requires a 40-minute service after 600 hours of operation and has an adjustable tow bar for use with vans, trucks, and pick-ups.
LED floodlights provide light distribution up to 6000 m2 illumination area and a dimming function enables adjustments that can deliver up to 40% C02 savings and extend the unit's autonomy over 300 hours. The LED lighting units have 50.000hrs lifespan and are supported by an 8m galvanised mast. The model will shortly also be available in a 48V DC version for applications or markets that require low voltage.
Another unit built for versatility comes from Canada's Lind Equipment, whose All-In-One Beacon LED Tower "has the capacity to be an electric powered light tower with daisy-chaining capabilities by utilising only 200W of power per light head," says Lind Marketing Specialist Dina Wilson.
It can also be generator powered, with a small 1000W-2000W suitcase generator inside the lockable chassis. Launched in 2020, the tower "was able to withstand the abuse of remote construction work with its all-steel frame and IP65 weatherproof rating." Lind has now introduced a no-glare clip on diffuser frame for each light tower head, increasing the light tower's usability and renting applications. It works as a diffused light tower, a generator powered light tower or an electric powered light tower."
Back in the UK, Morris Site Machinery's low maintenance SMC TL55 Solar works from battery and mains supply, it has zero noise, zero emissions and offers flexible options for all site applications.
"Passive Infrared (PIR) sensors are triggered by people working in the area and auto-dimming capabilities, this portable tower light can run indefinitely from sunlight and 500 hours from its built-in battery", says the company, "It is also a sound choice for noise-restricted sites as it is completely silent, while also emitting 32,000 lumens."
MHM Group looks to low carbon future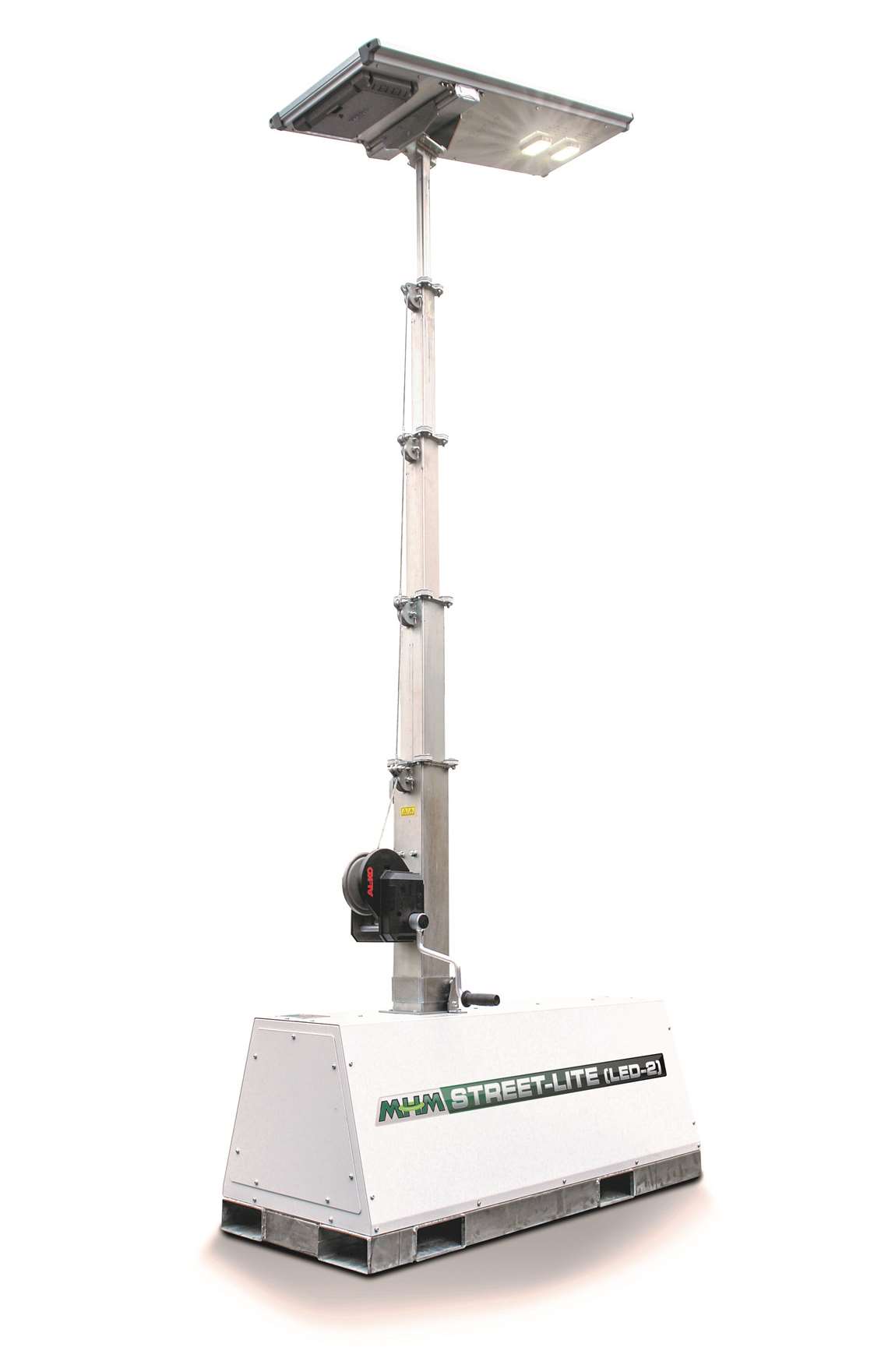 Josh Lewellyn, Chairman of UK based MHM Group, says the company has been working for some time to adapt to changes necessitated by European 2030 climate and energy framework targets. "Whatever changes the carbon emissions regulations mean for the market, we're positioned to be ready for them," he tells IRN.
MHM Group 's ST-9, a 9m towable lighting tower, is the first of the company's new Diesel Free Mobile Lighting Tower releases. It has four 100W LED adjustable 360° swivel and tilt lighting heads supported by a 9m vertical stainless steel mast. The unit is powered by 670W tiltable roof mounted solar panels and heavy duty, deep cycle batteries.
Other features include a central lifting eye, front and back fork. The ST-9 offers 2,400m of illuminated light coverage backed by "ample power to support most site lighting requirements all year round, with no other power support or back-up power."
Also diesel free, the new X-Street 5.5m lighting tower is a portable unit with 2 x 25W LED lighting head complete with full automatic PIR motion sensor. The unit features an MHM Dusk 'til Dawn Auto on/off sensor, 5.5m vertical stainless steel manual mast, high efficiency solar panels, with lighting designed to automatically brighten and dim depending on whether activity is near or far, resulting in power savings.
Expansion for GR Technics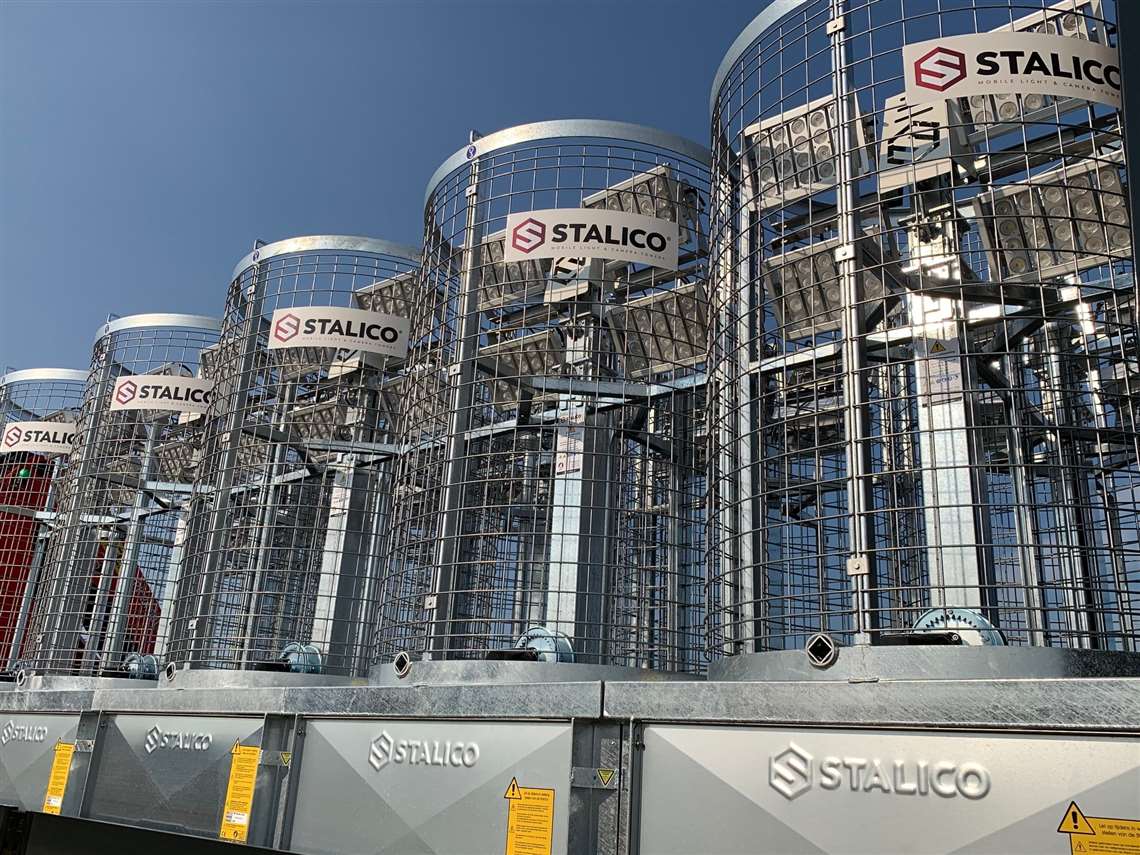 GR Technics, located east of Antwerp in Belgium, has invested in a new 10000m² building to expand its production output by 50% and secure exports for its sustainable Stalico lighting tower, which features a vertical telescopic mast.
"Sustainability is our priority for the future," Sales & Marketing Manager Paul Jacobs tells IRN.
The company's flagship product is the Stalico Lightmast. At 8.5m high, the mast can be installed without extra ballast and is made from hot-dipped galvanised steel, meaning it is able "to withstand wind and weather for decades." The mechanical telescopic mast is designed for easy set-up by one person and features four extendable supports and adjustable feet.
The Stalico is equipped with 150 W LED Matrix lamps as standard but is also available without lamps or with bespoke lamp units. The tower is connectable to 230 V mains or a generator, and six light masts linked together can be connected to a single power point.
New rental business for Trime
Trime, which has headquarters in the UK and a manufacturing plant near Milan, Italy, has been doing steady business with its energy efficient lighting towers throughout 2020, according to Matteo Tagliani - Sales Director, Trime.
Trime UK recently completed a £12m (€13.5m) order with Sunbelt Rentals, which included X-Eco LED, X-Hybrid, X-Solar Hybrid and X-Solar lighting towers, "the largest single order received from a European rental company," says Tagliani.
The purchase has enabled Sunbelt Rentals to supply a range of sustainable lighting towers to its UK customers in the construction, utility, and rail markets. In addition, Sunbelt equipment was instrumental in setting up Covid-19 testing stations throughout the UK, with lighting towers an essential component on each site.
UK rental company Illumin8 also recently added to its fleet with the purchase of 50 X-Eco LED lighting towers from Trime UK Limited.
"Trime's Benelux dealer recently secured a deal for 40 diesel hybrid lithium lighting towers from one of the major rental companies operating in Holland and Belgium. In North America, Trime's distributor, FTG Equipment Solutions, "is preparing for a busy 2021", with the purchase of over 300 Trime lighting towers.
NEWSLETTER
Delivered directly to your inbox, International Rental Newsletter features the pick of the breaking news stories, product launches, show reports and more from KHL's world-class editorial team.
CONNECT WITH THE TEAM
CONNECT WITH SOCIAL MEDIA