Latest launches in cutting and drilling equipment
By Lewis Tyler03 January 2023
Releases in cutting and drilling equipment demonstrate durability and effectiveness as key drivers for innovation, writes Belinda Smart.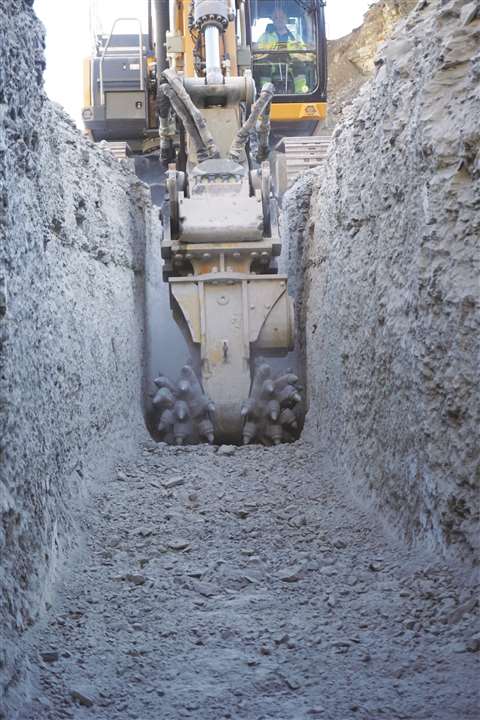 As with many construction categories, efficiency is increasingly a watchword in drilling and cutting machinery, with OEMs' releases, many of them showcased at the Bauma trade show in Munich last October, designed to work smarter, longer and safer.
Many are also committed to growing the availability of alternative power sources, with battery powered and cordless ranges a focus.
Hydraulic drilling machines
Bauma 2022 saw Swedish OEM Epiroc promoting its Hydraulic Rock Drill system HRD 100, designed for greater efficiency.
"The HRD 100 system consists of the rock drill, power pack and a selection of pusher legs. Together they have two missions: The first is to provide hydraulic drilling that helps you exceed your production targets in a safe way.
"Thanks to the hydraulic system, you don't have to worry about losing production time due to poor air pressure at large depths."
"We have also gone out of our way to design a system that helps you avoid heavy lifting and wasting precious energy. The second mission is to provide good value for money, over a long period of time.
"To succeed, we use only the best parts and materials available and combine them with active security systems that protect both you and the equipment."
Drill bits for surface preperation
Epiroc's Bauma exhibit also featured its EssentialLine tophammer tools – mainly bits and rods for surface applications - with core features including wear resistance and robustness, and the range includes moil points, flat chisels (cross) and blunt tools.
The company said via a release; "However much or however little drilling our customers will do in their operations, our priority is to ensure that the cost per metre is as low as possible, with sustained hole quality and safety."
Epiroc has also launched the latest range of 5" (12.7 cm) down the hold (DTH) hammers. The COP 57P platform is a wide range of hammers, for specific customer needs and will replace the existing hammer platform from Epiroc.
In addition, it is introducing Powerbit X rock drilling tools with diamond-protected buttons – the technology is called PCD – which stands for polycrystalline diamond.
"Changing drill bits is a safety risk. The diamond layer of Powerbit X gives the drill bits a longer service life, which means fewer changes and less exposure to danger for operators.The two-millimetre diamond layer can help improve workplace safety, reduce downtime and minimise CO
Epiroc's offering is supported by the My Epiroc digital platform for customers. "The platform is role based and allows operators, fleet managers, buyers, technicians, managers, and other personnel to work more smoothly and efficiently."
"With My Epiroc they not only have the tools needed to keep track of the fleet and its status, they also get insights to its service needs, and simple ways to track orders and follow up on any support requests as they arise."
My Epiroc allows access to the information from any modern web enabled device at any location. My Epiroc is designed as "mobile first", i.e., designed for mobile devices first and then for desktops.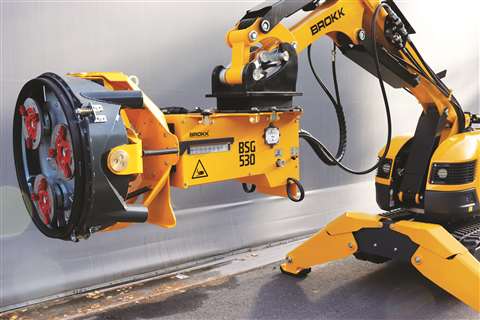 Surface grinding attachments
Another productivity-boosting release comes from Swedish OEM Brokk in the form of the Surface Grinder 530 (BSG 530) showcased at Bauma.
The attachment is for material removal, such as paint and asbestos, surface preparation and polishing on walls, floors and ceilings in renovation and restoration applications.
Compatible with the Brokk 170, Brokk 200 and Brokk 300, the BSG 530 allows contractors to tackle a range of previously labour-intensive projects up to 10 times faster.
Pairing the surface grinder attachment with Brokk's remote-controlled operation also offers greater worker safety over manual methods.
"The Brokk Surface Grinder addresses a gap in the surface grinding market where there is a long history of using handheld tools for ceilings and walls," said Martin Krupicka, CEO of Brokk Group.
The BSG 530 is fully remote-controlled through the Brokk control box, offering an automated method of stripping plaster, contaminated material, tile adhesive and paint from walls, ceilings and floors.
Battery powered cutting equipment
Swedish specialist Husqvarna Construction also exhibited at Bauma, where its K 1 PACE high power battery cutter, launched earlier this year, was on display.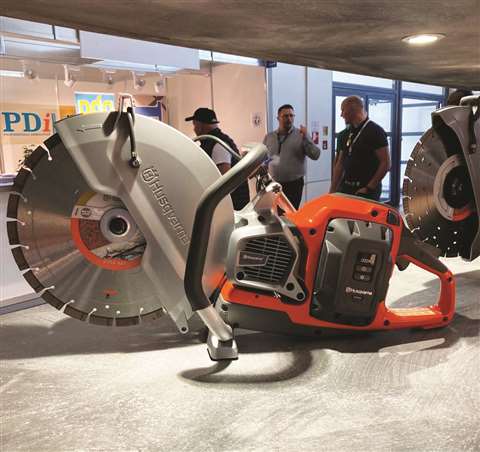 K 1 PACE is the first product to feature Husqvarna's new battery system PACE and is available as a 300 or 350 mm machine as well as a 350 mm Rescue power cutter.
Mattias Holmdahl, Husqvarna Global Product Manager for Power Cutters, says via a statement; "Just like our other power cutters, K 1 PACE offers impressive ergonomics, precision and reliability – however, thanks to its versatile battery system, K 1 PACE optimises user freedom while creating zero direct emissions."
Safety features include X-Halt, a blade brake function capable of stopping the rotation of the blade in fractions of a second.
The Husqvarna Pace battery system is designed for tough conditions, indoors and outdoors. Batteries come in two sizes and two chargers are available, both of which are equipped with fast-charging mode and active cooling.
Together, these features reduce downtime and increase productivity.
Cordless cutting tools
A Bauma showcase including live demonstrations of its cordless Nuron range was a key focus for Liechtenstein based OEM Hilti.
More than 70 Nuron cordless tools form the series, which is said to offer products targeted at every trade in the construction industry and at the same time ensures an increase in productivity.
Nuron batteries are available in five sizes and can be selected depending on the performance and duration of use.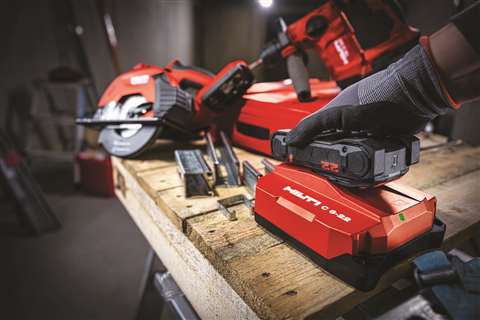 Hilti is also set to release a bespoke drilling wagon with four hammer drilling tools, four hollow drill bits and four vacuum cleaners on board.
This solution is used to drill anchor holes in a serial way for bigger projects such as tunnels, data centres, roadworks, or rail works.
Hilti is testing the equipment on a range of customer jobsites at the time of writing.
Meanwhile, UK based OEM Draper Tools has introduced the D20 series of cordless power tools.
The range features a multi-tool battery system that powers every tool in the range.
The line includes a drill option for masonry or woodworking, an impact driver, a saw for timber or branches, as well as other tools.
Product upgrades
Austria-based cutting and grinding tool manufacturer Tyrolit showed new products and upgrades in concrete drilling and cutting, floor grinding and digitalisation at Bauma, with launches for smaller drilling including the new DHE32 drill hammer, a 900-watt combi drill hammer for drilling, hammer drilling, chiselling and chisel adjustment.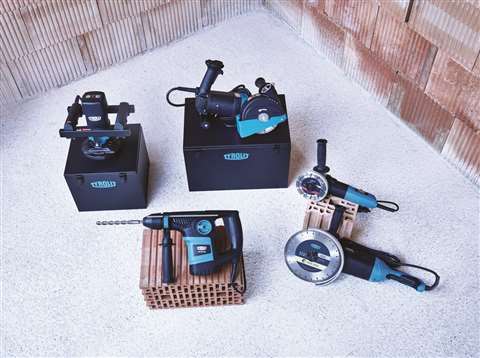 Also showcased was the DC-CUT ALL universal saw blades for petrol and electric grinders.
The CUT-ALL diamond cutting blade is described as an allrounder in the Tyrolit assortment, for reconstruction work in the residential and landscaping category.
The universal saw blade is said to offer "outstanding durability."
Other upgrades include DDL-HH Fast Cut dry drilling bits for hand-guided drilling, now with a length of 280 mm, and 'MoveSmart' connectivity updates enabling users to see machine location, charts on utilisation and diagnostic maintenance information.
NEWSLETTER
Delivered directly to your inbox, International Rental Newsletter features the pick of the breaking news stories, product launches, show reports and more from KHL's world-class editorial team.
CONNECT WITH THE TEAM
CONNECT WITH SOCIAL MEDIA