Kubota Engine America on hybrids, H2
By Mike Brezonick10 August 2023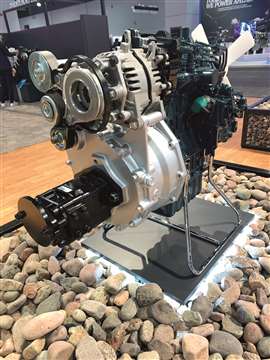 Like just about every engine manufacturer today, Kubota is looking for ways to help its customers reduce carbon emissions. And like many engine manufacturers, the company is in development with a 3.8 L hydrogen engine, an example of which was shown at ConExpo-Con/Agg 2023.
But unlike some engine manufacturers, Kubota and its Kubota Engine America (KEA) subsidiary, is also leaning into diesel-electric hybrids as a faster and more direct route to decarbonization.
Five years after the company unveiled its first hybrid system, Kubota followed up by launching two additional models at this year's ConExpo.
"The business we serve is industrial off-road applications," said Toshiyuki Taneda, executive officer and division general manager of the Engine Division of Kubota Corp. "There is plenty of variation in terms of power, in terms of the engine size or in terms of the application.
"Each application, each customer needs a different type of hybrid, therefore, we have prepared three types of hybrids."
The two new hybrids incorporate the same engineering concepts as the original P0 Micro Hybrid unveiled in 2018, which combines the company's 3.321 L, Tier 4/Stage 5 V3307 liquid-cooled turbocharged diesel engine rated 74.3 hp (55.4 kW) with an ac synchronous motor generator, dc/dc converter and 48 V lithium-ion battery. The system can deliver an electric power boost of up to 10 kW at peak engine loads.
The new D1803 P1 and D1105 P2 hybrids take the original hybrid concept and bring it down a couple of notches. The D1803 P1 is based on Kubota's 1.826 L D1803 diesel, an inline three-cylinder turbocharged and aftercooled engine rated 49.6 hp (37 kW) at 2700 rpm, while the D1105 P2 utilizes the 1.123 L, three-cylinder D1105 diesel rated 24.8 hp (18.5 kW) at 3000 rpm.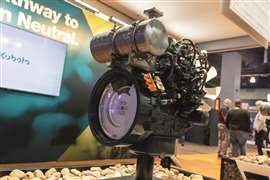 Like the P0 Micro Hybrid, the D1803 P1 pairs the engine with a motor generator, dc/dc converter and 48 V lithium-ion battery, with the motor-generator packaged within the flywheel housing, saving significant space while still enabling the 10 kW power boost. The D1105 P2 hybrid incorporates an external motor-generator, along with a gearbox and one-way clutch and damper that can be used to drive accessories such as hydraulic pumps. Even with that, it is only about 7 in. longer than the standard D1105 diesel.
"The first one, the Micro Hybrid, is a size that is very close to the ordinary engine," Taneda said. "If a customer is using our V3307 diesel, it's very easy to change and install the hybrid solution. However, we understand that for smaller machines that would use our 1803 or 1105 engines, the motor generator is too big. It's not possible to use on a smaller engine.
"So we thought, why not integrate it into the flywheel? The length of the engine can be 50 mm longer, but that's much better than the big motor generator from the Micro Hybrid."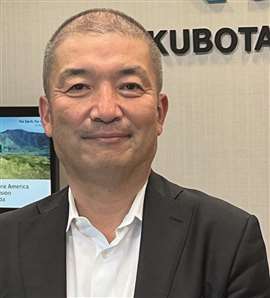 Along with the electric power boost, the D1105 P2 system also enables periods of engine-off, electric motor drive. "The P0 and P1 are engineered to always act as a hybrid system," Taneda explained. "However sometimes the customer may want to stop the engine – because of noise, because of emissions or because of indoor usage.
"In such a case, we need to cut the engine and the P2 makes that possible."
The P0 Micro Hybrid will be in production later this year, Kubota said. The other two hybrid systems are scheduled to begin production in 2026.
Also at ConExpo, Kubota displayed its first industrial hydrogen engine, based on the company's WG3800 spark-ignited engine. The inline four-cylinder unit has a displacement of 3.8 L and Kubota said the target engine output is the same as its V3800 diesel.
Similar to the gaseous-fueled versions of the WG3800, the engine maintains the variety of accessory locations and the overall footprint of the existing unit.
"Many customers are very much interested in our hydrogen engine," Taneda said. "However, the first question from the customer is, how we can get the gas (hydrogen)?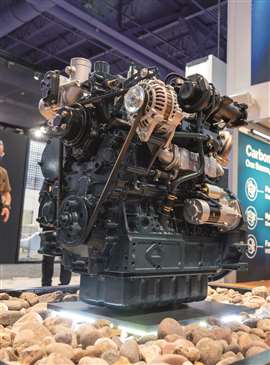 "I tell them, we are the engine manufacturer. We need to make the engine that you can install in your machine and you can start a field trial. The infrastructure is going to come later. So as the engine manufacturer, we will make it and I'm asking my customer to please install our engine into your machine and start field trial work. That will help the government authorities to want to help the infrastructure and regulations will be studied.
"Today there is no regulation for hydrogen. In Japan, all engines have regulations for diesel, (natural) gas or petrol. The government has no rules for hydrogen, today there is no regulation and the government is going to have to change that situation."
Taneda believes that going forward, there will be many power options, including "pure diesel, or hybrids or in the future HVO and hydrogen.
"The only question on HVO is the supply of the fuel," he added. "Aviation will very much rely on HVO – they are calling it Sustainable Aviation Fuel (SAF) – and they will consume a lot. So that may be a problem, the supply.
"And I don't want to deny electrification. Electrification also has advantages in certain conditions. However, we believe that diesel engines can contribute to carbon neutrality and we are working on continuously improving our diesel engines."
NEWSLETTER
Delivered directly to your inbox, International Rental Newsletter features the pick of the breaking news stories, product launches, show reports and more from KHL's world-class editorial team.
CONNECT WITH THE TEAM
CONNECT WITH SOCIAL MEDIA