Komatsu launches Smart Construction Retrofit Kit
By Belinda Smart05 July 2022
Komatsu in the UK has launched the Smart Construction Retrofit Kit – a machine guidance system for mixed fleet use - and is targeting partners including rental companies to help pilot the project. IRN Editor Belinda Smart visited the Komatsu facility in Birtley, Northumbria in late June, to find out more.
At Komatsu UK's facility in Birtley, near Newcastle, where the OEM manufactures medium and large excavators, machines are arrayed expectantly around a demonstration area, one part of which has been hived off for trialling "smart" equipment.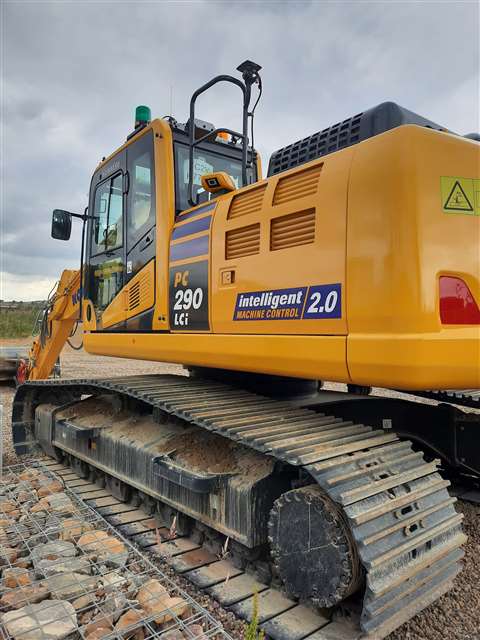 A close look at these yellow metal giants  captures signs of a kind of intelligence, in the form of sensors placed strategically on excavator booms, sticks, buckets and chassis.
Each can detect movement and combine with a GPS signal to capture and relay important data. The chassis sensor for example detects the angle of machine, while those connected to hydraulics can detect and measure bucket payloads.
Another sign is the occasional drone-buzz overhead; data from drones can be used to map terrain and via visual infographics that support optimal earthmoving activity.
Where line of sight and flying restrictions limit the use of drones, the data collected by enabled machines can also be used, typically for more detailed, smaller areas.
Retrofit Kit launch
These elements are part of Komatsu's newly released Smart Construction Retrofit Kit - a machine guidance system for mixed fleet, and part of the wider Smart Construction offering. It comprises – among other things - Wi-Fi connectivity, a GNSS (Global Navigation Satellite System), payload sensors, and a 3D design data and display.
As well as offering 3D guidance for excavators, the kit also works as an IoT tool that collects data from the terrain. All data collected is transmitted to other Smart Construction solutions to be analysed, supporting the decision-making of site managers throughout the project until completion.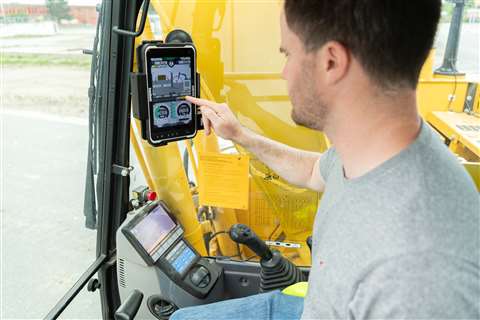 Smart Construction itself launched in Europe in 2020 – it had been in operation for some years in Japan - as a package of solutions to supports and improves end-users' businesses, by collecting a wide range of data. In its simplest form this helps machine operators deliver greater accuracy; it can also be converted into insights that help manage people and labour, machines and materials.
The new, brand agnostic Retrofit Kit brings ICT functionality to any existing hydraulic excavator, effectively turning a conventional machine into an "intelligent" one. An excavator equipped with it can access 3D machine guidance and machine location information by GNSS. It also has a payload meter to measure the weight of material loaded in the bucket of the hydraulic excavator.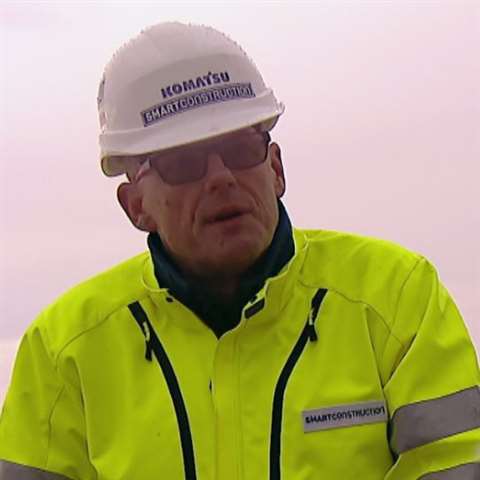 Richard Clement, Deputy General Manager - Smart Construction, Komatsu Europe, tells IRN the kit brings greater accuracy and fuel and material waste reduction to earth moving, from cutting - removing material by excavation from a high area - to moving the material to a low area, to the final stages of grading and compaction.
"Earthmoving has been neglected in terms of digital transformation because it is perceived as a very simple operation – moving cubic metres of earth around a site and depositing them somewhere else. But if this part of any project runs late or isn't accurate, then the whole project – be it a vertical or infrastructure build – is at risk. Earthmoving is very important in that respect."
Beyond materials and individual operations on site, a benefit of the kit lies in its ability to monitor machine activity and capture relevant data that can be used to help customers improve their operations and processes.
The objective is to extend Komatsu's offering beyond "yellow metal" – those distinctive Komatsu machines - to a value-add proposition, says Clement.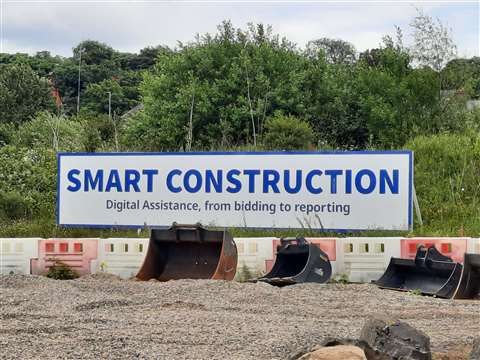 "No matter how good our product is in moving earth efficiently and accurately, that's only a very small part of the whole project. The journey on the jobsite is much more complex. It starts with pre-surveying, then the tender stage, then costing, winning the tender, preparing the job site, then on to the construction phase, followed by completion and signing off and then possibly maintenance. This is about shifting the focus from our product to the whole of the project, using digital tools."
"If we look at what a project costs – from labour to machines and material – what we're costing is the time the project takes combined with these elements," says Clement. "So, if we want to help customers deliver cost-effective projects, we need to help them measure this."
A role for rental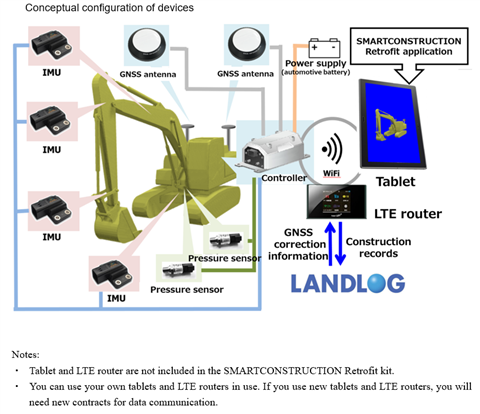 Clement says Komatsu has rolled out the kit to a handful of customers in the UK and expects to accelerate and widen this over the coming months. The company has identified two types of customer for the kit; "There are those that simply want the benefits of the machine guidance system, but there are also the customers with a wider vision of the whole project."
Komatsu aims to form proactive, research driven collaborations with the latter group. The OEM has distributed a small number of kits to potential customer partners in the UK, including from the rental sector, who will use them and feed their insights back to Komatsu.
"We're open to the opportunity to speak to rental companies here about the Retrofit Kit. We think this kind of partnership will be important in the UK, where rental companies – particularly some of the bigger, more progressive ones - are in a unique position of influence."
Komatsu is also planning similar strategic partnerships across Europe; "We'll be networking at Bauma Munich in October to achieve that," he says.
"We are encouraging customers to become part of this digital transformation to improve their productivity, which is critical. But the other advantage for us is the ability to capture and use their data to understand their activities on site."
Driving change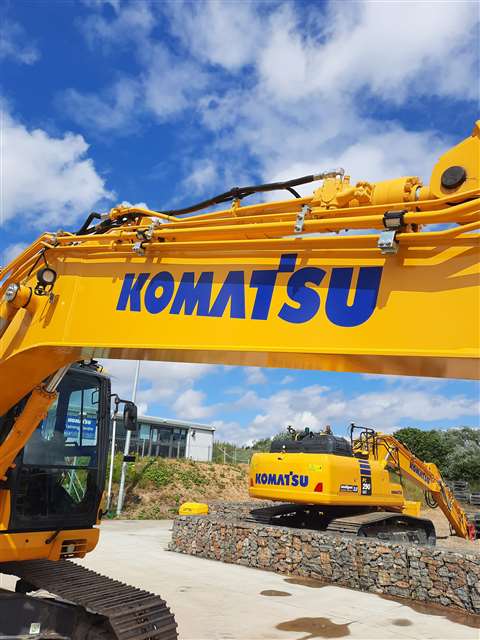 Beyond capturing the data, Clement hopes the kit will help transform behaviour; but behavioural change will largely depend on persuading experienced machine operators to use Smart Construction and the Retrofit Kit.
"Those softer, change management skills will be needed to effect change," and if companies have the data to support that – and use it to incentivise operators – data can be persuasive, he adds. 
The kit has also value in the growing climate of fuel and waste reduction, where ESG is a factor for success on project tenders, and businesses are striving to embrace a 'circular economy' approach, he adds.
Smart Construction supports the evolution of machines from non-guided – where a human operator is in full control, to guided – where data and digital displays assist the operator, to "intelligent" where the machine can perform functions independently – for example preventing an excavator bucket from digging too deep or stopping an operation if a passing pedestrian is at risk.
In future, the advent of widespread 5G coverage promises improved data bandwidth and speed, useful when remote controlled sites become more the "norm" – although the kit currently works effectively with 3G or 4G. Beyond remote controlled sites, fully autonomous sites – or areas within sites – could one day be a reality.
"Before we get to autonomy, we need to help customers optimise work sites," says Clement. He believes the Smart Construction Retrofit Kit can help them do that; and eventually drive the gradual transformation of how projects are delivered.
Komatsu Smart Construction includes:
Smart Construction Design turns paper plans to 3D designs via 3D data generation.
Smart Construction Remote sends design data to machines in the field.
Smart Construction Dashboard graphically displays design, drone and machine data.
Smart Construction Fleet collects data to optimise fleets and track production.
Smart Construction Insight displays an overview of progress, productivity, and profitability.
Smart Construction Simulation simulates jobsites to optimise results.
Smart Construction Retrofit equips legacy excavators with access to 3D data.
Smart Construction Rover – 3D rovers to outfit all key jobsite personnel.
Smart Construction Drone provides a rapid bird's-eye view of the jobsite.
Smart Construction Edge processes drone data into a 3D terrain map on site.
Smart Construction Field offers project management including cost tracking.
Smart Construction AR – app helps staff on site visualise progress against final design.
NEWSLETTER
Delivered directly to your inbox, International Rental Newsletter features the pick of the breaking news stories, product launches, show reports and more from KHL's world-class editorial team.
CONNECT WITH THE TEAM
CONNECT WITH SOCIAL MEDIA