Interview: Xtellio CEO on IoT in rental
By Lewis Tyler19 July 2023
Tom Valbak, CEO of Danish IoT specialist Xtellio talks to IRN about the company's solutions, how it has adapted and future solutions for the rental industry.
There has been a noticeable increase in the number of software companies that specialise in the IoT space in the last decade.
Data, as they say, is king, and companies that fail to utilise data run the risk of falling behind. IoT can help to gather, understand and use this data to improve work processes and ultimately, increase productivity and profitability.
One such company that operates in this space is Xtellio, a Danish provider of IoT devices and cloud-based solutions.
I recently spoke with its CEO, Tom Valbak, who has a long history of working with technology; "I've always been in technology and sales as well as an intersection in business development, commercialising technical products," Valbak tells me.
Part of that experience he references was with Denmark-based tech specialist Trackunit, where he spent almost a decade within business development, three of which he served as COO while building up Trackunit operations in North America from scratch.
Then, at the beginning of last year, the opportunity arose to join Xtellio. While on the face of it, that may seem a smooth transition in terms of technology, but Valbak says that the solutions the company offers are are unique to other systems.
"There are two things where we differ. One is on the hardware side and the fact that we have built a substantial portfolio of standardised products where users are able to pull out data from.
"The other part is the API approach. It's a totally different business model because we're not pushing a software front end. We're not pushing an app – we just deliver the data points via an API.
"We don't have a front end or reporting tools and graphs, you control and build build your own using std. tools like Power BI, Tableau or others. We're disciplined at stopping at the API handover.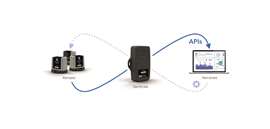 "The companies themselves are able to work with the data because all we do is harvest the data, bring it to the cloud and then people access it and use it in their preferred application via an API feed."
The company currently has two device types, Xenses and Xentrals. The Xense devices are battery operated sensors that can communicate via Bluetooth to the Xentral devices. An in-built SIM card then transfers data to the cloud, which is then processed and stored, enabling users to pull or stream to their preferred software application.
A change of approach
Prior to him joining, Xtellio provided what Valbak describes as "project specific IoT solutions for big corporations." However, he spotted an opportunity to turn these projects into products, flipping the business model around to offer the Xtellio solution also as a software as a service model.
It's taken a year and a half to refine the solutions, according to Valbak, but he says the company is now in a place where it can offer these to the market.
"Bringing that transition of taking a development house and turn it into a sales and marketing product house, it's a big transition," he says.
"But I think it's been received quite well, and we can see there's a lot of interest with what we're bringing to market."
It was early in his tenure at Xtellio that he says he saw how it could be utilised in construction equipment rental by providing data that was available, but not being accessed; "Having a background in construction equipment rental tech, I could see so many overlaps of what we could do, where we would not be directly competing with the big incumbents, but complementing them by bringing more data from the job sites."
He highlights basic machine and asset tracking applications, remote monitoring of job-site energy consumption and waste container fill levels as underutilised opportunities within the data collection space in construction and equipment rental relevant.
Rental ready solutions
IoT is a buzzword within many industries. Along with big data, machine learning and artificial intelligence, companies are increasingly incorporating these into their business processes. Yet, some would argue that they are underutilised.
To fully make the most of them, you first have to understand how they work. So, are companies ready for this level of software? "100%, they're already using it," Valbak says.
"I think it's more can they see some of the other places where you can get data that will bring value? We're seeing some good movements from some Scandinavian rental and construction companies that are saying; 'we could use new data harvesting IoT devices to get insights on a group of machines, equipment, assets or even utilities and trailers that we never thought about.' That's why we're not directly competing with other telematics companies, we are complementing with more data from the job site or the rental site which can actually increase the value of such companies software insights."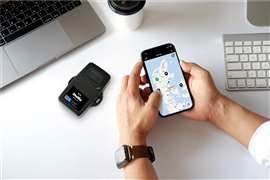 "For example, using something from our facility management solutions within office trailers and restroom trailers. It's a copy and paste. It's the same product for us, we're just using it in a different vertical. We can use the temperature and humidity sensors for construction projects to monitor the curing time of concrete within buildings.
"Then contractors can evaluate when it makes sense to hire dehumidifiers because the humidity level is not falling as we planned and threaten to delay the project plan. So, instead of extending the project for a week, they rent equipment to lower the humidity because it saves them money overall"
Ownership model and investment
Since joining the company, Valbak says the ownership model within the company has changed "a couple of times", but he now holds a majority share which brings "a lot of responsibility" he tells me.
Part of that responsibility, of course, is to ensure employment and the future of the company both short and long-term. That process is ongoing, and he reveals that the company just now has secured investments from smaller private investors; "We are an established company, but it takes a lot of money to go from having full development staff to now saying: you're not going to do an external work that we're going to get paid for by the hour.
"We're instead going to pull you in and do some development on the internal projects that we see as the strategically most sound ones to work on.
"That has taken a lot of finances and equity. That's the only thing you can do, right? You just you take it off the internal equity that you build up. Now that transition is almost done which is why we're launching these products now. The next phase is planning the new finances into dedicated sales and marketing efforts."
The investment, according to Valbak, has just been completed, with one of the investors joining the board.
The future of IoT as a site solution
Such is the fast-moving pace of technology, the capabilities of devices continue to improve at a rapid, so much so that companies like Xtellio will likely already have one eye on what their next solution, or the next need for its customers are.
On where he sees future capabilities going, Valbak says, "One thing is bringing more of these standardised products into play into facility management and energy management on job sites, that's going to very big, even for rental companies. If they can advise or do things that better the contractors carbon footprint, that's going to change their business as well."
On the role Xtellio will play, Valbak says he has ideas about how to solve industry pain points, but the company must be "cautious" in its approach. He says, "We have to be very cautious about how we spend our resources and make sure that what we focus on the right things, finalise them and bring them to market.
"We have a lot of new options that are going to come out, but we've already launched about 6-7 standard product solutions in eight months, which is unheard of within this line of business."
NEWSLETTER
Delivered directly to your inbox, International Rental Newsletter features the pick of the breaking news stories, product launches, show reports and more from KHL's world-class editorial team.
CONNECT WITH THE TEAM
CONNECT WITH SOCIAL MEDIA