Interview: Views from within RT scissor lift sector
By Lindsey Anderson09 July 2021
Rough terrain scissor lifts are flexing their capabilities and features, with a buoyant market supporting growth, so Lindsey Anderson quizzed manufacturers about this surge.
Lindsey Anderson: One of the biggest trends we're seeing in the rough terrain (RT) sector is the electrification of machines. Why are manufacturers offering more electric RTs now?
Gary Crook, MEC (VP of Engineering): From what we are hearing, the claimed benefits are reduced maintenance costs, the ability to rent a machine both ways to outdoor and indoor applications and low noise/no pollution are further benefits.
While more manufacturers are offering electric, this may be driven more by global electrification trends, higher prices of Tier4/Tier5 engines, etc. and not true customer demand as we have seen significantly higher demand for diesels this year. The belief is still that electric does not have the same RT performance.
Matthew Elvin, Snorkel & Xtreme Manufacturing (CEO): With a growing focus on the environment, and increasing noise and emission regulations, demand is increasing for rough terrain equipment that meets these new requirements. Snorkel electric rough terrain scissor lifts utilize lithium-ion batteries, replace the diesel engine to provide a completely zero emission as well low noise solution that can operate both indoors and out.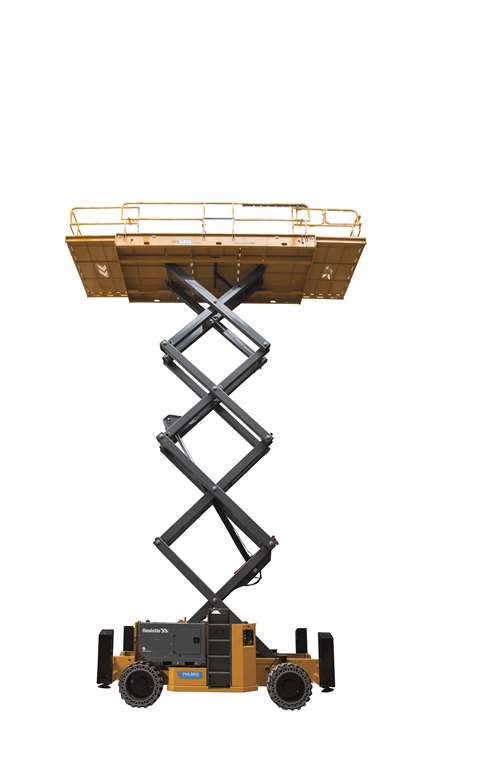 Paul Jensen, Haulotte (product manager, Americas): Around the world we see an increase in government regulations for low emission and quiet zones, where internal combustion engines are either limited in use or completely banned. In areas without regulations driving the change, we are seeing an increase in green projects and companies that are driving the changes.
Electrifying rough terrain scissors is the next step in the Blue Strategy as Haulotte continues to innovate and offer a full range of electrical equipment. Taking the lessons learned and the innovations developed from the electrification of the HA61 LE PRO articulating boom, Haulotte has recently launched the HS4390 E and HS5390 E electric rough terrain scissors.
Michael Paylor, LGMG North America (inside sales and training manager): The construction industry is making the same push as the auto industry has been for years now. Lithium batteries and improved cycle count, along with other technological advances, have lowered the cost and increased the practicality of electrification. Batteries with the weight and common uses for this class of equipment means that it just took longer than smaller equipment, which has less wear and tear and weigh less.
Kristopher E. Schmidt, Skyjack Inc. (product manager): Many jobsites are looking for equipment that meets the increasing pressure of emission regulations. The role of government in promoting these regulations, especially on contracts that they themselves support, has led to an increased interest in sustainability within rental companies.
With more stringent emission regulations coming into place from around the world, OEMs have started to look at alternative engine options. Those alternatives range from designs that take advantage of smaller engine sizes, through hybrids and now the introduction of all electric machines.
Skyjack's SMARTORQUE is an example of the first of these. Optimizing engine and drive line performance from a smaller engine, while retaining job site performance, SMARTORQUE avoids the relatively more expensive total cost of ownership compared to the other options noted above.
In addition, not all job sites have the infrastructure to support large-scale charging. Many of the newer technology options still rely on diesel-powered generators to charge these machines, which in turn reintroduces the emissions that were the whole focus of control.
Jennifer Stiansen, JLG (director of marketing, America): JLG has fully redesigned its rough terrain scissor line within the past year, making the JLG models the most modern in the industry. As part of this redesign, we took a look at what customers were asking for. And due to an increase in demand for electric-powered lifts, we made the decision to offer both an engine-powered RT and electric-powered RT (model designation is ERT) model in each size class, providing buyers with a choice between an engine- or electric-powered unit.
While we do not expect to see engine-powered models disappear altogether, we do expect to see electric models continue to gain in popularity.
Stage V engine regulations are accelerating the drive towards electrified products in regions impacted by these new requirements. Stage V diesel engines become more complex and escalate in price on engine-powered units. Lithium-ion battery technology is advancing, yet becoming more efficient and decreasing in cost. When taken into account together, these contribute to the accelerated adoption of electrified products.
Greater adoption and increasing customer demand are the primary drivers behind more and more manufacturers offering electric RT models.
LA: What is demand like for RTs right now? How is the overall market fairing?
Crook: Very strong demand presently.
Elvin: We are experiencing the aerial lift market demand returning, which includes the rough terrain scissor lift market, as each region unlocks its economy from Covid-19 restrictions.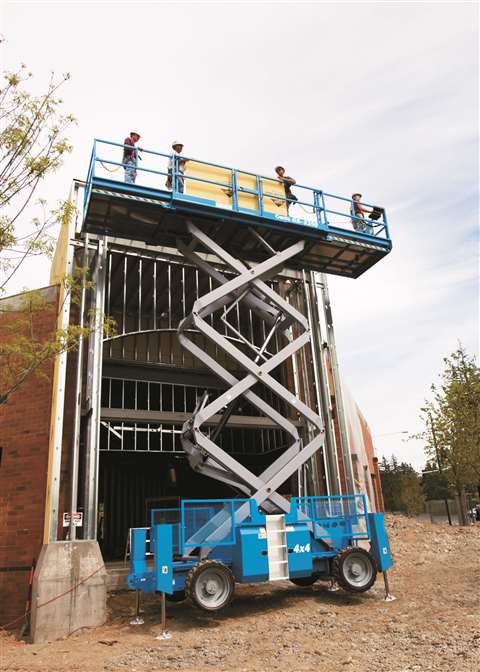 Mike Flanagan, Genie Industries (product manager): Rental demand across most MEWP product categories has surged through the first half of 2021 as end markets recover from the effects of the global Covid-19 pandemic. Demand for rough terrain scissors has returned to nearly 70 per cent of pre-pandemic levels, with year-over-year demand up significantly, although not quite as strong as in other product categories.
The outlook for RT scissor demand remains positive throughout the remainder of 2021, as jobsites will continue to require rough terrain scissors, which are often first on/last off pieces of equipment.
Jensen: I think we will see an increase in demand for RT scissors. While we saw a small dip in sales during the Covid-19 pandemic, the rebound has already been encouraging in the United States.
The flexibility that comes from electrification brings new application possibilities for indoor work, and the trend of building larger and taller warehouse spaces, means there are more projects that are perfectly designed for the larger work platforms.
Schmidt: While the rental industry in North America has seen a drop in performance over the past year, due to Covid-19 restrictions and supply shortages, Skyjack's market data shows there is currently a high demand for RT scissor lifts. Year-to-date the market has already sold about 40% more RT scissor lifts than in all of 2020. The market is on track to either meet the 2018 peak sales year or even exceed it.
Skyjack continues to combine optimism with caution as the industry bounces back from the adverse impacts of the pandemic. Rising steel prices, labor shortages and a decline in material supplies are expected to be a factor in the industry in the foreseeable future. However, the overall market outlook seems to be set for a strong rebound, and that is already getting underway.
Stiansen: Demand is currently healthy. The market is fairing quite well, as compared to last year when job sites were just starting to re-open due to the Covid-19 pandemic.
Paylor: With the housing market currently booming, and warehouses and other industrial buildings also booming, the demand for RT scissors is very hot. If this Infrastructure Bill gets through then the demand for the RTs will skyrocket even further with new jobs for airports, bridges, power station construction and other utility work.
However, as with any boom cycle, if the market begins to over supply the demand and the work falls off then the rates will plummet very quickly. What we are striving to do along with every other manufacturer is to hit boom without the bust.
LA: Over the past few years, how has the use of RTs changed?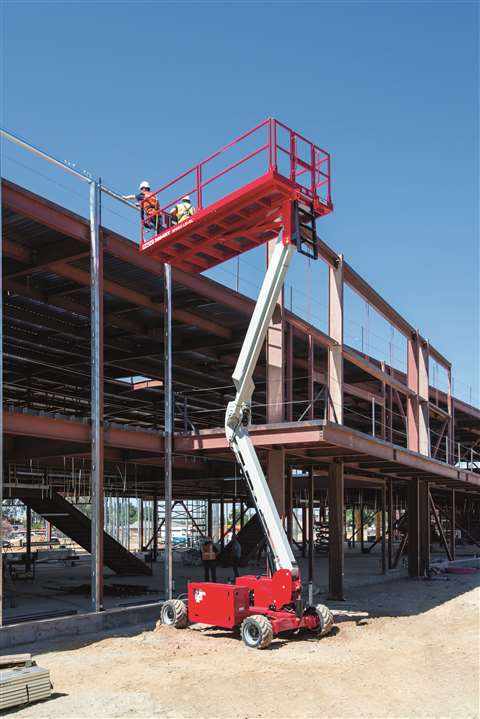 Crook: The MEC 6092 RT has become the machine of choice on many applications when working overhead that were previously done with a 60-foot boom. A platform with six times the area and over twice the capacity, allowing twice the number of persons, has been recognized as a great productivity improvement when the application fits the machine. The MEC Speedlevel has also shown higher demand with the appeal of no outriggers and ability to drive on sloped surfaces.
Elvin: Snorkel's narrow S2255RT and S2755RT rough terrain scissor lifts, measuring just four feet nine inches wide, have enabled rough scissors to be used in additional applications. For example, these units are able to drive between new construction industrial units where scaffolding may have previously been used.
Jensen: Haulotte electric rough terrain scissor lifts have incorporated the award-winning Activ'Shield Bar secondary guarding system that has been so successful on boom lifts into the control box on the platform, preventing crushing hazards while working at height. This safety innovation is very important for an electric machine that can start work outdoors on an open job site and continue to be used as an indoor machine as the building envelope is completed and the number of overhead obstacles increases. 
A less technical solution, but still very important, is a new color scheme that highlights all safety related parts of the machine in red for easy identification. Safety features like the easily accessible maintenance stand, and the Activ'Shield bar are now much easier to locate and identify quickly.
Paylor: There have been some very effective advances in the self-leveling abilities of the outriggers with the RT line. With the growing demand for warehouse construction the quick setup use time has been made for a more efficient of the unit. Another advancement to that market is that the driving height without the outriggers has also made a jump, also leading to a more cost-effective unit on the jobsite.
Stiansen: Rough terrain scissor lifts are used in both on slab and off slab indoor and outdoor applications. Some of the applications where we are seeing increased demand for RT/ERT models include warehouse construction, maintenance and data center construction.
Going back even a few years, online shopping was not what it is today. With a larger percentage of purchases being completed online, warehouse space is in high demand and warehouse construction is on the rise. This type of construction often requires continuous placement of utilities at a fixed height along the length of a building. Our new RT/ERT line of scissors were designed with this capability at the forefront. We are also seeing narrow lifts being used between aisles for access to ceiling areas where lightbulbs and other maintenance requirements are necessary.
Data centers are also a growing segment of the market. Like warehouses, the growth in data centers to support our data driven world is growing demand for these types of products during both construction and longer-term maintenance work stages.
Construction and maintenance are omnipresent at data center sites. As technology advances and some onsite facilities are up and running, others are undergoing upgrades, so there is consistent work to be done. While we would not expect to find RTs near sensitive server racks or equipment, they are popular for construction and maintenance work at data center sites.
In any area where there are environmental sensitivities around fumes and noise, electric-powered products like the new ERTs would be more appealing than their diesel-powered counterparts. In general the electric-powered products are quieter and emit fewer fumes, making them ideal for use in space and noise restricted areas.
Schmidt: With greater height capabilities, RTs can now meet the needs of more customers, especially those seeking higher reach models who would otherwise go with specialized classes instead.
There is a demand for increased platform capacities and platform sizes which Skyjack met with its new full-size range, as well as demand for better job site performance met with features like Skyjack's axle-based four-wheel drive, AXLDRIVE and SMARTORQUE technology.
LA: What can we expect from the RT market over the next year or so?
Crook: Taller is likely, smaller is requested but as there is no money in it for the manufacturer or the rental company that is less likely. The holy grail is an all-electric machine, only without a small combustion engine on-board means of power generation. But that requires embedded infrastructure, which can quickly charge batteries with large energy demand.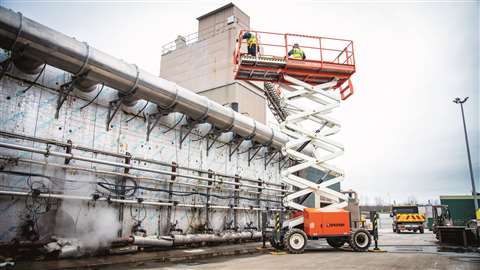 Elvin: Snorkel unveiled two lines of high-capacity rough terrain construction scissor lifts at Conexpo-Con/Agg 2020. The largest of these models, the Snorkel S9070RT-HC can reach a maximum working height of 76 ft with a lift capacity of 2,000lbs, making it one of the tallest RT scissors lifts available from a full-line manufacturer.
Paylor: Making sure that all machines in the product line met the new ANSI specifications led to the development of several great ideas, which were not completely developed because of the time restrictions to meet the standard.
For the RTs, the current design has it so that any increase in height would make the collapsed height too high to be transported on standard trucks without a permit. I think additional capacity is probably going to be the first upgrade. I do believe that micro-RTs are going to start becoming more popular as the outriggers become more versatile for angled terrain. Self-leveling frames are already designed, but are becoming more accepted in the marketplace.
Schmidt: As Covid-19 constraints start to loosen, the RT market will see a large percentage of rental companies re-fleeting and getting back into growing their businesses again. Utilization rates have increased over the past 18 months. Customers will likely shift to a strategy of buying larger asset classes as the economy fully re-opens and large infrastructure projects get underway.
Stiansen: Urbanization is a trend we see impacting the RT/ERT scissor lifts market. With less and less open space, buildings are becoming taller and the space between them narrower. With that, the demand for smaller machines with compact footprints and higher reaching equipment is growing. This will continue to drive growth in both the upper and lower end of machine categories, including RT/ERT scissor lifts.
NEWSLETTER
Delivered directly to your inbox, International Rental Newsletter features the pick of the breaking news stories, product launches, show reports and more from KHL's world-class editorial team.
CONNECT WITH THE TEAM
CONNECT WITH SOCIAL MEDIA