Interview: Liftroller executives on rental approach and site safety
By Lewis Tyler04 August 2023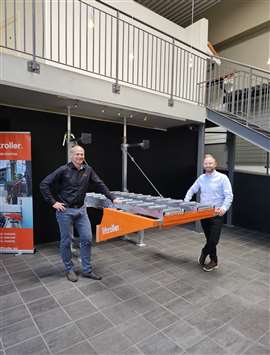 In an era where many products within the construction sector are coming with some form of technological features, the back-to-basics approach has perhaps declined.
While technology has undeniably improved processes in construction, the extent of its impact in enhancing safety and efficiency can sometimes be difficult to track.
In that regard, an uncomplicated or 'back-to-basics' approach can often be the most efficient way forward.
For example, the product line from Norwegian OEM Liftroller is, by the admission of its CEO Ivar Ole Wik, "not a complicated product to have in the rental fleet." The company says it prides itself on improving both safety and efficiency on site through its products.
IRN recently had the chance to speak with Wik and the company's business development manager Helge Flesland.
Built to improve efficiency and site safety
On the second day of the APEX exhibition in June, IRN visited the Liftroller stand and was met by a team who were keen to go through the history, product line and structure of the organisation.
Based in Bergen, the company manufactures a range of equipment that it says is designed to tackle logistical challenges on sites, such as getting materials into low and mid-rise buildings safely and efficiently.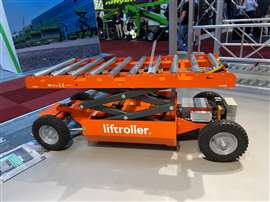 Its products, which range from electric lifting platforms to mobile travelling cranes, are said to make the process of moving material into buildings easier thanks to the use of rollers. This, says the company, also makes the work less strenuous for those on site.
According to Wik, each of the products from Liftroller have one thing in common, simplicity. He tells IRN, "Our products are easy to install and easy to use. As soon as someone has used our products on one or two projects, they are able to choose which one to use next time.
"It's not a complicated product, it's just a matter of helping the customer to choose between our product range for each job."
The company was founded in 2013 and Wik says it was built on the foundations of his "desperate need for a rolling device" that wasn't available on the market during his time as a project manager.
The first idea for the company came in 2008, when Wik was working on a renovation project that only had two options for delivering the plasterboard, neither of which were efficient or delivered in terms of health and safety.
However, Wik says the big breakthrough came seven years later; "In 2015 the prototype was approved and I quit my job and started working full time in my own company," he tells IRN, "We launched Liftroller to the market at Norway's biggest construction fair, Bygg Reis Deg, in late 2015."
In the early days, Wik was the only employee of the company, but it has now grown from a team of one to a team of "14 and counting." Along with that growth in employees and revenue, the company has also refined its strategy as to how it interacts with the end user.
Rental approach
Liftroller initially sold its products directly to rental companies, before changing direction with the creation of its own rental division which is currently active in Norway, Sweden and Denmark. There are no immediate plans to implement this elsewhere in Europe, where Liftroller only deals with inbound enquiries.
However, the strategy seems to have paid off in the Nordic region. According to Wik, up to 90% of its revenue (which has increased by 1500% since 2016) in the Nordic region now comes from its internal rental company,
Since launching it in 2020, it has seen increases of 300% and now has a team of specialist "skilled logistics advisors" that work with the end user to determine which product is the best fit for the site.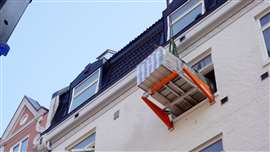 Its structure elsewhere in Europe differs, where the company sells the product directly to rental organisations.
However, this hasn't hindered growth, and the company is also building a strong customer base in the region, as Flesland tells IRN, "In France, Spain, Germany, the US, the Netherlands, Ireland and Italy, we are already working with some distributors. I would say these are the countries that we are already working in quite intensely.
"Elsewhere, we have an interesting meeting coming up in the UK with a company that have expressed interest in distributing it, and also two meetings in India coming up."
So, does the company expect expansion into Europe through partnerships with rental companies?
When asked, Flesland says that it very much depends on the market and its size; "We are going to send the first display package to the US very soon, where there will probably be multiple distributors. In Asia, which is such a big market I'm sure there will be plenty of distributors for us later on."
IWith regards to its short-term plans, Flesland says the company will initially focus on Europe, where it has built a priority list, and the US, before turning its attention to Asia. Elsewhere, the company has also received enquiries from the Middle East and has a distributor in place in Israel.
Specialist knowledge
Part of the decision to go down the rental route on its own merit, according to Wik, was the importance of the user having an advisor that can provide specialist knowledge of the product, something that he says could be lost if delivered by an external rental company.
He says, "Our experience from the past is that an external rental company loses all the knowledge we have passed on to someone in their organisation when that person quits their job. It was also a challenge that important feedback from end users never came to our ears.
"By starting our own rental company, we are in close contact with the end user, which has helped us to improve our products. The direct cooperation with end users has also resulted in brand new products that the end users themselves has told us that they need. By having skilled logistic advisors within our own rental company, we are known for giving advice that saves our customers a lot of time and money.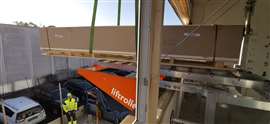 "As we say, you know your construction site, we know the opportunity that lies in our products. Together we find the best logistics solution for your construction project.
This also plays into how Liftroller interacts with other Scandinavian rental companies in terms of cross hiring. Liftroller Rental has meetings directly with end users, even though the transaction goes through another rental company.
According to Wik, this enables the company to deliver the required knowledge of the product to the end user. He says, "We are in direct contact with their customers and attend the meetings because we have specialist knowledge around our products that enables us to answer all questions the end users might have.
"Since we have a lot of experience from various projects, instead of teaching this to the other rental companies we have a cooperation agreement with several of them stating that we can teach the end user directly. This is a good solution for us, the rental companies, and the end users."
Expansion plans
Wik believes that the key to any future expansion will be its relationship with other rental companies, something that he says Liftroller is actively seeking; "To be able to serve construction companies worldwide we are teaming up with other rental companies that already have a large customer base and know the culture and the language.
"It will take too much time and money for us to expand only on our own. However, we can't interact with their end users as close as we do in Scandinavia, so therefore we have established The Liftroller Academy, which is a train the trainer program.
"This is done both physically and digitally, and addresses logistic advising, service, assembly, marketing and more. Its all about paying forward best practice from Liftroller Rental Scandinavia to our partners worldwide."
He also believes that those partnerships will play an important role in helping to reduce health and safety risks on sites, as well as accidents related to material handling.
He says, "We work closely with organisations that have the same goal as us, and I invite those we are not in contact with yet to contact me. To change the old habits in the world's second oldest industry, we need to work together."
One thing that the company isn't ruling out, although Wik says it is not a goal, is private equity investment or future sale. "That is not our goal, but I would be naïve to think that such a good idea would not catch interest among the larger OEMs" he says.
"We already have several of the world's biggest construction companies on our client list, and the largest rental companies have approached us."
NEWSLETTER
Delivered directly to your inbox, International Rental Newsletter features the pick of the breaking news stories, product launches, show reports and more from KHL's world-class editorial team.
CONNECT WITH THE TEAM
CONNECT WITH SOCIAL MEDIA