Interview: Graziano Cassinelli on Case's plans for rental
Graziano Cassinelli, global head of rental and used equipment at CNH Industrial, updates IRN on the company's rental push.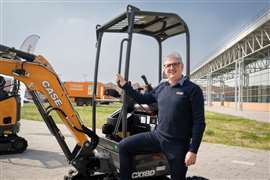 Almost two years have passed since CNH Industrial unveiled its ambitious plans for a rental and used equipment programme with CASE Construction Equipment dealers.
Designed to cover regions spanning North and South America, Europe, South Africa, Australia, and New Zealand, the initiative encourages dealers to not only offer CASE equipment for rent but also sell certified used CASE machinery.
The programme made its official debut last year in Germany through its subsidiary, signaling the company's ambition to establish a strong presence in the global rental market.
Building on this momentum, in February, the programme expanded its reach to CASE Construction-owned stores in France and South Africa.
Additionally, CASE Power Lease introduced the availability of D Series and E Series excavators for rental in North America in May.
During an interview at CASE Construction's Roadshow, Graziano Cassinelli, global head of rental and used equipment at CNH Industrial, shed light on the reasons driving this rental push, the role of dealers and his insights into the future of electrification in construction equipment.
Rental focus
It was certainly timely that IRN was invited to CASE's Roadshow in Derby. It was here that some of the company's dealers gathered to see the latest equipment from the OEM, including the CX75E 7.5 tonne excavator with a 2 piece boom.
Due to be launched this year, the machine is powered by a Kubota Stage V engine that provides 44.3kW of power. Elsewhere, the WX160E wheeled excavator, part of its E-Series, attracted plenty of attention from dealers.
While the equipment was high on the agenda for dealers, Cassinelli was keen to discuss the role they will play in the company's rental programme moving forward. "We are working with the regional management teams to get all dealers engaged in this new venture as well as contacting new customers", says Cassinelli, who joined CNH in 2021.
To prepare dealers for the initiative, the company has given them the tools and guidance to provide a rental service in the regions in which they cover.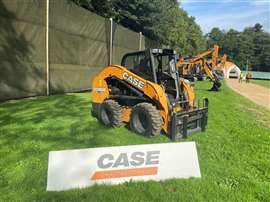 Cassinelli describes this as a "change of mindset" for dealers, who will rent machines to the end customer as well as rental companies, alongside its role of selling machines to rental companies.
Aside from this, a significant part of the role of the dealer will see them communicate with companies to determine what specifications are required, with versatility and low cost both factors that Cassinelli believes will be key.
Cassinelli says, "We have a very high technology product, especially on mini and midi excavators with zero tail swing, luxury cabs and features that this kind of company does not require. To penetrate the independent rental company, you need the right product.
"Some companies will require a lot of specifications, while others will require very standard machines, but the idea is to prepare essential equipment just in case they want to apply optional features." Cassinelli tells IRN that these essentials machines will come in the near future
Long-term solutions
The question that naturally arises is, why is the company making the move into rental now? Cassinelli's response was clear; "Because it's growing day by day. It's slightly growing, but growing day by day", he says.
"15 years ago everybody was thinking that rental in ten years would occupy 50% of the total production. That's not happened because the trend was less than what was forecast. But the trend is continuously growing. It won't take 5 years, maybe it will take 10 years to be at 50% in the mature markets.
"I would say we need to support the dealers to make the move into rental now because they need to have it as part of their proposition. Dealers cannot think in the future to stay as they are today, as a retailer that buys and sells."
Another key aspect of the programme is the residual value of machines as at the end of end of the rental period, customers will have the option to buy the machines. "You have two possibilities in keeping the residual value", Cassinelli says.
"First, have a very high brand recognition in the market, or support the residual value financially. We have some parts of the world where our brand is recognised as a premium brand, the residual value is a consequence of this.
"In other parts of the world we have just penetrated the market. We are not yet well-known and in this case in many negotiations we faced the request from the company or from the customers to have this kind of requirement that we usually sort out using our capital company.
"So, we provide financing (through CNH Capital) and in some specific cases we provide a residual value guarantee for the machines that are financed from us."
Dealer optimisation
Despite the move into rental, Cassinelli, who is also head of sales for European construction brands for CNH, says he doesn't expect any increases in terms of the number of dealerships the company has, which currently stands at more than 200 globally.
However, the company is working to optimise and support dealers. He says, "We are helping our dealers to get their activity together as much as possible.
"In some cases, we have dealers that we want to grow and some other dealers that we are not aiming to grow. Maybe we are aiming to improve their efficiency on the territory, but without extending territorial coverage. I would call this more optimisation.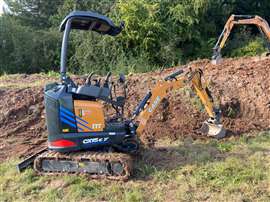 "Some of them need fine tuning and support, while others need to start from scratch. There are different kinds of dealers in the Case network that require a different kind of customised support or plan to develop rental."
He goes on to say he is "very convinced" that dealers and customer proximity still remain the most important asset the company has which will play a key role in the success of the rental programme.
Looking ahead, Cassinelli expects the company to strike a balance in its rental strategy, avoiding radical changes and maintaining a measured approach.
The future of construction equipment
Halfway through the interview, the conversation quickly turns to electrification. Having arrived the day before, we were able to see some of the latest examples of innovation in this field from CASE.
For example, the company previewed its prototype electric compact wheeled loader alongside two electric excavators, the CX15EV and the bigger version the CX25EV.
Machines like the CX15EV and the CX25EV epitomise the company's development within sustainability, according to Cassinelli. He says, "When we talk about sustainability, I would say we are one of the best in terms of effort. I say this because we already have electrified models that are ready to buy and use, unlike other OEMs which have prototypes that are not available.
"I believe that electrification will be the future. I'm totally convinced. Of course, if we don't have a governmental institution pushing in this direction, it will take a long time. Not as long as we were thinking two or three years ago because of new battery technology with very high efficiency capacity."
In terms of barriers to electric-powered equipment, Graziano tells IRN the knock-on effect of the cost of manufacturing electric equipment is a challenge that OEMs must overcome.
However, he points towards two factors that he believes will change attitudes towards electric machines; "When the OEM is able to reduce the cost of manufacturing, with a little bit of help from governments, these two elements will trigger a very quick shift.
"In ten years, I would say that 50% of compact equipment will be electric. In larger equipment, maybe 20 to 30%, but this is just my assumption. In the long-term, I 100% believe that electric as well as other renewable opportunities like hydrogen will replace fossil fuels."
How the rental programme works
As part of the programme, dealers are encouraged to rent CNH Industrials range of CASE equipment and sell certified used CASE machines. The finance for the dealers is provided by CNH Capital, the finance arm of CNH.
CNH Capital holds machines on its balance sheet to be rented to dealers and end customers. In some markets the scheme differs. For example, France and Italy require the dealer to provide the end user with the equipment, while in other countries machines can be rented directly from CNH Capital.
The company is also in the process of testing and launching a pay per use platform. Cassinelli says that thanks to built in telematics, machine usage can be tracked; "We finance the machines and provide a very low monthly rate, but you as a dealer or a client pay based on your use.
"This is one of the tools that we are putting in place that demonstrates that we believe in that sector, we believe in rental."
NEWSLETTER
Delivered directly to your inbox, International Rental Newsletter features the pick of the breaking news stories, product launches, show reports and more from KHL's world-class editorial team.
CONNECT WITH THE TEAM
CONNECT WITH SOCIAL MEDIA