Interview: Big projects, short timelines
By Steve Ducker12 November 2015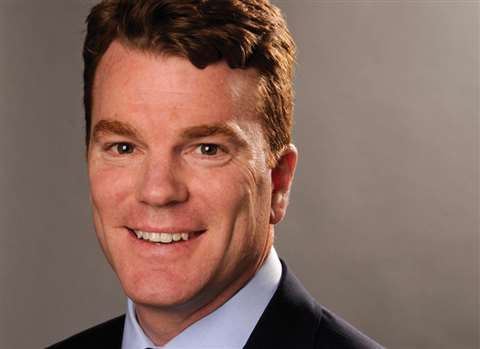 A man, a plan, a canal, Panama."

That famous palindrome - the quirk of language that means a sentence reads the same forwards or backwards - could have been an appropriate start point for Xylem Pumps on its €6 million contract as part of the expansion of the iconic waterway.

With a brief of pumping 1.7 billion gallons of water in 22 days to fill a shipping channel on behalf of the Panama Canal Authority (ACP), the project, like the sentence, had planning at its centre.

Colin Sabol, a Xylem senior vice president and president of its dewatering business who joined the company in 2013 - two years after it was spun off from ITT Corporation - takes up the story: "The project was on a very short timeline. The ACP called us, and we had to be ready to pump the water within 45 days of the initial enquiry. We procured the diesel fuel locally, but everything was shipped down."

Everything else turned out to be five 747 aircraft full of equipment, including 15 Godwin heavy duty dewatering pumps, and 4 km of piping.
"Each one of the pumps has its own 18-inch (45 cm) pipes that pump up and over the wall into the new shipping channel," said Mr Sabol.

"We have flowmeters on each pump to measure how the pump is performing. Our Field Smart Technology can start and stop the pump remotely, and we can get feedback from it and adapt the system to whatever is necessary.

"It can all be monitored from the project manager's office, several miles away. It creates the opportunity for the customer to have a seamlessly controlled pump rental experience."

Once on site, Xylem dammed both ends of the shipping channel - one at the Atlantic Ocean, the other at the Pacific - built the locks dry, and started pumping the billion-plus gallons of water to test the locks: "We're sure they'll work, but if they don't, the water won't go into the ocean."

Mr Sabol described the project, in terms of size, as among the top 10 that the company has undertaken in the past decade. But then the company is no stranger to large numbers.

The dewatering division of which he is in charge has 1400 employees, more than 150 rental and sales sites, over 100 distributors, three product development and engineering centres, and the same number of manufacturing sites . In 2014, pump rental was worth close to €300 million to Xylem.

The company's principal brands are Godwin diesel pumps, which it acquired while still part of ITT in 2010, and Flygt submersible pumps, a company that made its first pump as far back as 1930.

Pump rental has become an increasingly attractive proposition for mainstream rental companies, as witnessed by market leader United Rentals' high-profile purchase of the €150 million revenue company National Pump in 2014.

For Xylem, Mr Sabol believes the value of the Godwin acquisition was evident on the Panama Canal project.

"There are about 20000 pumps in our rental bank globally," he said.
"To pull together 15 pumps of this size for the Panama Canal was really enabled by the scale of our business. It would have been very difficult for any other company to do.
"The job was identified by employees who work with the Panama Canal on a regular basis, but the Panama office couldn't have done it. We had between eight and 10 professionals from the US on site for about 40 days.

"It was very impressive to the customer that we can mobilise these people, and very invigorating for us. I spent a lot of time on conference calls."


Scale of operations


As well as the scale of its operations, Xylem differs from a number of pump rental companies in that it does not just rent pumps, it makes them as well.

Colin Sabol admits it is close to a unique position.

"There are very few other companies that manufacture and rent," he said, "and none that do it on the scale of Xylem. Around 80% of our customers have both bought and rented products from us, and we spend a lot of time talking to customers about why they are attracted to our company.

"When we design the next iteration of a pump, or decide what it should be, we go first to our own rental operations. Renting makes us a better manufacturer and manufacturing makes us a better renter. And we never point the finger at the OEM. We are responsible for the pump and the service that comes with it."

That said, around 5% of the company's global rental fleet has been made elsewhere.

"We're not naive enough to think we have everything that people need," said Mr Sabol. "We have many competitors' pumps in our fleet."
Having seen both manufacturing and rental close up, Mr Sabol is quick to highlight the differences between the two.

"The rental business is much more capital intensive," he said.
"We have plenty of capacity to manufacture pumps. We wouldn't need to expand or build a new factory. The vast majority of money is going into network branches, and the focus on branch expansion is global.

"We're expanding in the US, Europe, the Middle East, and Latin America. We have around 15 branches opening a year and we're building the pump and truck fleet to go with them.

"It's a topic we discuss regularly - what is the critical barrier to entry for someone coming into the pump rental market? Currently, I would say that operating on a scale where you have 20000 pumps is difficult to replicate, though money can do anything.

"Then it's about having the network of branches, the fleet of vehicles and being close enough to serve the market. A typical pump goes out on rent for just a couple of weeks at a time. It's in and out of a job more than 20 times a year."

Not even a 20000-strong rental fleet can offer total protection against a declining market though. Like its competitors, Xylem has seen the North American oil and gas market fall by 35%. The nature of the company's business means it has been able to compensate to an extent, but by no means fully.

"We have a very diverse customer base and we don't rely on any one market," said Mr Sabol.

"There has been substantial growth in construction, such as homes and industrial complexes. There has also been growth in civil construction - bridges, roads, tunnels, public and private utilities, water and wastewater.
"We're seeing some very good growth in Latin America, the Middle East and parts of Asia. A lot of the growth in Latin America and the Middle East is high rise buildings. In Asia it's mining. One area that is down is resource extraction, because of the fall in commodity prices, but when that happens people move from buying to renting, so we are affected less."

"The growth in these sectors is not going to be enough to offset oil and gas but it's much healthier than we've seen for several years. We think that growth will continue. There has been serious under-investment in water.
"I've been in water for nearly 15 years [Mr Sabol started his career with General Electric and formed General Water through a series of acquisitions in 2002] and the under-investment has been going on for a decade.
"Structurally, the industry is not well served to invest in sustainable population growth, urbanisation or climate change. There needs to be a change in policy because we have reached a tipping point and you can only delay spending for so long. The next generation seems much more keen to address this."


Rental hubs

Geographically, Mr Sabol expects Europe to come to the fore, due to a combination of a rental model that has more scope for development than its US counterpart and a shift away from asset ownership due to financial constraints.

Xylem has set up rental hubs in key locations, such as Paris, Bremen and Madrid, and Mr Sabol said that "dozens" of European branch managers spend part of their time undergoing training in the US.
Product development is also set to continue.

"We have both diesel and submersible pumps, and we are constantly refurbishing the product line. The trend that we are focusing on is embedding more intelligence into the pump and the pump applications. This is our Field Smart Technology.
"It's not added to the pump, but embedded inside. So we could build sensors into a submersible pump, so it can tell when it's running dry and turn itself off. That would improve the life of the pump dramatically.

"We're always ready to go and help our customers, even in pretty severe conditions like tsunamis, droughts or hurricanes. We have built two very successful brands in Godwin and Flygt and we have built a reputation for sending the pumps out tens of thousands of times without ever having a disappointed customer. When the customer's mine is flooding, he needs someone to go in and get it right first time. He needs it fixed."
This is an interview from the September/October issue of IRN. For the full article, with extra images and information, please subscribe to the magazine: http://www.khl.com/subscriptions/magazines/international-rental-news/
NEWSLETTER
Delivered directly to your inbox, International Rental Newsletter features the pick of the breaking news stories, product launches, show reports and more from KHL's world-class editorial team.
CONNECT WITH THE TEAM
CONNECT WITH SOCIAL MEDIA