Innovation in mini excavators
By Belinda Smart09 May 2022
Spiking construction demand is driving innovation in mini excavators and their larger midi counterparts, with the rental sector to benefit from the increased versatility, cost effectiveness and environmental credentials offered by the category, writes Belinda Smart.
Excavators in the mini to midi category are increasingly seen as a go-to machine on construction sites, offering adaptability, surprising operational force, the ability to work in tight spaces and reassuringly low emissions.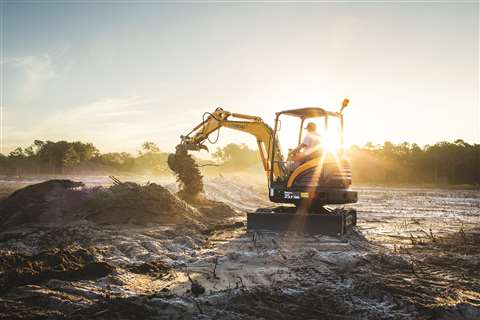 According to Peter Sebold, Product Manager at Hyundai Construction Equipment Europe, demand for the smallest excavators – likely led by a post pandemic crisis rebound and tight supply - is fostering technical advances in the sector at an unparalleled rate.
"The construction industry is currently experiencing an unprecedented situation in terms of order intake from end users. Production capacity runs at a maximum pace, machine deliveries are taking place," he says.
Manufacturers – not least Hyundai Construction Equipment – are ever more focused on "further development in machine technology, as well as on future machine and drive concepts."
Hyundai is positioning itself to offer technical advances of benefit to the rental industry, Sebold says; it's a move reflected by manufacturers across the category.
Stage V compact excavator 
JCB has upgraded its 4-6 t compact excavator line-up with the launch of three Series 2 Stage V models. The zero-tail swing 50Z-2 replaces both the previous 48Z-1 and 51R-1 models, the 56Z-2 takes over from the 55Z-1 and the conventional tail swing 60C-2 replaces the 57C-1.
Key features include Stage V engine with no Diesel Exhaust Fluid, larger ROPS cab with improved visibility and comfort.
All three of the new machines are powered by a 1.7-litre, turbocharged three-cylinder common-rail Perkins diesel engine, delivering 34kW (45.6hp).
Equipped with a Diesel Oxidation Catalyst (DOC) and a Diesel Particulate Filter (DPF), there is no requirement for a Diesel Exhaust Fluid (DEF) such as AdBlue.
The engine is matched to the hydraulic system and now comes with programmable auto stop, programmable auto idle and one-touch idle functions.
The three machines benefit from a new JCB cab, with a revised front screen design to improve forward visibility, particularly when truck loading.
JCB has also added a 3.5-t zero tail swing compact excavator and 3.6-t conventional model to its 'Next Generation' line-up, and it says productivity was top of mind in the new releases' design.
"The zero tail swing model is ideal for working in confined areas, providing greater protection as the counterweight rotates within the width of the machine" JCB says.
"The 36C-1 provides increased productivity with more reach, stability and lifting performance."
The engine for both machines is suitable for global markets and features a new hydraulic system.
It's a three-cylinder Stage V/T4 Final Perkins engine that delivers 18.4kW (24.6hp) and uses mechanical fuel injection, with no requirement for a diesel particulate filter (DPF) or any form of exhaust after-treatment.
Design upgrades on the machines include that the dozer ram hoses now pass through bulkhead connectors, mounted on the outside of the undercarriage, making it easier to replace them in the event of damage; and optional dozer float and a four-way dozer are now offered.
The dozer blade design itself has also been improved, with a new curvature for improved roll performance.
Improved lifting performance
Another prominent OEM has released offerings in the 2.7- to 3.5-ton range of hydraulic excavators. Cat's new releases, targeting Europe, Africa and the Middle East, offer lower cost and increased efficiency.
The new Cat 302.7 CR, 303 CR and 303.5 CR hydraulic models are built on Cat's Next Generation platform with stick steer, cruise control, operator adjustable settings, and tilt-up canopy or cab as standard.
To pare back costs, Cat has expanded the use of common parts throughout the line which, along with a sturdy exterior design, helps reduce parts inventory investment and lowers repair costs.
In addition, "Increased service intervals mean these excavators spend more time on the job and less time in the workshop," Cat says.
"Combined, these features lower total ownership costs up to 5% compared to previous models.
"At the same time, design enhancements for the new 302.7 CR, 303 CR and 303.5 CR deliver up to 10% more performance in travel and trenching. Hydraulic system upgrades improve lifting performance and cycle times, while customisable operator settings improve efficiency."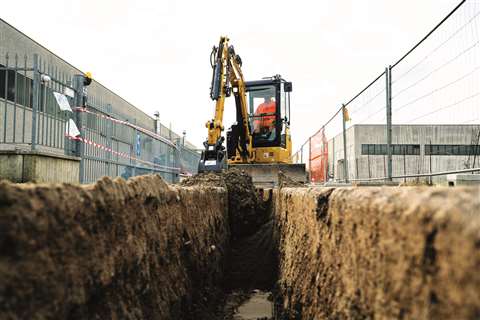 The machines have a compact radius swing that reduces overhang when working to the side for confined spaces, while fixed undercarriage widths for the 302.7 CR, 303 CR and 303.5 CR of 1,500, 1550 and 1780 mm respectively, deliver job site accessibility and stability for lifting performance.
An expandable undercarriage option for the 302.7 CR allows the operator to hydraulically retract track width to 1355 mm for fitting into confined spaces and then expand width to 1780 mm for digging and lifting stability.
Hydraulic innovations
Meanwhile, for release in North America, Europe, Australia and New Zealand, the Cat 304 and 305 CR models are said to "deliver more power and performance with lower operating costs."
The final machines to be reengineered to the Cat next generation hydraulic concept, they are built with a new reduced radius design.
The 304 features a narrow, 1700-mm (66.9-in) track width, 254 mm (10 in) slimmer than the 304 E2, for more versatility and access to confined spaces.
The new engine on the 5-t class Cat 305 CR Excavator delivers 9% more power, while hydraulic system improvements provide higher breakout forces – 49.2 kN (11,061 lbf) bucket, 28.3 kN (6,362 lbf) standard stick and 25.2 kN (5,665 lbf) long stick – to improve digging efficiency in hard rock applications.
Both models now offer an angle dozer blade option for machine flexibility in backfilling and finish grading applications.
Moving up the weight scale, the new 8-t Cat 308 CR Fixed Boom excavator for Europe is powered by the 51.8-kW Cat C3.3B engine, meeting EU Stage V emissions standards.
Enhancements to the hydraulic system have been introduced, combining with standard auto idle and auto engine shutdown to improve machine efficiency and reduce operating costs.
The 308 CR Fixed features standard front-shovel operation for digging precision when working around utilities and can also be equipped with the TiltRotate System, Cat TRS8 coupling that allows work tools to rotate 360 degrees and tilt 40 degrees side-to-side, enabling the excavator to reach more areas from a single position.
Mini excavator with improved visibility
Hyundai CE Europe currently offers a range of 10 smaller excavators covering the 1 t to <10 t weight range, from the HX10A micro excavator to the HX85A midi-excavator.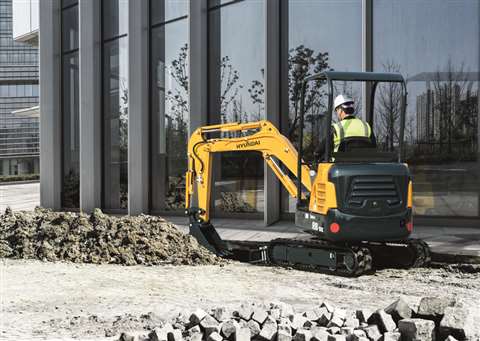 The recent upgrades to Hyundai's smaller excavators include new Stage V emission engines and a safety valve on the blade cylinder, while the rotating beacon on all machines has been replaced with a new LED version, to improve its visibility
The Hyundai short-tail excavators in the Robex series are key to the brand's presence in the European market.
The small 1.7t R17Z is in strong demand, followed by the "platform models" in the 2 - 3 t segment, the R25Z and R30Z (followed by the recently upgraded R35Z).
Hyundai says key features make its offering in this category attractive for rental customers.
One is that models under 2.0 t are equipped with an extendable undercarriage to increase stability when working, but at the same time enable easy transport when the undercarriage is retracted.
The zero-tail or short-tail radius models are ideal for use on construction sites with limited space.
The operator can swing without hesitation and concentrate on his work without the risk of hitting any obstacle with the rear of the machine, as the superstructure swings within its own track width (or with minimal rear or side overhang).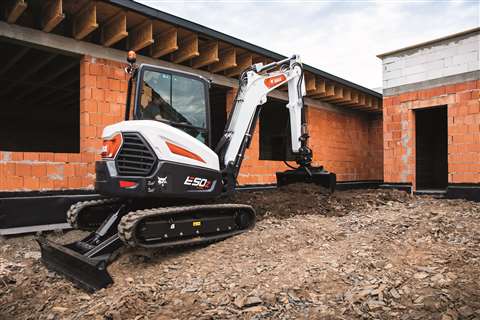 Versatile excavators 
A unique selling point for rental is versatility, and Hyundai's models are also individually configurable.
"The customer always has the choice of a short or long dipper arm, as well as the standard rear counterweight or a heavier version. In this way, the machine can be optimally equipped for the respective application in order to meet the highest performance requirements."
All Hyundai models feature hydraulic controls for the use of attachments and an additional function for grapple rotation is also available, while an optional hydraulic quick coupler rounds off the offering.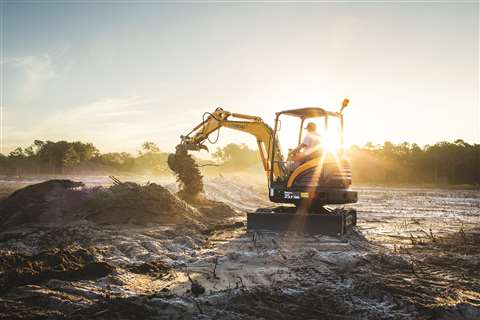 Bobcat has also kept the rental market firmly in its sights in its recent releases. Robert Husar, Product Line Director for Bobcat Mini-Excavators in EMEA, tells IRN the market continues to see strong growth after the post covid recovery in H2 of 2020.
"There is strong demand from both the end user and the rental segments. The mini-excavator concept itself also sees evolution and machine are now being used as much more than single purpose digging tools."
Husar adds that a common trend across most of Bobcat's sales regions is heightening interest in total cost of ownership.
"Finding the right balance between purchase price, residual value, service and repair costs as well as minimised downtime are the main factors influencing this equation for the rental companies."
Customer focused equipment features
In 2021 the OEM released the R2-Series of 5-6 t Stage V compliant models – the E50z, E55z and E60 models. The machines offer new features and options such as Bobcat's Advanced Selectable Auxiliary Control (A-SAC) system and Automatic Track Tensioning System (ATTS) technology.
Husar confirms the design of the new Bobcat R2-Series 5-6 t excavators, "has benefitted from the close involvement of our customers at every stage of the process.
"The truly striking styling of these new machines is indicative of their robust and dynamic design and excellent machine fit and finish. All these models offer a best-in-class mix of high performance, superb stability and smooth controllability of the working functions."
In the E50z and E55z, Bobcat's Zero House Swing (ZHS) feature adds another level of protection to the standard zero tail swing design; the rotation of the upper structure of the E50z and E55z remains fully within the footprint of the tracks.
This includes the boom swing offset cylinder, front corners, handles, lights and even the door in both open and closed positions.
The E50z ZHS model is described as an "easy-to-use, robust machine optimised for specific rental industry needs."
The weight has been increased and optimised in the E50z for stability, which has allowed Bobcat to provide a long arm as standard equipment. The E55z is a premium performance model - it is the largest and most powerful Bobcat machine with the ZHS design.
The E60 is positioned as the R2-Series flagship model – described as a swing model with a powerful engine and a larger cab, with a 280mm tail overhang that allows operation in confined spaces.
A key advance is that R2-Series machines are powered by the new Bobcat D18 (E50z/E55z) and D24 (E60) Stage V high torque diesel engines, designed for Bobcat compact equipment.
The engines improve overall machine performance, while meeting Stage V emissions regulations and DPF technology allows the machines to be used in emission-regulated zones such as city centres.
Up to five arm-mounted hydraulic auxiliary lines and the optional A-SAC technology enable a choice of machine customisation options to match different attachment requirements.
Another new feature is the Bobcat Automatic Track Tensioning System (ATTS) which uses the machine's hydraulic system pressure to ensure a proper track tension.
Excavator for confined spaces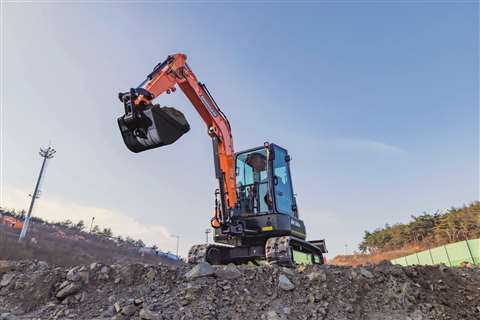 Doosan's latest offering comprises four new Stage V models: the 2.8 t DX27Z-7, 3.9 t DX35Z-7, 5.4 t DX50Z-7 and 5.7 t DX55R-7, which feature "new shared global styling."
The zero tail swing design of the DX27Z-7, DX35Z-7 and DX50Z-7 and the reduced radius design of the DX55R-7 models make them suited for work in confined spaces.
The DX27Z-7 and DX35Z-7 are powered by the Doosan D17 Stage V compliant diesel engine providing 18.4 kW (24.7 HP) of power at 2400 and 2200 RPM, respectively.
The DX50Z-7 and DX55R-7 are powered by the Doosan D18 Stage V compliant diesel engine providing 36.4 kW (48.8 HP) of power at 2200 RPM.
"As a result, all four models offer the highest power and torque in their respective classes and cover a wide range of applications including heavy duty work," says Doosan.
The machines' upper structures have also been designed for durability and again are said to offer a larger working range than other equivalent machines on the market, coupled with higher lifting capacities and digging forces.
Meanwhile it is also claimed that in all four, "the boom swing angle and swing radius are better than or equal to other machines in this class."
Visibility and workability are improved by increasing the bucket protrusion distance beyond the tracks.
Other design features have been included to improve ease of operation. For example, placing the boom swing cylinder on the left hand side of cab allows the operator to work up against walls and other structures on the right hand side of the machine.
The fuel tank and boom swing cylinder have been positioned at the base of the cab, with the main control valve (MCV) now on the right side of the machine, improving visibility for maintaining and working on the MCV.
The new range also features the latest version 3.0 of DoosanCONNECT telematics management system.
Easy to handle excavators
Meanwhile three new excavators by Wacker Neuson - the tracked 4- or 5-metric ton class, ET42 and EZ50 Zero Tail models – and the ET58 - are also tackling the area of easy operation and handling, says Stefan Bogner, managing director of Wacker Neuson Linz GmbH, the OEM's research and development centre.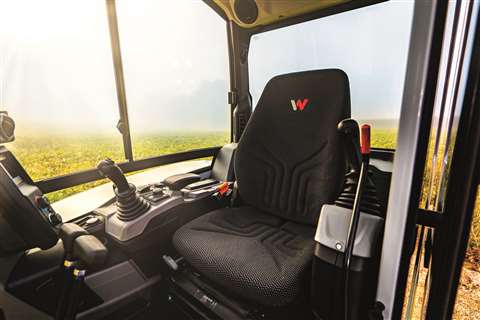 "In designing the excavators, it was important to us to develop compact machines that are easy to handle, impressive in their performance and in keeping with the latest technological developments," he says.
The tracked conventional tail excavators ET42 and ET58 and the tracked Zero Tail excavator EZ50, offer "powerful drive and high lifting and digging power for quick work cycles."
The cab is designed to be spacious and allow a view of all sides, especially of the right-hand track and the attachment. Intuitive operation is made possible by a joystick, jog dial, 3.5-inch display and keypad.
NEWSLETTER
Delivered directly to your inbox, International Rental Newsletter features the pick of the breaking news stories, product launches, show reports and more from KHL's world-class editorial team.
CONNECT WITH THE TEAM
CONNECT WITH SOCIAL MEDIA