In search of new markets with Italian manufacturer Rotair
By Steve Ducker20 March 2023
"Hydraulic breakers are very important to us. They are not the core business of the company, that is producing compressors, but nevertheless it is a large business."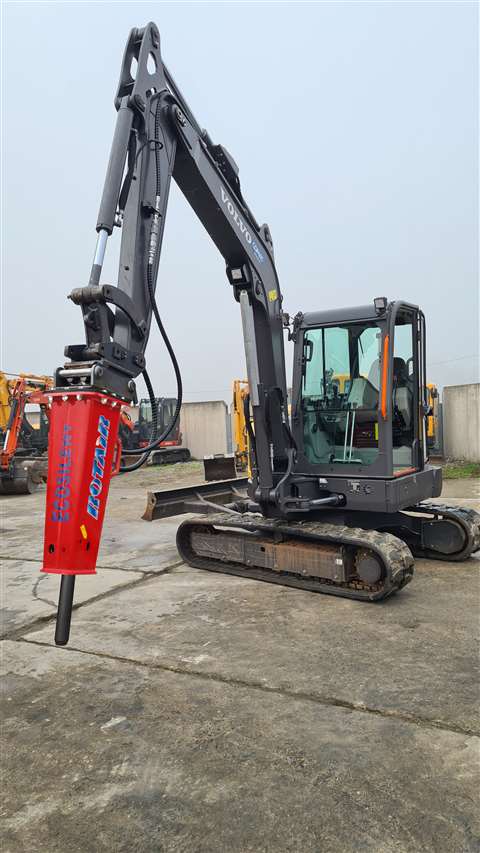 Those are the words of Andrea Tramontana, sales team leader of Italian manufacturer Rotair.
Breakers may not be the core business, but they are a growing part of what the company produces, to the extent of pushing the brand into France and the United Kingdom, and appointing specialist sales managers to head up development in those countries.
"We were seeing interest in Europe," says Andrea.
Developing the right resources for the breaker market
"But to be honest we did not have the right resources to dedicate to this business specifically. Now things are changing, there is a clear vision to grow in Europe and with selected strategic markets, and we start with France and the UK as strategic markets.
"In these two places we have new sales managers – Arnaud Frappier and Chris Vaughan – dedicated to Rotair products, and obviously the breaker will be a big part of their history and their business, so it is giving some good help to the growth of the area. It's a more direct approach."
Part of the reason for this recent expansion has been the company's positive experience in its home market – where it has manufactured hydraulic breakers since the early part of this century and Italy accounts for around three-quarters of total sales worldwide – encouraged by extra custom brought about by government incentives to the construction industry.
How global supply chain issues affected Rotair
At the same time, Rotair, which also counts companies in Germany, Slovakia and South America among its customer base, believes that sales of breakers could be even healthier but for the well documented supply chain problems suffered by excavator manufacturers in recent years.
"There are two things to consider in this discussion," says Andrea.
"From one side those incentives have given a lot of power to the purchase of new material in construction, mainly excavators and other equipment.
"Obviously the breaker is an accessory, so it goes together with an excavator. That's the story of the breaker.
"But as you know a lot of manufacturers are struggling to deliver machines, and obviously in the business of hydraulic machines and excavators this has been tough.
"Despite the big quantity of orders that everybody has in hand it's still not there, so obviously this is affecting the deliveries and the orders of the breakers themselves because they go together. So this is a challenge that we are facing now, but potentially the market could be bigger because these incentives have created a lot of business and generated a lot of business – in Italy at least."
The importance of the rental market
When deciding to dedicate a sales operation to the United Kingdom, Rotair drew on its success in Ireland, where it already had a distributor in place.
Andrea: "Ireland was always a market for us. We have a distributor in Ireland, in the north but which is covering the whole country. And we have been selling breakers to them for many years.
"We had some collaboration in the past with some spot sales customers in the UK. The goal now is to re-establish the link with all of them, and to try and get in touch with some rental companies also because rental is a large business in the UK and this product can perfectly fit into a medium or small rental company. We will start with smaller and medium-sized rental companies and then approach the bigger ones when we can.
"It is the same in France, a new approach to business. The more products you put in the portfolio, the more opportunity for sales and business you have."
Hydraulic breakers and the future
Rotair has built its confidence in hydraulic breakers on what it describes as the versatility and ease of use of the product, which make it attractive to customers across a range of markets. As such it feels that business outside Italy to continue its upward trend, and will continue with technological change in machine drive technology, whether electric or hydrogen.
"We expect this to grow significantly in the next few years," says Andrea.
"In Europe, we can go deep into the market, we can approach different kinds of customers and we have resources that we did not always have in the past."
For more coverage of hydraulic breakers, see the January-March 2023 issue of Demolition & Recycling International
NEWSLETTER
Delivered directly to your inbox, International Rental Newsletter features the pick of the breaking news stories, product launches, show reports and more from KHL's world-class editorial team.
CONNECT WITH THE TEAM
CONNECT WITH SOCIAL MEDIA